Baltimore Ravens: 3 Bold Changes That Would Make Ravens Champions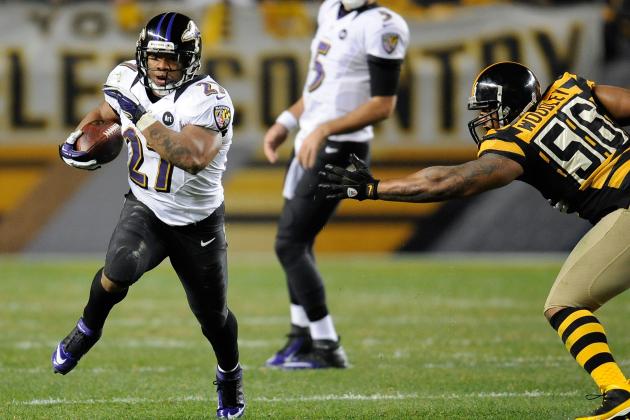 Joe Sargent/Getty Images

After a 13-10 win over the Pittsburgh Steelers on the road, the Baltimore Ravens have every reason to believe they are legitimate Super Bowl contenders.
Last night's performance was enough to win, but they have yet to look like real champions. They struggled badly to run the ball last night, and their offense in general struggled.
On the other side of the ball, the Ravens seem to be regaining their form as one of the NFL's best defenses, but there is still work to be done on the pass rush and run defense.
With a few changes, though, these Ravens could be champions. The talent is there, and they can beat any team in the NFL, as shown by their big win at Pittsburgh. These bold changes would put them over the top.
Begin Slideshow

»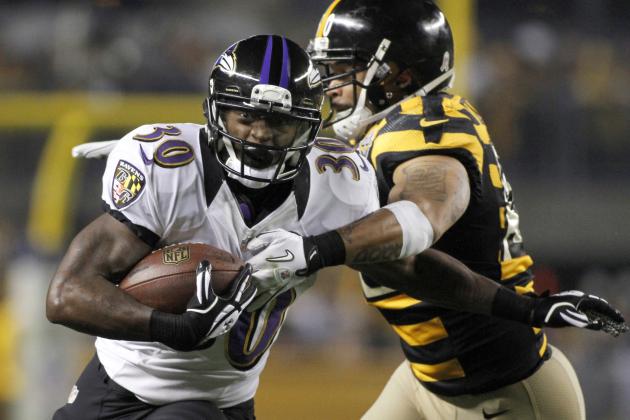 Justin K. Aller/Getty Images

Ray Rice is a god among Ravens. The common knowledge is that as long as Rice gets enough carries, the Ravens will win.
While this adage proved true against the Steelers, with Rice getting 20 carries in the win, the Ravens should start focusing on running the ball more successfully and not just more often.
That would mean including Bernard Pierce in the game plan.
Pierce is averaging the same yards per carry as Rice and definitely deserves more carries. He also is a better runner when the Ravens offensive line is getting beaten, as Pierce does not need as large of a crease to make a big run.
Rice, on the other hand, gets stuffed far more often than Pierce does. He is more tentative as a runner and less explosive through the hole, which results in Rice getting taken down relatively easily on most of his runs.
That is not to say Pierce is a better overall player than Rice. He's not. Rice is better in the open field and a much more polished overall player.
On the other hand, the Ravens are wasting Rice by having him run into a huge pile at the line of scrimmage on every down, as he did against the Steelers. The Ravens could save some wear on Rice and also pick up a few extra yards after contact by giving Pierce more carries.
If the Ravens do give Pierce more carries going forward, expect the running game as a whole to get more focus from analysts, rather than just Ray Rice as an individual.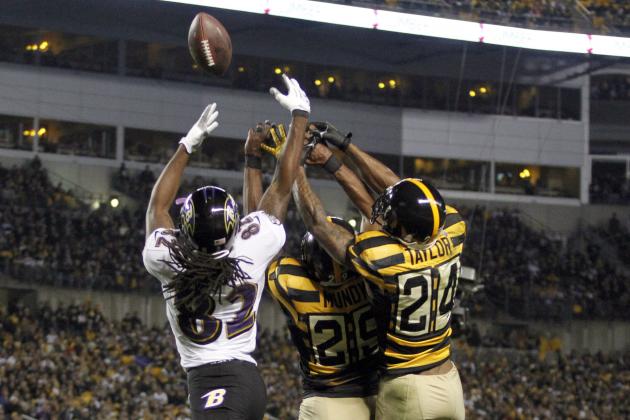 Justin K. Aller/Getty Images

Poor Torrey Smith. He's constantly shadowed by opponents' top cornerbacks, and Cam Cameron has him running deep routes on almost every pass play.
With such a predictable route tree, that Smith has managed to excel this season is a minor miracle.
Still, we saw what good defenses can do to Smith against the Steelers. Smith was held to one catch, as he was shadowed effectively by Ike Taylor all night long.
There are several ways the Ravens could get their most talented receiver the ball more often and in higher-percentage scenarios.
First, the Ravens need to get Smith involved in the screen game. He is explosive with the ball in his hands and can turn any chance into a big play.
Second, run Smith more toward the middle of the field. There is no stat for this, but seemingly every route Smith runs is toward the sideline. Since the ball needs to travel farther in the air on these routes, they are naturally completed at a lower percentage than balls over the middle.
Having Smith run some simple drag routes or quick slants could take advantage of his speed and quickness without forcing him to sacrifice his body.
That Joe Flacco is only completing 45 percent of his throws to Smith is reflective of Cam Cameron's play-calling, not Smith's level of play. Get Smith the ball, and get it to him in more efficient ways, and the Ravens offense will thrive.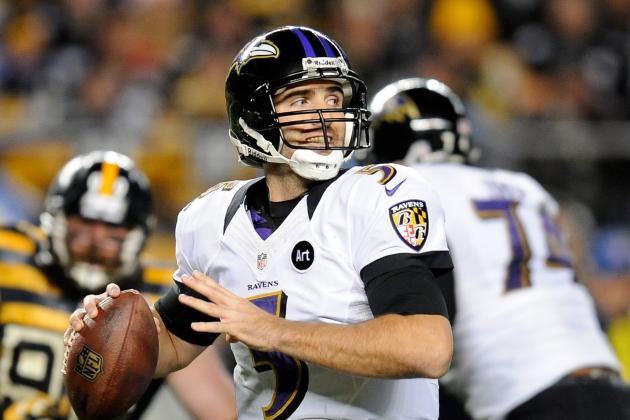 Joe Sargent/Getty Images

Joe Flacco, this recommendation is for you.
At this point in the season, the Ravens will probably have trouble mixing up their practice location, but they should definitely think about moving their training camp next year.
The problem with the Ravens' practice schedule is that it is always at their home base in Owings Mills, Maryland. That includes training camp.
Simply put, Joe Flacco and the rest of the offense only get to get into a rhythm in two locations: their practice facility and their stadium.
Prior to 2011, the Ravens had their training camp at McDaniel College in Westminster, Maryland. It's worth noting that the home-road dichotomy in the Ravens' performance really started to surface in 2011, and especially this season.
Flacco's passer rating is 43.1 points worse on the road than at home, and that is killing the Ravens. Getting Flacco accustomed to playing in different environments would turn that around and help make the Ravens road warriors again.