When I turned on my TV and started watching the Jacksonville Jaguars vs. Houston Texans game yesterday, the first five minutes felt like any normal Jaguars game this season.
The Texans marched down the field and put up a quick touchdown after just a few minutes ticked off the clock.
The Jaguars started moving down the field on their first possession and then fumbled and lost the ball to the Texans, also injuring Blaine Gabbert on the play, ending his game.
At this point, it was the exact same storyline as any other game this year for Jacksonville.
The Texans were forced to go three and out after the Jags' turnover, and then the game changed completely because of backup quarterback Chad Henne.
Henne came right in, led the Jags down the field and finished it off with a beautiful touchdown pass to Marcedes Lewis. When I say beautiful, I mean beautiful. He snuck it in right over the linebacker's head, and just before the safety, right where Lewis could jump up and make the grab.
Thinking that it was pretty neat to see the Jaguars tie up the first-place Texans, the offensive explosion from the Jaguars never looked back.
The Jaguars, led by Henne, continually were able to complete deep pass after deep pass. Cecil Shorts III caught a pass and took it 61 yards to the house.
Who would you start at QB if you were Mike Mularkey?
On a 3rd-and-21,
Henne
launched a beautiful pass to Justin
Blackmon
, who caught the ball effortlessly and escaped three Texans defenders to take it in for an 81-yard touchdown.
Blackmon finally had the breakout game everybody was looking for, and he recorded a remarkable 236 yards and one touchdown on seven receptions.
Chad Henne finished the game going 16-of-33 for 354 yards and four touchdowns, with a 126.8 quarterback rating.
Before any Jaguars fan puts too much stock in Henne, they need to be cautious, as he has a history of being very streaky and inconsistent. But for the time being, it was great to see an offense that has been absolutely dead all year come alive and gain some confidence.
The Jaguars defense did their best against a tough offense led by Matt Schaub, but it simply was not good enough to keep him in check after leading by 14 points in the second half.
Matt Schaub tore apart the Jaguars secondary, putting up 527 yards and five touchdowns. Derek Cox did his best against star receiver Andre Johnson, but Johnson was too much for him, leading the game with 273 receiving yards.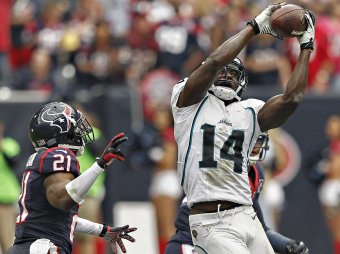 Bob Levey/Getty Images
The Jaguars kept the Texans running game in check, as
Arian
Foster only saw 77 yards on 28 carries, but the Jaguars were continuously getting beaten in the middle of the field on every single play.
Between tight ends Owen Daniels and Garrett Graham, the Jaguars had no answer for the middle of the field, as Schaub lit them up play after play for eight- to 12-yard gains.
The Jaguars had a great opportunity in overtime to get the victory, but the Texans defense came through when they needed to.
On a last-hope 4th-and-10 in the Texans territory with under four minutes left in OT, Henne had an open Blackmon, who just missed turning around in time to catch the ball that would've put the Jags in Scobee's range and a possible win.
The feeling was either win or lose on that fourth-down play, and quickly enough upon the incompletion, Andre Johnson turned a short pass from Schaub into a 48-yard touchdown to end the game.
The Jaguars may have lost the game, but the general consensus is that it was great to see them play a competitive game against one of the top teams in the league.
Now come the questions as to whether or not Chad Henne will take over the starting gig from Blaine Gabbert, which is really not a hard one to answer.
What Henne did on Sunday is what Jaguars fans expect when they watch an NFL game, and Gabbert's been unable to produce through his first two seasons.
With Jalen Parmele as the main running back throughout the game, the Jaguars were able to utilize two rising talents on the team—Cecil Shorts III and Justin Blackmon. They both played great against a stout defense, and Henne was the guy who was able to get them the ball where it needed to be.
The Jaguars now have something to build off of—two guys who can stretch the field and make plays. With Maurice Jones-Drew nearing a possible return, the Jaguars can showcase a very balanced attack that should start a positive feeling to head into next season.
After the offense lost the first eight games, the defense lost this one. It's pretty clear that there are a lot of issues on both sides, but yesterday showcased where the holes are on defense.
Besides CJ Mosley (two sacks, one forced fumble), the Jaguars defense struggled in every aspect. It had no pass rush and horrendous coverage, and it gave up 43 completions.
Schaub had way too much time to throw the ball, and the linebackers covering the tight ends did a terrible job in pass coverage.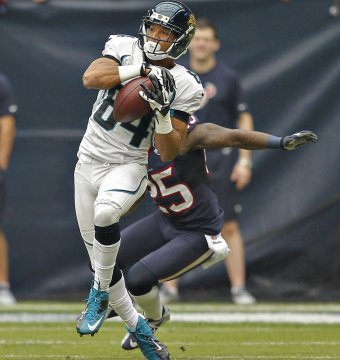 Bob Levey/Getty Images
Safeties played so far off all day that Schaub had multiple options to throw to on every play.
Dawan
Landry and Chris
Prosinski
played so far back in coverage that it was obvious the Jaguars were scared to give up a big play, and in turn gave up multiple short plays that ended up doing as much damage.
The special teams group gave up great field position all day to Keshawn Martin.
Martin nearly broke one punt return and one kick return for a touchdown, but Josh Scobee and Bryan Anger were the reasons he didn't, with two touchdown-saving plays.
Anger ended up not only saving a touchdown, but it led to an interception by Paul Posluszny deep in Jags territory.
Overall, it was an incredibly fun game to watch, and the Jaguars had every opportunity to win it.
In what feels somewhat like a victory, the Jaguars fanbase is anxious to see what Chad Henne can do going forward. He may not be the long-term answer, but he looks to have cleared up who should start at quarterback.