Derek Dooley Fired: 5 Replacements Who Can Save Tennessee Football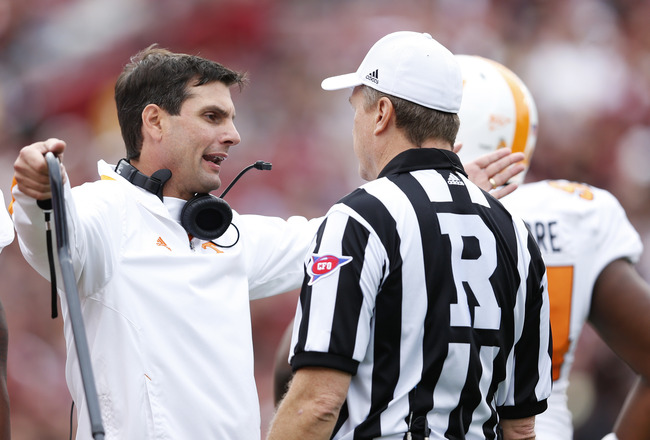 Joe Robbins/Getty Images
The Tennessee Volunteers announced the firing of Derek Dooley on their website (UTSports.com) on Sunday morning after the Vols lost in embarrassing fashion to Vanderbilt the day before.
This program has been on a downward spiral since Phillip Fulmer was fired after the 2008 season, and unfortunately Dooley was unable to right the ship. Despite the struggles Dooley faced, there are five names that could walk into Knoxville and put the program back on top.
The Volunteers are winless in the SEC as they head into a season-ending showdown with Kentucky at home. The stadium will be packed as usual, but the mood will be solemn when Jim Chaney takes the field as the interim head coach in Dooley's place.
Nobody will miss Dooley on the Tennessee sideline, but change is never easy. As the Volunteers search for their 22nd head coach, these five names need to be at the top of the discussion list.
Jon Gruden: ESPN Analyst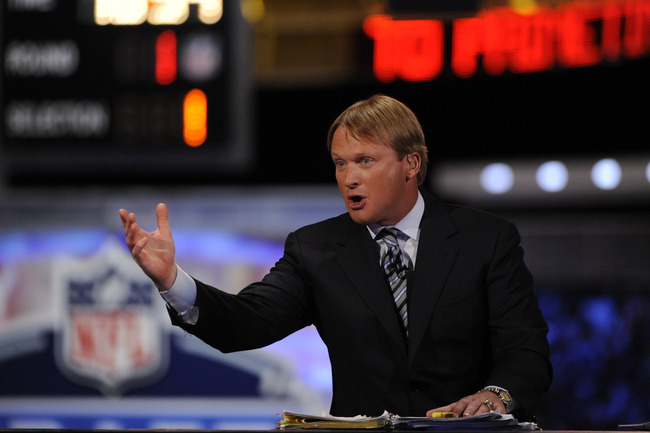 Howard Smith-US PRESSWIRE
Jon Gruden's name has been placed at the top of nearly every major coaching search since he left the Tampa Bay Buccaneers' head position in 2008. Gruden has been an analyst for ESPN since 2009 and has become a staple for the network's draft coverage with his show, Jon Gruden's QB Camp.
Gruden is getting to the point where he has to return to the game or remain an analyst. Eventually, time off the sideline piles up and a coach's stock begins to tumble. He is reaching the tipping point.
There are a number of ties to Knoxville that make Gruden a believable name—his wife was a Vols cheerleader, and he was a grad assistant in the '80s—but nothing has pointed to Tennessee moving in his direction.
This is a very detail-oriented coach who would run this team with a firm hand and put a solid team structure together. A concern would be Gruden's lack of college coaching experience—he has almost none—but as an administrator over the program, he would be a home-run hire.
Dan Mullen: Head Coach, Mississippi State Bulldogs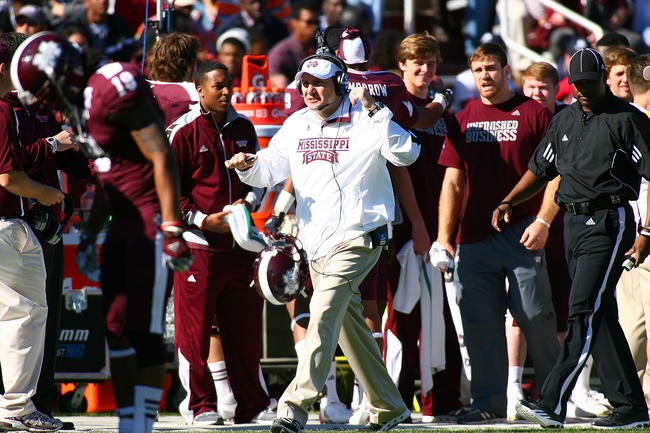 Spruce Derden-US PRESSWIRE
Dan Mullen has worked magic at Mississippi State, turning the program into a hot destination for young talent. Starkville was not traditionally a place that drew top talent, but Mullen has been able to construct a top roster and lead the Bulldogs to a lot of wins.
Mullen has become a hot name on the coaching circuit, as his time at Mississippi State may be reaching an end. The Bulldogs flirted with the Top 10 earlier this year, but there is a concern that it may be the highest point this program can reach.
The ceiling at Mississippi State may be low, but at Tennessee it ends with national titles. Mullen has aspirations to be one of the best coaches in the country. For him to achieve it, he has to move on from Starkville.
Tennessee would be wise to take a look at Mullen. His offensive ingenuity and penchant for aggressive defense would lead the Volunteers back to the top of the SEC East.
Jim Tressel: Vice President of Strategic Engagement, University of Akron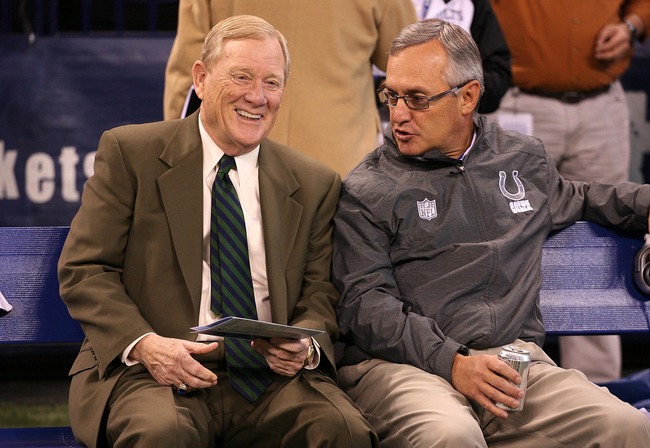 Brian Spurlock-US PRESSWIRE
Jim Tressel may have a cloud of controversy following him around right now, but a few wins in an inaugural season would change that for the former Ohio State head coach.
Tennessee is facing NCAA issues after the Lane Kiffin years left sanctionable actions behind, so the Tressel hire would be a sketchy one at best for this team. But if he were to put together two winning seasons, no one would care about the past.
This is a proven coach that can rebuild the Tennessee program. It would be a catchy hire that would bring a ton of press and elite talent to Knoxville.
Expect the unexpected in Tennessee as the Vols look for big wins down the road.
Gary Patterson: Head Coach, TCU Horned Frogs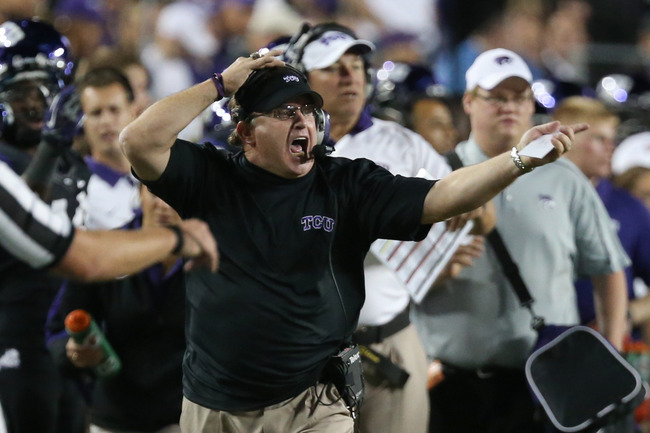 Jim Cowsert-US PRESSWIRE
Gary Patterson has been impressive as the head coach at TCU. Patterson is 115-34 in his 12 full seasons with the Horned Frogs program and has guided them into the Big 12 this season.
There have been a number of big jobs that have mentioned Patterson in the past, but he never seems to finish as a finalist in any coaching search. Some argue it is due to shaky interviewing skills, while others would contend he is just happy at TCU.
Either way, a serious offer from Tennessee would have to be considered, and the Volunteers would be foolish not to offer Patterson the job.
He has put the Horned Frogs program on the map and would be a great candidate to turn the program around in Knoxville. Defense wins titles, and Gary Patterson-led teams always play good defense.
This would be a great hire for Tennessee if Dave Hart could make it happen.
Hugh Freeze: Head Coach, Ole Miss Rebels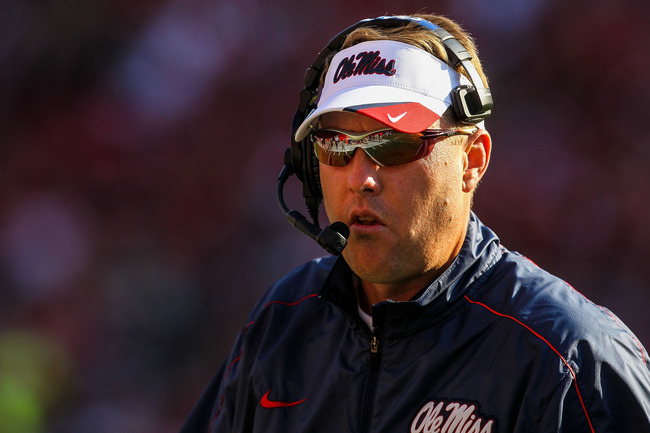 Daniel Shirey-US PRESSWIRE
Hugh Freeze has only been at Ole Miss for one year, but the overachieving Rebels have led to a lot of national attention for Oxford and the new head coach.
Would Freeze really consider leaving Ole Miss after only one season? For the Tennessee job, it seems to be a no-brainer. Nothing against Ole Miss, but the Rebels are no Tennessee.
The Volunteers need new blood to rejuvenate this team. The Freeze offense would bring an exciting change to the Vols attack and would put Tyler Bray in a Heisman-winning scenario.
Freeze may not have a ton of head-coaching experience, but he has the fire and talent to lead this team back to the elite of the SEC.
Keep Reading

Tennessee Volunteers Football: Like this team?