Bears vs 49ers: Final Game Grades and Player Analysis for Chicago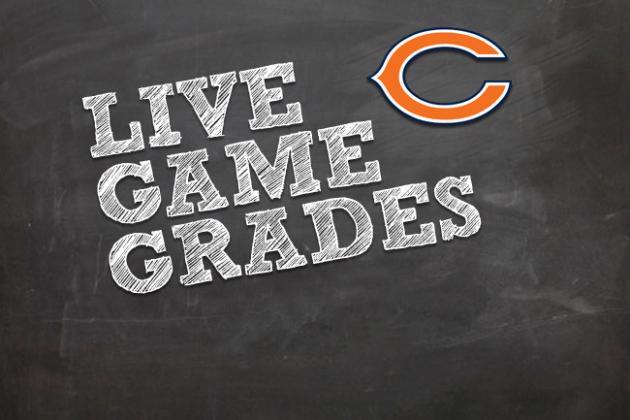 This was a game where the Bears were worked over by a better team from start to finish. Jason Campbell was supposed to be the more seasoned quarterback but nobody told Colin Kaepernick.
Kaepernick was the story of the game as he torched the Bears defense for 243 yards, two touchdowns and a quarterback rating of 133.1. Compare that to Campbell who had only 107 yards, two interceptions and a rating of 52.7.
Aldon Smith was in Campbell's face all night finishing with 4.5 sacks and seven hits on the quarterback. It was an epic disaster for J'Marcus Webb, Gabe Carimi and the offensive line. The team's 143 yards total offense was their worst showing since 2010 when Jay Cutler was knocked out of a game against the Giants with a concussion.
They can only hope their starting quarterback can recover from his current concussion and help right the ship.The Bears now have a two game losing streak and have relinquished their lead in the NFC North. They will look to rebound next week at home against the Minnesota Vikings.
Begin Slideshow

»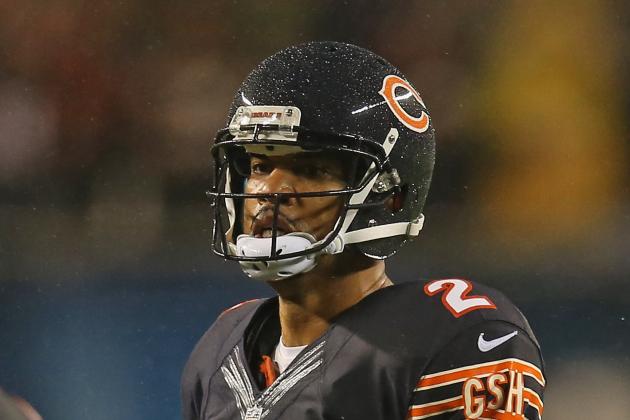 Jonathan Daniel/Getty Images
Jason Campbell
Jason Campbell: D
Campbell didn't get a ton of help from his offensive line but early on he struggled to move the football down the field and make smart decisions. When he did throw the ball his passes sailed on him and they resulted in a couple turnovers.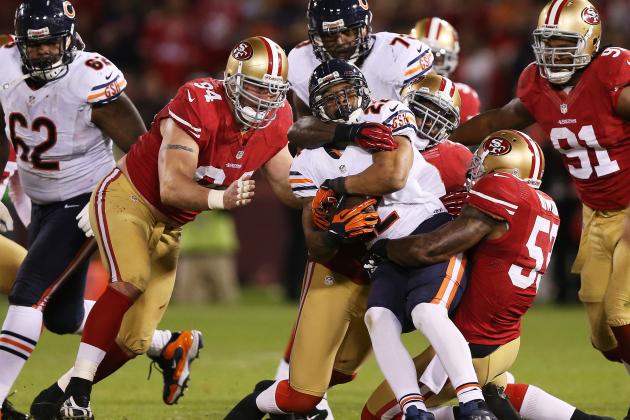 Ezra Shaw/Getty Images
Matt Forte
Matt Forte: C
This effort is not on Matt Forte. He carried the ball 21 times and surprising got 63 yards out of that. Considering how the offensive line played he was lucky to get that.
Michael Bush: C-
Bush's numbers are more indicative of how the offensive line played. He had five rushes for nine yards.
Evan Rodriguez: D
Rodriguez dropped his only pass thrown to him and did not do a good job creating space for the running backs.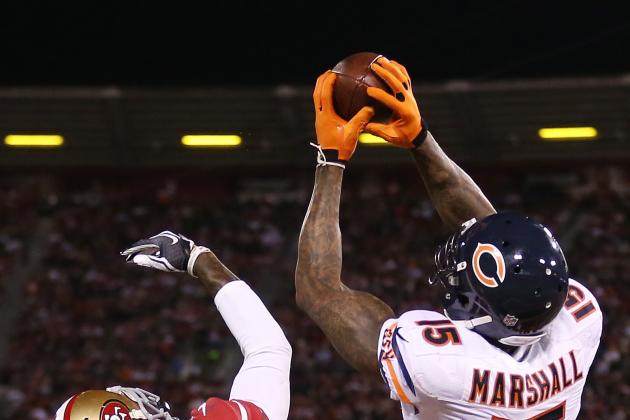 Ezra Shaw/Getty Images
Brandon Marshall
It was clear the 49ers came out with a game plan to stop Marshall. He still came out with touchdown catch. Not much he or anybody can do when they consistently double team you.
Earl Bennett: D
If one guy is getting double teamed all night where is somebody like Bennett to take some pressure off over the middle? He struggled again to get open and had only one catch.
Devin Hester: D
Hester led the team in catches with three...Ouch.
Alshon Jeffery: D+
Jeffery looked rusty after missing time and he couldn't match up with the physical 49ers secondary. He ended up leaving the game with a knee injury.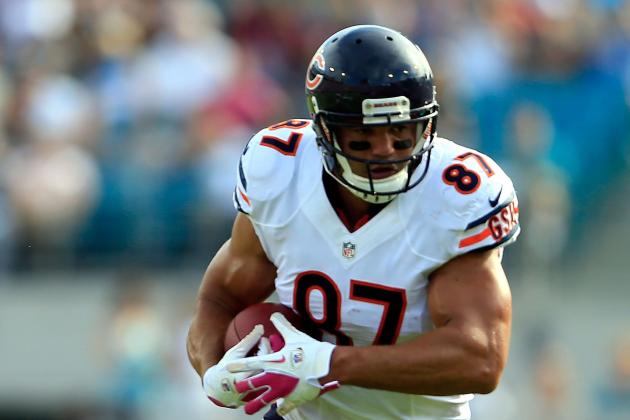 Sam Greenwood/Getty Images
Kellen Davis
Kellen Davis: D
Another non-factor for Davis. He did have two catches but most importantly he didn't fumble.
Matt Spaeth: D
Not a good blocking game for Spaeth. He struggled big time in slowing down the pass rushers on the outside.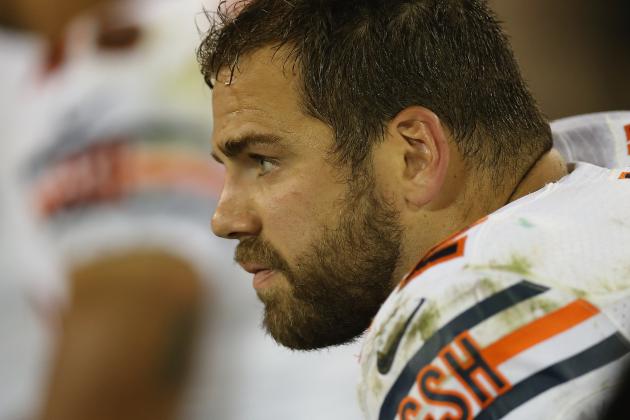 Jonathan Daniel/Getty Images
Gabe Carimi
J"Marcus Webb: F
Just did a horrible job all night on the left side. His footwork was terrible and the guy refuses to use his hands to slow down a pass rusher.
Chilo Rachel: F
Consistently got pushed in the backfield by linebackers and defensive linemen especially in the running game.
Roberto Garza: F
The leader of the offensive line has been a silent one with his play and demeanor.
Lance Louis: D
Not as bad as Rachel in the running game but pretty close.
Gabe Carimi: F
It might be time to pull the plug on Carimi. Never has a tackle look so bad on so many plays. He was getting pushed to the ground like a rag doll. Just torched physically all night.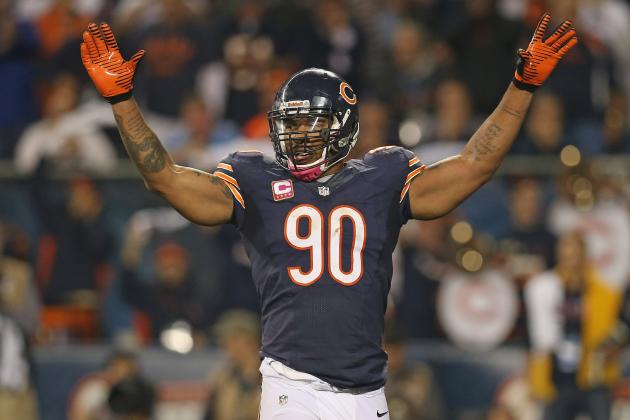 Jonathan Daniel/Getty Images
Julius Peppers
Julius Peppers: F
Couldn't even get a decent pass rush the whole night and had a hard time containing Kaepernick once he reached the outside.
Stephen Paea: C
The only player on that line who made some nice plays in the running game.
Henry Melton: F
Melton is usually so good at generating a pass rush from up the middle but just couldn't get through tonight.
Israel Idonije: D
Was able to get half of one of the Bears' two sacks and that's about it.
Corey Wootton: C
Actually provided some nice pass rushes and got to Kaepernick on two occasions.
Amobi Okoye: D
Registered one tackle in his short stints on the field.
Nate Collins: D-
Like Melton, the usually animated physical player was stifled the whole night.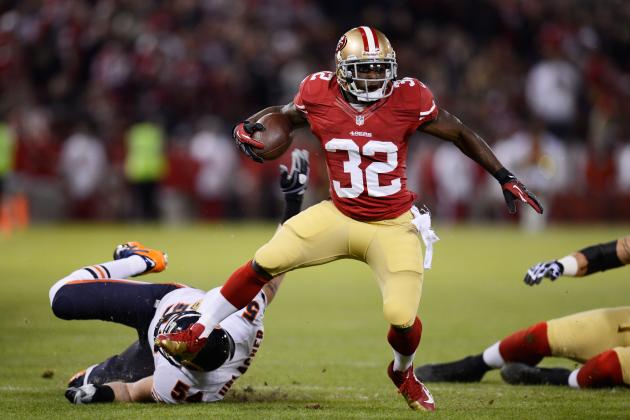 Thearon W. Henderson/Getty Images

Brian Urlacher: D-
A couple of missed tackles in the running game really stood out for Urlacher.
Lance Briggs: D
There were a couple of times where Briggs tried to bust through on a blitz or to stop the run and he was flat out put on his butt.
Nick Roach: C
Roach wasn't bad but didn't stand out when it came to making any big plays. He had a very good start but tapered off as the game went on.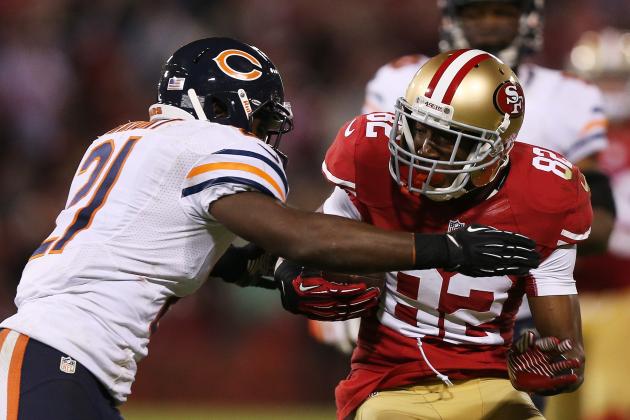 Ezra Shaw/Getty Images
Major Wright
Charles Tillman: C
The big plays in the passing game weren't necessarily on Tillman. The touchdown to Crabtree was more about fatigue and where the game was at that point.
Tim Jennings: C
Like Tillman, Jennings did the best he could against a quarterback who had time to throw.
Major Wright: F
There was a clear game plan by San Francisco to attack Wright especially with Vernon Davis. He was out matched by the tight end in every way.
Chris Conte: F
The early person foul was bad. The inability to secure the middle and deep parts of the field was worse.
Kelvin Hayden: F
Remember when Hayden was playing so well D.J. Moore stopped seeing the field? That might change after this game.
Jonathan Daniel/Getty Images
Devin Hester
Devin Hester: F
Hester had negative one yard on three punt returns.
Robbie Gould: Incomplete
Never got a chance to do anything except kick an extra point and a couple of kick offs.
Adam Podlesh: C
Still very inconsistent for Podlesh who looks frustrated and in a slump. His second punt was very nice though.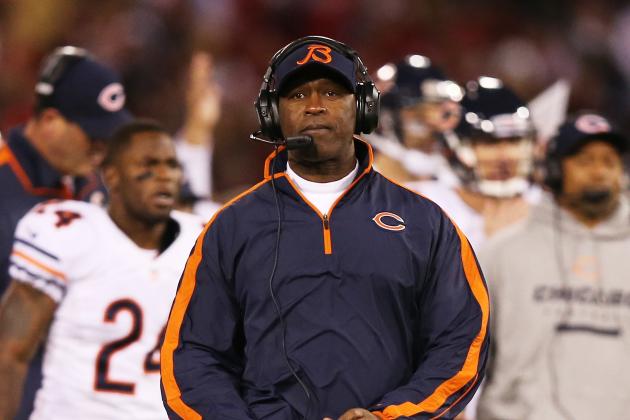 Ezra Shaw/Getty Images
Lovie Smith
Lovie Smith: F
This football team was not prepared and never matched the intensity brought by the 49ers. There were no adjustments made early on the Smith allowed his team to get run out of the stadium.
Mike Tice: F
As of right now Tice is terrible at getting his quarterback protection and his playcalling is questionable at best especially early in the football game.
Rod Marinelli: F
Marinelli should have had this defense ready for Colin Kaepernick and the matchup issues with Vernon Davis and Mario Manningham. They allowed a quarterback making his first start to settle in right away and there was no physical presence all night.