Colts vs. Patriots Take Two: A Beatdown for the Ages in Foxboro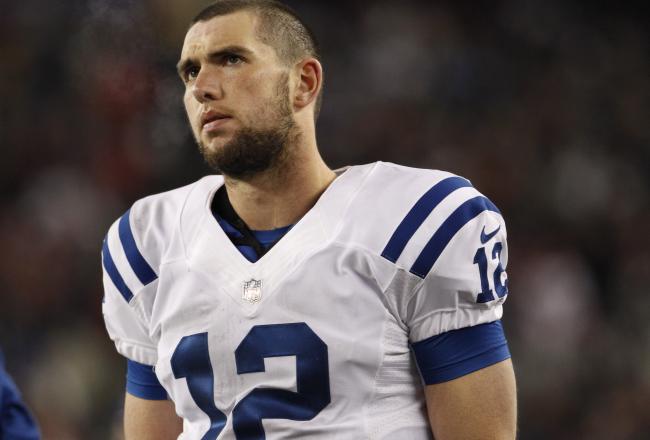 Luck left Foxboro in misery.
David Butler II-US PRESSWIRE
The dream season in Indianapolis took a backseat for one nightmarish afternoon, as the New England Patriots proved sentiment and emotions are no substitute for talent.
New England plastered the Colts 59-24 in one of the worst beatings administered in the NFL in 2012.
What went wrong for Indianapolis?
A second look at the tape reveals all.
The Real Story
If Andrew Luck doesn't play a perfect ballgame, the Colts can't beat a good team.
For as bad as the blowout was, there were plenty of offensive highlights for the Colts. Indy moved the ball, putting up 24 points and penetrating the Patriots 40 on two other occasions.
Luck contributed his typical share of "wow" plays, completing 3rd-and-longs and hitting big strikes.
He also turned the ball over four times. The two interceptions that were returned for touchdowns were both bad physical throws. He also had a batted ball and a fumble when he was stripped from behind attempting a throw.
Bad throws are a fact of life, and not something worth worrying about long-term. Luck will learn from them and move on.
It was a sloppy game for the Colts offense, but not an altogether out-of-the-ordinary game.
The real problem was the defense. The Colts surrendered 38 points on defense, but those came on just eight meaningful drives.
No team has any hope of winning when it allows nearly five points per possession.
The Colts have been awful on defense all season, and the Patriots exploited it. That put major pressure on the offense to play perfect football, and the burden was just too great to bear.
Heroes
This is a short list for Indy.
Reggie Wayne went over 1,000 yards on the season, but he didn't have a dominant game.
T.Y. Hilton had a fantastic six-catch, 100-yard, two-touchdown outing.
The Indy running backs led by Vick Ballard had early success, but that dried up by the second quarter.
Goats
Luck wears the horns on this day for the turnovers, but it was hardly a terrible afternoon given the conditions. The tape didn't look as bad as the stat line. The turnovers were aggressive, go-for-broke kinds of plays.
Yesterday, they went broke.
The entire defensive unit played poorly. It's difficult to point at one player and say, "He did his job well."
Secret Play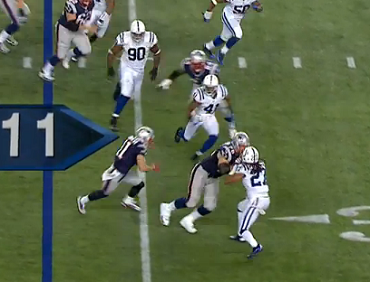 After opening the second half down just seven points, the Colts defense had a chance to get off the field early in the third quarter.
On 3rd-and-11, Brady found Julian Edelman on a screen from the 23. Antoine Bethea had a bead on him on him but missed the tackle.
Edelman squirted free for 17 yards. The Patriots eventually scored a touchdown to go up by 14.
It was indicative of the kind of poor tackling and slow recognition that plagued the Colts all game long.
Coaching Notes
Bruce Arians' inexplicable decision to punt from the Pats 39-yard line was deplorable. Trailing by 14 in the second half to a team that you've shown no ability to stop is not the time to try to play field position.
Equally dubious was his choice to punt on 4th-and-2 from the Indy 31 with 7:52 to play. The score was 52-24. At that point, if he was going to punt, he should have pulled his starters.
Keep An Eye On...

This game doesn't affect the Colts' long-term plans or growth.
It was an inevitable whipping by a team that everyone knew to be obviously superior in all facets of play.
Indianapolis has to find a way to play better on defense. Hoping Luck will put 30 up is not a reasonable play week after week.
Look for changes to come soon. Whether they are by scheme or by getting injured players back, the Colts have to stop the bleeding.
Indianapolis now faces a critical three-game stretch against teams that are now 4-6. The Buffalo Bills come to Indianapolis in Week 12, and a win would stabilize the team's playoff hopes.
The Colts aren't a good team, but that doesn't matter in the AFC. None of the teams they are competing with for a playoff spot are good teams either.
If the Colts can get one win in the next three games, they'll still likely make the playoffs. If they can snake out two wins, they will be a virtual lock.
This article is
What is the duplicate article?
Why is this article offensive?
Where is this article plagiarized from?
Why is this article poorly edited?

Indianapolis Colts: Like this team?