WWE Survivor Series 2012's Biggest Hits and Misses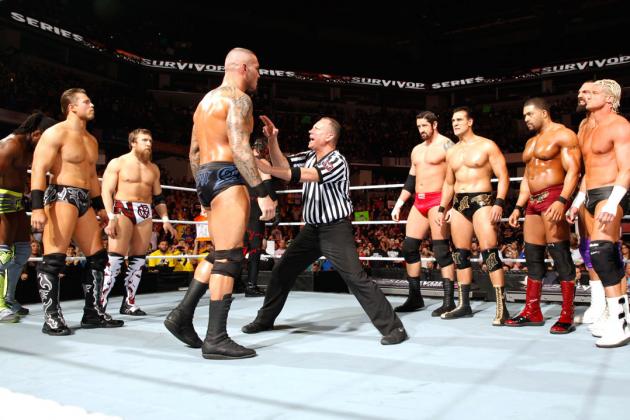 Photo Credit: WWE.com
The 2012 edition of WWE's Survivor Series pay-per-view has come and gone, and there is much to address in the WWE Universe.
CM Punk is still the WWE Champion following a highly controversial victory over John Cena and Ryback. The Big Show escaped with his World Heavyweight Championship in hand, despite leaving a beaten and broken man.
Dolph Ziggler scored, arguably, the biggest win of his career and Antonio Cesaro retained over R-Truth. Eve and Kaitlyn had a very good match with the Divas Championship and the tag teams took center stage in the night's opener.
There were a number of satisfying "hits" and just as many disappointing "misses." What was good and what was bad? What soared and what sank?
Find out inside.
Begin Slideshow

»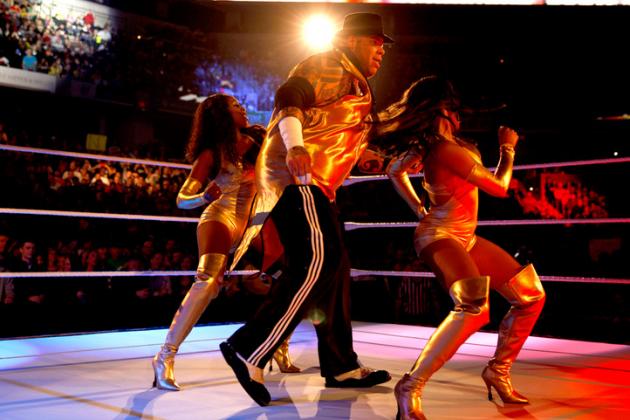 Photo Credit: WWE.com
There was a time, not all that long ago, when Brodus Clay was a very popular babyface in the middle of a fairly substantial push. That time could not seem any further away following Sunday night's show.
Allowed only a few offensive maneuvers, Brodus botched a suplex attempt on Tensai and was soundly dispatched seconds later.
He would be the only babyface eliminated in the opening contest, featuring the team of Rey Mysterio, Sin Cara, Justin Gabriel, Tyson Kidd, and Clay taking on Primo, Epico, the Primetime Players, and Tensai.
Brodus Clay is merely the latest in a line of Superstars to see a push fall by the wayside. Typically, those pushes are ended because the performer in question falls out of favor with management or the creative team books themselves into a corner with no real future laid out for the character.
It is an issue that rears its ugly head from time to time, perhaps in no more blatant fashion than in Zack Ryder earlier this year and Wade Barrett following the end of the original Nexus storyline.
Either way, if the plan was for the babyface team to go over strong in the opening contest, there really was no reason for Brodus to be eliminated from the match, even if it was meant to put over the revitalized tag team division.
Besides, we saw the four tag teams involved in a similar match, for free, this past Monday night.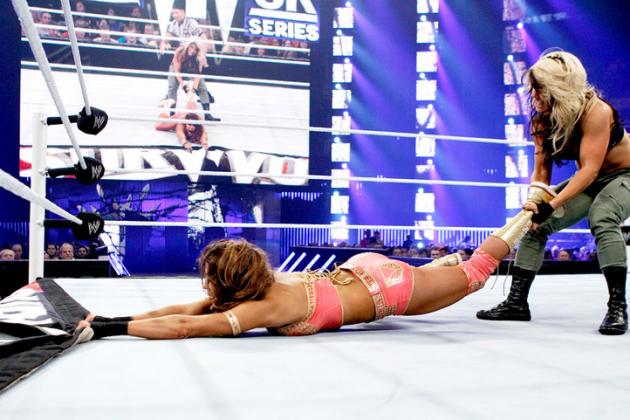 Photo Credit: WWE.com
One of the most common complaints about the recent Divas matches has been the tendency to run through a few different spots without any real substance in the very little amount of time allotted to the women.
At Survivor Series, Eve and Kaitlyn completely broke the mold of what has become commonplace in the televised Diva matches, crafting a different match that played into their history and the story told between them over the last two months.
Kaitlyn unleashed her frustrations on Eve, resorting to a punch-and-kick offense that, while boring most times, worked perfectly in this case.
The champion, on the other hand, channeled her inner Ric Flair and resorted t begging off before, ultimately, picking up the win by outsmarting her opponent and using her aggression against her.
Too many times fans are so concerned with who can hit hardest or who can throw the most suplex variations that they forget that the story told in any given match is as equally important, if not more.
Tonight, Eve and Kaitlyn had a match that played perfectly into the established story, was different from every other women's match seen this year and, ultimately, was a greater success than those Divas title matches.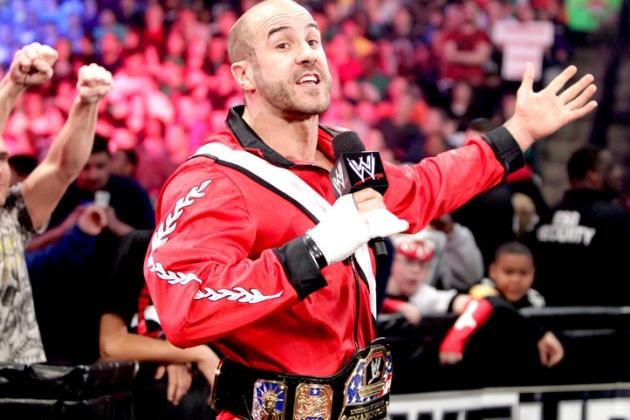 Photo Credit: WWE.com
United States Champion Antonio Cesaro is in danger of seeing his title reign go down in the record books as one of the most disappointing in recent history.
A very talented competitor who made a name for himself in Ring of Honor, Cesaro has yet to make a connection with the audience and his appearances on pay-per-view have been rather lackluster.
The connection to the audience can, in part, be blamed on the creative team. Despite the fact that the company has clearly identified him as a Superstar they are interested in pushing, he has been given no real clear-cut character and his only promos center on speaking five different languages or calling Americans fat.
The other part of the blame rests on the shoulders of Cesaro. As seen in the US Championship match at Sunday's Survivor Series, against R-Truth, the current title-holder has not done enough to make himself stand out. He is a very good in-ring performer but he has shown no real personality that would allow the fans to buy into the match.
R-Truth is a popular performer and, against the right opponent, probably could have gotten the desired reaction. Cesaro, at least on this night, was not that opponent.
At this point, Antonio is in desperate need of a breakout match, the type that could end up defining his early WWE career.
If that match does not come and he continues to perform at the subpar level he currently finds himself in, he may see his all of his potential wasted with little to nothing to show for it.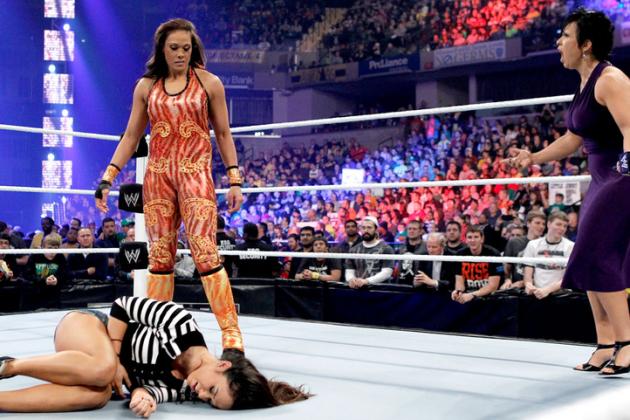 Photo Credit: WWE.com
The fact that World Wrestling Entertainment, a company seemingly uninterested in anything to do with pushing the Divas division, may soon have more than one rivalry between in-ring competitors is mind-boggling.
But welcome.
Tamina returning and delivering the Superfly Splash to a prone AJ was effective in establishing her as a dominating force, especially considering the recent departure of Beth Phoenix has left the "dominant Diva" role unfilled.
Now it will be up to those in power not to allow Tamina to fade into the background, as she did earlier this year following a solid match against Beth Phoenix.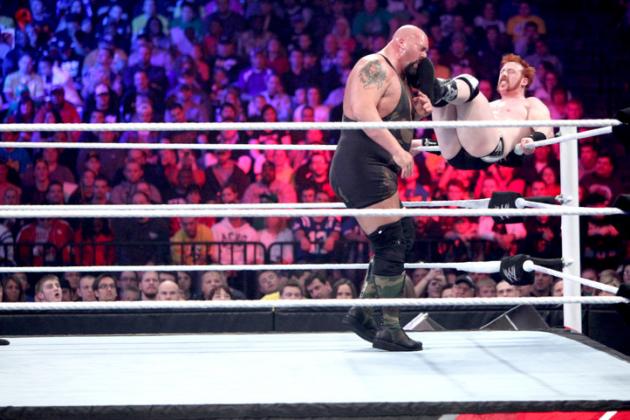 Photo Credit: WWE.com
If at the beginning of the year you thought Sheamus and Big Show would have some of the best chemistry in the business in 2012, raise your hand.
Liars.
The fact of the matter is that Sheamus and Big Show shocked the world at Hell in a Cell by having a show-stealing match.
The near falls and high-impact offense of that match captured the crowd's imagination and featured some of the best heavyweight action between two very game competitors since the heyday of Big Van Vader in World Championship Wrestling.
At Sunday's Survivor Series, the two big men nearly stole the show again.
The match was a slower, more methodical match but, again, featured some tremendous heavyweight fighting. Particularly impressive was Sheamus' electric chair to his much larger opponent.
The disqualification finish, featuring referee Scott Armstrong eating a Brogue Kick, seemingly sets up a final rematch between the two at December's TLC.
I never expected to say this but I, for one, cannot wait.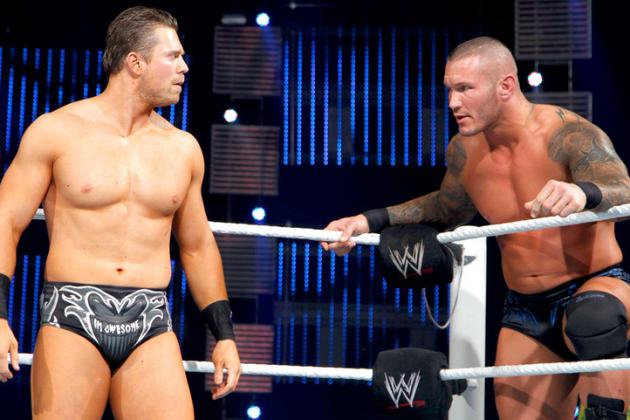 Photo Credit: WWE.com
So let's get this straight: The Miz is in line for a babyface turn and a push up the card. He is added to Team Foley and the tension between he and Randy Orton is teased a week prior to the pay-per-view.
He receives surprisingly strong reactions for a turn that occurred just this past Monday and has performed admirably in the first two matches he has competed in as a babyface since arriving to WWE six years ago.
So you draft your final copy of the pay-per-view with a result of said babyface being soundly beaten and eliminated by Alberto Del Rio, a Superstar who has had so many chances to succeed as a top heel in the company but, for whatever reason, has failed repeatedly and barely receives a reaction from the audience any more.
Yeah, that makes sense.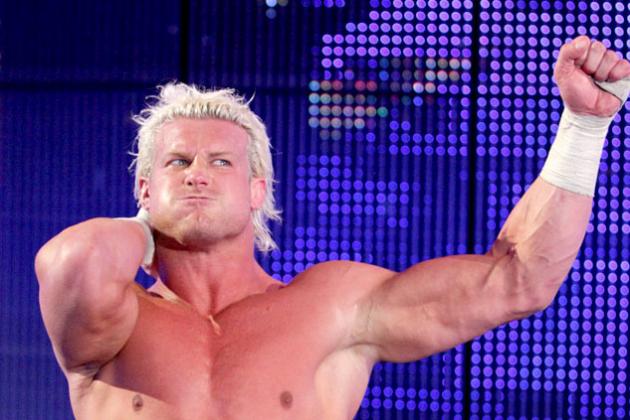 Photo Credit: WWE.com
It took long enough, but the current holder of the Money in the Bank briefcase finally picked up a win over a top star.
Sunday night, Randy Orton appeared poised to reach into his past, a darker time in the career of The Viper, and pull out the punt that put so many Hall of Fame-caliber stars out of action.
As he charged towards his fallen opponent, Ziggler popped up from out of nowhere and delivered a superkick. He conveniently fell on top of the multi-time WWE Champion and picked up a victory most thought improbable.
The win is a major one for Ziggler, who has been able to pick up wins against some of the most talented mid-card stars in the industry but has never been allowed to pick up that one big win against an established main event star on pay-per-view.
The win over Orton may also indicate that Ziggler cashing in the Money in the Bank briefcase is coming sooner rather than later.
Randy was also very good in the closing moments of the match, channeling the heel side of his character, even if for a brief second, that has not been seen in nearly three years. It was refreshing for a performer who has, in recent weeks, been pandering to the audience during his comeback spots far more than normal.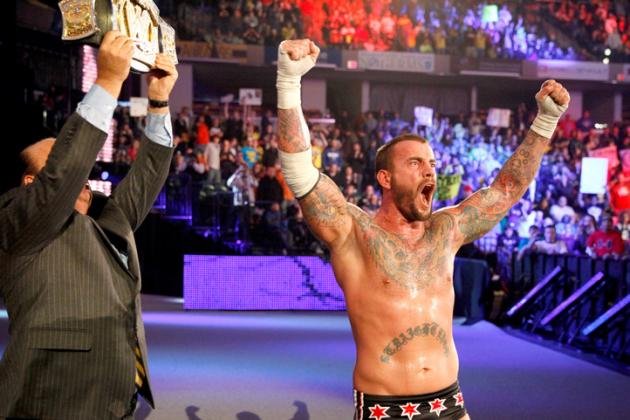 Photo Credit: WWE.com
When a Superstar such as Ryback gets as hot as he has been over the last two months, there is a tendency to want to scrap all future plans and go with that guy as soon as possible. At Survivor Series, Vince McMahon resisted temptation and stuck to his guns.
He penciled in CM Punk to successfully retain his title, essentially setting up a WWE Championship showdown against The Rock at January's Royal Rumble.
CM Punk is somewhat of a modern miracle in that it was once believed that the days of year-long title reigns had come and gone. Not since John Cena some five years ago has a champion enjoyed a heavyweight title reign that has lasted as long as Punk's.
It is an indicator that the company believes in the performer to continue to carry the ball, despite a hot, up-and-coming babyface and the biggest star in the industry being alternative options.
Watching CM Punk slowly crawl across the ring and just barely have enough energy to cover the fallen John Cena was a delight, especially since it was done in the same fashion that so many great heels that have come before Punk had done.
It remains to be seen what awaits Punk in December, as well as what the company has planned for his title defense against The Rock, but whatever it is, it should be a lot of fun watching it unfold.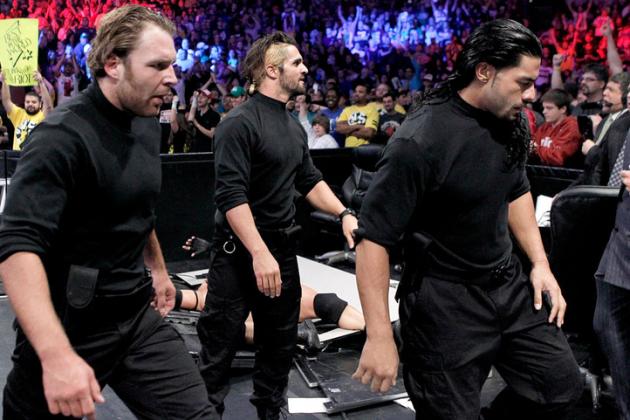 Photo Credit: WWE.com
Okay, so his name is Roman Reigns. But darn it, I liked Leakee better.
Anyway, the arrival of Seth Rollins and Dean Ambrose has been greatly anticipated for nearly a year now. Both men have enjoyed a fair amount of publicity across the Internet, both hyped as future stars for World Wrestling Entertainment.
Reigns, to his credit, has also shown flashes of great athleticism and would not appear out of place in the company.
Their interference in the main event of Survivor Series, attacking Ryback and costing him the WWE title, not only signals a call-up to the main roster, it also implies a high-profile spot on the show.
Ambrose has been very impressive on the microphone in FCW, NXT, and in dark matches prior to televised events while Rollins is often compared, rightly so or not, to CM Punk.
Survivor Series, for lack of major title changes, may forever be remembered as the night that the future of the business made their first impact.