Before Tottenham's Premier League battle with Manchester City on November 11, Emmanuel Adebayor hadn't had a league start in the 2012-13 season. A week later, Ade has had two starts in two matches and run the gamut of emotions with Spurs supporters.
Against City, the Togolese striker put in a fine performance against his most recent former employers. He was scrappy in defense, antagonized the opposition and provided a great target to hold the ball up.
Almost immediately, Tottenham fans were (quite understandably) calling for Adebayor to get more playing time, starting either in place of or alongside Jermain Defoe.
In the buildup to the first North London Derby, these supporters got their wish, as manager Andre Villas-Boas made it clear that he would start the big striker in a shift to two strikers.
In a statement with bit of a foreshadowing, the manager said that he selected Adebayor because he knew Emmanuel would be motivated to show up the Gunners, the club he left in 2009 (per Miguel Delaney, soccernet.espn.go.com):
I suggest, to make the most of it, we can use individual's motivations and that is why we used Adebayor also in a game versus City last week. These are things that you have to count on.

But, hopefully, it can have a positive effect, but it can have a negative effect. Last year he scored from the penalty spot and had a good game and this is the type of resolve and motivation for matches like this.
To start the match, this motivation was clear, as Adebayor showed the same sort of work rate that made him a hit just six days earlier against City.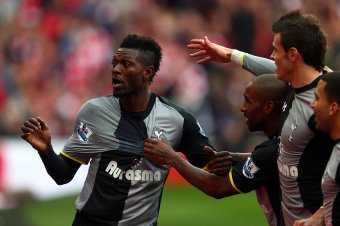 Clive Rose/Getty Images
Just 10 minutes into the match, Ade was able to open the scoring after pouncing on a rebound from a Wojciech Szczesny save. The decision to start Emmanuel looked to be validated; the only question remaining seemed to be how many goals the big man would create.
Then came the moment.
With Arsenal seeming to be finding its feet for the first time in the match, the Gunners started pushing up the pitch a bit more and posing their first threat.
After a poor clearance from the end line forced Adebayor into a heavy touch into the path of Santi Cazorla, the striker sprinted back and left his feet in an attempt at a tackle.
Instead of winning the ball, Emmanuel caught Cazorla square on the ankle, sending the Spaniard (understandably) rolling on the ground and writhing in pain.
After a few seconds of delay as he checked on the well-being of the Gunner, referee Howard Webb turned and showed Ade a straight red card.
With AVB's words on the "negative effect" the emotions of the match could have on Ade now seeming prophetic, Spurs slumped to a 5-2 defeat throughout the rest of the match.
Of course, as it was such a huge call in a derby, a few questions immediately sprang up about the decision.
Should Webb have made a different call? On replay, any rational person would answer "no." At best, that challenge was deserving of a deep orange card, but a red was totally deserved.
What do you think Spurs should do with Adebayor?
But the most interesting question was, "What was Adebayor thinking?" The best answer that I can come up with to that one is that he wasn't thinking.
The relationship between risk and reward were incredibly disproportionate in this situation. In the best case, i.e. if Ade had won the ball, he would have had it in his own half, mostly surrounded by Gunners and with no clear outlet. In the worst case...well, that's what happened.
Forget the fact that it was an awful attempt to win the ball: Emmanuel had no business even going for the tackle.
As is expected, public opinion of the striker has shifted a bit since the derby. I mean, how can a team or its fans trust a player after such a bone-headed mistake in such a big match?
Still, AVB has stuck with his striker, stating that his side will miss him through his suspension (per Steve Tongue of independent.co.uk).
Maybe he should get used to this.
After all, January is just right around the corner.
For the latest news in the world of football, follow me on Twitter.