Boise State Football: Winners and Losers from the Week 12 Game vs. the CSU Rams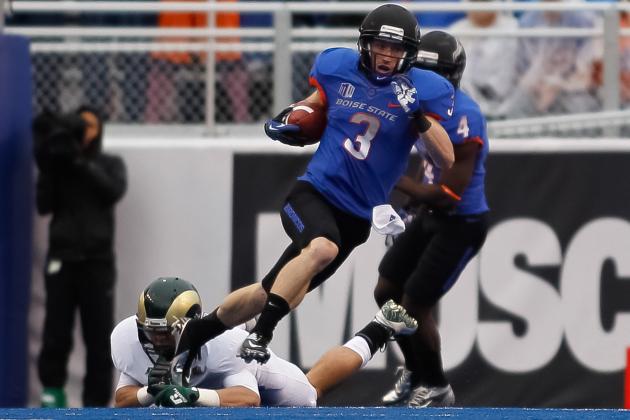 Otto Kitsinger III/Getty Images

It was senior day in Bronco Stadium, and the seniors didn't disappoint.
Saturday in Week 12 of the college football season Boise State improved their overall record to 9-2 on the season and 6-1 in the Mountain West Conference. The win came at the expense of the Colorado State Rams who fell to 3-8 overall and just 2-5 in the MWC.
It was the last home game of the season and the final game in the careers of 23 Boise State football players. Every one of them have a unique story, and yet collectively they are a gathering of talent that is known more for their group effort rather than their individual accolades. Which, is exactly what the blue collar Broncos are all about.
"The whole is greater than the sum of the parts", is a saying that comes to mind when thinking about a Chris Petersen team. The 2012 Broncos are no exception.
Let's look back at the winners and losers of the Week 12 game versus Colorado State and what it might mean for the Broncos going forward.
Begin Slideshow

»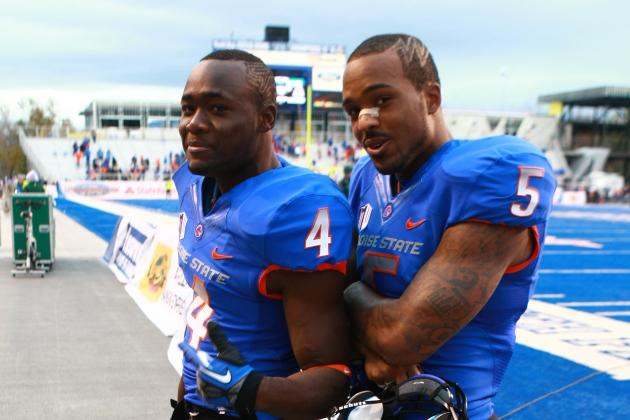 Brian Losness-US PRESSWIRE

It was the final game for 23 outstanding Boise State seniors. Some didn't play because of injury, but they were there in spirit.
Bronco Nation can be proud of this group. It has been quite a 2012 season so far, and this group of 23 stepped up into a giant shadow and continued the tradition of excellence in a big way.
Boise State Seniors
K: Michael Frisina
LS: Chris Roberson
OL: Michael Ames
DT: Michael Atkinson
CB: Josh Borgman
WR: Mitch Burroughs
CB: Jerrell Gavins
DT: Greg Grimes
RB: D.J. Harper
WR: Tyler Jackson
OG: Joe Kellogg
TE: Chandler Koch
DT: Darren Koontz
DB: Hazen Moss
OG: Brenel Myers
FB: Dan Paul
LB: J.C. Percy
WR: Chris Potter
N: Dextrell Simmons
LB: Tommy Smith
CB: Jamar Taylor
RB: Drew Wright
OT: Faraji Wright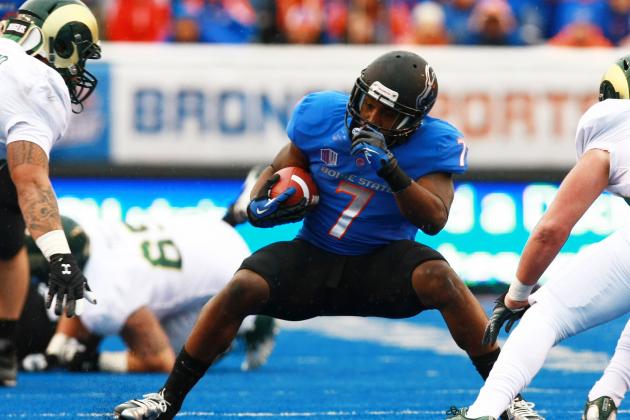 Brian Losness-US PRESSWIRE

How do you start senior day? How about an 80-yard touchdown run by your senior running back?
On the first play of the game for the Broncos, sixth-year senior D.J. Harper took the hand off from Joe Southwick and darted to the right side. The Colorado State defender dove for the very fast Boise State running back, but it was far too late.
Nothing but blue was between Harper and six points. Harper outran those who tried to pursue him and took the ball in for the Boise State touchdown. It was a perfect way to start senior day.
Harper would then go on to rush for 107 yards on the day with two touchdowns. He also caught three passes for an additional 32 yards.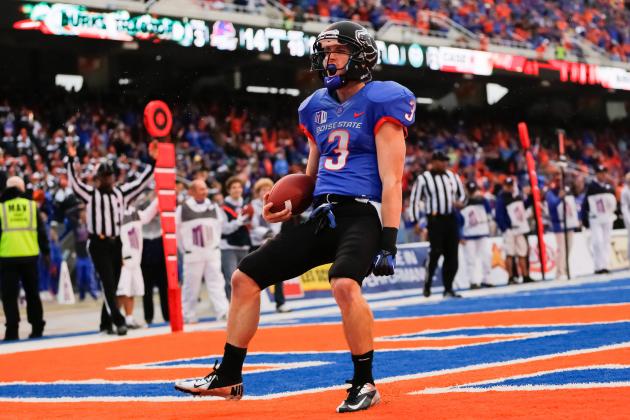 Otto Kitsinger III/Getty Images

His number is three, which seems appropriate. On the day Chris Potter ran the ball, caught passes and returned punts.
Potter had 47 punt return yards, 15 receiving yards and 23 rushing yards. He also had a rushing touchdown and was a spark when needed.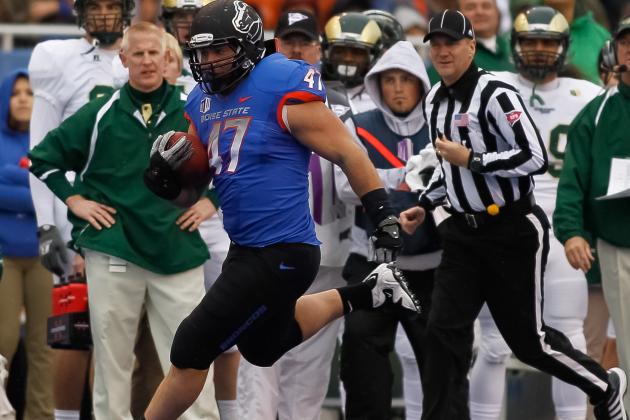 Otto Kitsinger III/Getty Images

Another senior, another winner. Fullback Dan Paul is not known for his soft hands and gentle touch. Usually he is knocking some poor defender to the turf and causing them to re-think how much they love football.
However, on Saturday Dan Paul caught two passes and one of them was for a touchdown. You wonder why there hasn't been more of that this season?
Paul showed that not only can he destroy defenders, but he can be an offensive weapon as a receiver. No word yet if he popped the ball when he caught it.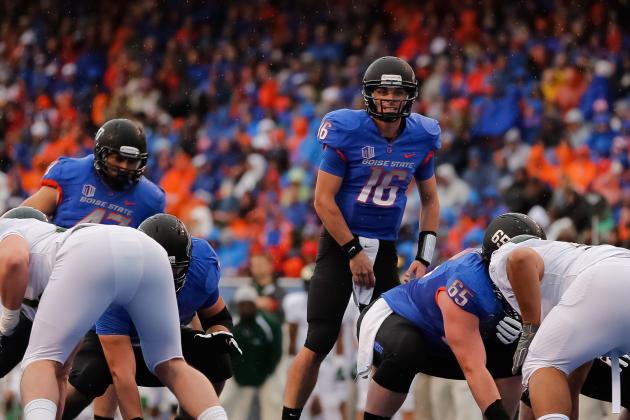 Otto Kitsinger III/Getty Images

Dink and dunk, chipping away, high percentage passes, call it what you want, but it worked for Joe Southwick.
Offensive coordinator Robert Prince has done some of the "dink and dunk" stuff this year, but not nearly as much as he did Saturday.
In the first half of the game against the Rams, Joe Southwick was extremely successful moving the ball down the field. The biggest reason was because Boise State was using short passes to each side and spreading out the defense.
It was quick-paced, utilized the talent on offense and seemed very comfortable for the junior quarterback. On the day, Southwick threw for 216 yards and two touchdowns with zero interceptions. He completed 17 of 20 passes for a completion percentage of 85 and a quarterback rating of 208.7.
He made an early exit from the game because of the lead, but it was probably the best game Joe Southwick has played all season.
As a preemptive strike against the critics, yes it was against Colorado State. Yes, he will have to prove himself against a better defense. Yes, Nevada won't be as easy. Yes, the bowl game opponent will be far more difficult.
However, Joe Southwick has proven that he can perform, and his confidence and leadership seem to be improving. It will indeed be interesting to see if he can continue that against the Wolf Pack on December 1st.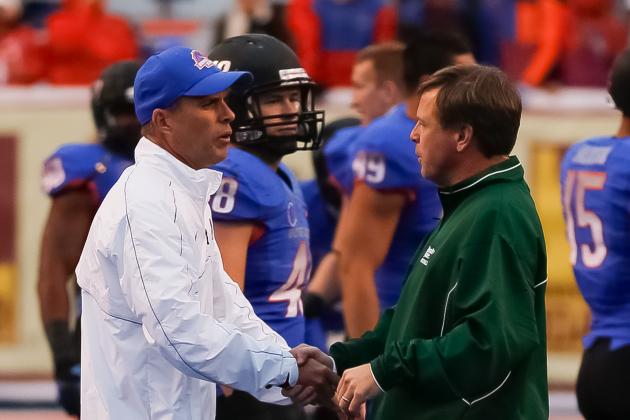 Otto Kitsinger III/Getty Images

Boise State got out to a big early lead and looked great doing it. At the half it was 35-0 in favor of the Broncos, and mistakes were few and far between.
However, the second half brought some penalties and miscues that had to frustrate head coach Chris Petersen.
There will no doubt be some "coaching moments" in practice this week for the Broncos.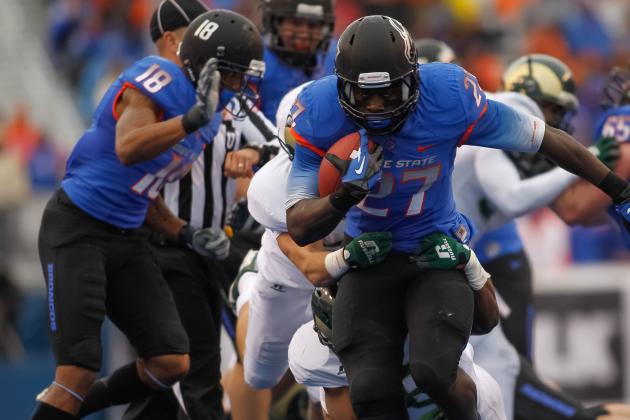 Otto Kitsinger III/Getty Images

On Saturday the Broncos went over 500 yards on offense. The biggest reason was the 269 yards rushing.
In total, eight players carried the ball at least once. D.J. Harper led the way with 107 yards followed by Jay Ajayi who carried the ball eight times for 67 yards. Grant Hedrick had seven carries for 28 yards and a touchdown, Drew Wright carried six times for 23 yards and Chris Potter carried twice for 23 yards himself.
Add to that Jack Fields who had 12 yards and Joe Southwick who had nine yards and you get a very nice day running the ball.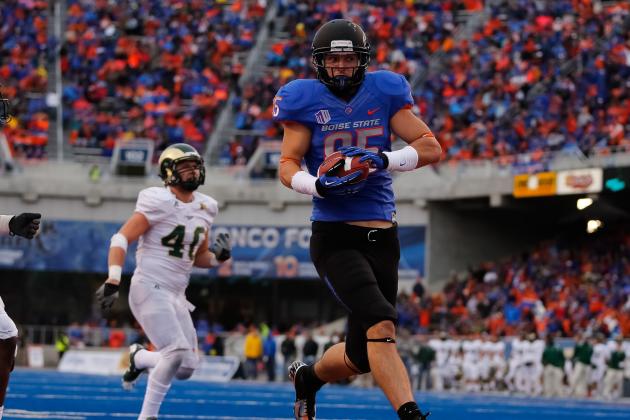 Otto Kitsinger III/Getty Images

Freshman tight end Holden Huff had a good day. He caught three passes for 59 yards and a touchdown.
Tight end has always been a very important position in the Broncos offensive scheme. It is a complicated position that requires a considerable amount of study and requires good decision making by the individual.
So, to see a freshman begin to step up in this position is impressive. Not only that, but it bodes well for the Broncos offense going forward.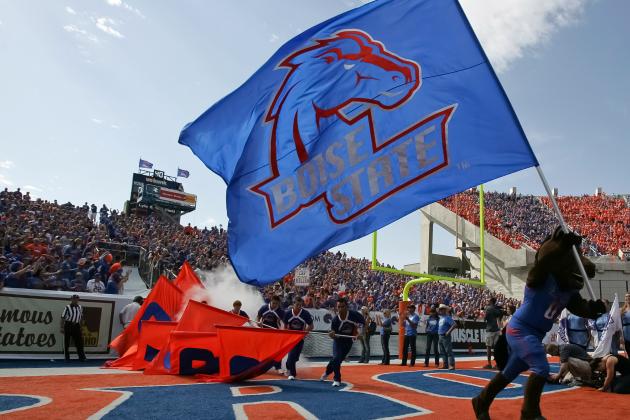 Otto Kitsinger III/Getty Images

The student section in Bronco Stadium has been great this season. However, Saturday there were a large number of empty seats.
Some thought maybe it was the rainy weather that kept them away and made the 33,545 attendance the lowest total of the season in Bronco Stadium. However, as it was pointed out by the guys over at Blue Turf Nation, the problem had more to do with timing.
I get bashing the students most days. Today however people need to realize many students are home 4 Thanksgiving.

— Blue Turf Nation (@TheBTN) November 17, 2012

Maybe some kind of student ticket giveaway could have happened in light of the holiday. However, it is always easy to second guess and who knows what the best solution is?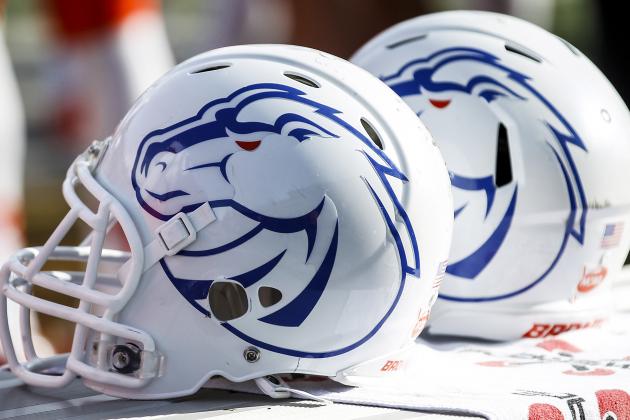 Troy Babbitt-US PRESSWIRE

Sophomore Demarcus Lawrence and redshirt freshman Sam Ukwuachu made the Colorado State offense miserable all day on Saturday.
Ukwuachu had four tackles, two for a loss, and a single sack. However, he caused havoc in the Rams' backfield all game.
Demarcus Lawrence did the same and had three tackles, one for loss, forced a fumble, had a sack and an added an interception.
On senior day, some underclassmen decided they would step up and give a glimpse of the future for Bronco Nation. Lawrence and Ukwuachu are names that Boise State fans will be hearing a lot from in coming years.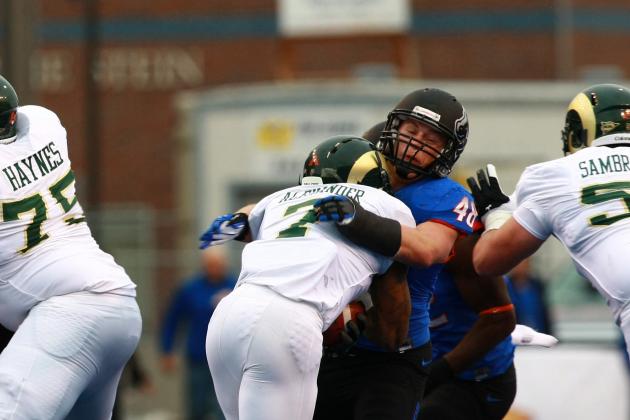 Brian Losness-US PRESSWIRE

Senior linebackers Tommy Smith and J.C. Percy certainly made the best of their senior day. Together the two were number one and number two on the stat sheet Saturday when it came to tackles. Smith had seven and Percy six.
Smith was also in on a sack and Percy forced a fumble. Both of these guys will be missed, but sophomore linebacker Blake Renaud and freshman Tyler Gray gave hope for things to come.
Renaud was third on the team Saturday with five tackles and Gray had four.