Los Angeles Dodgers: 10 Positions Where They Could Buy an Upgrade
Josh Hedges/Getty Images

Let's think hypothetically here while we get a little greedy. In my humble opinion, the Dodgers are set pretty much everywhere but the starting rotation (though I'd like to see a couple new lefty relievers in the fold) for 2013.
But with the plethora of money the club now has and its penchant for spending said cash, why not dream big?
Where can the Dodgers buy an upgrade?
You can't do much better than Adrian Gonzalez, Hanley Ramirez, Matt Kemp or Clayton Kershaw at their respective positions. But is there any other spot on the team that the Dodgers could potentially make like Steinbrenner and unload some cash for another MVP-caliber player?
Keeping in mind that this is all hypothetical and based purely on want, not need (after all, who wouldn't enjoy not just unseating the Giants next year but pounding them into an orange-and-black pulp?), here are ten positions that the Dodgers could pay big for an upgrade.
Begin Slideshow

»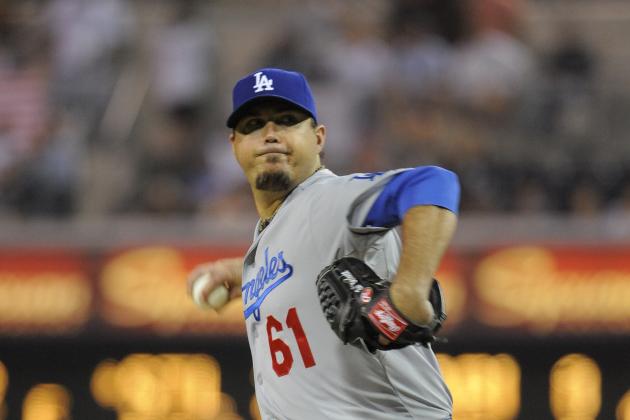 Denis Poroy/Getty Images

Coming into 2013, Josh Beckett will be the second-in-command to Clayton Kershaw in the Dodgers starting rotation. While I actually have high hopes for Beckett to continue his bounce-back in the National League, I would not feel comfortable with him as a second starter.
It's no secret that the Dodgers are in the market for a starter in this slot, but who could it be?
Sure, they could trade prospects (or surrender draft picks) to obtain James Shields, Jeremy Hellickson or Hiroki Kuroda. But with so much money, why bother?
There are a couple high-profile aces on the market that the Dodgers should make a sizable offer to. The conversation starts and ends with Zack Greinke, who is far and away the best starter on the market. But you could also look at someone like Shaun Marcum, Anibal Sanchez or Ryan Dempster as potential fits.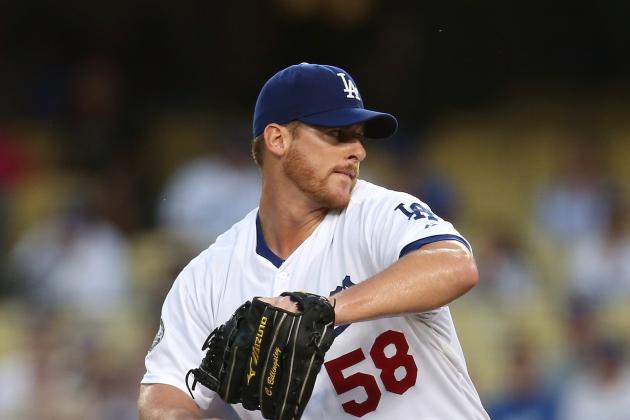 Stephen Dunn/Getty Images

Oh, it doesn't end there.
Is there a Dodgers fan on this planet who is legitimately comfortable with any starter in the rotation not named "Kershaw?"
I didn't think so.
While I'd be happy with Beckett as a No. 3, there are some better options who could be available on the market in that slot. If Chad Billingsley was healthy, he might fit into this category. But even he is inconsistent.
My best bet would be someone like Kyle Lohse or Brandon McCarthy. Or if the Dodgers could land one of the high-profile guys from the previous slide and then add a Dan Haren or an Edwin Jackson in the No. 3 slot, it would definitely suffice.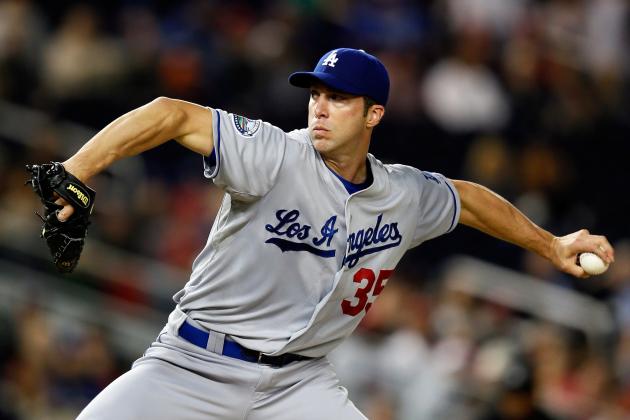 Rob Carr/Getty Images

Yes, I realize I continue to push Beckett, Billingsley, Ted Lilly, Chris Capuano and Aaron Harang out of the rotation. That is because they are all completely replaceable. While I expect at least three of them to be on the team next season, you never know.
Remember that this is totally hypothetical. But if the Dodgers were able to add something like a Sanchez-Haren combo behind Kershaw, things would already be much-improved.
So are options for this slot in the rotation—namely Joe Saunders or Jeremy Guthrie—worth the risk?
Would they really be improvements over most of those guys? I think so.
The Dodgers could potentially throw a couple extra million dollars at either one of them and have a lot of promise in a traditionally average rotation spot.
Then again, they could just stick with Beckett.
Stephen Dunn/Getty Images

While I feel a connection to guys like Capuano and Billingsley after last season, I couldn't care less if Brandon League was replaced as the Dodgers closer for 2013. I have no problem with him in the bullpen, but his track record suggests entrusting him with a big closer's contract is a little premature.
Honestly, I think we have a solid closer in the setup role. And now that Kenley Jansen's heart problems are behind him, he could have a full, healthy, dominant season in that role.
That being said, with guys like Joakim Soria, Jonathan Broxton (yep, I said it) and of course Rafael Soriano available, they could definitely upgrade.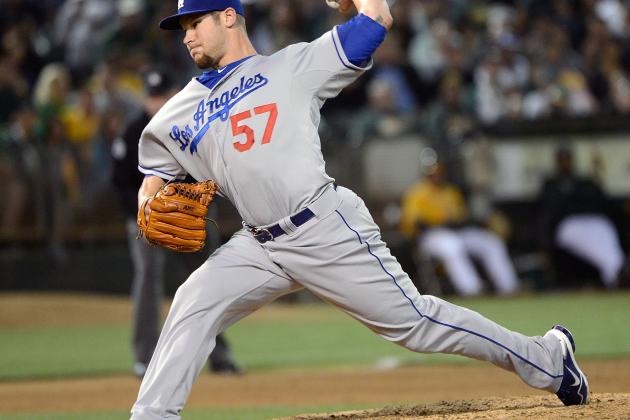 Thearon W. Henderson/Getty Images

I really liked what Scott Elbert was doing in 2012 before losing his season to an arm injury. Now, the timetable for his return is sketchy at best, but he's expected to be ready for spring training. Even if he is back at full strength, will he and Paco Rodriguez be enough out of the 'pen from the left side?
While Jeremy Affeldt already re-signed with the Giants, we could look at re-signing Randy Choate or going after former National Sean Burnett to fill this need.
For me, Elbert, Rodriguez and one more would be plenty. But it's a matter of who to pursue and how much they are worth. Choate would probably be my first choice because of his history of success as a lefty specialist, but I'm not picky.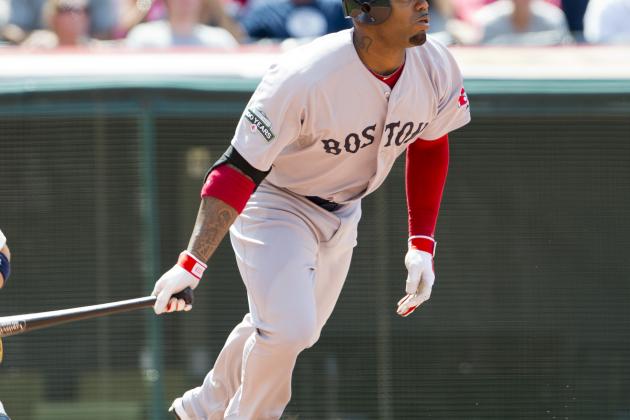 Jason Miller/Getty Images

This is where things cross the line from "possible" to "unnecessary" for me. I think the pitching staff needs tweaking, clearly. But the offense looks loaded on paper.
However, we also learned last year the hard way that a paper lineup is very vulnerable.
But the way this offense was clicking the last couple weeks of 2012 gives me a lot of confidence in the players' abilities to become a run-scoring juggernaut. And personally, I want to give Carl Crawford a shot in left field.
I don't ever expect him to return to Tampa Bay-esque numbers, but he can't be much worse than Shane Victorino was, right? With names like Ichiro Suzuki, B.J. Upton, Angel Pagan, Michael Bourn, Nick Swisher and Josh Hamilton out there, though, it's definitely worth considering an upgrade.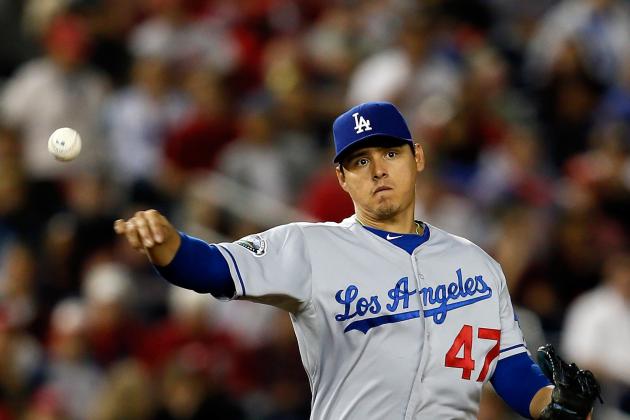 Rob Carr/Getty Images

On the left side of the infield, the Dodgers know what they have in Hanley Ramirez, but they have huge question marks in Luis Cruz and Dee Gordon. For me, it's clear: Ramirez at third, Cruz at shortstop, Gordon as a pinch-runner and insurance in the event of injury.
Still, the Dodgers flirted with Kevin Youkilis for third base earlier this offseason, and they may be legitimately interested in an upgrade there. While I'd prefer they not bother with Youkilis, they could go with Stephen Drew or Marco Scutaro on the left side.
Again, I prefer to keep the lineup intact as it is, but depth doesn't hurt. In a hypothetical scenario where the Dodgers can spend more money than any other team to acquire any player, you have to keep those three guys in mind.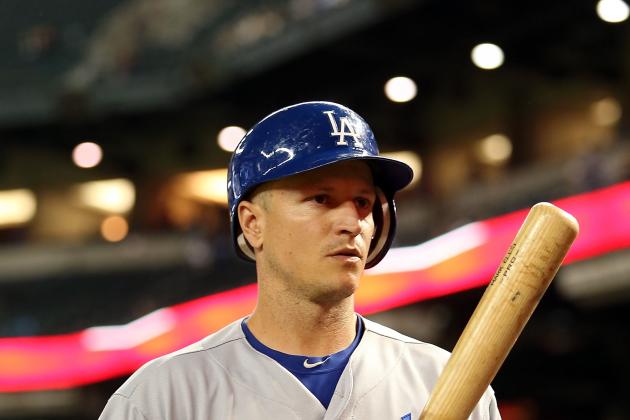 Christian Petersen/Getty Images

I don't even want to think about losing Mark Ellis to an "upgrade." Is it even possible to upgrade from a guy with a .991 career fielding percentage at the position? I know his hitting leaves a little to be desired, but he's a solid veteran bat who can hit anywhere in the lineup.
But for the sake of argument, let's talk second basemen. The Dodgers could go pay Drew to play second base, though it would probably cost upward of twice the salary Ellis will be paid in 2013.
Money is no issue in Los Angeles anymore (the thought still makes me smile—curse you, McCourts!), so Drew is a real option in this scenario. Again, Scutaro is another guy who could be snatched up for a starting second-base job.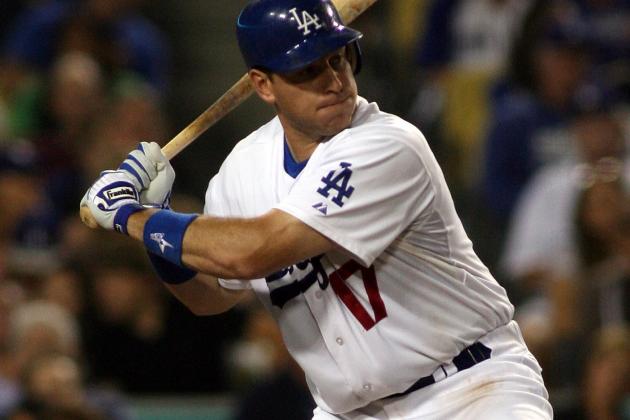 Jeff Golden/Getty Images

The other Ellis is also a guy who I don't want moving anywhere. He's great defensively and proved he can wield a bat in 2012. Depending on him to start more than 115 games at catcher is questionable in my opinion, but all indications point to the young Tim Federowicz backing him up next season.
With versatility questions out of the way, one has to wonder if last year wasn't a fluke from Ellis. There are guys who can hit for a similar average and much more power on the free-agent market.
Could the Dodgers make a run at returning Russell Martin to Los Angeles? Maybe sacrifice defense for a big bat in Mike Napoli? Do they even consider taking a shot at A.J. Pierzynski coming off an unusually timed career year?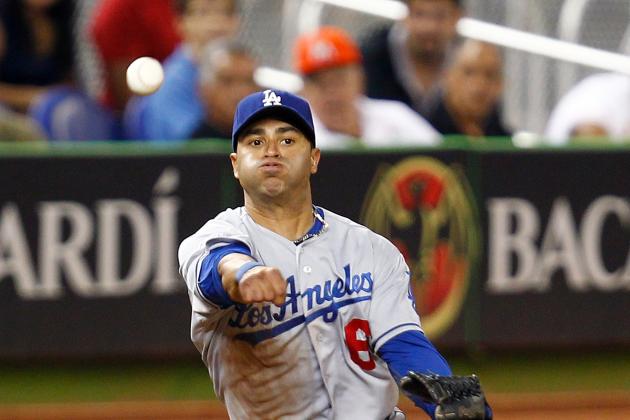 Sarah Glenn/Getty Images

While I suggested these previous three "upgrades" just for hypothetical argument's sake, I don't think any of them really need to happen. And I'm actually very pleased with Jerry Hairston Jr., Nick Punto and Gordon as utility guys, but the Dodgers could use a solid fourth outfielder.
They wanted to sign Torii Hunter to play such a role, but he is way too good to be relegated to a backup status. And Hunter knew it, opting to sign with Detroit to start in 2013.
So this leaves the Dodgers with a limited amount of pop off the bench for next season (and don't even think about saying the name Uribe).
This is a legit pickup that needs to be made; whether it's someone like Jim Thome or Raul Ibanez, who are strictly power hitters, or a real fourth outfielder like Ryan Ludwick, Cody Ross or Hairston Jr.'s brother Scott, something needs to go down.
Follow Jeremy for more Dodger talk on Twitter @Jamblinman.