Alabama Football: Winners and Losers Week 12 vs. Western Carolina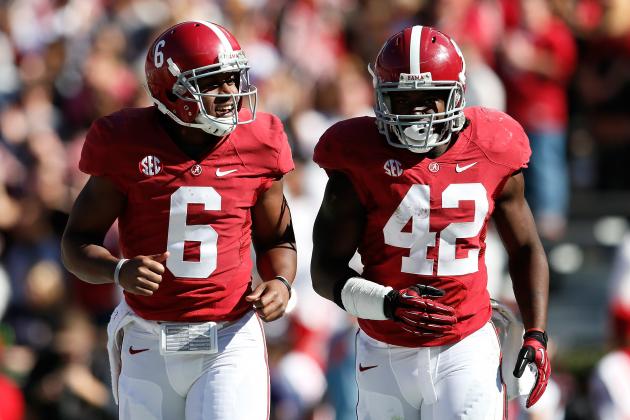 Kevin C. Cox/Getty Images

It's quite amazing what a blowout win over a FCS lightweight can do for a program. By beating Western Carolina 49-0 Saturday morning, Alabama found itself back in the BCS title mix.
Sure, unexpected losses by Oregon and Kansas State may have played a role, but it's all in how one chooses to look at it.
At its core, this was nothing more than a tune-up game sandwiched in between a disappointing loss to Texas A&M and the upcoming Iron Bowl against Auburn.
Still, there were positives and negatives that emerged from this game, just as there are from all games. Here is a look at the winners and losers from the WCU game.
Begin Slideshow

»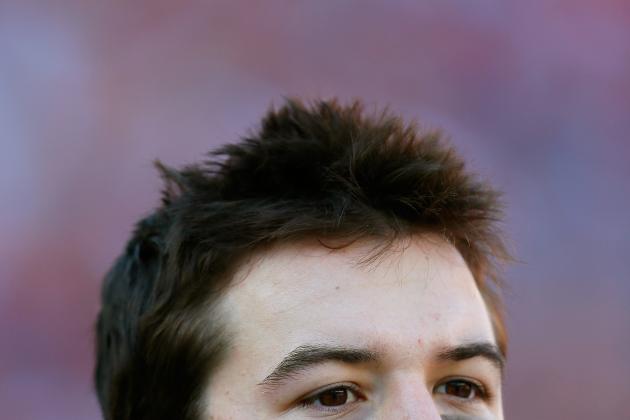 Kevin C. Cox/Getty Images

Let's be honest, Alabama could have won this game by twice as much had it wanted to. The Catamounts were out-sized, out-talented,and flat out overmatched.
Still, after two tough games that left egos and confidences bruised and battered, Alabama needed an easy one.
A.J. McCarron completed all six of his passes before leaving in the second quarter, totalling 133 yards and a touchdown.
Eddie Lacy ran for 99 yards and a career-high three touchdowns on just 10 carries. T.J. Yeldon picked up 55 yards and a score on just seven carries.
Freshman Deion Belue came off of two games in which he was picked on routinely and responded with a 57-yard touchdown run on a recovered fumble.
Even though the Tide knows all too well how weak the competition was on Saturday, it was good for them to cash in on the opportunity and experience some success.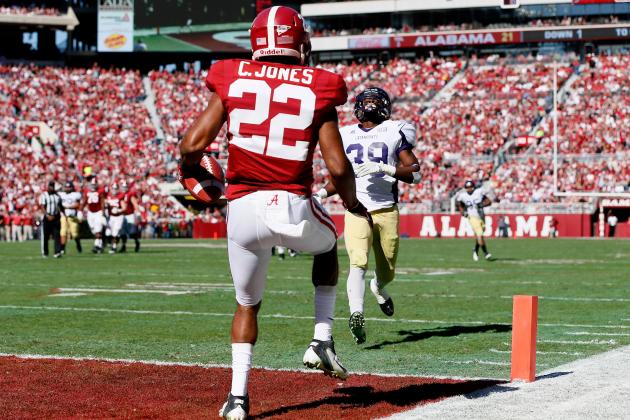 Kevin C. Cox/Getty Images

Late in the second quarter, Jones tried to field a punt off of a high bounce while facing the sideline. He fumbled the ball for the Tide's only turnover of the game.
As if it were the most important game of the season, head coach Nick Saban pounced on Jones, meeting him at the hash marks and giving him the tongue lashing of a lifetime.
This isn't the first time this season that Jones has failed to cleanly field a punt and he has had a tendency to try an make something out of nothing in this role.
Saban was right to jump on him in a game like this, as the coaching staff was looking more at fundamental execution and smart decision making than it was at the scoreboard.
This error basically cancelled out the nice touchdown Jones had caught earlier in the same quarter.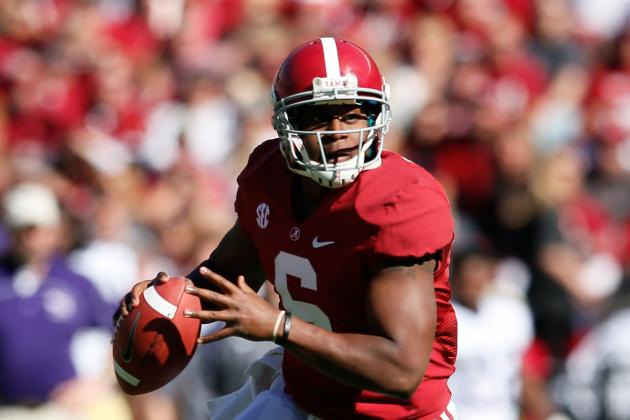 Kevin C. Cox/Getty Images

Alabama started pulling its starters well before halftime on Saturday.
Quarterback Blake Sims ran the ball eight times for 70 yards and a touchdown in extended field time. Running backs Brent Calloway and Ben Howell combined for 12 carries and 62 yards. Backup wideout Marvin Shinn caught a pass.
Defensively, guys like Brandon Ivory, Brent Sylve, Taylor Hayes and Geno Smith were in on the action, all recording tackles for the Tide.
This was a chance for the guys often relegated to scout teams and forgotten about come game day to get their chance to shine.
These guys put in just as much blood, sweat and tears as the regulars during the course of a season, and the hard work paid off a little against the Catamounts.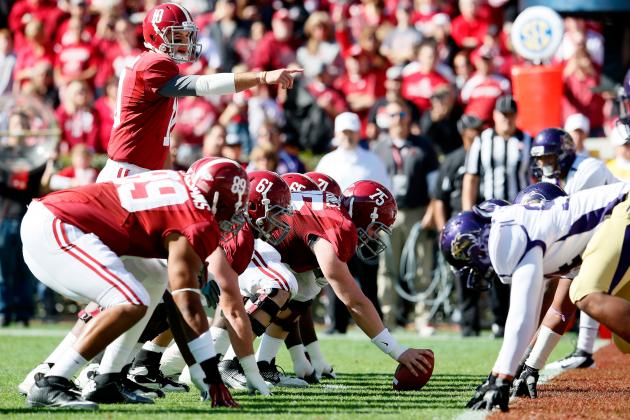 Kevin C. Cox/Getty Images

Unfortunately, games like this have to be played from time to time. The problem with them is that boosters and supporters of the program have to shell out 45 dollars per ticket.
As nice as it was to roll through a weaker opponent like a knife through butter, it sure would have been nice to see the Tide play a Southern Miss or a Memphis, someone who could have put up at least a little fight would have been much more worth the trip than this debacle.
Bryant-Denny Stadium was far short of capacity and the student section was barely half full. Empty seats were in every corner of the stadium and the intensity of the crowd reflected their lack of appreciation for the poor scheduling.
Again, games like this are at times unavoidable. But one has to believe that there must have been a more worthy opponent out there somewhere.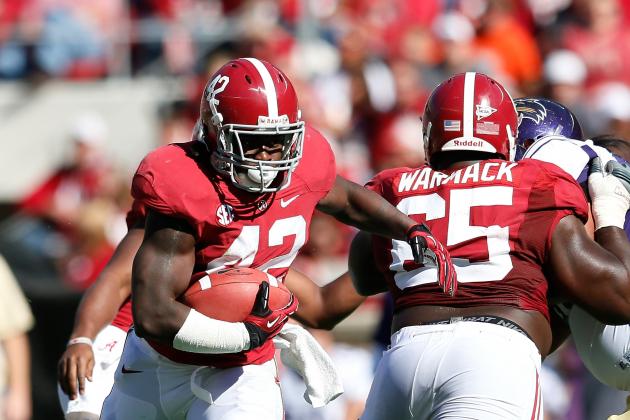 Kevin C. Cox/Getty Images

As much of a bummer as it was for the regular crowd, this was a game for fans that don't always get the chance to see their Tide play in person.
All around the stadium, people with extra tickets held them up as if they were hoping beyond hope that someone would just take them.
The waiting list for Alabama season tickets is basically uncrackable. At Alabama, you either have or wish to have. Tickets are hard to come by, and when found, come at a premium that rivals a mortgage payment.
This was not the case on Saturday, though.The dad from Andalusia that has always wanted to take his son was there. The man from Decatur that came across a pair of tickets at work took his brother for the first time. Stories like this were all over Tuscaloosa on Saturday.
As bad as it was for the season ticket holders that wanted little to do with this one, it was that good and more for those who rarely find a chance to go.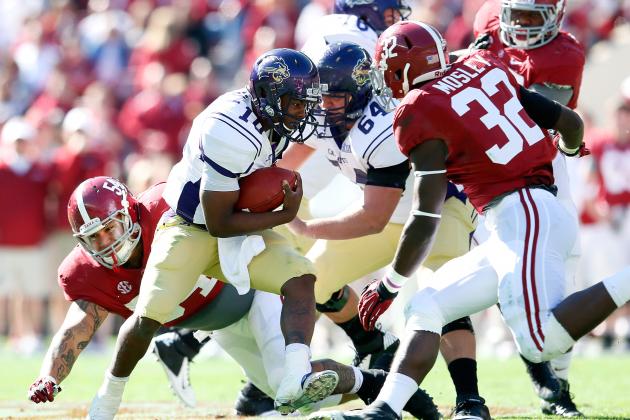 Kevin C. Cox/Getty Images

Believe it or not, Western Carolina did benefit from this thrashing.
For one thing, the program will receive a check from Alabama for just under half a million dollars.The university has announced that these funds will be used to upgrade out of date video equipment.
Secondly, the kids on this team can now tell friends and family for years to come how they took on the Crimson Tide in the midst of a possible title run.
From there, the truth is sure to be bent like an old antenna, but there is no way to take away from them the fact that they were there. If nothing else, they got the chance to line up against the best in the country.
On the flip side, the Catamounts got thoroughly embarrassed in a game that saw more action from the Tide reserves than it did from the starters.
Again, this game could have easily been much worse than it was.
The question at hand is whether or not the money a program takes in is worth the personal embarrassment that the players have to suffer through.