4 San Antonio Spurs Who Other Teams Should Be Inquiring About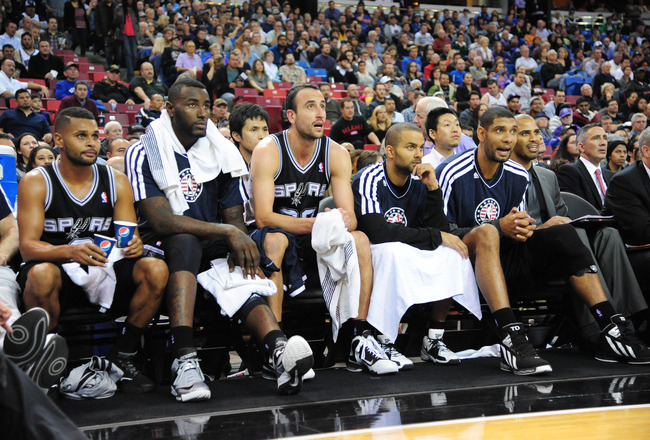 Kyle Terada-US PRESSWIRE
The San Antonio Spurs are known for making little noise in the rumor mill, but every now and then a potential trade or signing pops up.
Last season, the NBA was caught off guard following the Stephen Jackson deal. The Spurs also made a few quintessential signings that helped strengthen the team's case as a contender.
Still, the team remains a few moves from being a Finals lock, and if the team truly wants to make a run, a midseason deal may be imperative.
Acquiring talent for the future may also be on the team's to-do list, and while it may be uncharacteristic of the Spurs, a trade may be looming.
Here are four players who may find themselves sporting different colors by the season's end.
Stephen Jackson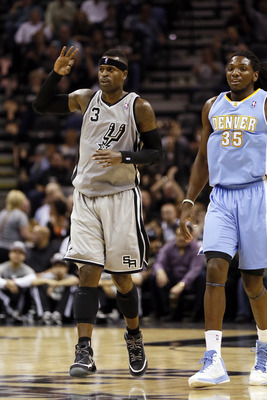 Soobum Im-US PRESSWIRE
Since being traded to the Spurs at last year's trade deadline, Stephen Jackson has emerged as a fan favorite in San Antonio.
He amended his faults, returning to his once-unselfish and professional play style that he manifested in his first stint with the team.
However, despite the fact that the fans have latched onto him due to his three-point shooting, bench production and overall performance quality, Jackson's wish to retire in San Antonio may not come true.
I don't know. If things work out in San Antonio I wouldn't mind finishing my career there. But you know it's a business and I'm one of those guys that doesn't mind going to play somewhere else. I've been on seven different teams.
Jackson is currently playing in the final season of his contract, and his $10 million expiring deal is enticing trade bait. Should the team look to make any big maneuvers, Jackson—being the highest paid player on this list, may be included to get the financial requirements to work.
Cory Joseph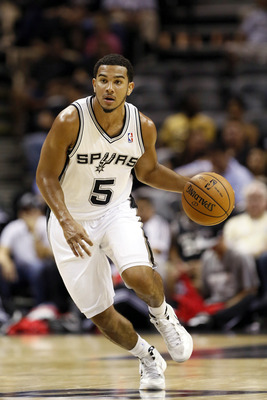 Soobum Im-US PRESSWIRE
The San Antonio Spurs backcourt is too crowded, and for the second season in a row, Cory Joseph is feeling the ultimate effects.
Despite outstanding preseason play, Joseph was recently assigned to the D-League, to play his second stint with the Austin Toros.
The sophomore has displayed flashes of potential, and while he isn't a star—or anything close to one—he's practically useless as displayed with his sporadic visits to the Toros.
He is still raw, but his varied talents—including ball handling, passing and shooting—may be interesting for a team lacking depth at the guard position.
Should a deal emerge, either featuring a possible pick or a big-man—likely of a similar caliber as Joseph—then the Spurs should deal the young man, for the sake of both the team as well as his career.
Gary Neal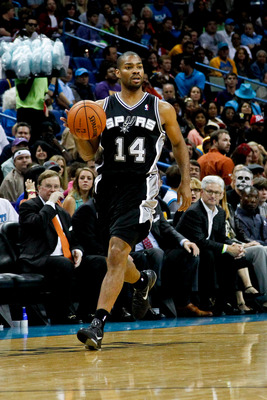 Derick E. Hingle-US PRESSWIRE
Despite his intermittent bursts of stardom, Gary Neal remains on my personal Spurs trading block and should eventually find his way onto the team's real one.
Like Joseph, Neal is a member of the overfilled backcourt. This issue remains a large one, with young guards failing to receive a consistent role due to others constantly poking at their positions.
However, unlike Joseph, Neal has squirmed his way to the front end of the rotation, currently backing up Tony Parker as a point guard.
Despite this role, Neal is not a true point guard, and remains an awkward mix between the two guard positions. He is a much better shooter than passer, and while his size may suggest his passing skills are elite, he struggles often when running the offense.
Meanwhile, Patty Mills remains a legitimate backup point guard, and can succeed Neal's duties should he be dealt. His bench production can also be matched, as the team features several other productive reserves that could take his place.
His stock is high, and should other teams inquire about him, Neal may very well be dealt to give other players an opportunity, while also providing the team with whatever benefits they require in return.
DeJuan Blair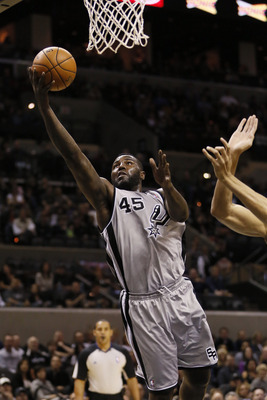 Soobum Im-US PRESSWIRE
Prior to the season's start, DeJuan Blair was rumored to be a potential trade piece for the San Antonio Spurs. His role was reduced significantly last season after the team acquired Boris Diaw, and Blair seemed useless to the team that had abandoned him as a worthwhile contributor.
However, this season, Blair is seeing a much larger role, despite several DNP's to start the season.
Despite this sudden increase in team value, Blair's spot in San Antonio's frontcourt is anything but guaranteed.
Blair's lack of height make him a liability on defense, and while he does contribute on offense and on the boards, the team could use another big body to supplement Tim Duncan and Tiago Splitter.
Blair has proved to be a legitimate player, and other teams may be interested in the young man as he is still a very talented and hardworking player.
The truth is, the rumors are yet to die down, and while I don't necessarily approve of it, Blair's chances of being traded are fairly high at the moment.
Follow me on Twitter for more Spurs-related news and opinion.
Keep Reading

San Antonio Spurs: Like this team?