Oregon Football: Grading All 22 Starters from the Stanford Game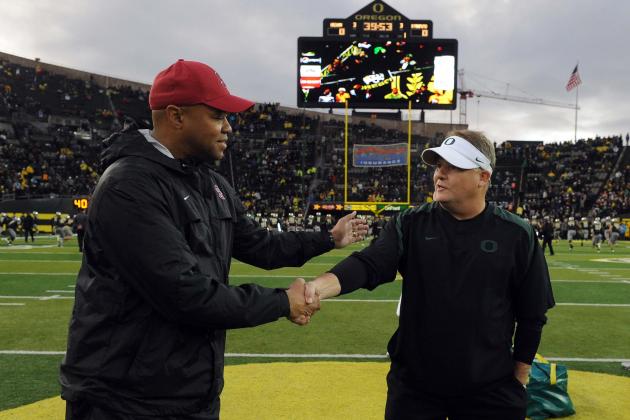 Steve Dykes/Getty Images

The walk from the University of Oregon campus to Autzen Stadium is one of the most beautiful and fun walks in all of college football. It takes Duck fans across the gorgeous Willamette River on a footbridge just big enough for walkers and bikers—no cars allowed.
Once you are over the river, the path then winds through a nice park, with overhanging trees and lovely old-time street lamps. There is an old guy playing a lone saxophone, and he will change from Gershwin to Oregon's fight song if you put cash in his bucket.
There is always much joy, chanting and singing as fans storm in and out of Autzen, always victorious. Last night was different.
The walk back was like a funeral march. Deathly quiet. Spooky under the trees and the lights that seemed much dimmer from the antique lamps than they seemed on the walk to Autzen.
Yes, it's a sad day in Duckville. But there is no slitting of wrists allowed; the Ducks have another game next weekend. Maybe it will help Oregon fans begin to recover if we analyze the performance of the starters.
Here goes.
Begin Slideshow

»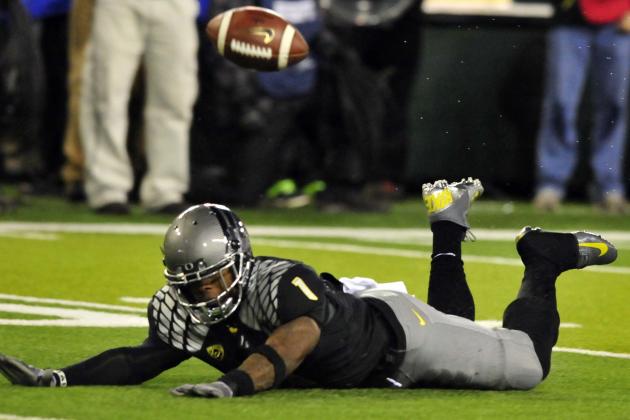 Steve Dykes/Getty Images

What's Josh Huff doing laying on the ground while the ball is in the air?
Good question.
Huff had four catches for 50 yards, but it was a very average performance by the Ducks' starting wide receiver on a night when the team needed him to be better than average.
There were several times when Huff could have helped out a pressured Marcus Mariota by coming back towards the ball. He didn't do that, and really didn't look much like the star receiver he's become in the past few games.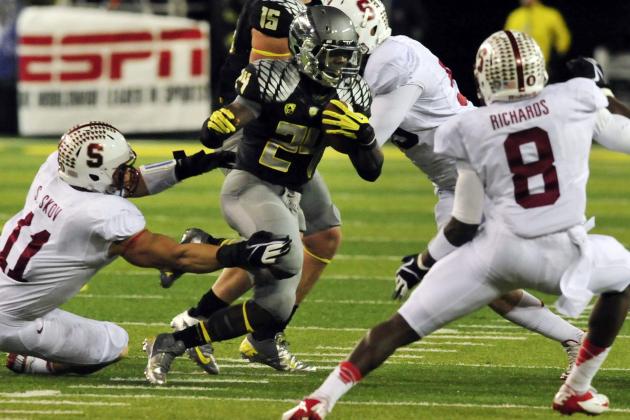 Steve Dykes/Getty Images

So much for that Heisman Trophy.
Kenjon Barner had a dismal night running the football. Stanford's defensive line was the primary reason for Barner's bad night, but he still had opportunities that he did not take advantage of.
Barner too often let himself be tackled by arm tackles. It just seemed as if his fight and toughness took a night off.
I never thought I would give Barner a "D," but it was a below-average performance by the RB.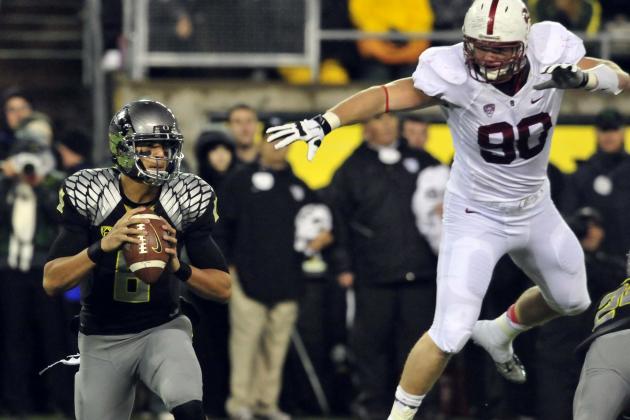 Steve Dykes/Getty Images

There seems to be some disagreement among the pundits as to how Marcus Mariota performed against the Cardinal.
Some consider his play last night as making a key contribution, and almost doing what he had to to secure the win.
I saw it more as Mariota looking like a freshman QB for the first time all year. Yes, he got pressured. Yes, Stanford's D closed off the holes. But when you lose a close conference game at home, a lot of it, fairly or unfairly, is on the quarterback.
Bottom line: It was not a good time for Mariota to look average, when all Oregon fans know he's an "A" QB, not a "C" QB.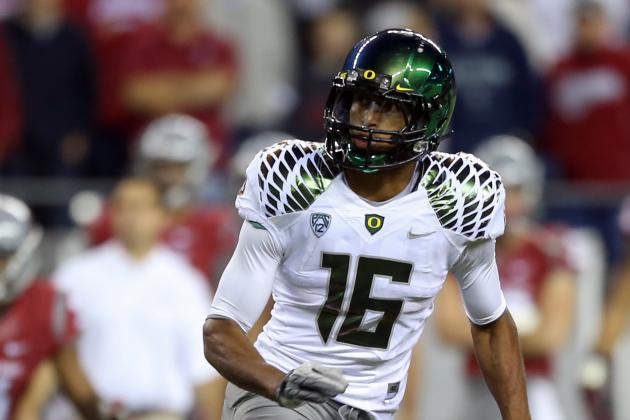 Otto Greule Jr/Getty Images

On a night when everyone and their dog knew that the Oregon receivers needed to step up and play their best football, Daryle Hawkins was a disappointment.
Hawkins caught two balls for 16 yards.
It wasn't enough. Hawkins can do better.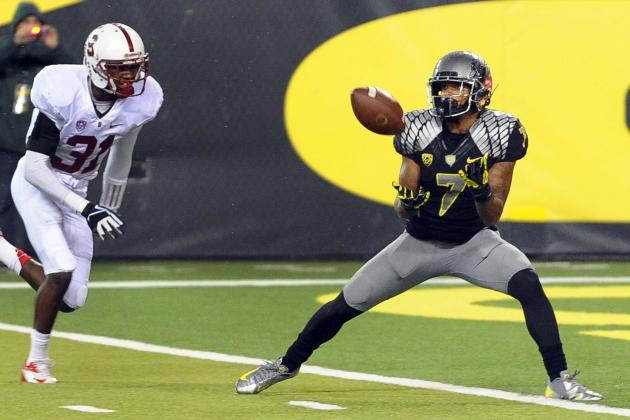 Steve Dykes/Getty Images

For hauling in the 28-yard pass that resulted in Oregon's first touchdown, Keanon Lowe earned a "B."
Lowe had five receptions for 51 yards on the night, and he seemed to have better luck getting open than the other receivers.
It also appears that Lowe has a better rapport with QB Marcus Mariota than his receiving teammates. Look for Mariota-to-Lowe to do some real damage in the remaining games this year, and next season.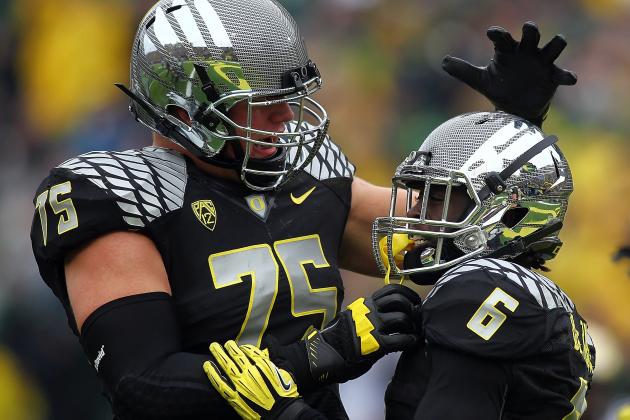 Jonathan Ferrey/Getty Images

If you love Oregon's O-line, you might want to look away for the next few slides.
Anyone can, of course, have an off game. The Ducks' O-line, which has been so solid all year, laid a stink bomb against Stanford. Play after play, it allowed itself to be pushed around by Stanford's defense. Honestly, it was painful to watch.
In the all-important fourth quarter, Stanford had the ball 11:42 compared to Oregon's 3:18. Now, I understand that time of possession is usually a frivolous stat for the Ducks. But in this case, not being able to move the chains when it really counted is in huge part on Oregon's offensive line in this game.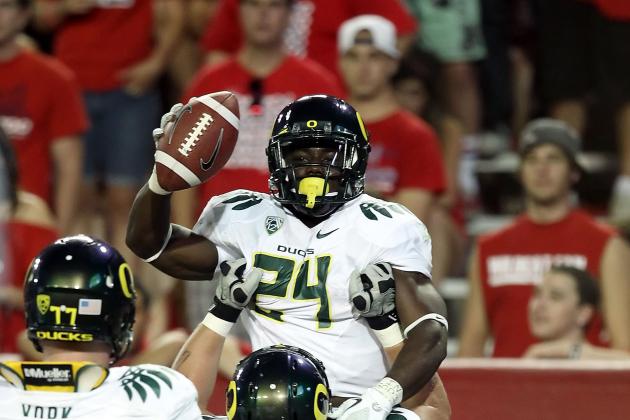 Christian Petersen/Getty Images

Ryan Clanton has had some beautiful moments in a Ducks uniform this year. He generally does a whole lot more than lift up Kenjon Barner in the end zone.
But last night, there were no such moments. If Clanton doesn't do a better job of moving defenders off next weekend, the Beavers will eat Mariota.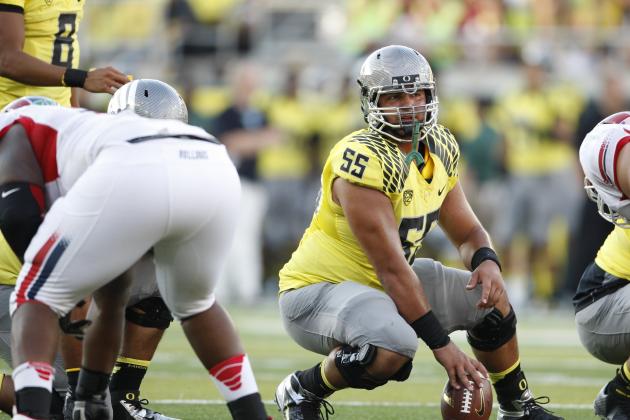 Kevin Casey/Getty Images

Hroniss Grasu had no slip-ups in getting the ball in Mariota's hands, but it was an otherwise average performance.
I kept expecting Grasu to show some leadership and fire up his teammates on the line, but if he did, it wasn't obvious. Grasu has been getting better every week this season.
He took a step backwards in the Stanford game.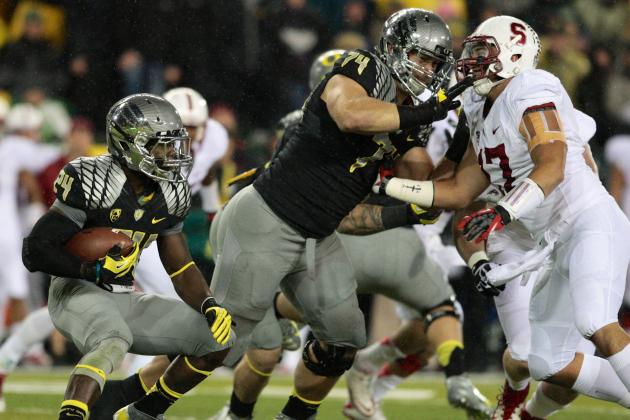 Scott Olmos-US PRESSWIRE

Howie was in the house! For a longtime Raiders fan like me, it was complete joy seeing Howie and his wife accompany their really large son, Kyle, onto the field during senior introductions. I especially appreciated how Howie walked a few steps behind his son so as not to steal his thunder.
Maybe it was to impress his dad, but Long's side of the line seemed to have it better against Stanford than the right side. Long played better at USC than in this game, but he got beat fewer times than the rest of the line against the Cardinal.
But I'm waiting for Long to really throw his weight around. Perhaps next Saturday against the Beavers?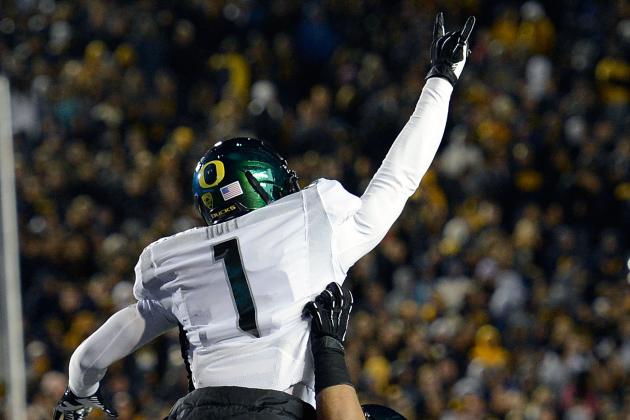 Thearon W. Henderson/Getty Images

Tyler Johnstone has been a pleasant surprise at left tackle as the season has worn on. The redshirt freshman has more than held his own.
But he had some goofs last night too, and got pushed around more than you would expect. Johnstone didn't play horribly, just not as good as he's capable of.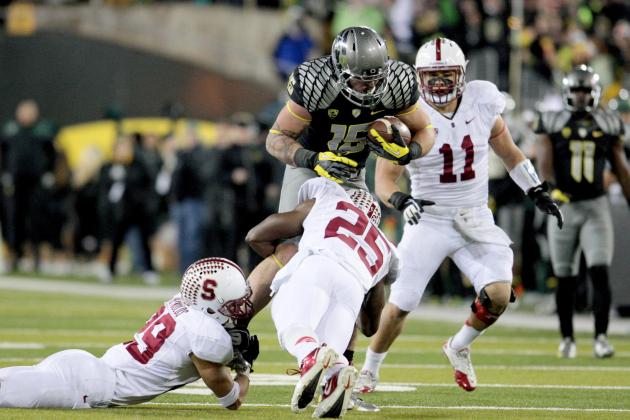 Scott Olmos-US PRESSWIRE

For me, Colt Lyerla was the only bright spot on Oregon's offense in this game. The big bruiser had four catches for 54 yards, for a 13.5 average.
Most of those yards, Lyerla carried defenders with him, as he often likes to do. You have to love Lyerla's work after his catches. And the kid is a good-to-great blocker when he's paying attention and focused.
My gut feeling—and that plus $4 will get you a latte at Starbucks—is that Lyerla will be the superstar next Saturday in Corvallis.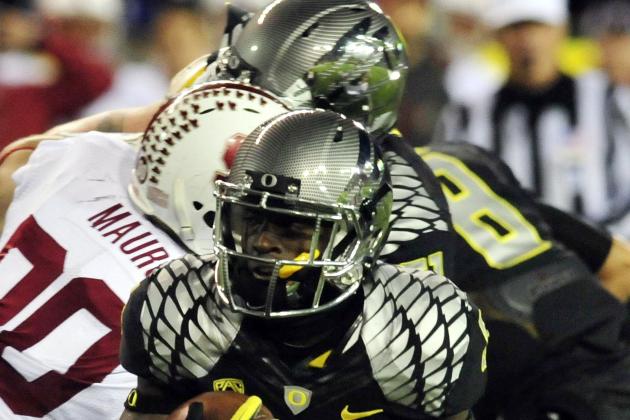 Steve Dykes/Getty Images

Again, a grade I never expected to have to give this year. Many of you may argue that De'Anthony Thomas deserved a "B;" he did, after all, score a nice touchdown.
However, DAT got a big fat red mark for not screening off the Stanford safety on Mariota's long run. If Thomas makes that play and Mariota scores, the game looks entirely different.
DAT had seven rushes for 43 yards, including the TD. But he had only three receptions for a grand total of three receiving yards.
Average. Very average.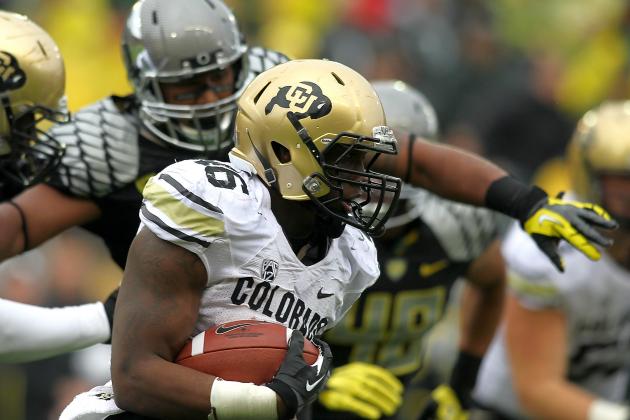 Jonathan Ferrey/Getty Images

Starting in place of injured Taylor Hart, DeForest Buckner conducted himself well. The true freshman was around the ball frequently and was in on two tackles, including one for loss.
Buckner will have things to learn from watching game film, but it could have been much worse. So, well-done, young man.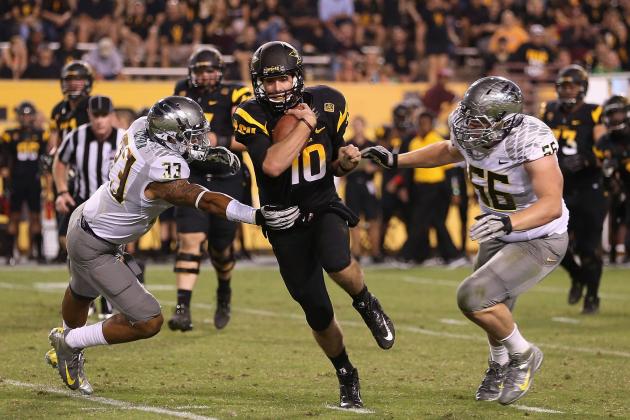 Christian Petersen/Getty Images

This time last year, Alex Balducci was starting for Portland's Central Catholic High. Hoping to redshirt the freshman this season, that plan went to hell in a handbasket last week against Cal when the injury-riddled D-line was suddenly short on depth.
The freshman held his own, which is a good thing because it looks like the Ducks will need Balducci the remainder of this year. Normal starting tackle Wade Keliikipi is on crutches and had a cast on his left foot. Keliikipi's backup, Ricky Heimuli, played against the Cardinal and was in on four tackles, but is reported to have a sore knee.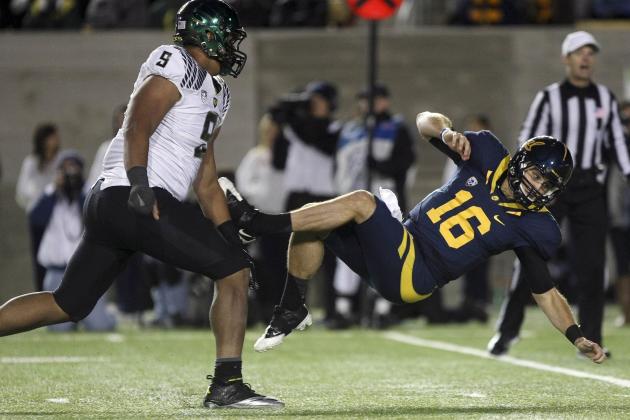 Kelley L Cox-US PRESSWIRE

True freshman—are you detecting a trend here?—Arik Armstead started in place of regular starter Isaac Remington, who has a foot injury.
Remington played and had two tackles, which is exactly what Armstead had. This was the youngster's second start, and he seemed more active and sure of himself against Stanford than he did against the Cal Golden Bears last weekend.
Part of last night's saga is that Oregon did not lose the game because of these three freshman starters on defense. All three deserve a round of applause.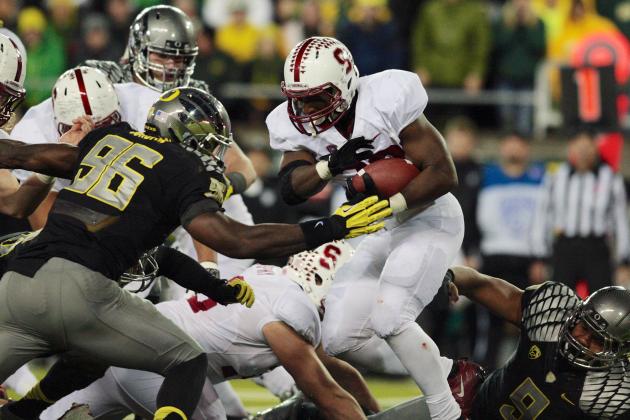 Scott Olmos-US PRESSWIRE

I don't think anyone could tell that Dion Jordan has been nursing a shoulder injury. The senior defensive end may have played his last game at Autzen Stadium, but if so, he went out with a bang.
Jordan had six tackles on the night, three solo. He was in on two tackles for loss.
I'm also going to give a "B" here for Jordan's backup, sophomore Tony Washington. Washington had three tackles and was active when in the game.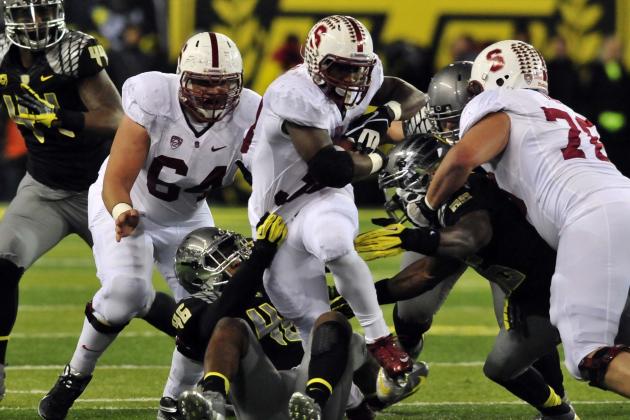 Steve Dykes/Getty Images

You heard it here first: Stanford running back Stepfan Taylor is tough to bring down. The most successful at that arduous task was linebacker Michael Clay.
Clay had an eye-popping 20 tackles—10 of them of the solo persuasion—against the Cardinal. As he has so often been throughout this season, the senior linebacker was the rock in Oregon's front seven.
I can't imagine what the Ducks will do next year without Michael Clay. (But then, I think that every year, and someone always comes along.)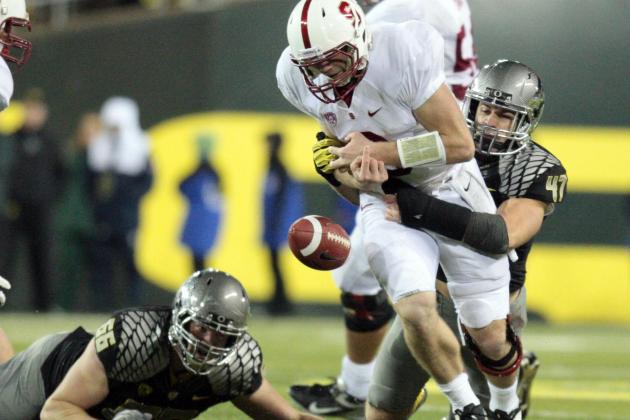 Scott Olmos-US PRESSWIRE

Kiko Alonso had a good game, but not a great game by his standards. The senior linebacker was responsible for nine tackles, eight of them solo, and he had one tackle for loss.
Alonso, along with his fellow linebacking buddies Clay and Boseko Lokombo, knew they needed to play tough with the injuries to Oregon's D-line. All three played very well and are chiefly responsible for Oregon staying in the game.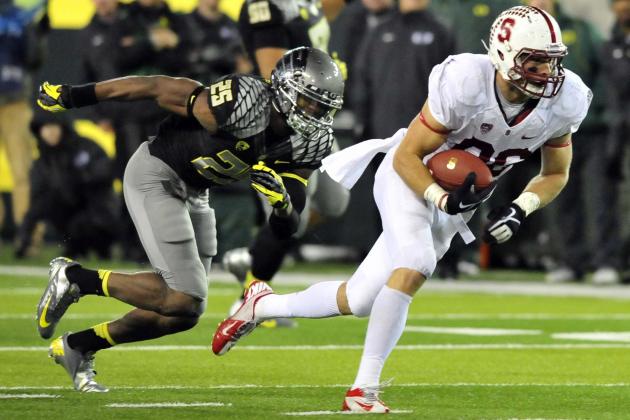 Steve Dykes/Getty Images

Junior linebacker Boseko Lokombo was the only Oregon defender to record a sack on Stanford's young quarterback Kevin Hogan.
Additionally, Lokombo had a tackle for loss, and eight total tackles.
If the three linebackers play at this same high level of performance next weekend, the Beavers will have trouble scoring.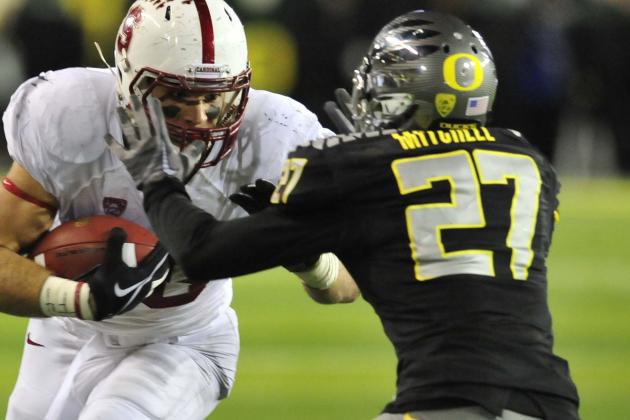 Steve Dykes/Getty Images

Remember just a few weeks back when opposing quarterbacks were throwing away from Terrance Mitchell?
Well, that ship has sailed.
Mitchell was dreadful in the USC game, and while he played much better against Stanford, he still had some glaring slip-ups. He did have eight tackles, but it was usually too late.
I realize that playing cornerback in the talent-laden, pass-happy Pac-12 Conference is a difficult task. But c'mon man!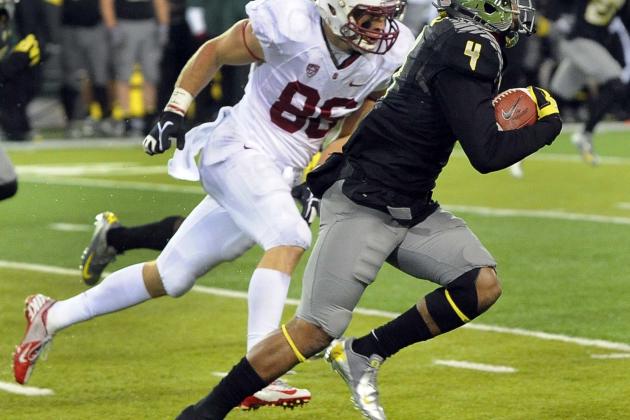 Steve Dykes/Getty Images

The only way to account for safety Erick Dargan's excellent play against the Cardinal is to imagine that John Boyett (visiting for the first time since surgery on both knees) took him aside prior to kickoff and said: "Don't embarrass us, dude."
Dargan did not embarrass. In fact, he continued right where Avery Patterson left off after Patterson continued right where Boyett left off. Which is to say, highly efficient and somewhat missile-like around the ball.
Dargan had five tackles and was everywhere the ball was. He also recovered one Stanford fumble and had that yummy interception and 30-yard return.
Bow down to the sophomore safety carrying on the Oregon tradition of excellence at the position.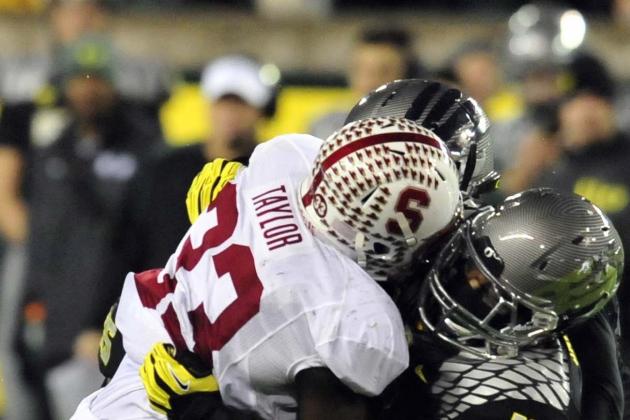 Steve Dykes/Getty Images

Brian Jackson got much more up close and personal with Cardinal RB Stepfan Taylor than I'm sure he wanted to.
The junior rover had eight tackles, most of them on Taylor. Jackson also had one nice pass breakup and seemed to be flying around most of the night doing his job.
Duck fans are increasingly comfortable with Jackson in Eddie Pleasant's old position.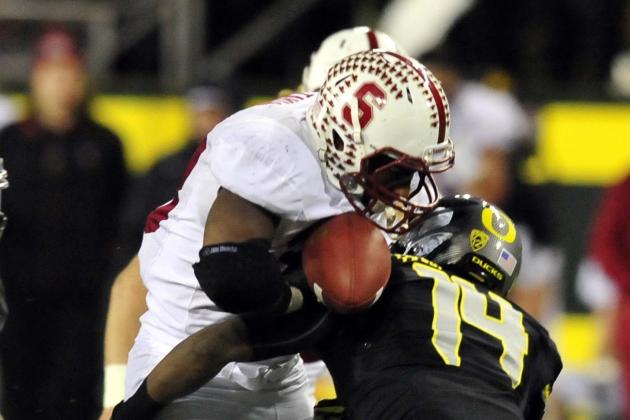 Steve Dykes/Getty Images

Ifo Ekpre-Olomu did his job against the Cardinal and was another defender who kept Oregon in the game.
IEO had nine tackles on the night, seven of them solo. He also forced not one but two fumbles, recovering one. One of the best pass breakups of the night belongs to Ekpre-Olomu.
The sophomore has really come on strong this season and seems to be getting better every week.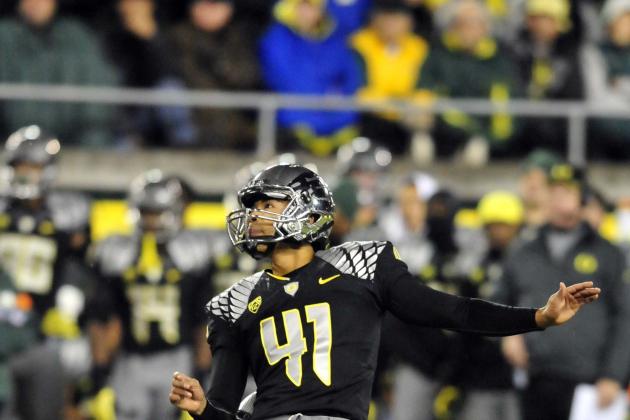 Steve Dykes/Getty Images

With the exception of punter Jackson Rice, who was really terrific (and probably slept in Sunday morning, since he actually had to work last night), Oregon's special teams flunked.
De'Anthony Thomas' punt and kickoff returns were way below average, and way ho-hum.
Kickoff coverage was pitiful, and several opportunities were missed in this part of the game.
And—here it comes—field-goal kickers have one job. Kick that brown thing through those two white poles. For the second straight year, you-know-who (I can't bring myself to type his name) has not done his job.
I don't really care that you are great in practice. Like the Dancing With The Stars' judges, we can only judge your live performance, not how fabulous you might have been in practice.
Now, all of us reasonable fans know that a game is not won or lost solely on the foot of one man. And this was most definitely true in the Oregon vs. Stanford game. There were plenty of other opportunities for the Ducks to put this one in the W column.
But still, we can only say: Make the damn kick.
Kay Jennings is a member of the Football Writers Association of America.