The Blueprint to a Perfect Offseason for the Pittsburgh Steelers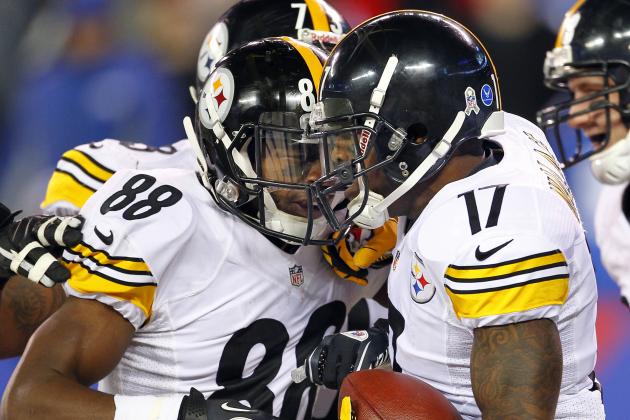 Rich Schultz/Getty Images

There is plenty of time to go in the 2012 season for the Pittsburgh Steelers, but it is never too early to look ahead to the offseason.
The Steelers will be in a bit of a transition year with little cap room to work with and a number of young, talented free agents including Mike Wallace, Rashard Mendenhall and Keenan Lewis.
There will be some difficult decisions to make as well given some of the aging talent on the roster. That may mean another roster purge of long-time veterans just as they did last season with Hines Ward, James Farrior and Aaron Smith.
Besides free agency, the Steelers will also have to identify areas in which they want to improve for next season and there are several areas which are in desperate need of an upgrade or depth.
Here is the blueprint to the perfect offseason for the Pittsburgh Steelers.
Begin Slideshow

»
Gregory Shamus/Getty Images

Byron Leftwich
Leftwich won the backup job in training camp and will have the opportunity to prove that he can handle the job while Ben Roethlisberger is out this season.
It was not a good start against the Baltimore Ravens, but this should not prevent the team from considering bringing him back for one more year at most.
They should check their options and if Leftwich is the best available, he should be signed to a one-year deal. However, the team does need to find a better option.
Charlie Batch
Batch has been a quality backup and third-string quarterback for years, but he was third string this year and will be another year older. At some point he will no longer be able to compete at the professional level.
The Steelers should allow Batch to become a free agent and look for a younger option. Chances are if they need him at any point Batch will be available to sign as a free agent.
Rashard Mendenhall
Mendenhall is the most talented running back on the roster and with a revamped offensive line, he could potential put up monster numbers.
However, coming off of ACL surgery and an injury-plagued 2012 season, the Steelers should move on. They are a passing offense and should not invest as much in the running back position when you can find cheaper alternatives in free agency and the draft.
Isaac Redman
Redman has proved to be a quality backup and a very good short-yardage back. He will not command a big contract and should receive a multi-year deal from the Steelers. He serves his role well and can be a spot starter if necessary.
David Johnson
The emergence of Will Johnson has made David Johnson expendable. He should not be offered a contract.
Leonard Pope
Pope lost his job to rookie David Paulson and there is no reason that he should get it back. The Steelers can find a better option to be the team's third-string tight end that offers some upside. Pope is not getting any better and rarely sees the field.
Mike Wallace
Many are down on Wallace, but he is still a huge threat and is the only receiver on the roster who can consistently get into the end zone.
If he still commands a monster contract, Wallace will be shown the door, but if the Steelers can sign Wallace to a contract comparable to Antonio Brown's it will be a no-brainer.
Wallace has not earned a massive deal, but the Steelers will certainly offer him a fair deal or even franchise him.
Ramon Foster
Foster will eventually lose the starting job to David DeCastro, but he is still a quality NFL lineman who can play guard and tackle.
Chances are some team will give him starting money, but ideally the Steelers will be able to lock him up for a few years as their top backup at guard and tackle.
Doug Legursky
Legursky is a quality backup at center, but offers very little at guard. But given Maurkice Pouncey's injury history and Legursky's performance at center, he deserves a one-year deal.
Max Starks
Is there any reason for the Steelers not to sign Starks? He has played well once again this year at left tackle.
It is doubtful that he will come cheap once again, but the Steelers should give Starks a modest contract that pays him as a starter, but does not overpay him so much that if he is beat out by Mike Adams or Marcus Gilbert that they cannot hold onto him as a backup.
Greg Warren
Warren is a dependable long snapper and there is no reason not to sign him to another deal.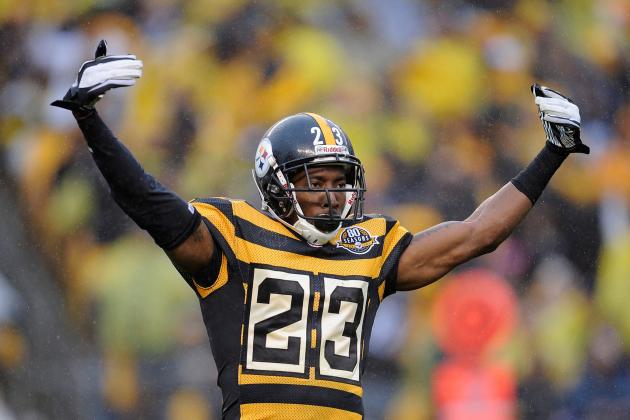 Joe Sargent/Getty Images

Casey Hampton
Hampton has provided the Steelers with a lot of quality football over the years, but his time is done after this season. He should be allowed to leave as a free agent.
Larry Foote
The Steelers need to get better at inside linebacker and that means Foote can no longer be the starter. He can still be a quality backup, but this is a position where they need to add more athleticism and he should not receive a contract offer.
Brandon Johnson
Johnson is a nice player to have on the team, but he is a low priority free agent. If there are younger options, the Steelers will not offer Johnson.
Keenan Lewis
Besides Wallace and Mendenhall, Lewis is the most important free agent that the Steelers have. In fact, it could be argued that he is the most important free agent.
He is getting better each week and at times has looked like the Steelers best cornerback.
He should receive a long-term contract from the Steelers that solidifies him as the starter for the next four or five seasons.
Will Allen
Allen has stepped in as a starter with Troy Polamalu missing action due to injury and Ryan Mundy's ineffectiveness. He is not the ideal starter, but he has stabilized the Steelers' defensive backfield.
He has earned a short-term contract that should pay him near the league minimum.
Ryan Mundy
Mundy has struggled this season and should not receive a contract offer.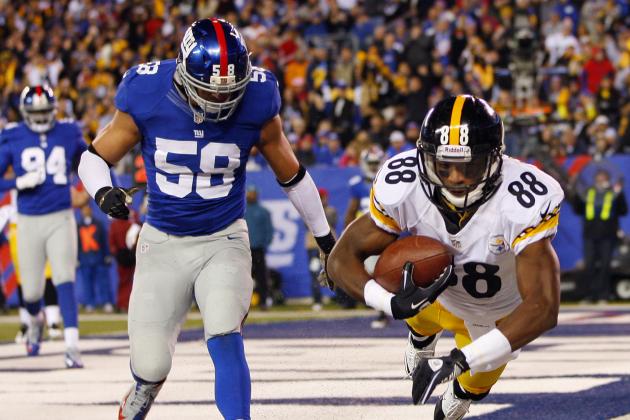 Rich Schultz/Getty Images

Emmanuel Sanders
Sanders has a chance to be a fine receiver in the league and will certainly receive a tender from the Steelers. They should also sign him to a long-term deal this offseason.
Jonathan Dwyer
Dwyer should return and fill a prominent role on the offense if Mendenhall leaves. However, he will have to prove himself next year to earn anything more than a one-year tender.
Stevenson Sylvester
Sylvester should receive a one-year tender, but he is no lock to make the roster.
Steve McLendon
McLendon didn't get as much playing time as anticipated this season, but he will be brought back on a one-year tender where he will have a chance to prove himself as a starter.
DeMarcus Van Dyke
Van Dyke was benched after being penalized too much and will not be back next season.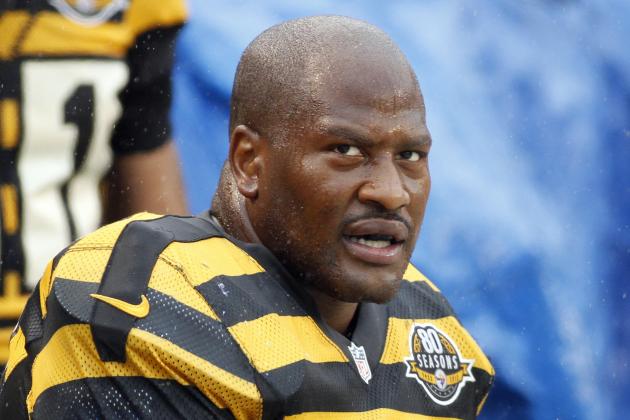 Justin K. Aller/Getty Images

James Harrison
Harrison has been a great linebacker for the Steelers, but age and injuries have gotten the best of him. He no longer offers much as a pass rusher and isn't strong against the run anymore either.
Harrison's cap hit is way too high given his lack of production. He'll either need to take a major pay cut or flat out be released. As difficult as it may be, the Steelers need to cut Harrison and move on with another option.
Brett Keisel
If Keisel is not cut, he is a candidate for a pay reduction. It is time that Ziggy Hood and Cameron Heyward step up and man the defensive line.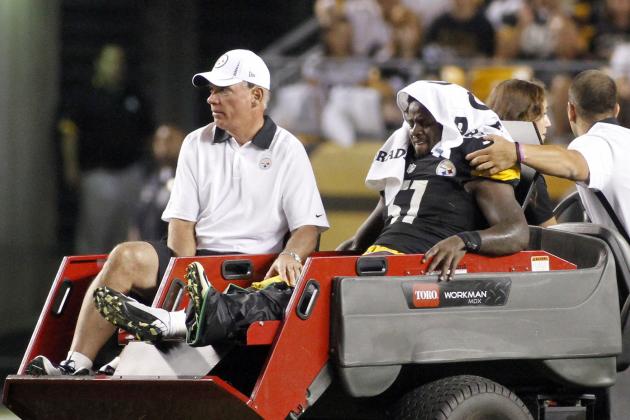 Justin K. Aller/Getty Images

Beyond any offseason move, the Steelers really need two key players to get healthy.
David DeCastro, the Steelers' first-round draft pick last year, figures to be healthy at some point during the season, but with Foster playing, he isn't likely to get into the starting lineup.
Instead, the Steelers should focus on getting DeCastro back at full strength and ready to go for next season. With him back on the offensive line, this unit should continue to get even better next year.
Even more important than DeCastro is Sean Spence.
Spence suffered a devastating knee injury and he has been missed this year on passing downs and on special teams.
While he wouldn't have had a ton of playing time with the defense, Spence would have likely received some situational playing time in place of Foote.
At the very least, Spence being healthy enough to back up on the inside would be a huge addition to next year's roster.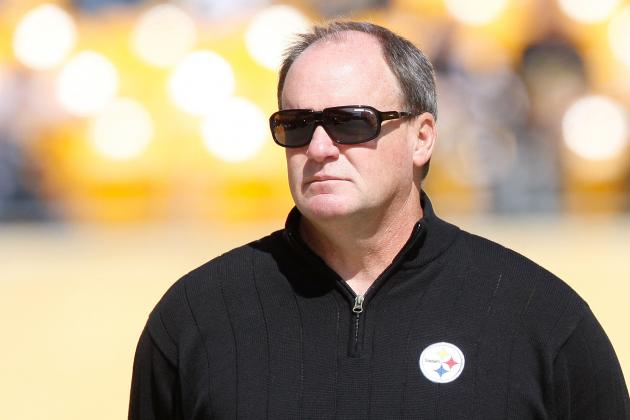 Jared Wickerham/Getty Images

The Steelers won't be very active in free agency, but they will add a couple of players that don't cost much for depth.
A couple of areas to look at will be on the defensive side of the football where they will likely need to add depth on the defensive line or at linebacker and safety.
The only potential area in which the Steelers could make a "splash" would be at inside linebacker where they could find a stopgap until Spence or a rookie is ready to start.
Beyond that, do not expect much in free agency.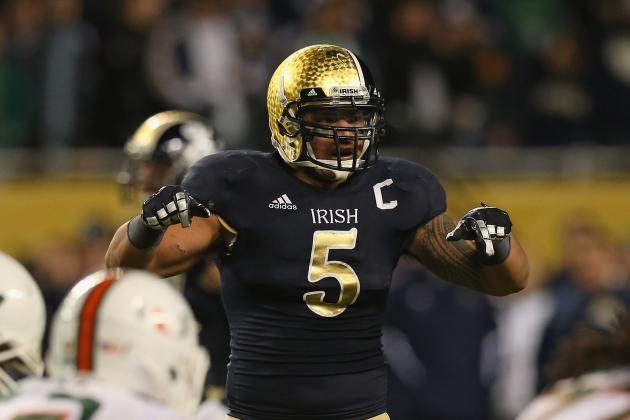 Jonathan Daniel/Getty Images

Besides signing their own free agents, the draft is the biggest area for the Steelers this offseason. There are several key areas that will need to be addressed in the draft.
On offense, the Steelers could use a developmental prospect at quarterback and should continue to add skill position players late in the draft to develop.
Assuming Wallace is signed, a sixth or seventh-round receiver prospect with size would be a good addition as a running back in the same range to compete with the current stable of backs.
The offensive line should not need much help with the current starters and place and keeping Starks, Foster and Legursky.
Instead, it will have to be a big defensive draft.
The Steelers will need to take another shot at defensive linemen in the middle of the draft as they need to continue to build depth.
A safety in the second or third round to develop is essential as well as neither Polamalu or Ryan Clark is getting any younger.
But the top of the draft needs to be at the linebacker position where the Steelers need major upgrades at both inside and outside linebacker.
Manti Te'o would be an ideal fit for the middle of the Steelers' defense. He'd form a dynamic duo with Lawrence Timmons.
Te'o brings a good football IQ and leadership to the field, but more importantly a ton of production. If he isn't available, Penn State's Michael Mauti would be a great option later in the draft.
But the bigger priority should be at outside linebacker.
The Steelers need to find a monster pass rusher to replace Harrison considering their pass rush has been non-existent this season.
Picking up a top pass rusher in the first and an inside linebacker in the second or third would be a huge boost to the Steelers' defense which is devoid of playmakers right now.
Add a safety to that mix in the top half of the draft and Pittsburgh's defense would be reloaded in what would be the ideal offseason moves.