UFC 154 Results: The 5 Biggest Threats to GSP's Title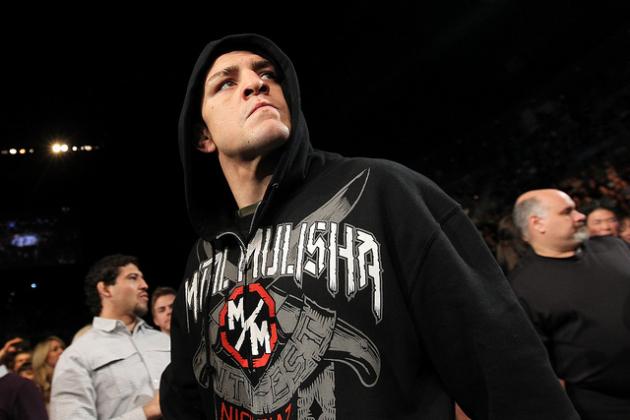 Photo by Nick Laham/Zuffa LLC/Zuffa LLC via Getty Images
Last night proved two very important things. First, Georges St-Pierre is still unquestionably the top dog at 170 pounds; second, he is indeed capable of overcoming adversity.
Carlos Condit landed a mean high kick to the temple of the champion last night that sent him reeling into the canvas. Condit swarmed, and it appeared we may actually be on the cusp of seeing the official title change hands.
But GSP recovered and rebounded.
A seasoned veteran and highly intelligent fighter, St-Pierre was able to ward off the majority of Condit's attack and reverse fortune. The champ not only escaped the assault, but managed another takedown and completely dominated for what remained of the third frame.
These kinds of fights are what make fighters great. GSP may not have appeared wholly invincible last night, but he proved he has the heart of lion and the resolve of a deserving champion.
So what's next for GSP? There are a handful of interesting options out there, but few hold the allure of a meeting with the surging Johny Hendricks…
Begin Slideshow

»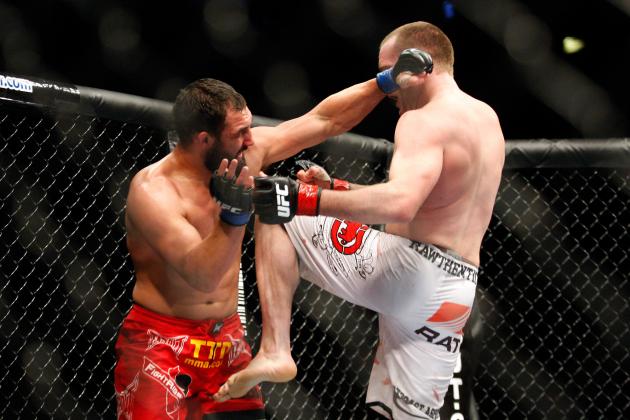 Richard Wolowicz/Getty Images

"Bigg Rigg" did his job last night. The man solidified his position as No. 1 contender, and he did so by starching the dangerous Dane, Martin Kampmann.
Hendricks lived up to the hype heaped on his shoulders, and he did it not with his wrestling, but with those lead heavy fists. A left hook found the face of Martin Kampmann in roughly 45 seconds, and "The Hitman" was sent flying across the cage in dramatic fashion.
The knockout marks Hendricks' fifth consecutive victory inside the octagon. That vicious hook yielded the man's eighth (technical included) knockout stoppage. These are the kind of results one hopes to obtain if he's ever to challenge for divisional gold.
Hendricks has an interesting skill set that makes him a bigger threat than most GSP has faced in recent years. Not only can Johny wrestle his opponents all the way to Hell and back, he can send them into unconsciousness in the blink of an eye.
Heavy hands and extremely solid wrestling look like an ugly combination to deal with, even for the masterful GSP.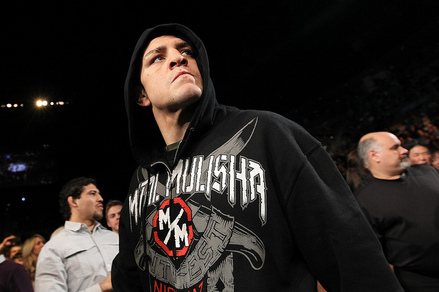 Photo by Nick Laham/Zuffa LLC/Zuffa LLC via Getty Images
I don't personally like Nick's chances against a guy like GSP. GSP is far too mobile to find himself pinned against the cage eating a flurry of body punches, and he isn't all too likely to get ensnared in Diaz's guard.
Just the same, those specific tools are the Stockton rep's bread and butter. And he's damn proficient in delivering his own brand of offense.
If Nick Diaz can somehow slow the footwork of GSP, his chances of snagging the UFC welterweight championship skyrocket. And given how tough Diaz is, he's a guy who could possibly apply enough pressure to wear on the champ.
Diaz will have to be a flawless competitor on the night he challenges St-Pierre in order to win. But it's certainly a very tangible possibility. The only thing fans would have to sweat if Diaz were to somehow walk away with the title is that dreaded drug test, Diaz's most dangerous foe to date.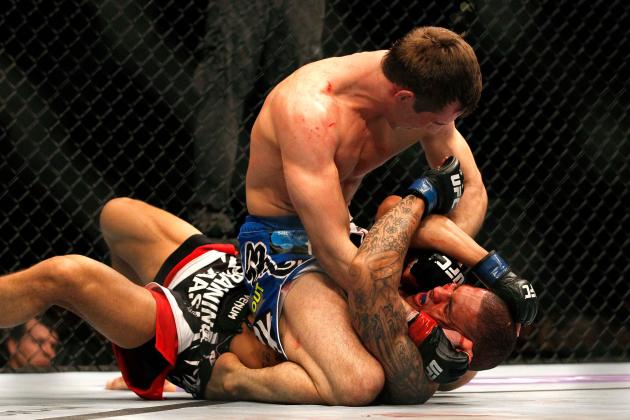 Kevin C. Cox/Getty Images

Rory MacDonald has been called the future of the welterweight division on numerous occasions. It's easy to understand why too, at just 23 years old, this kid looks like he's already got the world in his palm.
The fellow Canadian could challenge GSP in the future should he earn a victory over the newly-invigorated B.J. Penn at UFC on FOX 5. Given his recent track record and Penn's recent inactivity, one would have to consider MacDonald the favorite, and rightfully so.
MacDonald is 4-1 fighting under the Zuffa-owned UFC umbrella, and he's taken on and defeated a few solid opponents in Nate Diaz and Mike Pyle.
The kid has some of the nastiest ground and pound you'll see in the sport today, and he's dangerous when fighting vertical as well.
A few more fights with elite opposition would do MacDonald well in the long run, but it would be tough to express too much distaste in a GSP vs. MacDonald fight right now. Fans love explosive wars, and that's the kind of fight this proposed encounter promises to be.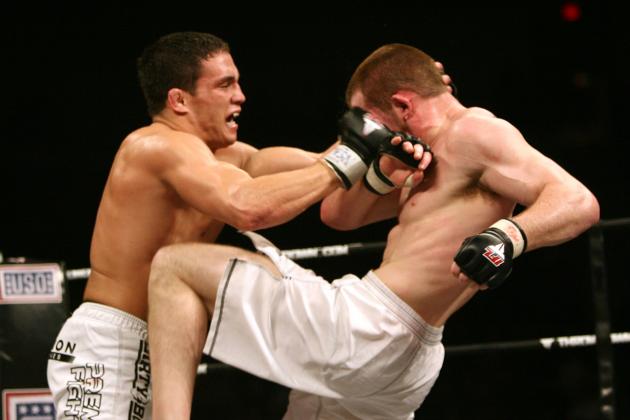 Ethan Miller/Getty Images

"The Juggernaut" isn't in direct line for a shot at the champ, but he's still one of the most feared fighters campaigning at 170 pounds today. The man has enormous power in both hands, boasts solid wrestling and possesses a killer instinct that few rival.
Furthermore, Ellenberger has proven himself fearless inside the cage. This is a guy who fears no one and is willing to tangle with anyone and everyone the UFC puts in front of him.
A winner in seven of his last eight fights, Ellenberger's already taken out a string of dangerous opponents that include the likes of Diego Sanchez, Jake Shields and Mike Pyle. The fact that he finished more than half of those fights inside the distance echoes the call for a meeting between GSP and Ellenberger.
One more win could see Ellenberger return to past glory and top ranking status, where the guy deserves to be.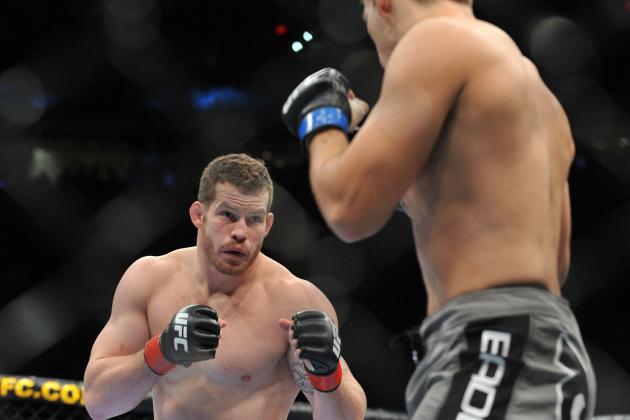 Jon Kopaloff/Getty Images

Assuming that Strikeforce does indeed sink in early 2013, we could see Nate "The Great" Marquardt once again fighting inside the UFC's octagon.
The former King of Pancrase deserves to be challenged by the world's best, and he's not going to find that measure of talent outside of the UFC.
A promotion versus promotion title fight carries some added intrigue, and it's a fine angle to push from a marketing stance. There's no doubt that the talent level in Strikeforce doesn't match what you'll find in the UFC, but general perception is favorable when it comes to Strikeforce, thanks to a solid fight roster and some good visibility.
I'm not completely sold on the idea that Nate has much chance of defeating GSP, but that doesn't change the fact that this could be a highly entertaining battle. Marquardt's great with his hands, and that makes him a constant threat to anyone he faces.
After Strikeforce's curtain call, this fantasy match could become reality. It makes sense from a financial standpoint, and ultimately, that's what matters to UFC brass.