North Carolina Basketball: 5 Questions That Need Answers at Maui Invitational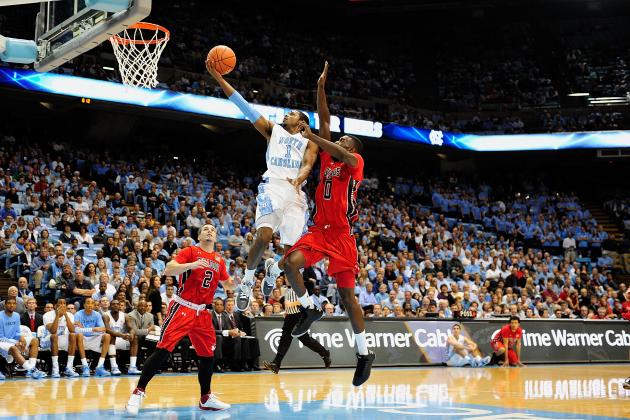 Grant Halverson/Getty Images

The North Carolina Tar Heels are heading into Maui with a 3-0 start to the season. While the team has finished off their opponents in decisive victories, those wins didn't come without their share of lumps.
UNC has shown a lot of promise in this young season despite the loss of four key players to the NBA. They should be a stronger team by the time conference play rolls around, but the Maui Invitational is right now.
There are questions abound for this young group of Tar Heels—and those questions need answers in order to come out on top.
The past two times Roy Williams brought a Maui trophy back to Chapel Hill (2004, 2008), the Tar Heels went on to win the national title.
Teams participating in the Maui Invitational have won 63 of 74 NCAA championships and 59 of 74 national runner-up spots. Maui has also been linked to 243 of 296 Final Four teams.
Maui matters.
Begin Slideshow

»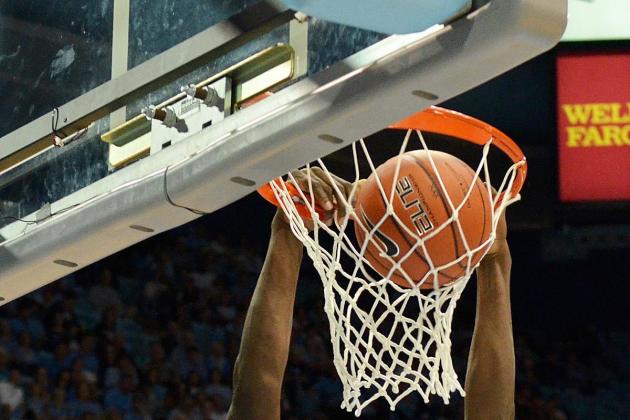 Rob Kinnan-US PRESSWIRE

Though the minutes are still being heavily rotated, Roy Williams has come out with the same starting lineup in all three games: Marcus Paige, Dexter Strickland, Reggie Bullock, James Michael McAdoo and Desmond Hubert.
Desmond Hubert was largely ineffective against LBSU, aside from the two blocks. He only played 11 minutes, and James doubled that with 22.
As a matter of fact, James has played more minutes than Hubert in every game. Obviously Roy likes what he has in James, so why isn't he starting?
I didn't want to say this before, in fear of blowing up Roy's spot. I've actually been wondering if it had anything to do with the recruitment of Kennedy Meeks. Now that Meeks has committed to UNC, James might finally be allowed that starting spot.
I've often wondered if Joel James had too strong of a season, whether or not that would turn Meeks away. It may sound like a stretch to some—and a conspiracy theory only Skip Bayless could come up with—but is it really just a coincidence if James starts on Monday?
Cue the X-Files theme.
I would like to see a starting lineup solidified for the rest of the season while they are in Maui. The center spot is the only one in question for me, and I don't think Brice Johnson is the answer there, either.
Johnson is just too light right now to bang around with the big boys. I like what he brings to the game, but he's better off spelling McAdoo at this point.
To me, Joel James is the solution.
One thing is for sure, Roy will have to answer this question before the guys can answer the next one.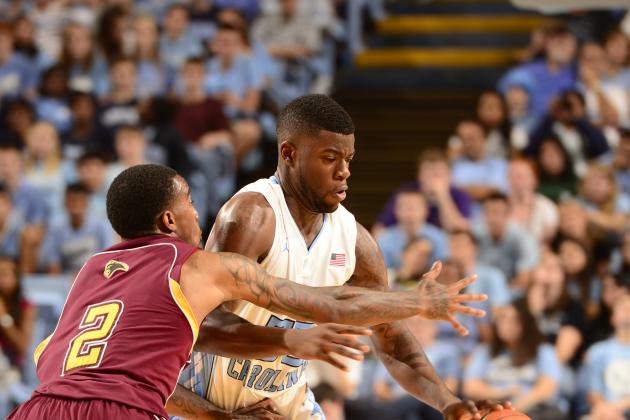 US PRESSWIRE

As I indicated in the introduction, there is a lot of promise with this Tar Heels squad. Their ceiling as a team is very high at this point, but it's hard to tell if they will reach it.
Can each and every key player find consistency with their game?
James Michael McAdoo has really been the only sure thing from game to game. Nobody else has established themselves as a true threat on the offensive end.
Without someone else stepping up as a star, the Tar Heels are a double-team away from being shut down—as we saw in the first half at Long Beach State.
Sure, they were able to get off a lot of threes, which certainly isn't a bad thing if they light up the arc as they did in the second half. That isn't always going to happen, though.
The Tar Heels missed 13 straight threes at one point.
They need to establish a game from 15 to 20 feet out, where the shots fall a little easier. This game is all about rhythm, and it's hard to find it when the only options are threes and McAdoo.
Case in point: Reggie Bullock only took one shot that wasn't a three against LBSU. If any wing should be working the inside, it's him.
I believe the first thing they need to establish is an identity, which will be hard to do until they solidify a rotation. Once the guys know their roles, they can get more comfortable and focus on the things Coach Williams needs them to do.
Even if the rotation needs to be adjusted later, I think it would be a good idea to solidify something soon.
Kelvin Kuo-US PRESSWIRE

With double-teams crashing to James Michael McAdoo, it's imperative the guards step up and improve their shooting percentage. They will be what makes or breaks this team.
Over three games, the Tar Heel guards are shooting 38.6 percent from the floor. That won't cut it in the ACC or Maui.
I see good things from P.J. Hairston, even though his shooting percentage isn't indicative of that. He seems more confident in his overall game.
Aside from his shooting slumps, Hairston has produced when given the opportunity. He has 22 points, 13 rebounds, four assists, three steals and one block over 44 minutes of action.
Hairston's confidence grows with each big play he makes, and we will see his shooting percentage continue to rise.
Paige's shooting will follow that same trend as he gets more comfortable running the show. There was a glimpse of that against LBSU when he went 6-of-10 from the floor and 3-of-6 from downtown.
Leslie McDonald needs to pop off more shots, plain and simple. He's 5-of-15 on the season, and has yet to find his groove.
Dexter Strickland's shooting hasn't been great, but at least his 7-of-20 shooting can be attributed to drawing fouls. Strickland has attempted 12 free throws so far; the closest guard to him is Hairston with only six.
The guards need to become more aggressive. It can't just be Dex getting into the paint.
That should start with Reggie Bullock right now. I like that he's pulling the trigger on threes, but he is capable of much more than that.
There are enough straight shooters on this team. He needs to be one of the guys getting penetration—especially while Paige is still timid in that area.
But in order to make it all come together the way it should, Paige needs to find a way into the colored region of the floor.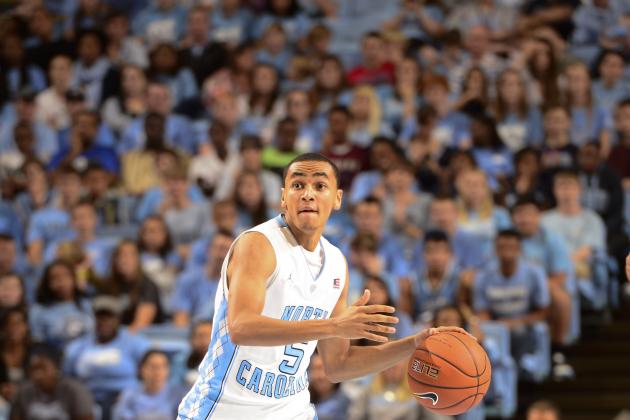 US PRESSWIRE

Marcus Paige is helping to keep the ball moving in the half court, but he isn't really running the show yet.
When point guards truly run the show, they create open shots for their teammates. Until he gets more comfortable penetrating, opposing teams will just look at him as a better shooting Stilman White.
What I mean by that is White wasn't one to create offense, he just moved the ball around and didn't make many mistakes. Right now, Paige is mainly worried about not making mistakes.
Once he gets a better grasp on the college competition, he has the ability to do much more than he has to this point. Paige has given us a few glimpses into what he is capable of, but he hasn't done it with the consistency I expect we will see down the road.
Last season, the Tar Heels struggled to create their own shots, and the offense never found a rhythm until Kendall Marshall started penetrating and knocking down open shots.
If Paige continues to bury shots the way he did against LBSU, the defense will be forced to play him close. That will allow him to get by his defender more easily, and he will be able to dish the ball off for some easy buckets.
I don't think it will be long before Marcus Paige really starts to shine, but the offense won't reach its apex until he starts consistently creating for others.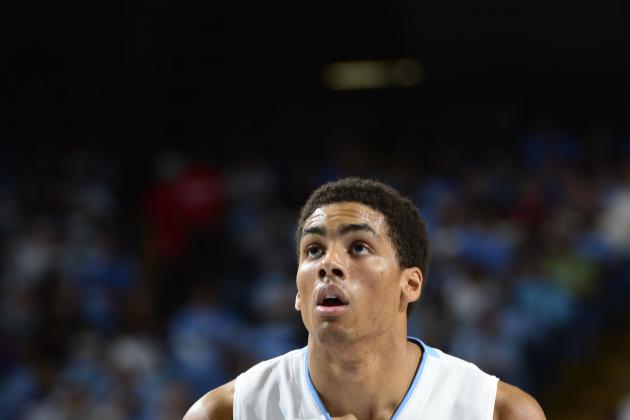 US PRESSWIRE

It remains a mystery when the Tar Heels will start to capitalize on their free throws—or if they ever will.
Through three games, the team is shooting 50.9 percent from the charity stripe. They are currently ranked 342nd in that category.
The better shooters simply aren't getting to the line. McAdoo leads the way, going 11-of-22 from there. Strickland is next in line, shooting 7-of-12 from the stripe.
Paige was a solid free-throw shooter in high school, but he has yet to get to the line.
Hairston, McDonald and Bullock are the top returning free-throw shooters, but they have combined for only 10 attempts. What's worse is they have only made five of them.
So even when the best shooters have gotten to the line, they have been unable to sink their shots.
The fact remains they need to get to the line, and that won't happen until they all get more aggressive. If McAdoo and Strickland are the only ones getting to the line, the team's free-throw percentage will still be hanging with the worst in the nation.
Neither player has eclipsed the 70 percent mark in their career. I think both are better this year than they have shown thus far, but that doesn't change the fact the other guys need to find their way to the line.
Capitalizing on free throws is must if this team intends to compete with the best.