Oregon Football: 10 Things We Learned from the Ducks' Loss to Stanford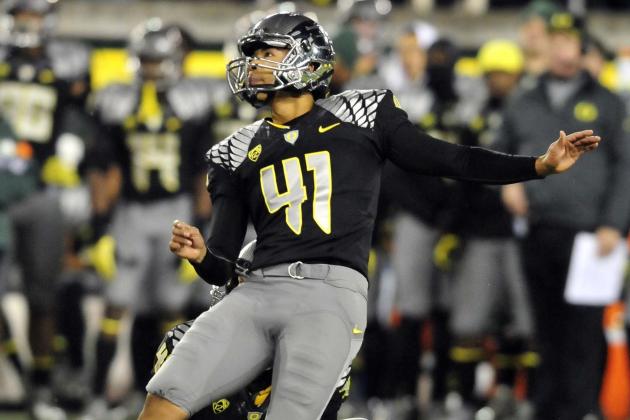 Steve Dykes/Getty Images

Oregon lost the heartbreaker of the year in Autzen Stadium on Saturday, Nov. 17. The reason that it was such a heartbreaker was that Oregon was within striking range of victory so often.
Alabama's loss to Texas A&M last week was tough, but Alabama was grossly outplayed that day, and the win would have almost felt cheap if the Tide could have pulled it off.
Baylor broke the heart of many a Kansas State fan while Oregon was fighting with Stanford, but that game was won by a margin of four touchdowns. Kansas State was never really in that game after Baylor took a 21-7 lead in the second quarter.
Oregon's defeat in Eugene actually reinforced everything we already suspected about how good the Ducks were. Read on to find out what 10 things we learned about the Ducks in Week 12.
Some of this information may have been highly useful during the epic match.
Begin Slideshow

»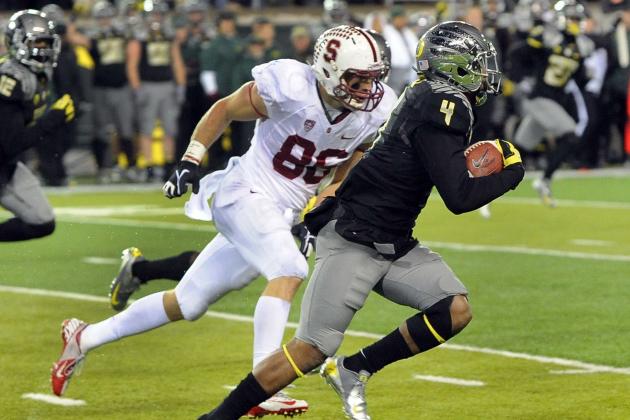 Steve Dykes/Getty Images

Oregon showed up in some seriously slick uniforms against Stanford, subtly flavored with nice highlights that gave the quarterback plenty of target visibility.
While Nike University (as Oregon is sometimes called) is a somewhat controversial topic in some circles, the bottom line is that Oregon hits the jackpot on many of its uniforms.
Tonight was clearly a jackpot uniform, and if it weren't tainted by the crash of Oregon's national championship dream train, the Ducks would likely use it more often than just this once.
Oregon's uniforms are almost always a Twitter topic during the game, and some turn out to be gargantuan flops. Not this time.
Nobody ever expects Oregon to run out of ideas, but to see some stellar gear still coming out of the same tunnel that sometimes yields something that looks like a team that got thrown up on by Toucan Sam is something that bears more than a cursory glance.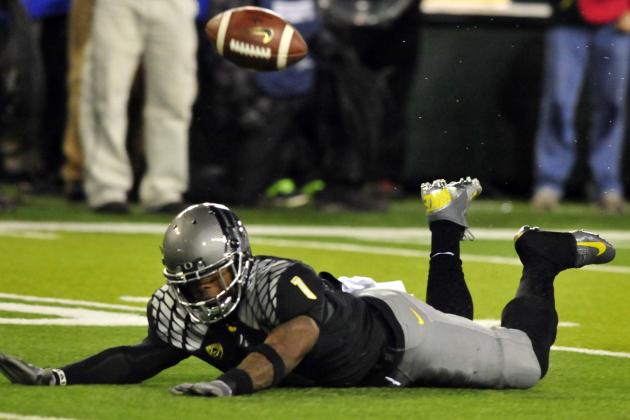 Steve Dykes/Getty Images

Fourth-down conversions were completely nonexistent for the Ducks against the Cardinal. Oregon was 0-of-2 on the night.
There will be more about this later on, but fourth down has to yield some conversions if you're going to use it. Let's take a closer look at these fourth-down attempts and talk about what went wrong.
First Attempt
This attempt took place with less than five minutes to go in the first quarter. Neither team had found anything close to paydirt yet, and the Ducks were on the seven facing a fourth-and-two. Oregon ran a quarterback keeper for no gain.
Oregon isn't known for its size, and the speed thus far in the game was not an advantage. The Cardinal had not been worn down enough to create any real advantage for the Ducks, especially when it wasn't run as a fake anything. It was run as a straight-up play, which the Cardinal had been successful at stopping up to that point.
Second Attempt
In the second quarter, the Ducks found themselves in two unfamiliar positions: trailing and scoreless in the second quarter. Oregon decided to go for it on fourth-and-four with a pass that fell incomplete. Now, what's interesting about that particular choice is that Colt Lyerla and De'Anthony Thomas had already been the entirety of that Oregon drive up to that point.
Lyerla had two receptions for 26 yards already on the drive, and Thomas had only failed to gain at least three yards once. (That run was for a loss of three yards.) The play that failed was an incomplete pass to Lyerla. So, essentially, the Ducks tried to go for it on fourth down by pitching a ball to one of the only two people on the field that Stanford would have been expecting.
If you're going to call a fourth-down play, you should really at least attempt to mask what's coming a little better than that. What's unsettling about this is that, if Chip Kelly were to face these same exact circumstances against another top-notch defense, he would do the same thing.
That's understandable if you have the execution to back it up, but Stanford pretty much had Oregon's number any time it mattered. There was one exception, but that will be covered later in the show.
We will cover Kelly's part in this in the next slide.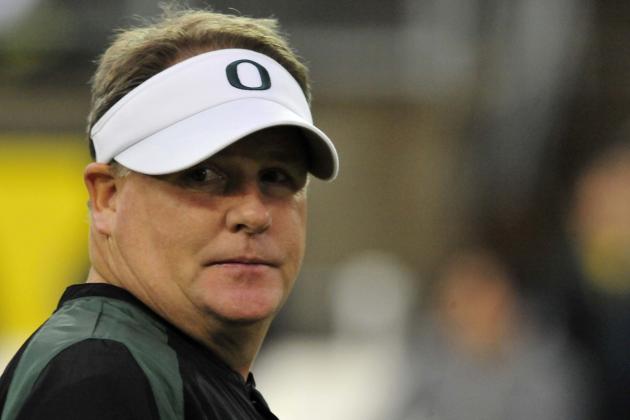 Steve Dykes/Getty Images

Chip Kelly has charts that he consults on a regular basis to determine whether he will attempt to convert a fourth down or not. While that is a brilliant play strategy for the most part, let me break out some logic for you.
Chip Kelly has a chart. Gambling gurus use charts as well. The card sharps know that, given 1,000 hands of any given game, the charts will make you a winner every set of 1,000. Chip Kelly plays this same type of strategy when it comes to fourth down.
Here is the inherent difference between Chip Kelly and a gambling stud: The gambler also has a deep knowledge of the game from years of practice that tells him or her when to walk away. Sometimes you walk away a winner, other times you walk away a small loser to avoid becoming a big loser when the casino sends in the "icer." (The guy they know can deal losing hands regardless of what math says should happen.)
Chip Kelly faced his icer in Week 12, and it was named Stanford. In the past two years, Kelly had outscored the Ducks 53-30 and 52-31. Kelly's math told him that Stanford was going down and that his normal charts applied to the 2012 edition of the game.
Here's what no chart can tell you: how to keep playing when you should walk away. If Kelly were a gambler, he could have gotten up from the table when he was winning. In this case, that was when he was up on the Cardinal 14-7.
Unfortunately, Kelly had to sit at the table for 60 minutes plus an overtime period. No chart can assign numbers to a situation like that. It's time for Kelly to start learning from his past losses, sense the tone on the football field and understand that there are times when points on the scoreboard mean more than theoretical points on a chart.
The professional gamblers know how to play in hostile environments, and I promise you that they don't have a chart to use against the icer. There's no such thing. It takes finesse, experience and the ability to confidently say, "I don't care what the charts say, I'm right about this."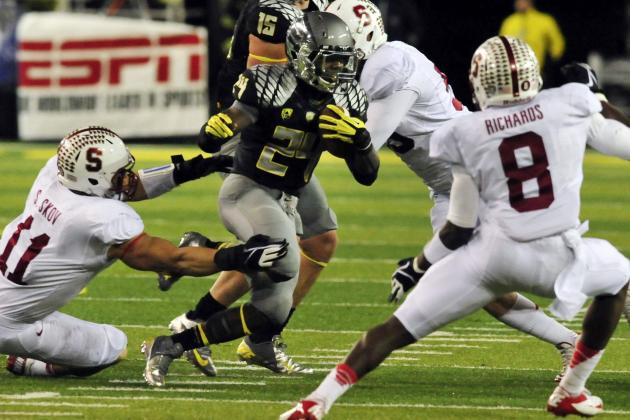 Steve Dykes/Getty Images

Oregon went 4-of-17 on third down against the Cardinal. There is no way to sugar-coat that stat, and I wouldn't insult your intelligence by suggesting that it's "not all that bad."
It's not bad; it's horrible. For the most potent offense in the nation, it's almost unthinkable that Oregon even saw third down more than a dozen times, much less failed to convert it even 25 percent of the time.
Oregon's offense strung together a three-play, 59-yard scoring drive after Stanford turned it over to the Ducks on the 41. The opportunities were there, and all Oregon had to do was capitalize.
Oregon failed the execution test and punted the ball to Stanford repeatedly. Oregon is going to face defenses like Stanford's every year. Not only will it face Stanford every year, but the teams that qualify for the BCS Bowls will be defensively prepared to face the Ducks.
Maybe not so much in the Rose Bowl, but every time Oregon makes a national championship game, it will face a team that has a defense to go along with its offense.
If the BCS has taught us one thing, it's taught us that. Defense has won the last six national championships, and Oregon is one of the teams that directly learned that lesson just a few short years ago in the 2010 clash with Auburn.
Third downs have to be converted to win the major battles. Oregon couldn't do that against Stanford, and Stanford persevered to victory.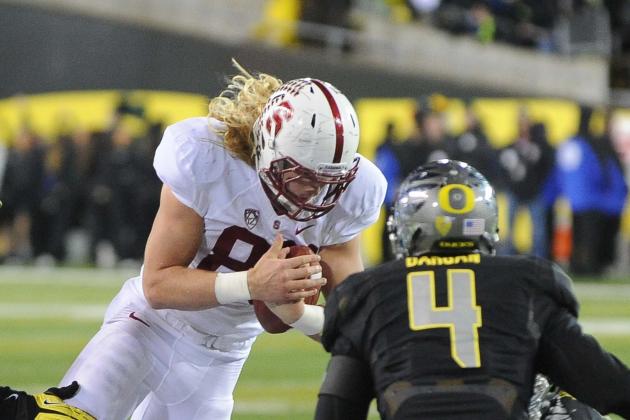 Steve Dykes/Getty Images

When it mattered most, Oregon found itself the beneficiary of many Stanford turnovers. Oregon forced turnovers three times in the game and almost a fourth time in the overtime period.
Erick Dargan had one of the key interceptions. Granted, the ball sailed high because it was wet and slipped away from Kevin Hogan. However, a defender with less awareness would not have been in the place to make the catch.
Dargan is only a sophomore at the defensive back position, and he will be even better next year. He may be the Ducks' next big defensive draft pick, but they will utilize him as long as he's there.
He's got 28 tackles on the season and two interceptions. The 30-yard return he tacked onto the end of that interception was the longest interception return of his season so far, but he will probably get another shot at a return against Cody Vaz and the Oregon State Beavers next week.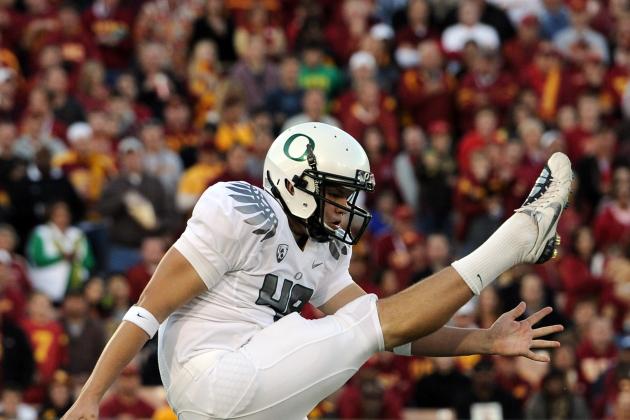 Harry How/Getty Images

While his season punting average is only at 37.9 yards per punt at the moment, Jackson Rice stepped up huge for the Ducks against the Cardinal.
He punted eight times for a total of 366 yards, which is an average of 45.8 yards per punt in the biggest game of the year. His longest punt on the night was 56 yards, which is his longest punt of the season as well.
A 45.8-yard average is good in any game, but to come through in the clutch like he did and pin a rival deep on almost every single punt is a gigantic win for the Ducks.
If the offense did half as well as he did, Stanford would have been iced long before the fourth quarter even started. It's really a shame that he's a senior. Some poor kid is going to have to follow his performance next year.
Oregon will miss him badly next year, and especially during the 2013 Stanford game.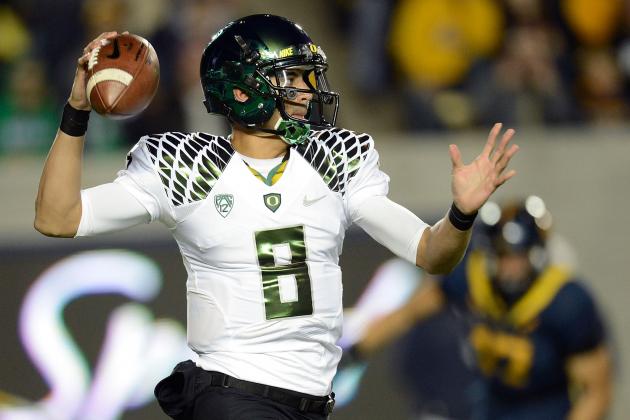 Thearon W. Henderson/Getty Images

With the plethora of quarterbacks going to the NFL or graduating this year, Mariota's future looks extremely bright. Landry Jones, Matt Barkley, Tyler Wilson, Geno Smith and Collin Klein are just a few of the competitors that will be moving to the pro level in April 2013.
Mariota is so incredibly talented that it's hard to believe that he's only a freshman. He's gone 180-of-251 for 2,164 yards, 28 touchdowns and only five interceptions in his rookie season. Not to mention the fact that he may be heading for the Rose Bowl to cap it all off.
Mariota's rushing stats are equally as impressive, as he's gone for 516 yards on only 76 attempts this season. Mariota is a great quarterback, and it will be highly entertaining to watch him battle Johnny Manziel throughout his career.
Lots of fans would definitely pay to see Mariota and Manziel meet up in the national championship. That would be a sell-out crowd for sure.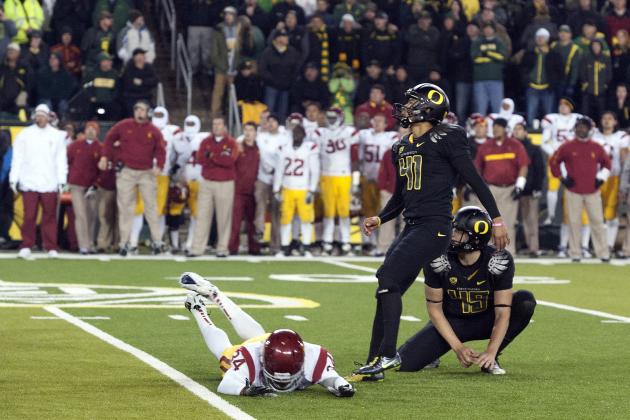 Steve Dykes/Getty Images

Oregon's game wasn't totally lost by bad play-calling on third and fourth downs, the Ducks had other opportunities squandered throughout the game. The favorite stat of many an analyst is the "missed field goals" stat.
Alejandro Maldonado missed two field goals in the game. One was a 42-yarder that would have won the game in regulation. (Assuming every other part of the game played out exactly as it did.) The other was the 41-yarder in overtime. That would have at least forced a second overtime. Who knows what could have happened if the game had gone on longer?
Last season, he went 7-of-12 for a 58.3-percent accuracy rating. While he'd only attempted one field goal in 2012 prior to this game, he certainly didn't look like a highly recruited kicker against the Cardinal.
Maybe the staff should interest themselves in some quality kickers. A few of Oregon's losses over the past couple of years would have been wins if they'd fielded a better kicker.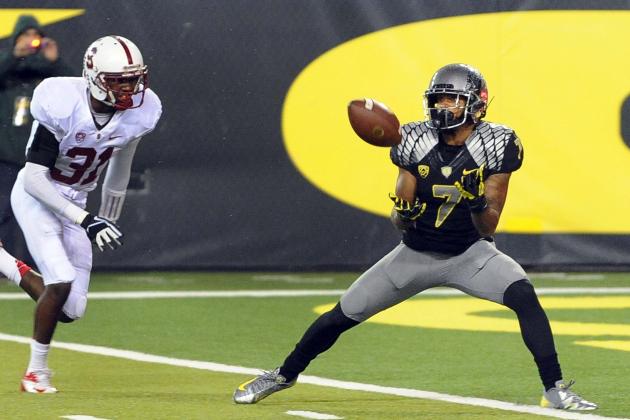 Steve Dykes/Getty Images
The effectiveness of the offense in one picture: Keanon Lowe.
While we learned against USC that Oregon's defense was beatable, there are a lot of college football defenses that would be beaten by an NFL-quality quarterback throwing to two NFL-quality receivers. (Especially if all three of those players are first-round material.)
What we learned against Stanford is that, when given the opportunity to make something happen, Oregon's offense definitely struggles. When players are wide open and plays are working as they should, Oregon is nearly unbeatable.
When the plays break down, nobody's open and there is pressure on the quarterback, the Ducks looked helpless. As mentioned before, the Ducks did have a three-play scoring drive of 59 yards. However, getting 59 yards in three plays seemed impossible for the rest of the game.
Well, except for that Mariota run of 77 yards. That was impressive, to say the least. Oregon's offense looked amateur against the Stanford defense, and Stanford lost a good chunk of talent to the NFL from that side of the ball this past offseason.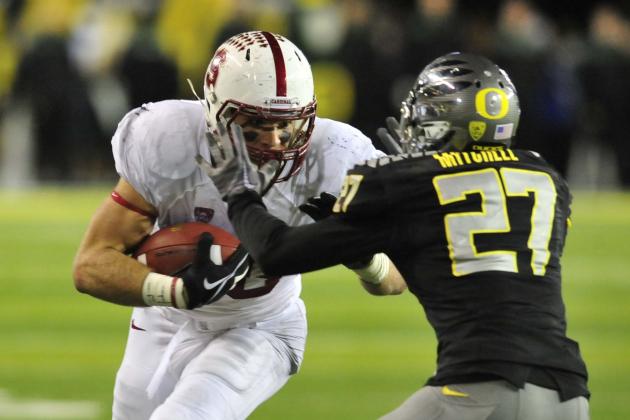 Steve Dykes/Getty Images

Make no mistake about what happened to the Ducks: The defense had little to do with the fact that Oregon lost to Stanford.
A lot of people are going to say that the Ducks have no defense, because they couldn't keep Stanford from winning when it really counted (in the fourth quarter). The fact is that Oregon's defense only allowed the Cardinal to score 14 points in regulation.
Much like the defensive battle that was LSU vs. Alabama in 2011, this year's Stanford vs. Oregon game was littered with great defense.
Stanford allowed only 14 points to Oregon, and one of those two touchdowns was after a turnover-on-downs that gave the best offense in the nation a short field. Holding a team that's averaging almost 30 points per game to less than half that in regulation is not bad defense.
It's great defense. Stanford was Oregon's rebound game after Matt Barkley hung 51 points on the Ducks' defense. The defense rebounded quite well and performed admirably against the Stanford offense.
The breakdown was not in the defense. It wasn't even close to being in the defense. This is a defense that forced three fumbles and recovered two. One of those fumbles was in overtime, and it almost sent the Ducks to a second overtime period.
When your defense hands you a game that could have been won with two touchdowns and a field goal, it's not the defense's fault if you lose.
Oregon has a great defense and a freshman quarterback. If a one-loss season is the worst that happens, watch out for the Ducks next year.