UFC 154 Results: 8 Fights to Make After Georges St-Pierre vs. Carlos Condit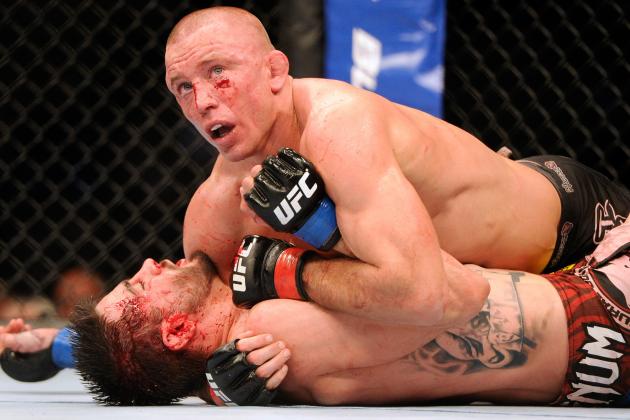 Eric Bolte-US PRESSWIRE

One of my most anticipated fights of the year is in the books.
Wait a second; make that TWO of my most anticipated fights of the year.
The UFC 154 main event between Georges St-Pierre and Carlos Condit lived up to the hype I'd created in my own mind for a fight between two very skilled welterweights, and the co-main event cemented Johny Hendricks as the top contender in the division and a bearded burgeoning superstar.
With the event in the books, it's time to take a look at what might be next for some of the winners and losers of UFC 154.
Begin Slideshow

»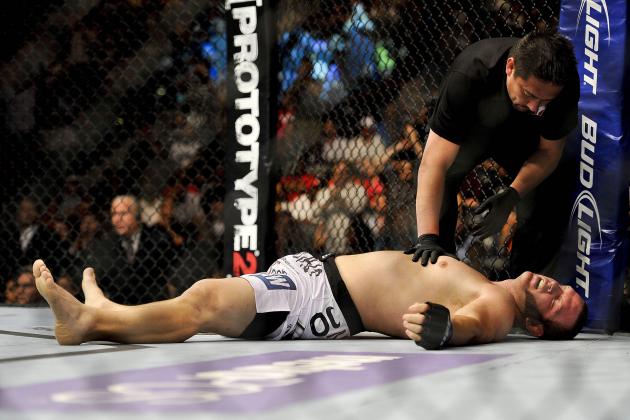 Paul Abell-US PRESSWIRE

Yeah, I realize that's a bit mean of me to say. But it's also the truth. Chad Griggs had a pretty inspired run there when nobody expected him to do much of anything with his career.

And kudos for him to getting over to the UFC and getting a couple of fights in, but let's be real with ourselves: Griggs is simply not a UFC-level fighter, and he never will be. It doesn't matter the weight class, and it doesn't matter how much longer he practices his craft; Griggs simply will never be good enough to beat most UFC light heavyweights.

It's time to cut him loose and let Griggs get back to digging graves or whatever it is that he does.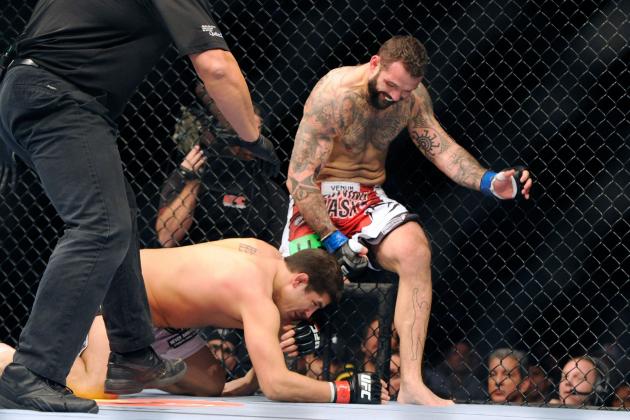 Eric Bolte-US PRESSWIRE

This one is a bit of a no-brainer, eh? It makes perfect sense to run this one back when the UFC returns to Montreal in March, especially considering the cluster-expletive way it ended.

If you missed it, here's what happened: Sakara punched Cote in the back of the head a bunch of times and knocked him out. And by "a bunch of times" I mean that all of the punches Sakara landed during the finishing sequence were to the back of the head. He didn't land anything other than back-of-the-head punches.

Ref Dan Miragliota originally stopped it in favor of Sakara, but after repeatedly seeing the replay on the screens all over the Bell Centre—and hilariously, the Montreal crowd counted along with each illegal blow in French—Miragliota changed his decision and ruled in favor of a DQ win by Cote.

It was the right call. And credit must be given to Miragliota for having the wisdom to change his decision when it was warranted. But hey, let's run it back. It only makes sense, especially since it was turning out to be a barn-burner of a little fight before the wackiness happened.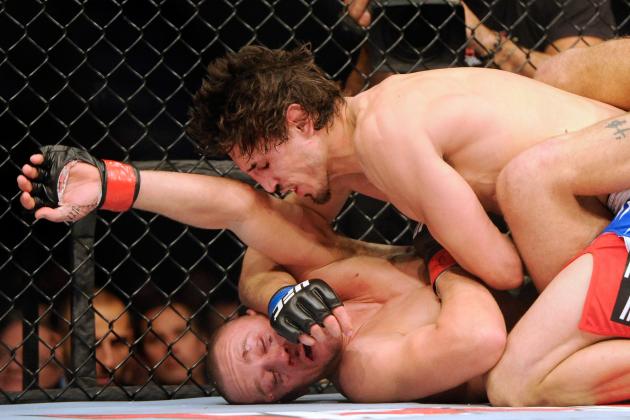 Eric Bolte-US PRESSWIRE

Mark Hominick hasn't been the same since the death of his longtime friend and trainer Shawn Tompkins. I'm not saying this to be callous; I knew Shawn quite well and his death hit all of us in the Las Vegas fight community quite hard. And I was nowhere near as close to Tompkins as Hominick and Sam Stout were.

I say this merely to point that Hominick hasn't been the same since Shawn's death; he's 0-4 in his last four UFC appearances, and this loss to Garza will almost certainly be his last for the time being. But credit must be given to Garza for surviving and for implementing an effective game plan that ensured him a win. He's still not a top featherweight fighter, but he's a lot better than people give him credit for.

For his next bout, I propose Darren Elkins, who also secured a win on the UFC 154 card. It would be a fun little grappling battle, and Elkins would give Garza the kind of veteran test he needs right now. And by that, I mean that Garza would probably made Elkins fight instead of shooting for a decision.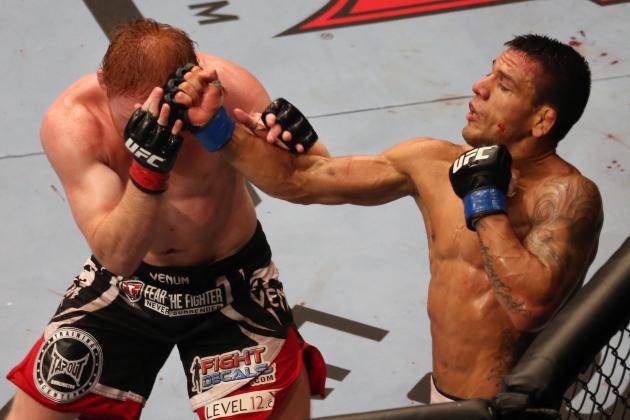 Tom Szczerbowski-US PRESSWIRE

I'd hate to fight Mark Bocek. For real. This is a guy who can just make his opponent, the fans in the arena and everyone around the world who paid $60 to see a fight card completely suffer. He's got an innate ability to slow down a fight like few others; by that, of course, I mean that he is terribly boring.

Dos Anjos is not boring. Not usually, anyway. So in lieu of picking out a specific opponent for him here tonight, I'll just say that we should put him in the cage with someone who won't try to stifle him for three rounds. That would be a nice thing.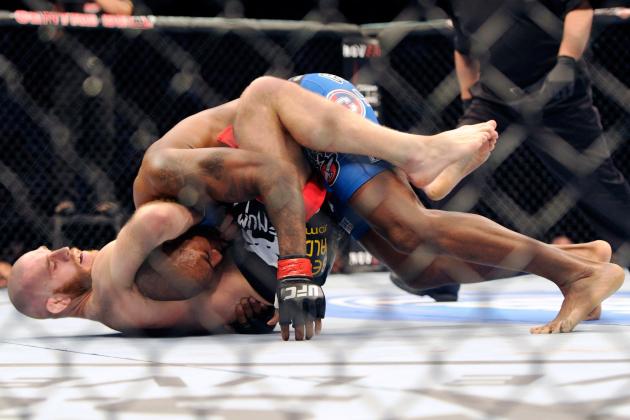 Eric Bolte-US PRESSWIRE

This is just a quick slide because I had nowhere else to really talk about this, but here we go: really, judges? You're really going to score Francis Carmont beating Tom Lawlor?

I'm not sure how you came to this conclusion, other than the fact that you don't really know anything about mixed martial arts at all. Which is why I'm stressing that you probably need to learn a little somethin' somethin' about this sport before you sit in that cageside chair to judge a fight again.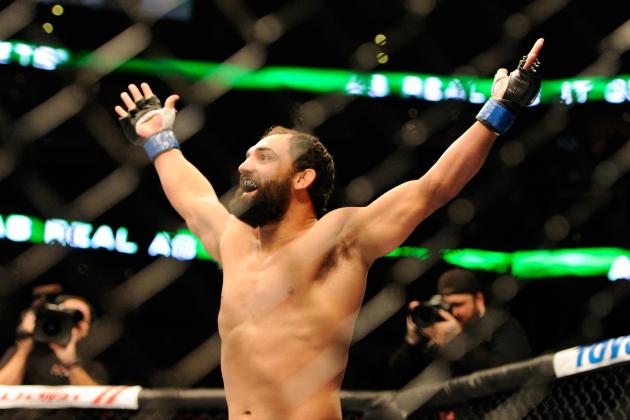 Eric Bolte-US PRESSWIRE

It's time to stop playing around and give Johny Hendricks what he deserves, which is a UFC title shot.

Hendricks, as he is known to do, punched Martin Kampmann in the face and knocked him out in just 46 seconds. This comes after Hendricks did the same thing to Jon Fitch, another top welterweight prospect. In fact, Kampmann landed in the exact same spot, in exactly the same fashion, as Fitch.

Yeah, I'd say he's ready for a title shot.

Hendricks is a man possessed, and it's time to put him in the cage with St-Pierre. Do I think it'll happen? No, and I'll get into my reasoning in the next few slides. Ultimately, Hendricks will be screwed if anything other than a title shot happens.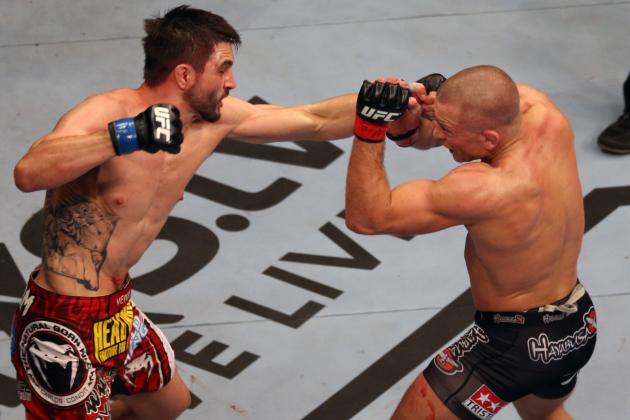 Tom Szczerbowski-US PRESSWIRE

Carlos Condit did not beat Georges St-Pierre. He didn't even come close, really. But what he did was show that he's a game fighter and one of the best welterweights in the world. He also showed (yet again) why all of the Nick Diaz fans who called him a boring decision fighter—despite going into the GSP fight with 26 finishes in 28 career wins—were really just a bunch of morons at heart.
No offense.
Of course, I'm sure some of you will take offense just as I'm sure the sun will rise tomorrow morning here in Montreal, so let's settle this the only way I know how: by booking Condit and Diaz into a rematch. That way, we can finally settle this silly grudge once and for all, and perhaps educate a few fans in the process.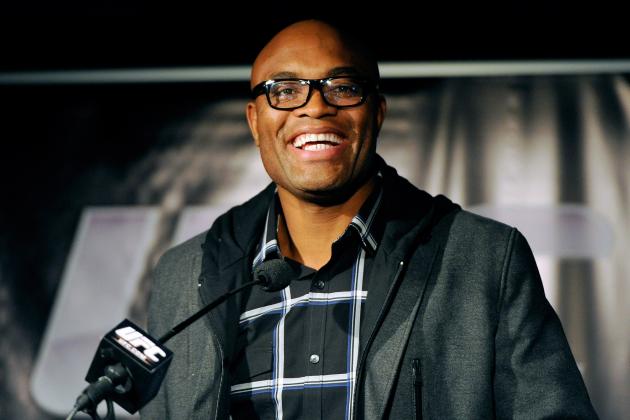 Eric Bolte-US PRESSWIRE

I know that I already put St-Pierre in a fight with Hendricks, but I'm including this here because I think it's what we're going to see. The UFC will head to Dallas in April or May, and this fight will headline it.
And that's terrible, because it's not a good fight for St-Pierre, and he has worthy contenders waiting for a title shot. And it's clear from his reaction that St-Pierre isn't all that enthused by the idea of meeting the much larger Silva in the cage.
But all of that being said, the fight is going to happen, so we might as well accept it. I'm sure I'll feel differently come fight time, because the hype for this thing will be unreal. But right now? Right now, I just don't feel it, and I don't really want to see it.