Notre Dame Football: 10 Things We Learned from the Irish's Win over Wake Forest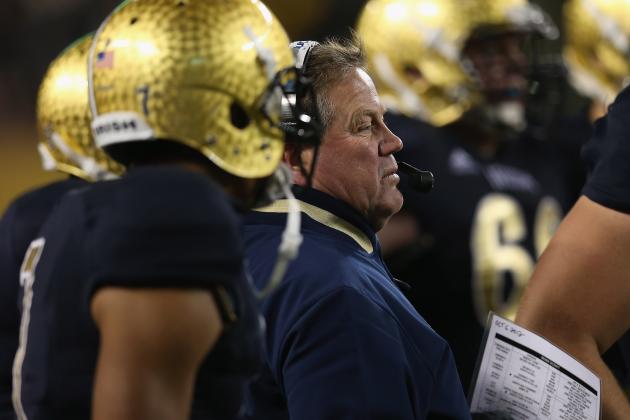 Jonathan Daniel/Getty Images

Notre Dame is now an improbable 11-0 on the season, and has only USC (7-4) remaining.
Coming into the week at No. 3 in the BCS Rankings, there were some minor complaints still floating around the nation about the Irish. What did today's game against Wake Forest tell us about Notre Dame? Have any of those lingering questions been answered?
Begin Slideshow

»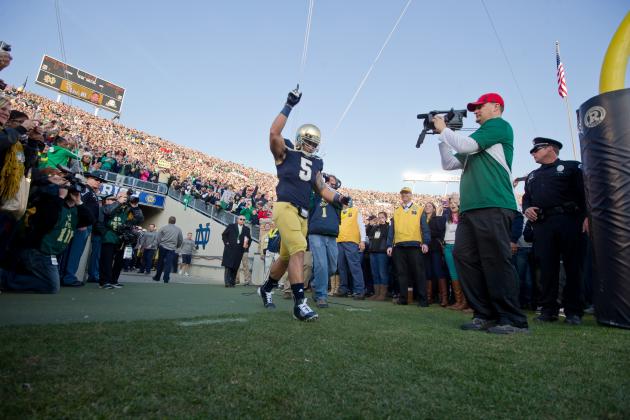 Matt Cashore-US PRESSWIRE

We might as well get the mushy stuff out of the way early.
Senior Day at Notre Dame Stadium is always a special occasion. But today, it somehow seemed a little different.
Maybe it was the undefeated Irish. Maybe it was the relevancy of a BCS-bound Notre Dame team.
But more likely, it was the raw emotion from players, coaches, students and fans who suffered through personal tragedy only to emerge stronger.
And undefeated.
Irish fan or no, today had to warm the heart, especially with the students decked out in leis in honor of Manti Te'o and all he has been through over the past few months.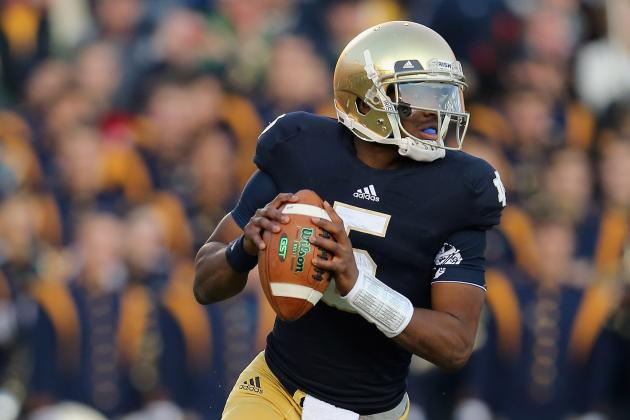 Jonathan Daniel/Getty Images

It may not always be fair to pass judgement on a college sophomore, but when you're the starting quarterback at Notre Dame, life sometimes isn't fair.
Golson has been prone to make some very amateurish mistakes at times, and the result has been some very close games this season against opponents that Notre Dame should really beat easily.
Today was not one of those days.
Golson was an impressive 20-of-30 for 346 yards, three touchdowns and an interception in what amounted to just slightly over two quarters of action.
For many quarterbacks, those numbers are barely attainable in sixty full minutes.
But more impressive than Golson's pure numbers was his ability to manage not only the game or his offense, but himself.
While there were still a few errant throws and foolish decisions, Golson is becoming a much more mature quarterback, relying on his athletic ability and trusting not only his arm but his play-makers down field.
That bodes well for the Irish down the stretch and into bowl season.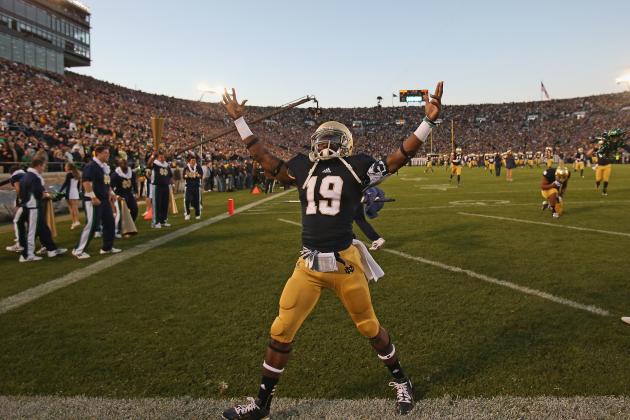 Jonathan Daniel/Getty Images

An oft-overlooked part of the game is special teams play.
Notre Dame's kicking game didn't have a whole lot to do today, but 1-for-2 on field goals, and three decent punts capped off by a 29-yard shanker isn't exactly something to write home about.
What's worse, Notre Dame's return game has been absolutely terrible this season, and was again today.
The Irish forced Wake Forest to punt 10 times today. You'd expect some decent numbers in the punt return game, but you'd be wrong.
There was no return on six kicks, and on the four that were picked up by Davonte Neal, he averaged just 3.3 yards—with a long of seven yards.
And although we only had one kick return to watch today, Cam McDaniel only got 17 yards from that.
Against Wake Forest, that won't tilt the scales. Against teams like USC, Oregon, Kansas State or Alabama, you better believe every single yard will be at a premium.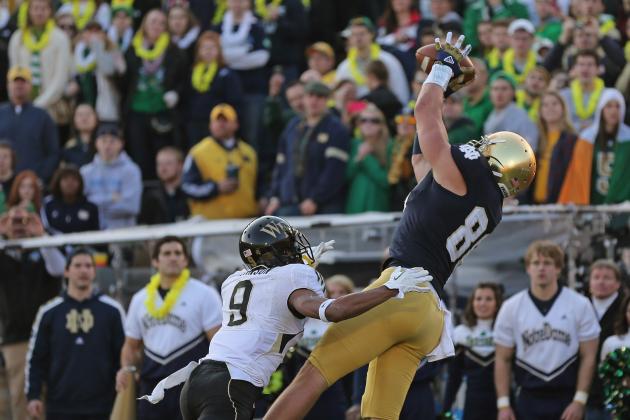 Jonathan Daniel/Getty Images

Tight ends are becoming a bigger and bigger part of the offensive attack these days.
While blocking is still an important skill, soft hands and the ability to get down field and run routes separates the good from the great.
And Tyler Eifert is clearly a great.
Today, Eifert caught six passes for 85 yards and a touchdown. More importantly, he became Notre Dame's all-time leading tight end in career receptions breaking a 35-year-old record in South Bend.
There's no question we'll see this behemoth of a man play on Sundays, and he'll be a first-rounder for sure.
Just remember: soak it all up now, Notre Dame fans. A tight end like this truly comes along once in a generation. Don't blame the next guy for not being Eifert.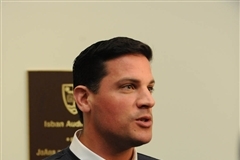 (Photo: 247sports.com)
It's really no secret that there are programs around the nation that might be—or should be—looking at Notre Dame defensive coordinator Bob Diaco for the head coach's job.
And why not? All he has done is put together an amazing defensive scheme for an amazing collection of talent for Brian Kelly.
Notre Dame, through 11 games, is tied with Alabama having the No. 1 scoring defense in the nation giving up just 10.1 points per game.
Notre Dame has also allowed just two rushing touchdowns this season.
Why shouldn't Diaco have his own program after this season?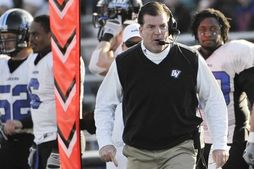 (Photo: Grand Rapids Press)
After taking over for Brian Kelly at Grand Valley State back in 2004, Chuck Martin led the Lakers to two national championships, three title game appearances, five conference championships and a record of 74-7 in six seasons that included a NCAA Division II-record 40-game win streak.
When Kelly was hired at Notre Dame, this Chicago-native Irish Catholic jumped at the opportunity to join his old mentor in South Bend.
Now the offensive coordinator, Martin has played an integral part in the growth of the Irish offense this season, yet is largely unmentioned.
Brian Kelly is a dominating personality, as anyone who has met him can tell you. But Martin is a coach cut directly from the cloth of Kelly, and it might not be long before Martin is offered his own FBS program.
Of course, being a Catholic from Chicago, it's hard to imagine Martin leaving Notre Dame for anything but a "can't say no" offer. That's probably a good thing for Notre Dame.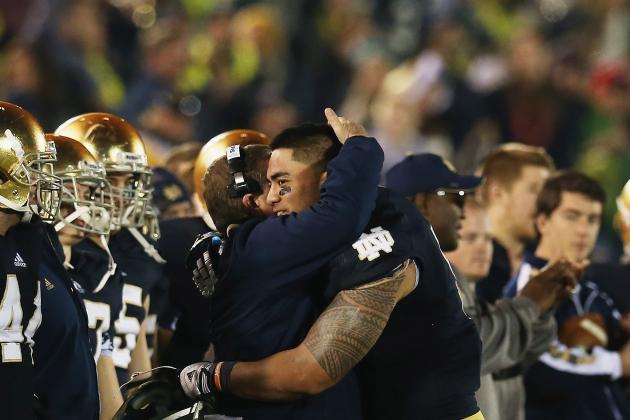 Jonathan Daniel/Getty Images

After two 8-5 seasons, there were more than a few people—admit it, you were probably one of them—who thought Brian Kelly might not be up to the monster task at Notre Dame after all.
He was criticized for his antics on the sideline, screaming and yelling, face turning red, pitching fits and on and on.
But as it turns out, there's a method to his madness—to which anyone at Cincinnati, Central Michigan or Grand Valley State can attest.
Kelly now has his Irish at 11-0, and is 27-10 in South Bend.
It's now time for everyone who was critical of Kelly to stand up and admit they might have called this one a little early.
While there are certainly other worthy candidates around the nation—Bill Snyder certainly comes to mind—who should be lauded for their incredible work, we simply cannot ignore Brian Kelly's accomplishments over a relatively short period of time at Notre Dame.
Remember, Notre Dame was 3-9 not all that long ago, and consistently lost to teams like Navy, Pittsburgh, Boston College, Syracuse and Tulsa.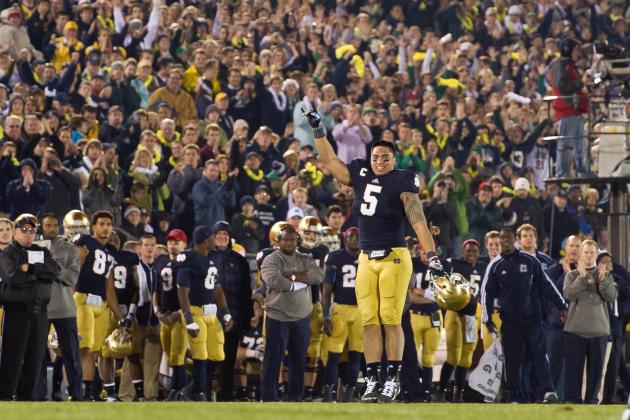 Matt Cashore-US PRESSWIRE

Do we really need to go into this one?
Interceptions, fumble recoveries, tackles galore, sacks...What can't he do?
Notre Dame was nice enough to put together a hype video for us, but we didn't need to watch it to believe Manti Te'o should be invited to New York City for the presentation of the Heisman Trophy.
He may not win it, but he's clearly the top defensive player in the nation, and the best chance for a defensive player to walk away with the hardware since Michigan's Charles Woodson became the only primarily defensive player to win the award (Woodson, of course, was a killer return man, and played a little wide out, too).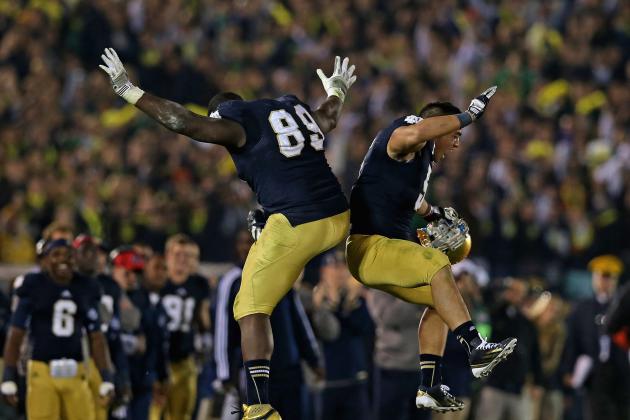 Jonathan Daniel/Getty Images

Is it 2014 yet?
Notre Dame came into this weekend ranked No. 3 in the BCS Rankings, and while there's still a lot that can happen between now and tomorrow night's release, it doesn't look as if Notre Dame will climb much higher than third in the rankings.
Everyone seems to believe Oregon and Kansas State are the legit top two teams in the nation.
But why?
If we look at Oregon, the Ducks clearly have an advantage over Notre Dame in pure offensive output. Heck, the Ducks are better than everyone at moving the ball and putting up points.
But when it comes to defense, Oregon similarly can't hold a candle to Notre Dame.
And if you want to look at schedules, we can do that, too. The two "big" games Oregon is counting on this season in the computer rankings just happen to be the same two big games Notre Dame has on its schedule: Stanford and USC.
So if one team dominates on offense, and the other on defense, shouldn't that be a wash? If both teams play the same two "big" opponents, shouldn't that be a wash (assuming Notre Dame beats USC next week and Oregon beats Stanford this week)?
Again, a lot can happen between now and tomorrow night, or even now and next week. But shouldn't we be comparing apples to apples when it comes to deciding a national championship?
At least in 2014, this all becomes moot (as both teams in their current positions would qualify for the upcoming playoff system).
Update: With both No. 1 Kansas State and No. 2 Oregon losing their games today, Notre Dame should be the No. 1 team in the new BCS Rankings tomorrow. If Notre Dame defeats USC, Irish fans should prepare themselves for a trip to Miami.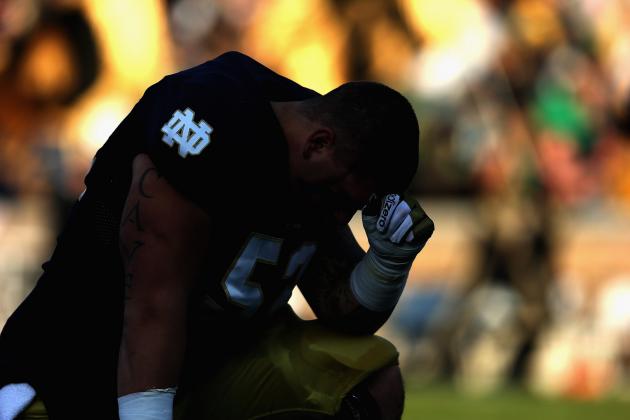 Jonathan Daniel/Getty Images

The haters will continue to hate.
The detractors will continue to detract.
The simple fact is that Notre Dame is one of the best college football teams in the entire nation, and if that bothers you, you'll just have to find a way to learn to live with it.
Today's win against Wake Forest was the best offensive outing for the Irish all season, and the defense was up to its usual tricks. If Notre Dame's offense can continue to wake up the echoes while the defense continues to shake down the thunder, the Irish can play with—and beat—any team in the nation.
And, yes, that includes Oregon, Kansas State, Alabama, LSU, Georgia and all the rest.