NASCAR Sprint Cup Homestead 400 2012: Live Blog, Results and Final Standings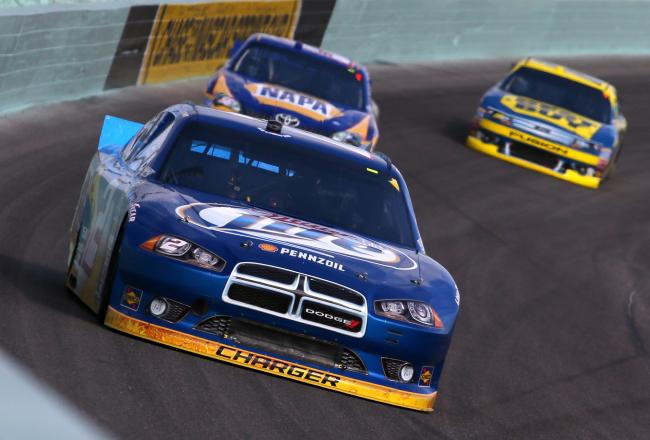 Todd Warshaw/Getty Images
Everything was on the line on Sunday at Homestead-Miami Speedway. Keselowski and Johnson battled back and forth for some time, but eventually Johnson had to deal with more bad luck.
Starting with a problem in pit road where the 48 pit crew didn't put five lug nuts on one tire, Johnson had to circle back around and re-pit.
If getting put a lap down wasn't enough, Johnson ended up having car problems and had to go to the garage. Johnson wouldn't make it back out onto the track again.
With Johnson out, Keselowski was able to drive around at his own pace, and while he didn't win the race like he planned, he did win the championship and got Roger Penske his first Sprint Cup title.
The race itself had few cautions, and Kyle Busch battled with Martin Truex Jr. for the lead throughout the race.
Both Busch and Truex would fade back at the end of the race, and Jeff Gordon would be the one to cross the finish line in first, with Clint Bowyer finishing behind him in second.
Brad Keselowski joins an elite club of drivers who managed to win a championship in NASCAR within their first three years. Jeff Gordon and Dale Earnhardt Sr. are the other two drivers to achieve this feat.
Keselowski's underdog story has finally come to an end, and he has been crowned the NASCAR Sprint Cup champion of 2012.
Final Top 5
1. Jeff Gordon
2. Clint Bowyer
3. Ryan Newman
4. Kyle Busch
5. Greg Biffle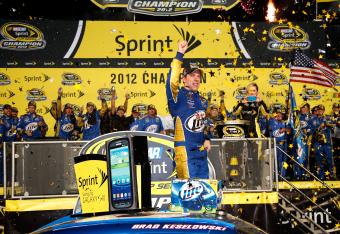 That about wraps it up for race coverage.
Thanks for sticking around, and hope you enjoyed the race!
And don't forget, Daytona is only 98 days away!
Is Johnson's dominance over? Who will be title contenders next year? We've seen glimpses from Kahne and Bowyer, can we expect them battling it out next year as well?
Will the switch to Ford have a negative or positive impact on Keselowski next year? So many questions moving forward into next season.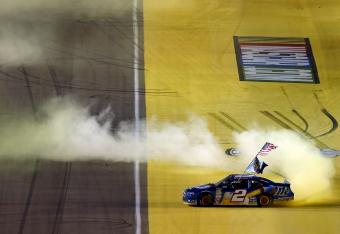 The 2012 Chase was filled with exciting moments, and watching the underdog Keselowski beat the dominate Jimmie Johnson is a perfect way to end the season.
Keselowski is the 2012 champion, and will clearly be a force to deal with in NASCAR's future.
Keselowski and the 2 team have been flawless in The Chase.
Having your competition suffer a bit of bad luck always helps too.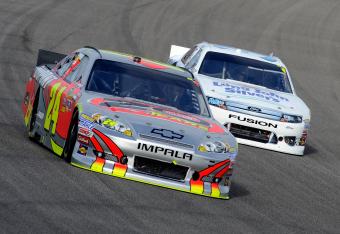 Jeff Gordon redeemed himself for his terrible choice of action last week. He walked away with the win here today, and proved that the best revenge is finishing a race in first, with your rival behind you.
Gordon wins the race, and Keselowski wins the championship!!!!!
5 laps left to go, does Bowyer have enough time to catch Gordon?
Gordon and Bowyer are running 1st and 2nd.
Would Bowyer dump Gordon to win this race? At this point anything is possible.
Bowyer also moved up to second in the standings now, not a bad finish to the season.
12 laps to go
Keselowski is in 21st place and doesn't seem to be pushing the issue. He's got the championship locked up, might as well just ride around now.
18 laps to go
Busch and Truex are still battling for the lead. These guys really want to win, but shouldn't forget about Jeff Gordon lurking in the back.
And Gordon shouldn't forget about Bowyer right behind him.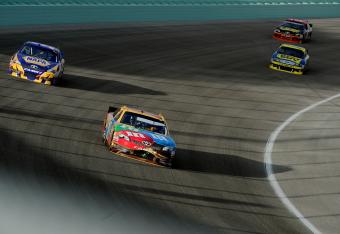 So now that Keselowski is clearly winning the championship, the real focus of this race comes down to Martin Truex Jr. and Kyle Busch.
NASCAR is one of those sports where everything can change in the blink of an eye. This race has been a prime example of that.
Johnson went from first, to having to go down pit road again after his crew missed a lug nut, to know sitting in the garage.
All in the blink of an eye.
Johnson's car is going into the garage.
Man, how much more bad luck can Johnson have? That's it folks, consider Johnson's championship hopes officially over.
Good luck recovering from a lap down and in 25th place Jimmie.
With 49 laps to go.
Johnson needs a miracle at this point.
Jimmie Johnson's pit crew didn't install all five lug nuts, and Johnson had to go back down pit road.
This is a huge mistake, and might have just taken away any chance Johnson had at winning the title.
Keselowski is back in 23rd now after his pit stop. He needs to start pushing to the front before he gets trapped in the back field.
Keselowski almost runs out of gas, but manages to make it to pit road before making a costly mistake.
Will Brad need to make another pit stop, or does he have enough gas to make it to the end?
Green flag pit stops again, with 65 laps to go.
Gordon and Bowyer are still right by each other. NASCAR must have said something serious to these two for them to both curb their tempers from last week.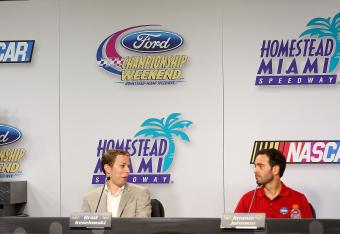 Keselowski seems stuck in 11th place. Maybe the mind games finally got to him?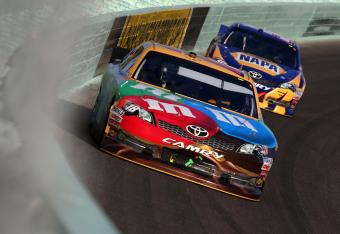 Kyle Busch continues to dominate up front with only 79 laps to go. How come Busch can't pull off a performance like this when he is actually in The Chase?
The way Keselowski had been talking all week I thought he was going to run a lot better than how he is running now.
Keselowski is currently in 11th.
Do Jeff Gordon and Clint Bowyer always end up racing around each other, or does it only seem that way now because of their fight last week?
Kasey Kahne has come alive. He's had moments like this throughout The Chase.
I wonder if he will ever be a title contender now that he has Hendrick power behind him?
W.W.T.S.D - What would Tony Stewart do?
Apparently finish the season on a whimper.
Johnson goes in to fill up once pit road opens. He clearly has a car that can lead the race, the question is though, can he get back up to the front?
This article is
What is the duplicate article?
Why is this article offensive?
Where is this article plagiarized from?
Why is this article poorly edited?