4 Reasons NL Cy Young Winner R.A. Dickey Should Retire as a New York Met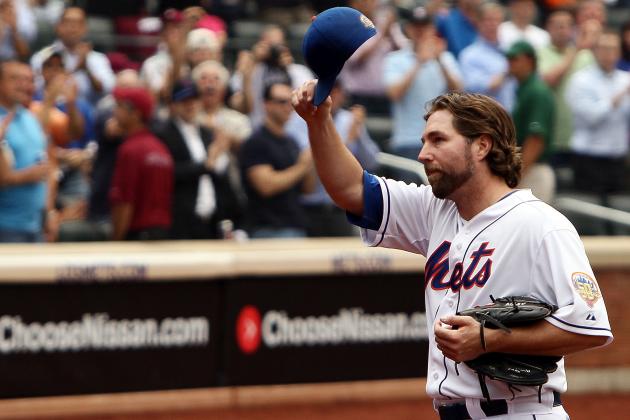 Alex Trautwig/Getty Images

I'm not sure exactly what the New York Mets were expecting when they signed knuckleballer R.A. Dickey to a minor league contract prior to the 2010 season. But I would argue they never would have imagined he would have given them three seasons of ace-type numbers and the heart and soul the team desperately needed.
In his three-season tenure as a Met, Dickey has a cumulative 2.95 ERA with 468 strikeouts. Of course, his career pinnacled in 2012 when he was crowned the league's Cy Young award winner—the first Met to win the award since Dwight Gooden in 1985—leading the league with 230 punchouts.
However, Dickey just turned 38. And although knuckleballers are known to have more longevity than the prototypical pitcher, one has to wonder how much longer Dickey can maintain this level of play. Despite his incredible 2012 season, there were times his body started to break down. Amazingly, he pitched the entire season with a torn abdominal muscle, for which he had surgery last month.
Dickey's current contract with the Mets expires after the 2013 season. The sides have been looking at a contract extension for the entire offseason so far. The point is, when the time comes for Dickey to put down that knuckleball, some would say he should still be donning that Mets uniform. And here are the reasons why...
Begin Slideshow

»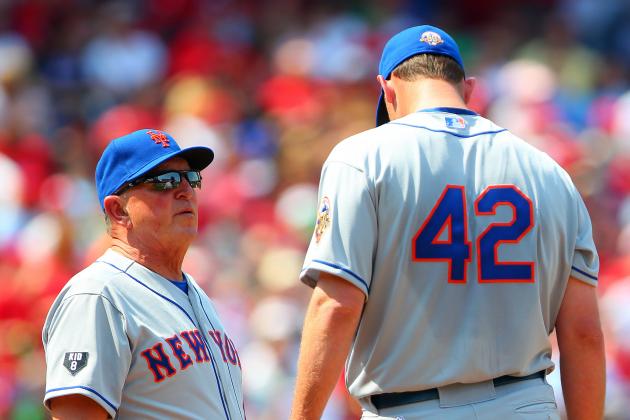 Rich Schultz/Getty Images

There's no arguing that the Mets have a lot of holes in their roster—both in the short, and long term. Their starting rotation is a question mark. Will Johan Santana hold up? Can Matt Harvey and Zack Wheeler adjust to major league hitting without too many growing pains? What does the future hold for Mike Pelfrey, etc...
Dickey, despite his age, can provide the Mets with rotation stability. He has proven over the last three seasons that he will take the ball every fifth day and give 110 percent each time he takes the mound. At a time when the Mets are in a pseudo-rebuilding phase, any kind of stability should be welcomed with open arms (and, in this case, paychecks).
If Dickey is looking for an "Oliver Perez-type contract," then give him just that.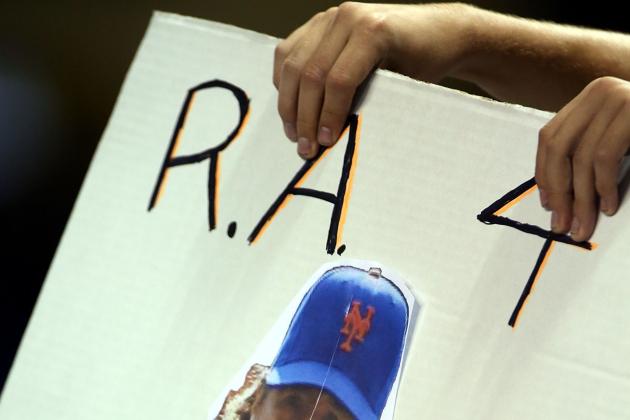 Marc Serota/Getty Images

The Mets play in the biggest baseball market in the country. The fans have a universal love-hate relationship with the ballclub, and after the season that Dickey just put together, that scale could potentially tip more toward hate if the team is unable to keep Dickey in Queens.
Fans are already miffed at the organization for recent poor acquisitions, such as Jason Bay and Frank Francisco. To not keep Dickey, who has been molded into a fan favorite, could turn into yet another PR disaster for the team. After all, how can you not keep a pitcher who had arguably the best individual pitching season since Doc Gooden's '85 campaign?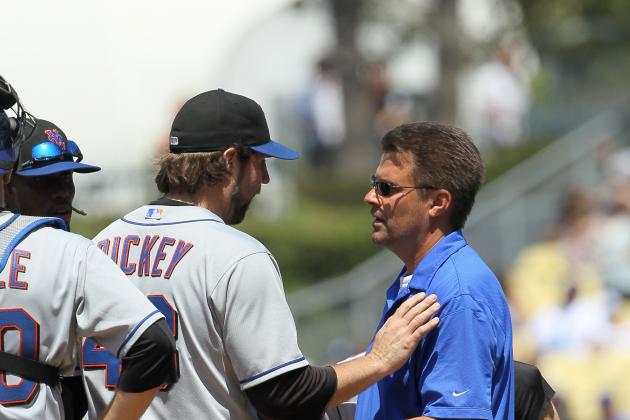 Stephen Dunn/Getty Images

As I previously mentioned, Dickey did just turn 38 and had surgery to repair a torn abdominal muscle. And yes, knuckleballers do have a tendency to pitch longer into their careers than most pitchers.
However, even Tim Wakefield, a similarly modern knuckleballer, retired before last season at the age of 44. And his career was in a steady decline at least two years earlier than that.
So based on that model, Dickey may have about another three years or so of quality pitching left in him. He is reportedly seeking a three-year contract, which would likely take him to the end of his career. Seems logical to offer him such a pact and get as much out of him as possible while he is still able to produce at this level.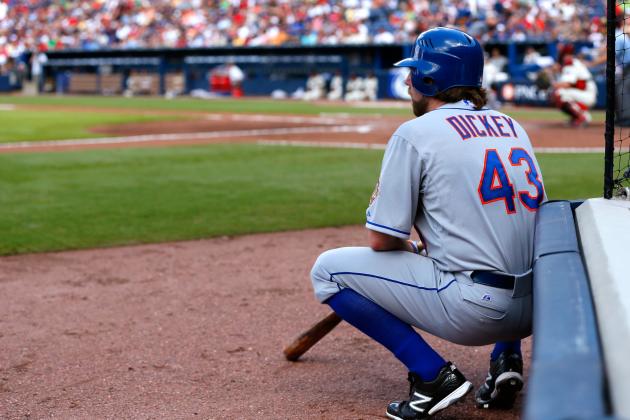 Kevin C. Cox/Getty Images

There have been countless times, it seems, where the Mets have acquired a player with an impressive career resume, only to see him falter as a Met. Or, they will part ways with a struggling player, only to see his career take off with a new team.
Dickey could prove to be an anomaly to that, as finally they could acquire a guy, toward the end of his career, and see him post numbers that are better than his career average. It certainly would be a sight for sore Mets fans' eyes. And so far, that has been the case.
In seven seasons (pitching for the Rangers, Mariners and Twins) prior to joining the Mets, Dickey accumulated just 271 strikeouts over 440 innings pitched. His career ERA at that point was a lofty 5.43, and it seemed his career would be over far too soon.
But not par for the Mets' course, Dickey has seen his career turn around for the better since coming to Queens. His career ERA now sits at a much more comfortable 3.98. He has become a leader on the team, and he seems destined to finish out his career as a New York Met.