Houston Rockets vs. Portland Trail Blazers Live Blog: Play-by-Play Analysis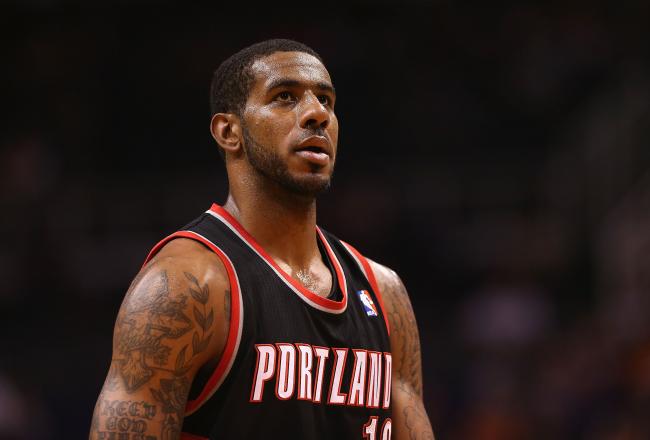 Christian Petersen/Getty Images
What a game. After being down by as much as 15 and looking dead in the water for a while, the Portland Trail Blazers rally for a 119-117 win over the Houston Rockets. Nicolas Batum finished with a career-high 35 points, LaMarcus Aldridge poured in 29, and Damian Lillard racked up 27 and was simply huge down the stretch for the Blazers.
For the Rockets, James Harden led the way with 29, and five other players finished in double-figures.
Let's break down the keys to Portland's win:
1. They settled down
The Blazers were simply atrocious in the first half, allowing 17 fastbreak points by Houston and looking utterly clueless offensively. Lillard was a non-factor, Aldridge didn't shoot the ball well, and Matthews picked up two early fouls and was never able to get into any kind of rhythm early. Thankfully for Portland, Batum was on his game all night.
Head coach Terry Stotts made some great adjustments at halftime, and the Blazers looked like an entirely different team over the final 24 minutes. Lillard asserted himself more, and the entire squad was flying all over the place defensively. Portland looked rattled early, but Stotts calmed his guys down.
2. Batum, Batum, Batum
What else can there be said for Batum tonight? Not only did he have 35 points, but he grabbed six boards and blocked five shots. He was a one-man wrecking crew out there, hitting on 13 of his 19 shots, including 5-of-8 from downtown. This may very well have been the best game of his young career, and he is proving that he is certainly worth the contract the Blazers gave him during the offseason.
3. Lillard came up clutch
It's scary to think this kid is only a rookie, because he was enormous for Portland tonight. Lillard scored 18 of his 27 in the second half and overtime, putting the Blazers on his back late by nailing clutch shot after clutch shot. As of right now, he is the frontrunner for the Rookie of the Year award, and who knows. In a few years, we may be looking at him as an MVP candidate. This kid is special.
4. The Blazers turned the tables on the Rockets
In the first half, it was the Blazers looking like the Bad News Bears with a ton of silly turnovers. However, by game's end, Houston ended up with two more giveaways (18) than Portland. The Blazers' defense on Harden was particularly extraordinary, as they held the star to 8-of-18 shooting.
5. Aggressiveness
After being made to look like fools in the first half and the beginning of the third quarter, the Blazers finished out the game with a purpose, relentlessly attacking the Rockets on both ends of the floor and making things very uncomfortable for Houston. Portland ended up shooting 51 percent from the field after hitting on only 45.5 percent of its shot attempts in the first half.

So, once again, the final score after this overtime contest:
ROCKETS 117
BLAZERS 119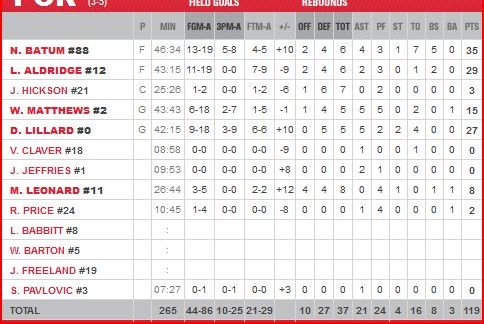 Blazers' final box score.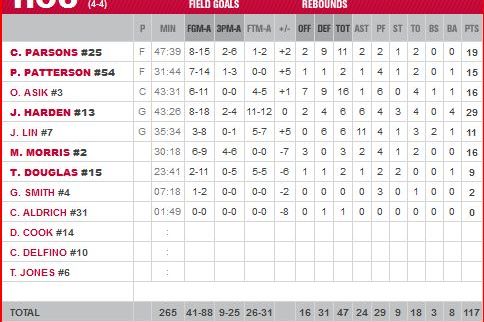 Rockets' final box score.
Harden misses intentionally, but the Rockets can't do anything with it. For the second straight time, the Blazers upend the Rockets in overtime.
BLAZERS 119, ROCKETS 117 - FINAL
Morris misses a three to tie, and after an offensive rebound, the Blazers intentionally foul Harden to put him on the line and prevent the three. Harden hits the first, but will probably miss the second intentionally. Portland wants to talk that over in a timeout.
BLAZERS 119, ROCKETS 117 - 1.4 SECONDS REMAINING IN OT
Matthews with a great play to strip Harden and knock it off his leg out of bounds. Aldridge then buries a turnaround jumper over Patterson. Batum then swats a Harden shot attempt out of bounds. 35 points, six boards, five blocks for Batum. Wow. Blazers up three.
BLAZERS 119, ROCKETS 116 - 29.4 SECONDS REMAINING IN OT
After a hectic back-and-forth, Aldridge gets fouled by Asik, and that's Asik's sixth. He's gone. Asik finished with 16 points and 16 boards. Great game for the big man out of Turkey. He has improved by leaps and bounds this year and is shutting up any critics. He even flashed some post moves tonight.
Aldridge hits one of two at the line.
BLAZERS 117, ROCKETS 116 - 1:21 REMAINING IN OT
Yes. Keeping it a two-pointer.
Asik hits two free throws to put Houston up by two, and then Lillard (again) responds with a long two. Are we sure this kid is a rookie? He now has 27. The refs are reviewing the shot, but it looked as if Lillard's toe was on the line. So close, though.
ROCKETS 116, BLAZERS 116 - 2:55 REMAINING IN OUT
The rookie Lillard answers with a three. Big time. Big time. Big time.
ROCKETS 114, BLAZERS 114 - 3:13 REMAINING IN OT
Harden doing his thing. He scores the first points of the overtime period with a three-point play. It's so strange seeing him as the primary scorer.
ROCKETS 114, BLAZERS 111 - 3:44 REMAINING IN OT
Lillard's three at the buzzer caroms off the front of the rim. Just like the first time with these two clubs, we're going to overtime. What a game.
ROCKETS 111, BLAZERS 111 - END OF REGULATION
The Blazers were so worried about Harden that they left Morris all by himself. HUGE mistake by Portland, especially considering Morris has been on fire tonight.
And Morris ties the game with a three! Unbelievable! Four threes for the kid.
ROCKETS 111, BLAZERS 111 - 10.2 SECONDS REMAINING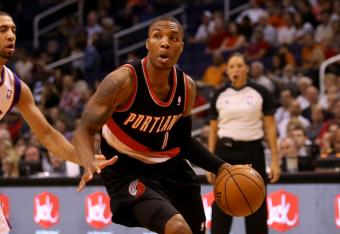 Lillard with a great finish at the rim, and Batum blocks an Asik dunk attempt. The Blazers call timeout with 25.3 seconds left. Lillard then comes out of the timeout and hits ANOTHER one to put Portland up three. I'm telling you: Lillard is going to be BIG time. We're witnessing a future superstar here. Get used to it.
BLAZERS 111, ROCKETS 108 - 17.9 SECONDS REMAINING IN 4TH QUARTER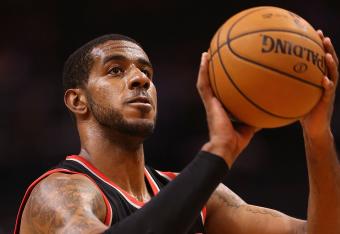 Under a minute left now. Asik gets called for a moving screen, and it's going the other way. Who gets the ball for Portland? Aldridge in the post? Batum on the wing? Maybe Lillard tries to create his own shot? What looked like a dud of a game early on has turned into an exciting contest, much like the first game between these two clubs which went to overtime.
ROCKETS 108, BLAZERS 107 - 54.8 SECONDS REMAINING IN 4TH QUARTER
Harden takes it back to his OKC days by nailing a clutch three. Lin then draws an offensive foul on Batum.
ROCKETS 108, BLAZERS 107 - 1:08 REMAINING IN 4TH QUARTER
Portland's defense on Harden has been incredible. He falls down after overdribbling and loses the basketball. Lillard picks up the loose ball and is fouled by Lin in the open court. It should have been a clear path foul, but that was not rewarded to the Blazers. Stotts is irate.
Lillard hits both free throws. Blazers up two.
BLAZERS 107, ROCKETS 105 - 1:37 REMAINING IN 4TH QUARTER
Meyers Leonard is having a heck of a game. Stotts is showing a lot of confidence in him by playing him in crunchtime. The rookie grabs an offensive board off a Batum missed three and calmly sinks two foul shots. We're all tied up.
ROCKETS 105, BLAZERS 105 - 1:57 REMAINING IN 4TH QUARTER
After Lillard hits a three and Houston misses on the other end, Lillard comes back and doesn't see Batum WIDE open on the right wing for what would have been a wide-open trifecta. Nevertheless, Lillard has quietly poured in 16 points and is playing much more efficiently in the second half.
ROCKETS 105, BLAZERS 103 - 2:16 REMAINING IN 4TH QUARTER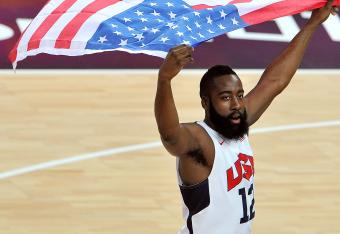 Harden is clearly trying to take over, but the Blazers are all over him. He gets fouled in typical Harden fashion and hits two free throws. He is now 9-of-9 from the line.
ROCKETS 105, BLAZERS 100 - 3:17 REMAINING IN 4TH QUARTER
The Rockets have seven players in double-figures. Talk about balance.
Harden picks up his 18th point with a 15-footer, but then Matthews comes back with a three. What a game.
ROCKETS 102, BLAZERS 98 - 4:19 REMAINING IN 4TH QUARTER
Batum dunks one in to equal his career high of 33, but Parsons answers with a trey. The Rockets continue to take punches like a Prizefighter.
Batum then gets fouled on a three and hits two of three free throws. He has a career-high 35. He has been spectacular.
ROCKETS 100, BLAZERS 95 - 5:18 REMAINING IN 4TH QUARTER
Here is one of Lin's three field goals, an impressive layup:
This article is
What is the duplicate article?
Why is this article offensive?
Where is this article plagiarized from?
Why is this article poorly edited?

Houston Rockets: Like this team?