Can Pete Kozma Turn into a Star at Shortstop for the St. Louis Cardinals?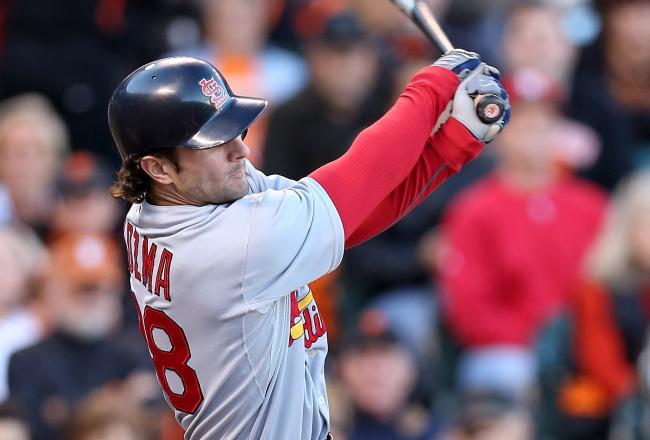 Pete Kozma didn't hit like a first-rounder until getting to St. Louis.
Christian Petersen/Getty Images
You remember what your father used to tell you about baseball, right?
"Son, baseball players don't learn to hit at the major league level after compiling a .652 OPS in six minor league seasons."
Or something like that.
If that "axiom" is true, then what are the Cardinals and their fans to make of Pete Kozma's shocking 26-game performance at the end of 2012 where he batted .333, had 15 of his 24 hits go for extra bases and essentially saved their season when Rafael Furcal was felled by a torn elbow ligament?
Does St. Louis have the next Ozzie Smith on its hands or just another Bo Hart or Joe McEwing?
Truth be told, sometimes it takes a player a couple years for the offensive side of his game to click.
Smith, a Cardinals' icon, didn't bat above .260 until he was 30-years-old.
Omar Vizquel's first meaningful offensive season came at age 29.
Poor ex-Cardinal Brendan Ryan was the best defensive shortstop in the majors this year at age 30, but hit just .194 in 407 at-bats this year—the worst batting average of his career.
Let's look at the early-career slash lines of two batters that Cardinal fans know fairly well:
Player A

| | | | | | |
| --- | --- | --- | --- | --- | --- |
| Year | Age | AVG | OBP | SLG | OPS |
| 2004 | 21 | .267 | .329 | .356 | .684 |
| 2005 | 22 | .252 | .295 | .358 | .654 |
| 2006 | 23 | .216 | .274 | .321 | .595 |
| 2007 | 24 | .275 | .340 | .368 | .708 |
How good will Kozma be in 2013?
In this sample, Player A started out with a fairly weak stick, really bottomed-out in 2006 and then rebounded very nicely in 2007 at age 24 with a much better feel for the strike zone, as the batting average and on-base percentage trended upward.
Player B

| | | | | | |
| --- | --- | --- | --- | --- | --- |
| Year | Age | AVG | OBP | SLG | OPS |
| 2009 | 21 | .231 | .302 | .323 | .625 |
| 2010 | 22 | .243 | .318 | .384 | .702 |
| 2011 | 23 | .214 | .280 | .289 | .569 |
| 2012 | 24 | .246 | .303 | .386 | .689 |
Eerily similar, no?
Player B seems to have a similar offensive profile to Player A. He is a weak batter to begin with, seriously struggles at age 23, but then seems to turn a corner of sorts at age 24.
Now, for the hidden details.
Player A's stats are at the major league level while B's are from the minors, except for 2012 which includes his hot stint in St. Louis.
So yes, it's not a pure comparison, but it does illustrate the early offensive struggles each hitter had relative to their own context.
And if you haven't guessed yet, Player B is Kozma and Player A—well, he just finished fourth in the National League Most Valuable Player voting for 2012.
Now, I'm not saying that our "Wizard of Koz" is going to develop into a hitter like perennial All-Star, Yadier Molina. In fact, it's a ridiculous comparison; guilty as charged.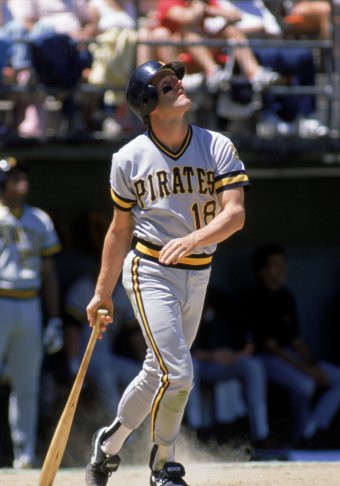 There will always be late bloomers in sports, like Andy Van Slyke.
Stephen Dunn/Getty Images
But the point is, baseball is littered with productive players, even All-Stars, who were late bloomers with the bat.
Kozma will be turning 25 next April and it may behoove general manager John Mozeliak to see what they have in the former "bust" first-round pick by giving him one more extended look in St. Louis.
In addition to the fabulous .952 OPS Kozma put up this year, he also showed great poise for an un-heralded rookie.
In his postseason interviews, he dryly answered questions like a ten-year veteran. He certainly didn't look like he was in over his head.
Perhaps after six nondescript minor league seasons, Kozma has learned to temper his excitement and just focus on the job at hand. Maybe that was difficult to do in Memphis with no hope of getting major league work, but perhaps his fire has been rekindled in St. Louis.
For a realistic comparison, let's look at Zack Cozart of the NL Central rival Reds.
Cozart has an infinitely better pedigree than Kozma—like a career OPS in the minors that is 100 points better than Kozma's—but the 2012 season that Cozart just put up at age 26 doesn't seem at all beyond what Kozma could produce in St. Louis next year (.246/.288/.399/.687).
Who knows?
Furcal's recovery seems to be going swimmingly and this has to factor into the club's decision to trade for a shortstop this offseason.
Fans may be treated to another helping of Kozmania if the fragile Furcal goes down early in 2013.
We may just find out if Kozma is the real deal.
This article is
What is the duplicate article?
Why is this article offensive?
Where is this article plagiarized from?
Why is this article poorly edited?

St Louis Cardinals: Like this team?