Ranking Mike Trout and the 10 Biggest MLB MVP Snubs of All Time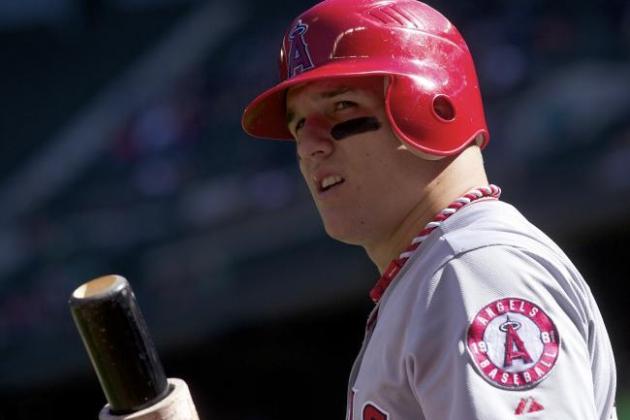 With or without eye black, Mike Trout can't see why the BBWAA snubbed him. Stephen Brashear/Getty Images
My initial reaction to the 2012 American League MVP announcement was a too-little-too-late advocation for Mike Trout. Extra research confirms that his snubbing ranks among the biggest of all time.
Members of the Baseball Writers' Association of America annually determine each league's most valuable player. Though they are entitled to their own criteria, this most recent result—and many others from the 20th century—can hardly be rationalized.
Fellow Bleacher Report Featured Columnist Josh Benjamin and former writer Andrew Kneeland published excellent articles on this topic as well.
*All stats courtesy of Baseball-Reference.com.
Begin Slideshow

»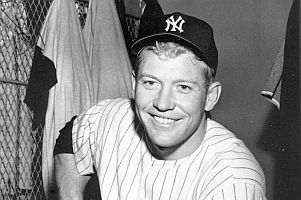 Mickey Mantle. Bob Olen
AL MVP Yogi Berra in 1955: .272/.349/.470, 27 HR, 108 RBI, 4.2 WAR
Mickey Mantle in 1955: .306/.431/.611, 37 HR, 99 RBI, 9.2 WAR
Mickey Mantle dominated his teammate in the triple-slash categories and sabermetrics. Both played exactly 147 games and went to the World Series.
Inexplicably, the New York Yankees center fielder finished fifth in AL voting, also behind Al Kaline, Al Smith and Ted Williams.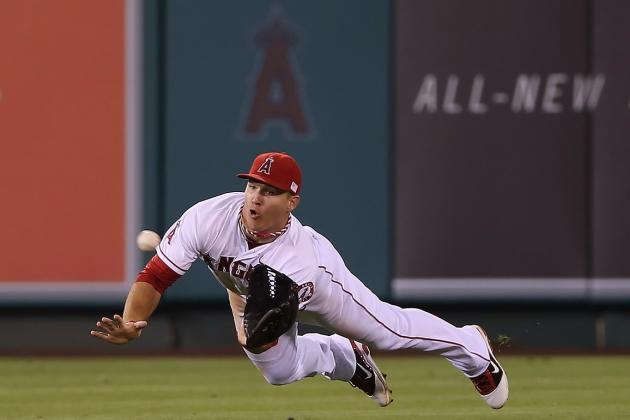 Jeff Gross/Getty Images
Mike Trout.
AL MVP Miguel Cabrera in 2012: .330/.393/.606, 44 HR, 139 RBI, 6.9 WAR
Mike Trout in 2012: .326/.399/.564, 30 HR, 49 SB, 10.7 WAR
Miggy captured the nation's imagination in winning the AL Triple Crown, which hadn't been achieved since 1967.
But Cabrera failed to provide any defensive value or proactive baserunning, while Trout thrived in those areas. The Los Angeles Angels rookie made a handful of game-saving catches, led the league in stolen bases and advanced safely in more than 90 percent of all attempts.
"Wonderboy" was no slouch at the plate, either. He posted the American League's highest OPS+, which adjusts to conditions in a player's home ballpark.
Trout's team won more games than Cabrera's and battled in a tougher division.
As you'll see soon, the BBWAA has historically hesitated to reward players in their first full MLB season.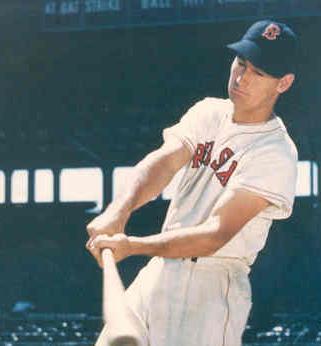 Ted Williams. Chicago Sun-Times
AL MVP Joe DiMaggio in 1941: .357/.440/.643, 30 HR, 125 RBI, 8.6 WAR.
Ted Williams in 1941: .406/.553/.735, 37 HR, 120 RBI, 10.1 WAR.
Though several generations separate this two-man race from the 2012 AL MVP controversy, they're related in so many ways.
Voters had more familiarity with DiMaggio, who finished 1941 with twice as much major league experience as Williams. His 56-game, record-shattering hitting streak resonated with the public, even though his Boston Red Sox rival lapped him in on-base percentage and by various other measures.
No MLB player since has matched Williams' .406 batting average. It's a shame that there's no MVP award to associate it with.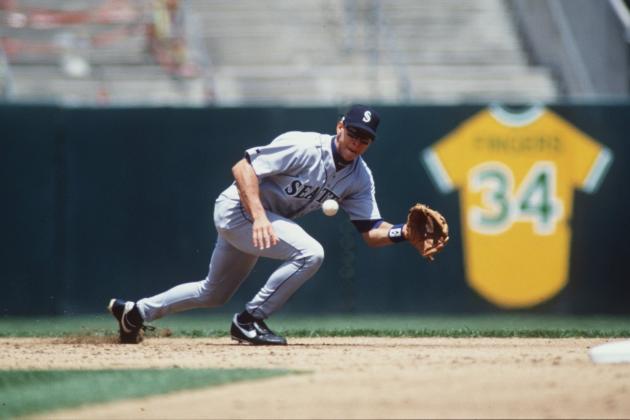 Otto Greule Jr/Getty Images
Alex Rodriguez.
AL MVP Juan Gonzalez in 1996: .314/.368/.643, 47 HR, 144 RBI, 3.5 WAR.
Alex Rodriguez in 1996: .358/.414/.631, 36 HR, 123 RBI, 9.2 WAR.
In the BBWAA's defense, this AL voting could not have been tighter. Gonzalez eked out the hardware with 290 points (11 first-place votes) compared to A-Rod's 287 (10 first-place votes).
The aforementioned biases applied. Writers neglected defensive value and effective baserunning, and the runner-up just so happened to be a 21-year-old in his first full campaign.
Moreover, Gonzalez played homes games in a hitter's haven, which inflated his stats. He also missed nearly a month due to injury.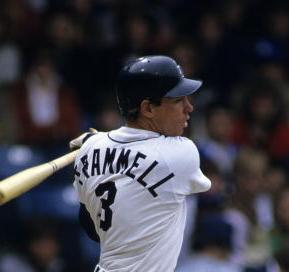 Alan Trammell. Ronald C. Modra/Sports Imagery
AL MVP George Bell in 1987: .305/.352/.605, 47 HR, 134 RBI, 4.6 WAR.
Alan Trammell in 1987: .343/.402/.551, 28 HR, 105 RBI, 8.0 WAR.
Bell had the monster power numbers; Trammell had everything else.
The veteran shortstop caught fire in September with a .417/.490/.677 triple-slash line and seven home runs. Those contributions kept the Detroit Tigers ahead of Bell's Toronto Blue Jays in a hotly-contested AL East race.
Trammell played his typically smooth defense. Bell, however, was error-prone and range-less.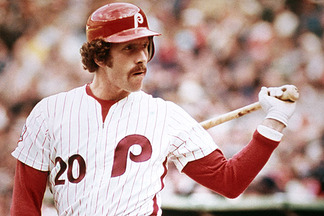 Mike Schmidt. MLB Photos/Getty Images
NL MVP Steve Garvey in 1974: .312/.342/.469, 21 HR, 111 RBI, 4.3 WAR.
Mike Schmidt in 1974: .282/.395/.546, 36 HR, 116 RBI, 23 SB, 9.5 WAR.
Garvey hardly belonged in the top 10! Aside from posting a strong batting average, he did nothing to deserve MVP honors.
Schmidt broke out from anonymity in his age-24 season. He led the National League in slugging and runs scored, amazed at third base...and finished sixth.
Bleacher Report's Andrew Kneeland writes that Garvey's role as "one-fourth of the longest-lasting infield in baseball history" may have also swayed the vote.
Absolutely unacceptable.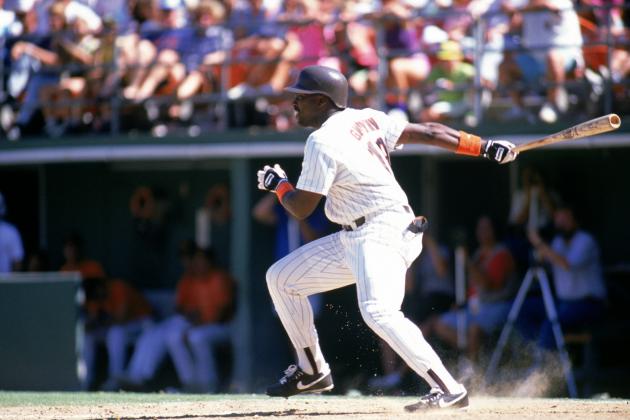 Stephen Dunn/Getty Images
Tony Gwynn.
NL MVP Andre Dawson in 1987: .287/.328/.568, 49 HR, 137 RBI, 3.7 WAR.
Tony Gwynn in 1987: .370/.447/.511, 7 HR, 56 SB, 8.3 WAR.
Dawson's feel-good story wrecked this race.
The MLB owners colluded against him during the offseason. Despite building a great resume north of the border, he had to settle for a $500,000 base salary with the Chicago Cubs. He overcame all the adversity to finish atop the National League in home runs and runs batted in.
Gwynn was the superior all-around player. He had better instincts and agility in right field, plus a surreal batting average considering the 680-plate appearance sample. Mr. Padre influenced the game on the basepaths and struck out only 35 times all summer.
He plummeted to eighth in the final tally, and the writers went 0-for-2 with their 1987 MVP voting.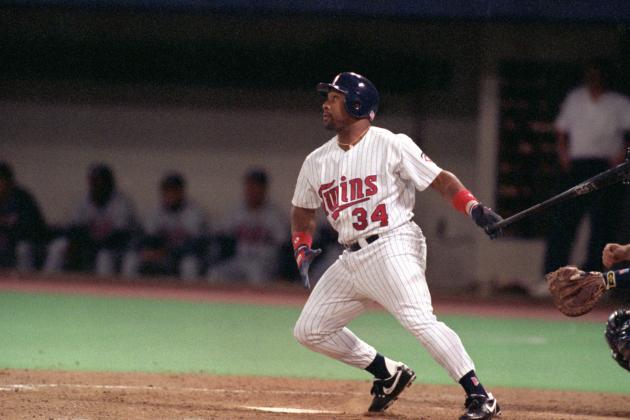 Rick Stewart/Getty Images
Kirby Puckett.
AL MVP Dennis Eckersley in 1992: 7-1, 1.91 ERA, 0.91 WHIP, 51 SV, 2.8 WAR.
Kirby Puckett in 1992: .329/.374/.490, 19 HR, 110 RBI, 17 SB, 6.8 WAR.
There are special cases in the absence of standout position players where a reliever could deserve MVP consideration (e.g. Rollie Fingers, 1981).
This wasn't one of them.
Dennis Eckersley performed brilliantly, but not nearly to the standard of his unforgettable 1990 season (0.61 ERA, 0.61 WHIP). He only blew away his peers in terms of saves, which is an unreliable and opportunistic stat.
Meanwhile, in 1992, Kirby Puckett played Gold Glove-caliber defense and intimidated at the plate.
He obviously had a greater influence over 156 starts than Eckersley did in 80 innings pitched.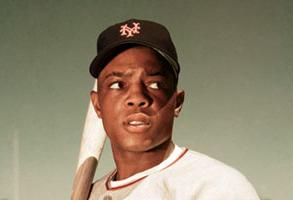 Willie Mays. GQ
NL MVP Maury Wills in 1962: .299/.347/.373, 6 HR, 104 SB, 5.8 WAR.
Willie Mays in 1962: .304/.384/.615, 49 HR, 141 RBI, 18 SB, 10.2 WAR.
Once again, the BBWAA let one mind-boggling number corrupt it.
Wills amassed more than triple the stolen bases of any other National League player. Plus, he maintained an 89 percent success rate.
That's about it—writers had no other logical rationale for selecting him.
And yet they overlooked the world-renowned Willie Mays, who contributed so much more actual value. He continued to revolutionize outfield defense while swiping bags with the same efficiency as Wills. His San Francisco Giants even beat out the Los Angeles Dodgers for the league pennant.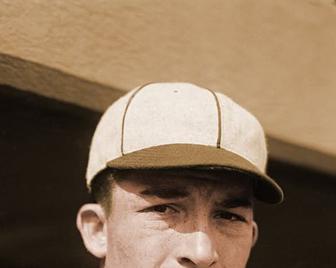 Simmons had his best chance to win an MVP at age 23. AP Photo
AL MVP Roger Peckinpaugh in 1925: .294/.367/.379, 4 HR, 64 RBI, 2.3 WAR.
Al Simmons in 1925: .387/.419/.599, 24 HR, 129 RBI, 6.2 WAR.
Judging by the above stats, Simmons has the obvious edge. For those who care, Harry Heilmann of the Detroit Tigers deprived him of the AL Triple Crown with slim leads in batting average and runs batted in.
The games played discrepancy, 153 to 126, is significant too. Amid the pennant race, Peckinpaugh missed 10 of his team's final 12 contests.
Maybe the BBWAA liked the sound of his name. Maybe win-loss record made the difference.
Josh Benjamin says it best: "The fact that [Simmons] lost is just blasphemous."