Bengals vs. Chiefs: 10 Keys to the Game for Kansas City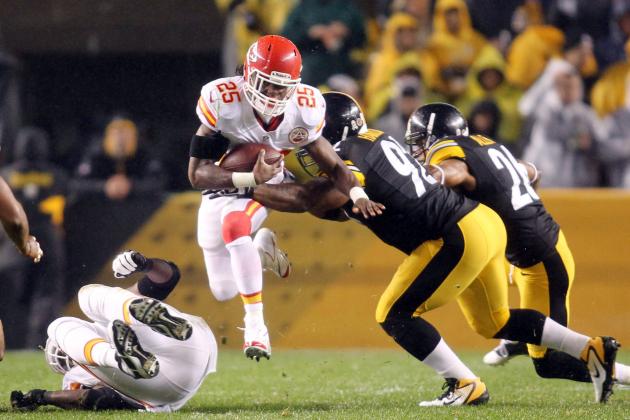 Charles LeClaire-US PRESSWIRE

The Chiefs are the worst team in the league and in desperate need of a franchise quarterback.
These issues will have to be resolved in the future as the Cincinnati Bengals visit Kansas City this Sunday.
Cincinnati dismantled a highly talented New York Giants football team last week and it will take a huge effort to beat the Bengals this weekend.
Here are some things Kansas City can do in order to get its second win of 2012.
Begin Slideshow

»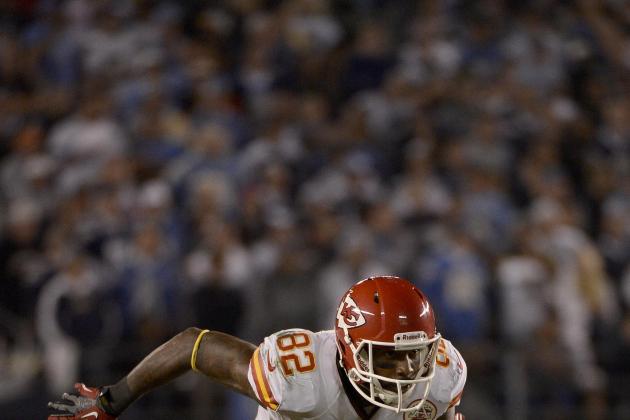 Donald Miralle/Getty Images

This sounds simple enough, but offensive coordinator Brian Daboll seems to forget how to get the ball to his best players.
There was even a game in which Jamaal Charles had five carries. This is completely inexcusable and a huge reason why Kansas City is the worst team in the league.
Charles has shown he is fully recovered from his devastating knee injury last season, and he should get at least 20 touches a game.
As for Dwayne Bowe, Daboll and quarterback Matt Cassel need to find ways to get Bowe the ball in space.
The LSU product is a huge target and the slants and crossing routes have worked extremely well this year.
The Chiefs do have offensive talent, they just need to use their playmakers more often and more effectively.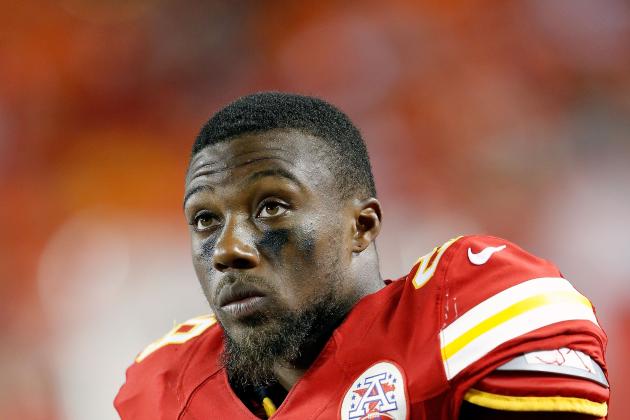 Jamie Squire/Getty Images

The Chiefs have played roughly 90 minutes of solid defense during this dismal 2012 season. Luckily for them, 60 minutes of that was last Monday in Pittsburgh.
Tamba Hali and Justin Houston pressured Steeler quarterbacks with frequency last week. The secondary also looked like it was coming back to form.
Brandon Flowers had his best game of the season, and Javier Arenas looked pretty comfortable in his new role as a starter.
The best news for the Kansas City defense is the health of safety Eric Berry. Berry has seemed off his game for most of 2012 as he returns from a torn ACL, but he looked like his old self against Pittsburgh last week.
This defense has some serious talent but they have played terribly so far. If the defense plays better, Kansas City can win some games.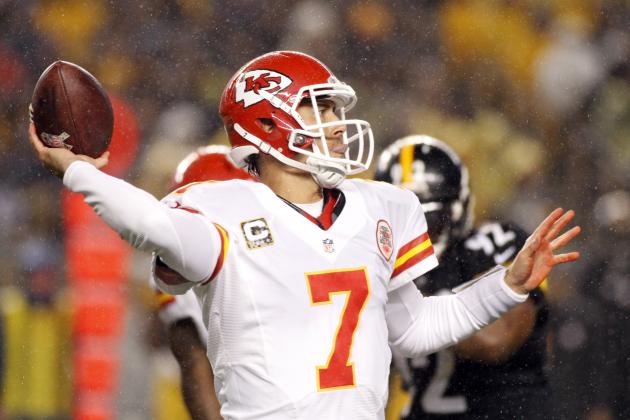 Justin K. Aller/Getty Images

The Chiefs lead the universe in turnovers this season, and this is the most prevalent reason why Kansas City is the worst team in football.
Matt Cassel is the main culprit here, and he has 12 interceptions on the year.
Kansas City was dominating Pittsburgh when they were winning the turnover battle last Monday. They ended up losing when Cassel threw another interception in overtime.
It easier said than done, but when the Chiefs hold on to the football, they remain competitive.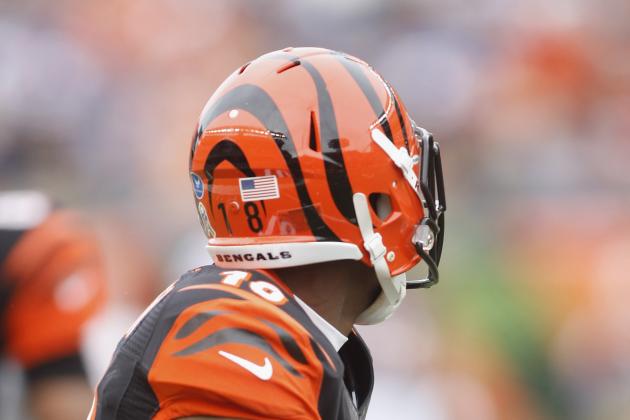 John Grieshop/Getty Images

A.J. Green is well on his way to becoming an elite wideout in the NFL.
Green has formed a tight bond with talented quarterback Andy Dalton and the two have combined for 16 touchdowns in 24 games.
Brandon Flowers is going to have his hands full this Sunday.
The undersized Flowers will require some help over the top from Eric Berry against the tall and physical Green, and this will be a interesting matchup to watch.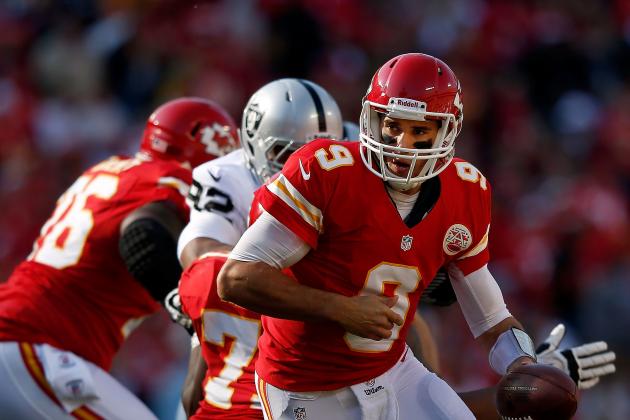 Jamie Squire/Getty Images

Matt Cassel might be the worst quarterback in the league. The scary thing might be the fact that Brady Quinn is probably worse.
Cassel has twice as many interceptions than he does touchdowns and Brady Quinn looked lost in his one half of play in 2012.
This issue will have to be rectified during the offseason. For now, Cassel will start this week. Lord help us.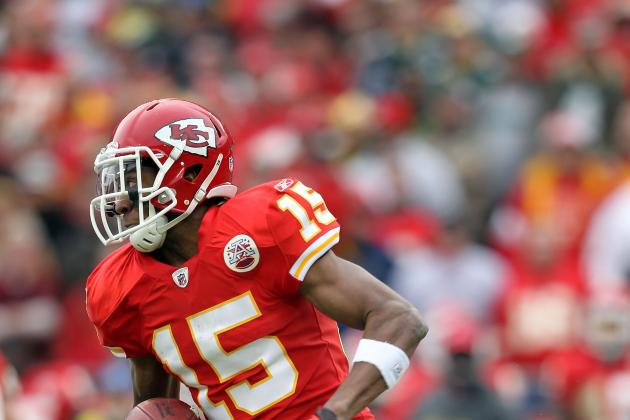 Jamie Squire/Getty Images

Dwayne Bowe might be the hardest working player in the league. He has no other threat at wideout and there doesn't seem to be any help in sight.
Jonathan Baldwin has been ruled out this week and even before his concussion, he was not a factor.
Steve Breaston was one of the most reliable targets in 2011 but he can't seem to find the field inexplicably in the Romeo Crennel regime.
For the Kansas City offense to find success against the Bengals, another receiving option will have to show up on Sunday.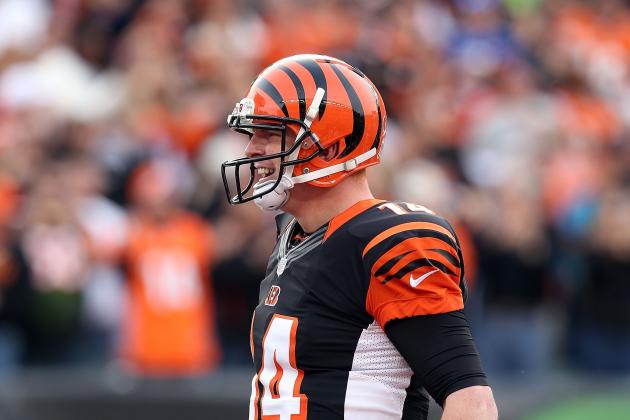 Andy Lyons/Getty Images

Andy Dalton has been impressive in his short career and he recently had his best performance as a pro last week against the talented Giants.
Dalton tossed four touchdowns last Sunday, but he has been solid all year long.
He has completed over 64 percent of his passes and has 18 touchdowns in 2012.
Slowing Dalton down and putting pressure on him will be necessary if the Chiefs want to win this Sunday.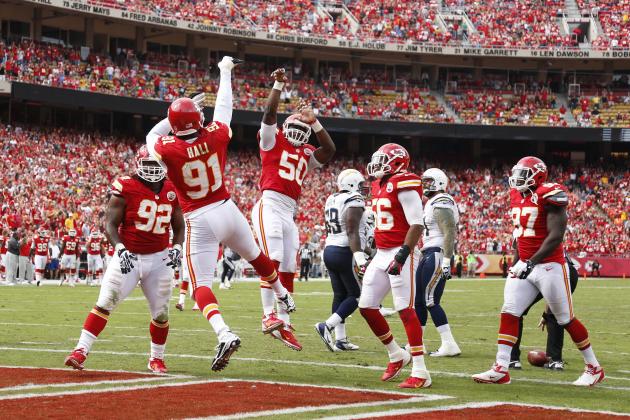 Joe Robbins/Getty Images

The Chiefs' offense is so inept that they need some help to score points. This is where the Kansas City defense comes in.
There are some playmakers here and it would be nice if the defense could create some points or a short field to help the anemic offense.
Winning the turnover battle is crucial in the NFL. If Tamba Hali can force a big fumble, or Eric Berry returns an interception for a score, it would increase Kansas City's chance of winning by a great margin.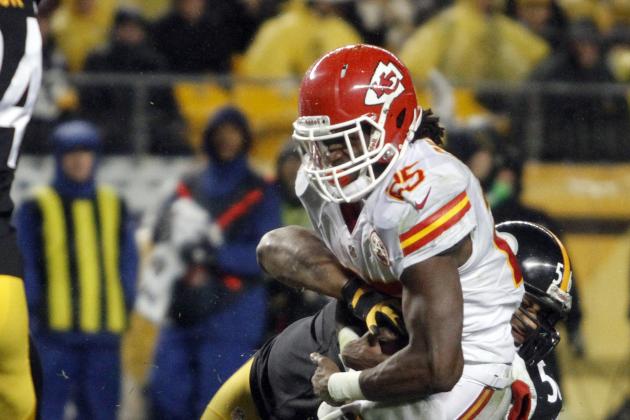 Justin K. Aller/Getty Images

Sounds simple enough, but Brian Daboll can't seem to understand this simple concept.
He has one of the premier backs in the league and a capable backup in Peyton Hillis, but Daboll does not feature them as much as he should.
With no real quarterback on the roster, Kansas City should be a run heavy offense that has a true commitment to controlling the clock.
At times, Daboll employs this but not nearly enough. Running effectively this week against the Bengals and keeping the ball away from Andy Dalton and A.J. Green is a recipe for success.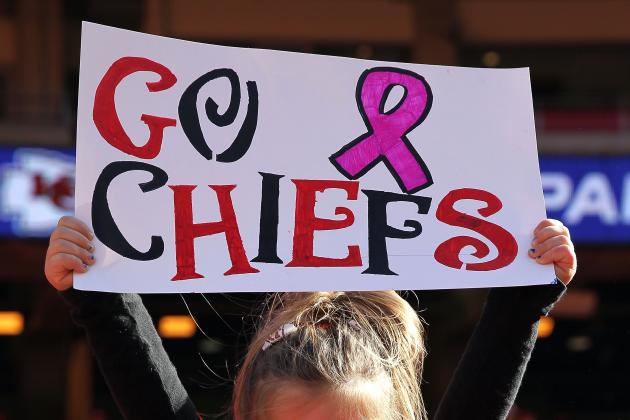 Jamie Squire/Getty Images

The Chiefs are at home but will likely be in hostile territory this Sunday.
Fans are sick of the team's pathetic performance lately and they are using this game to voice their displeasure.
A "Blackout Arrowhead" movement has gained steam, and it looks like a number of fans will be wearing black instead of the traditional Chiefs' red against Cincinnati.
Kansas City players will have to realize that this Arrowhead Stadium will not be the friendly and loud atmosphere that they have grown accustomed to in recent years.