New York Knicks vs. San Antonio Spurs: Live Score, Results and Game Highlights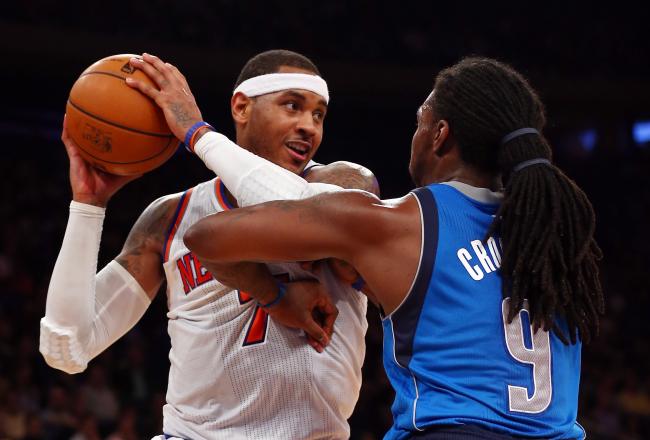 Carmelo Anthony battling a defender
Elsa/Getty Images
NEW YORK 104, SAN ANTONIO 100 FINAL SCORE
So the New York Knicks went on the road to face the San Antonio Spurs on the MSG Network. The matchup featured two of the top squads of the season thus far, with New York sitting at a perfect 5-0 and San Antonio coming in at 7-1.
A late surge in the first half gave San Antonio the slimmest of leads at the half. Both teams shot superbly, as evidenced by a huge first quarter. Carmelo was effective, but not scoring much which means he's willing to give up shots if it means New York wins.
In the second half, the play was much sloppier and the shooting less effective. San Antonio used good passing and ball movement to go up by 12 with under seven minutes to go, but Felton and Kidd made huge plays down the stretch to lead New York back. A thunderous Chandler dunk sealed it for New York.
New York moves to 6-0 and is the last undefeated team in the NBA. San Antonio suffers a loss at home to New York for the first time in the last nine showdowns and falls to 7-2. Tonight certainly featured two elite NBA teams, but New York simply made the plays down the stretch to pull it out.
From all of us at B/R, thank you for joining us for this live blog of a great example of why we love the NBA so!
Jinxed my Spurs. Up 12 w/ 7 mins left AT HOME, Parker/Ginobili stink it up, Knicks storm back behind Kidd, JR win by 4. KNICKS DO PLAY D!

— Skip Bayless (@RealSkipBayless) November 16, 2012
Is it too early for New York to get excited?
So Knicks fans talking about Pre-ordering NBA championship rings already? Things peeps say who haven't won in 40 years

— DJ HOMICIDE (@djhomicide) November 16, 2012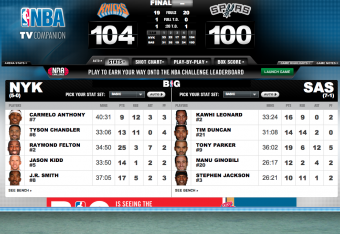 B/R Man of the Match and Final Stats:
Raymond Felton: 25 points, 7 assists, 3 rebounds
FINAL SCORE
NEW YORK 104, SAN ANTONIO 100
Kidd turns the ball over, but it doesn't matter as Duncan and Leonard both miss jumpers! This one looks like it's over and New York has pulled it out!
THUNDERDUNK BY TYSON CHANDLER! NEW YORK IS JUST DOING EVERYTHING RIGHT!!!!
NEW YORK 100, SAN ANTONIO 95
That entire sequence was the product of great ball movement. TO FOLLOW IT UP, KIDD HITS A LOOONNNGGG THREEE!!!!! That's right after they force a shot clock violation! New York is making plays when it matters most!
Terrible floater by Parker with just two minutes to go! Ouch, bad time to have his signature shot abdandon him...and then SMITH HITS AN OPEN THREE NEW YORK UP BY ONE!!!!!!!!!
Wearing a Knicks uniform is a performance enhancer for Raymond Felton.

— Robin Lundberg (@robinlundberg) November 16, 2012
NEW YORK 92, SAN ANTONIO 93
Huge surge by the Knicks right there to erase a 12-point deficit. Felton's penetration and Kidd's shooting are leading the way.
Felton with another great move inside! His penetration has been superb tonight, and it shows with 25 points.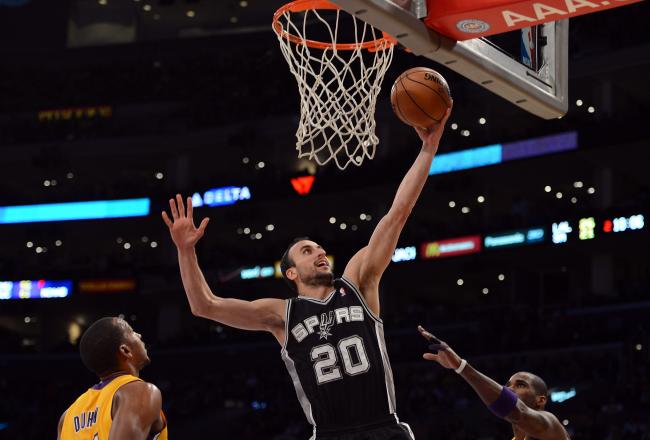 Manu has a three just bounce in off of the backboard! Wow that's huge, and basketball can really be a game of inches sometimes.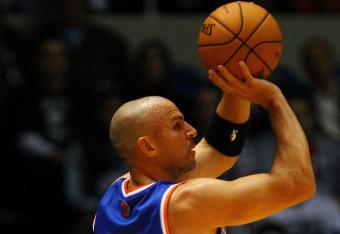 JASON KIDD HITS TWO THREES IN A ROW! THAT'S WHY YOU SIGN EXPERIENCED PLAYERS, BECAUSE THEY KNOW THE BIG MOMENTS!
Kawhi Leonard rebound inside! That's the kind of contribution across the board that has made the Spurs so dangerous for so many years.
Felton cuts inside, gets fouled, and finishes the play. That could be huge with San Antonio having been ahead by 12 before the basket.
Tyson just messed up. After missing two free throws, he puts a huge foul on Splitter inside that makes it a three-point play.
Knicks haven't won in San Antonio since 2003. Wow. Gotta say, though... Allan Houston had a really nice jumper.

— Phil De Guzman (@PhilD23) November 16, 2012
Interesting food for thought:
David West would make sense for the Knicks. Amare Stoudemire would make sense for the Pacers.

— Jason Whitlock (@WhitlockJason) November 16, 2012
Is Thiago Splitter going to be the man to end the Knicks' win streak?
Demonstration of what J.R. Smith can do:
Agree or not?
Steve Novak is a liability on the D the #Knicks need to get him out of there asap wallace misses melo on give n go

— Chris Barrio (@Chris_Barrio) November 16, 2012
After an amazing first quarter of offense, it just took over two minutes to get some points in the fourth quarter. Nobody's perfect.
This article is
What is the duplicate article?
Why is this article offensive?
Where is this article plagiarized from?
Why is this article poorly edited?

New York Knicks: Like this team?