Michigan State Football: 5 Keys to the Game vs. Northwestern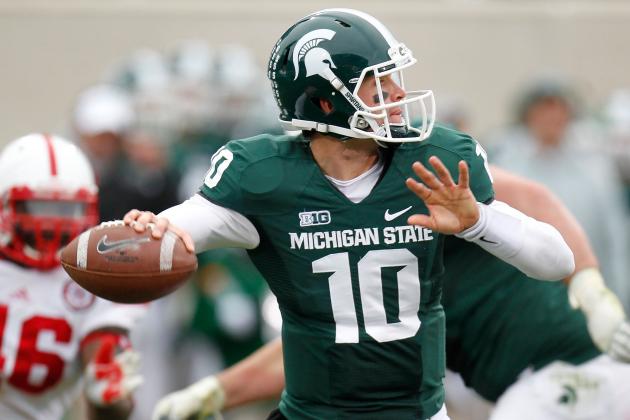 Gregory Shamus/Getty Images
Andrew Maxwell and the Spartans will qualify for a bowl game with a win over Northwestern.
The Michigan State football team will attempt to get itself back on track this Saturday when it hosts Northwestern in East Lansing.
The Spartans (5-5, 2-4), winners of four straight over the Wildcats (7-3, 3-3), must defeat one of their final two opponents in order to become bowl eligible for a sixth-straight season.
Coming off of back-to-back 11-win seasons, fighting for bowl eligibility in mid-November isn't what Mark Dantonio had in mind for 2012. Sitting in last place of the Big Ten Legends Division is a significant blow to a program that was beginning to establish itself among the conference's elite.
Nonetheless, the Spartans can still finish with a respectable 8-5 record should they win from here on out. But they must start by fending off a fiery Northwestern squad in State's final game of the year at Spartan Stadium.
Here are five keys to the game for Michigan State against the Wildcats this weekend.
Begin Slideshow

»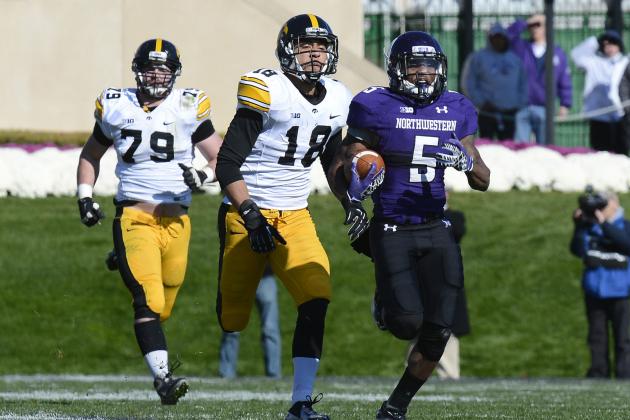 Mike DiNovo-US PRESSWIRE
Northwestern RB Venric Mark is averaging 6.2 yards per carry in 2012.
The duo of QB Taylor Martinez and RB Ameer Abdullah were able to wreak havoc on the Spartans' run defense in Week 10. Saturday, Kain Colter and Venric Mark will be looking to do most of their damage on the ground as well.
At 6'0", 190 pounds, Colter is a much smaller quarterback than Martinez, but he's extremely shifty and every bit as dangerous with his feet.
As for Mark, the junior running back has been as consistent as they come out of the backfield. He's a huge reason the Wildcats are averaging 237.6 rushing yards per game—the 14th highest total in the nation. The 5'8", 175-pound speedster has 1,176 rushing yards on the year, including six 100-yard performances in Northwestern's past seven games.
Mark is also a dangerous threat in the return game, so that must be accounted for. He's got 636 return yards in 2012 and is the Big Ten's all-purpose yards leader by over 300 yards.
The Spartans are getting healthier on defense and will have safeties Kurtis Drummond and Jairus Jones healthy for the game. After being torched by Nebraska for 313 yards rushing in Week 10, it's evident they'll need all hands on deck Saturday.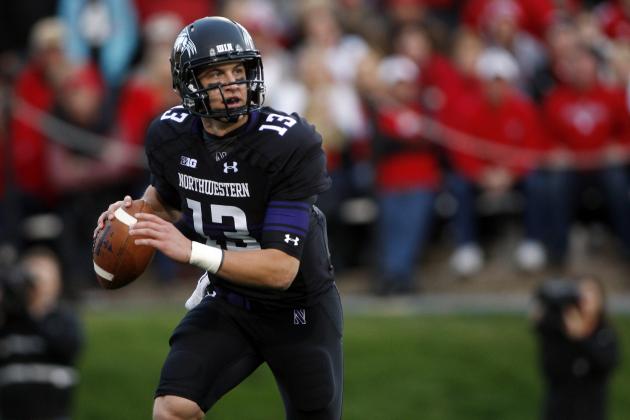 US PRESSWIRE
Trevor Siemian is no longer starting at QB, but Northwestern used him often in Week 11.
For all of the attention that Colter and Mark will demand, defensive coordinator Pat Narduzzi musn't forget about Trevor Siemian.
The sophomore has started several games at quarterback this season, but the Wildcats have replaced him with Colter in recent weeks. Siemian entered the game sporadically against Michigan last week, and the strategy proved to be extremely successful.
Siemian completed six of seven passes in Ann Arbor, Mich. and threw for two TD passes—each in clutch situations. He put the ball in the end zone with 25 seconds left in the second quarter to tie the game and threw for another score late in the fourth to give Northwestern the lead.
Siemian is bigger than Colter and much more effective getting the ball downfield. His appearances in the game this weekend may be brief, but he's shown the ability to make accurate throws on short notice and will burn the Spartans in a hurry if they aren't prepared.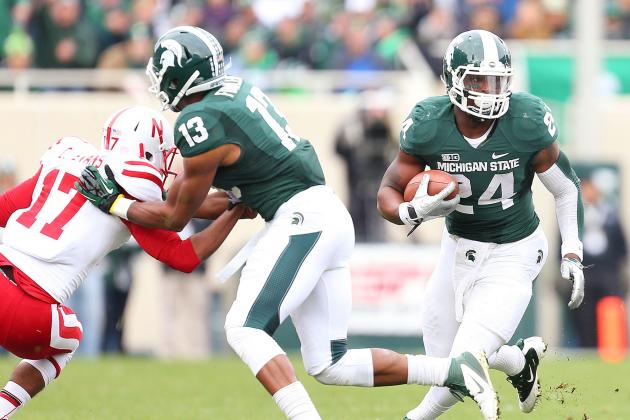 Mike Carter-US PRESSWIRE
Running back Le'Veon Bell is averaging more than 28 carries per game in 2012.
When Le'Veon Bell gets his fill of carries, Spartans' fans usually go home happy.
Bell has carried the ball 36 times or more in four of State's 10 games this year. Three have been victories, though the junior's 36 attempts for 188 yards against Nebraska came in a close loss.
Despite the end result, it proved to be an effective strategy against the Cornhuskers as well.
I said it prior to the Nebraska game and I'll say it again: the Spartans must be relentless with their rushing attack. The Wildcats have struggled against big-bodied running backs this season, and the 6'2", 244-pound Bell will be among the biggest they've faced yet.
Northwestern has had a nightmare of a time stopping the pass in 2012, but Michigan State must draw the defense in with a heavy dose of its powerhouse ball-carrier to open up room in the secondary.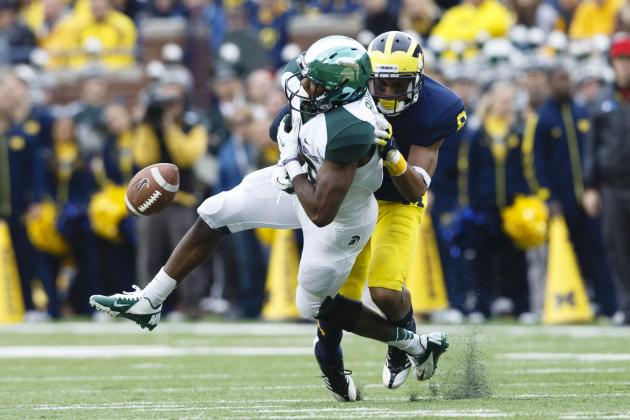 Rick Osentoski-US PRESSWIRE
Drops and costly penalties from receivers have killed the Spartans all year.
Andrew Maxwell's inexperience has been exposed in his first year starting at quarterback. Even so, the Spartans' passing game would be much more effective if he had more reliable targets to throw to.
Dropped passes have been an Achilles' heel for Michigan State receivers all season long, especially late in games. The Spartans' four losses to Big Ten opponents have been by a total of 10 points. Big catches are key to extending drives, especially when you have a strong defense behind you like this team does.
So far, State's receiving corps hasn't been able to consistently make plays for its quarterback.
Additionally, penalties have been drive killers on countless occasions. Holding by receivers on big runs, costly false starts and personal fouls have been the norm. The Spartans have wound up on the wrong side of some debatable calls, too. But a failure to avert mental mistakes haven't helped the cause.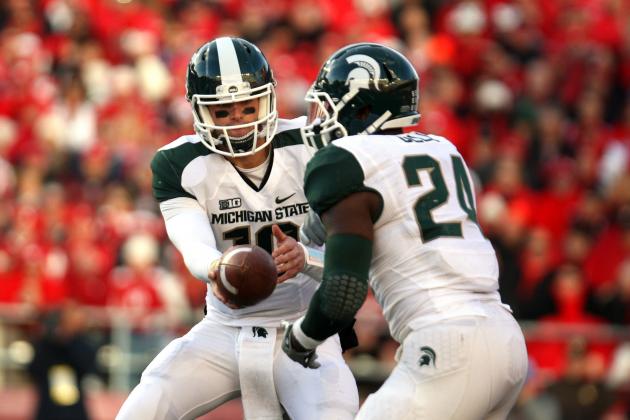 Mary Langenfeld-US PRESSWIRE
The Spartans can't afford to wait around against Northwestern.
Each of the Spartans seven Big Ten games this season have been decided by four points or less.
They've come out on the losing end of four of them, and the inability to close out games has been a big reason why. Iowa tied the game with under a minute to go in their eventual double-overtime win over the Spartans. Michigan's game-winning field goal in Week 8 came with only five seconds remaining.
In perhaps the most painful loss of them all, MSU allowed two touchdowns in the final minutes of the game against Nebraska to cough up a 10-point fourth-quarter lead.
Starting out strong would have helped the Spartans' chances in many cases this season. Even in its 31-27 win over Indiana, State dug a 17-0 hole after the first quarter.
A fast start offensively, while preventing costly mistakes, will keep Northwestern's dynamic skill players on the sidelines and wear down the Wildcats' defense in the meantime. Of course, that's crucial in any game. But the Spartans have proven in 2012 that it's easier said than done.