WWE: What You Missed on the 4 Other Shows & Their Impact on Survivor Series 2012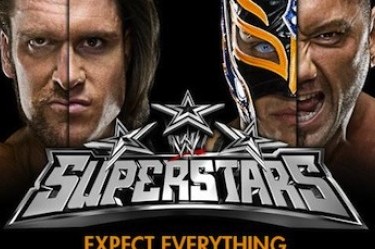 As WWE booked the final week of programming before hosting one of their "Big Four" in Indianapolis, the shows aside from Raw and SmackDown could very easily have been used to build interest in that pay-per-view.
Unfortunately, the only way NXT, Main Event, Superstars and Saturday Morning Slam furthered the build for Survivor Series 2012 was an injury to Cody Rhodes and enough Raw Rebounds and SmackDown replays to complete an entire show.
There is so much more they could have done, even to build lower-card matches like the Divas Championship or 3MB's pre-PPV match.
Instead, they reminded us time and time again of the AJ Scandal and the WWE Championship match. How many people watching these four shows don't already know about the most important feuds and storylines in the company?
My "notes" version of all four shows is below.
If it piques your interest enough to read on, the slideshow breaks down the shows individually, segment by segment, complete with my questions and predictions.
Notes
On NXT, The Ascension got a solid victory over the team of Yoshi Tatsu and Percy Watson, further establishing their dominance among the NXT tag teams. Corey Graves made Oliver Gray tap out in the second match.
Camacho tried to cash in on Vickie Guerrero's $5000 bounty on Big E. Langston's head, but Langston thwarted the attempt easily. Layla got a victory over Aksana, and Roman Reigns defeated Chase Donovan in less than three minutes.
In the main event, Jinder Mahal successfully defended his spot as the No. 1 contender for Seth Rollins' NXT Championship when he defeated Bo Dallas. We didn't get to see my favorite NXT male (Kassius Ohno) or female (Paige).
On Main Event, Team Hell No successfully defended the WWE Tag Team Championship when they faced Team Rhodes Scholars, the match that resulted in Rhodes' injury.
Santino Marella received a quick victory over David Otunga, and The Miz vs. Dolph Ziggler is set up for next week.
On Superstars, Jinder Mahal and Heath Slater defeated The Usos, and The Great Khali defeated JTG in under two minutes. The rest of the show was Raw Rebounds and Survivor Series promos.
On Saturday Morning Slam, R-Truth got a victory over William Regal, while Kofi Kingston defeated Zack Ryder in a friendly match. The Miz and R-Truth were the focus of two other segments, and we got a look back at some classic Survivor Series moments during the Video Vault segment.
Now, if you care to read more about any of these happenings, please enjoy the slideshow.
Begin Slideshow

»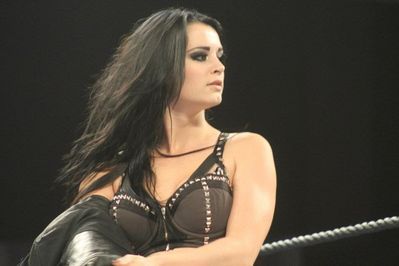 Twice mentioned, never featured. (Image retrieved from TUPWrestlingForum.com)
NXT kicks off with Tony Luftman interviewing Jinder Mahal backstage. They are discussing his place as No. 1 Contender for the NXT Championship when Bo Dallas interrupts. He coaxes Mahal into putting up his No. 1 Contender spot in a match later in the evening.
Back in the NXT arena, Tony Luftman and Tom Hannafin are on commentary and we're ready for our opening bout.
The Ascension vs. Yoshi Tatsu and Percy Watson (match length 2:56)
If I remember correctly, this is the first time The Ascension have actually had a match since I started covering NXT. They sure do have a lot of hype; hopefully they can live up to that on this week's NXT. I'm not completely sure about Percy Watson, but Tatsu is a solid worker that should only serve to make The Ascension look even better.
As expected, Conor O'Brian and Kenneth Cameron dominate almost the entire match. While Tatsu gets in about 20 seconds' worth of offense, The Ascension came off looking incredibly strong. They have power, athleticism and great tag team chemistry. They win the match with the Fall of Man.
Backstage, Layla and Aksana try to talk trash in front of a vanity mirror, announcing that they have a match later in the show.
When we return from commercial break, Jim Ross has replaced Tony Luftman on commentary, and we're ready for our next match.
Corey Graves vs. Oliver Gray (match length 4:13)
The heavily tattooed Graves dominates the opening minutes of the match, as Hannafin informs us that Graves is big into underground music and body modification. He looks a lot like Jeff Hardy, if you ask me. Gray, a British grappler in the same tradition as greats like William Regal, doesn't stand much of a chance. Looking like Jack Swagger's mini-me, Graves makes short work of him and forces him to tap.
After a Big E. Langston video package, he is interviewed by Tony Luftman on the ramp in the NXT arena. They are discussing the bounty that Vickie Guerrero put on Langston's head. He needs something of a makeover before coming to WWE, as his promos are still flat and his attire screams "Nation of Domination."
Camacho comes out in an attempt to collect Vickie's $5000 reward, but Langston easily fends him off. With that, we head to another commercial break.
Layla vs. Aksana (match length 5:22)
I'm not a huge fan of the WWE Divas division as of late, so it seems appropriate to me that two of the four women involved with the WWE Divas Championship storyline are competing on a show that is generally reserved for those who aren't getting over and/or aren't getting things done in the ring.
Truth be told, this match was better than anything I remember seeing on Raw or SmackDown, as far as the Divas are concerned. It seems like NXT Divas matches are always better than those on Raw or SmackDown.
Although Aksana actually had the upper hand for most of the match, Layla lands a kick to the back of Aksana's head that was good enough to score a pinfall.
After the match, we are treated to a pre-recorded segment featuring Bray Wyatt and Luke Harper. They appear to be in a field somewhere, with Wyatt preaching as if he is literally God. The entire time, Wyatt is looking at an empty space, talking as if an entire congregation is hanging on his every word. Harper sits off to the side—Wyatt never acknowledges him.
Roman Reigns vs. Chase Donovan (match length 2:41)
Reigns returns after making his debut last week, as Luftman claims that people have been calling him the "LeBron James of professional wrestling." I know some people are impressed, but it's much too early to make a call like that.
Donovan never really had a chance, as Reigns dominated this brief match. Reigns forced Byron Saxton to re-announce him as the winner with "The Thoroughbred" preceding his name. Reigns made him repeat it one more time, claiming that Saxton wasn't enthusiastic enough.
No. 1 Contender's Match
Jinder Mahal vs. Bo Dallas (televised match length 13:25-)
When Jinder Mahal won the Fatal Four-Way match last week, I was under the impression that his title match would take place this week. Clearly, I was wrong. The first few minutes are filled with the standard ebb-and-flow that a main event match starts with, both men feeling each other out, looking for a chance to take the advantage.
Of course, with good ol' JR on commentary, the match barely starts before we hear a Blackjack Mulligan reference with an I.R.S. afterthought. Mahal leaves the ring to regroup as we head to the commercial break.
Less than a minute after we return from the break, JR makes another Blackjack Mulligan comment. After several minutes of solid wrestling, Mahal gets the clean victory with the Camel Clutch. He starts to abuse Dallas post-match, but Seth Rollins makes the save. They give no date for the future title match.
Prediction: Byron Saxton will be the next Michael Cole/Josh Matthews/Matt Striker. In other words, as soon as they need a utility man to fill in for commentary and interviews, Scott will get the call up.

Question: Paige was mentioned twice in this week's episode (once during the Divas match, and once again during the main event). Why did we not at least get to see a vignette for Paige, if not a match? Why not bring her out during the Layla/Aksana match to help show her dominance among the NXT women?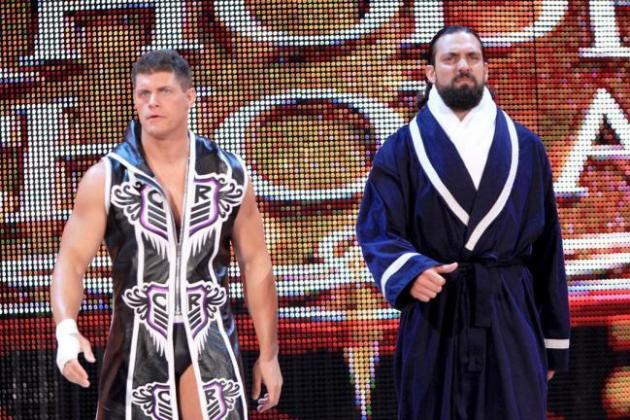 Credit: WWE.com
It looks like The Miz has earned at least a semi-permanent spot as the co-host of WWE Main Event, as the former reality star and Michael Cole welcome us to the show. It is appropriate that The Miz hosts this week, as the show emanates from his hometown of Cleveland.
With Team Hell No competing later, they briefly discuss Monday Night Raw and the drama that ensued when The Miz teamed with Kane while Daniel Bryan jealously looked on. Backstage, Josh Matthews interviews the WWE Tag Team Champions.
Kane and Bryan argued as to whether Bryan saved Kane's match on Monday, or whether he almost cost Kane the match. Kane eventually storms off, leaving Bryan vulnerable to an attack by Team Rhodes Scholars. Kane does not get back in time to save his partner.
We then get a video package highlighting the history of Team Hell No and their feud with Cody Rhodes and Damien Sandow. After the video, the challengers make their way to the ring. We are informed that Daniel Bryan has been "medically cleared" to compete tonight, even after the beating he took backstage.
WWE Tag Team Championship Match
Team Hell No vs. Team Rhodes Scholars (televised match length 10:52)
The champions make their way to the ring after a commercial break, and Bryan is favoring his ribs. The champs attack the challengers before the bell even rings. By the time the match officially starts, Kane and Rhodes are the legal men.
They spend the first few minutes feeling each other out, trying to earn an advantage for their team. Early on, they tease that Kane and Bryan will implode during this match, but Kane extends a hand to Bryan to show that there are no hard feelings.
Rhodes takes advantage of the vulnerable moment, attacking Kane and sending him to the outside of the ring. With Bryan the legal man in the ring, and Sandow sending Kane into the steel corner outside the ring, we head to a commercial break.
When we return from the break, Sandow is in the ring with Kane, keeping control with a rear chin-lock. Even after the Big Red Monster tags his partner, the Scholars maintain control. As we head to another commercial break, Sandow has his legs around Bryan's waist, wearing him down on the mat. When we return from the break, Bryan manages to get out of the hold, but Sandow and Rhodes keep the advantage.
Bryan eventually evens things out and manages to tag in Kane before his opponent can tag in Rhodes. From that point, it is all Team Hell No. With Rhodes taken out (from the move that I assume resulted in Cody's legitimate injury), Sandow falls victim to a chokeslam. Kane tags in Bryan, who hits a Benoit-style headbutt from the top rope for the win.
Post-match, Matt Striker interviews the champions. When he asks Bryan if he can bury the hatchet with the Miz, Kane interrupts, starting a "Yes" chant in response to the question. Miz makes his way over from the commentators' booth. He extends a hand for Bryan, but Bryan shakes his head "no" vehemently.
Kane then whispers into Bryan's ear and Bryan reluctantly offers to "hug it out." The Miz does not accept the offer. Before we go to another commercial break, we're told that Dolph Ziggler will be talking about the Survivor Series match when we return.
After an unnecessary video package highlighting the WWE Championship match for Survivor Series, the captain of Team Ziggler gives his opinion on the match from earlier in the night and how that will impact the elimination match at Sunday's pay-per-view.
Ziggler basically says that with his leadership, Team Ziggler will overcome. He talks about Team Foley, that Kofi Kingston and The Miz already hate each other, Kane and Bryan hate each other, while Randy Orton hates everyone.
Eventually, the interview turns into a shouting match between Ziggler and The Miz. They set up a match for next week's Main Event. Santino Marella makes his way to the ring, and we find out he has a match after the commercial break, although his opponent is not advertised.
Santino Marella vs. David Otunga (televised match length 3:36)
This match is already under way when we return to the program. The match goes quickly without anything significant happening. Marella gets the win after hitting the Cobra. They remind us to tune in next week for The Miz vs. Dolph Ziggler, and the show comes to an end.
Prediction: WWE will use Rhodes' legitimate injury to further the Hell No/Rhodes Scholars feud, and Rhodes Scholars will take the title, leading to a Kane/Bryan feud.
Question: Are we going to be treated to matches like Santino Marella and David Otunga every week from now on?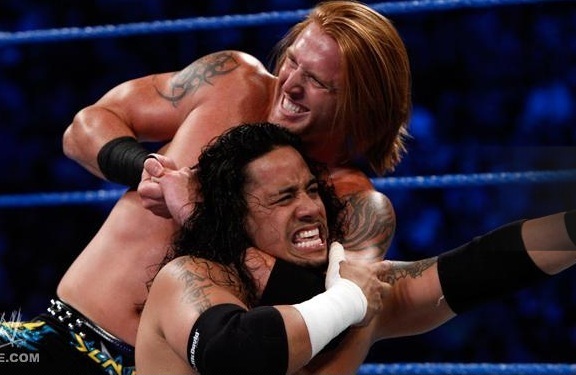 Credit: WWE.com
Matt Striker and Scott Stanford are at the announce booth, and Superstars kicks off with some tag team action.
3MB (Heath Slater & Jinder Mahal) vs. The Usos (televised match length 7:18)
Jinder Mahal and Jimmy Uso start the match, and Jimmy remains in control even after 3MB makes a few tags. Slater and Mahal continue to struggle until they resort to double-team moves and attacks outside the ring.
3MB keep the advantage by isolating Jey from his twin brother. As we head to a commercial break, Slater has complete control of Jey. When we return, Mahal has already tagged in, as 3MB continues to work on Jey. It's pretty clear that a hot tag will be made soon.
Once that happens, Jimmy comes in and goes to work on Slater. The Usos are on a roll and Slater kicks out of a near 3-count, only to be saved from another by partner Mahal shortly after.
As the match nears it's conclusion, all four men are in the ring. Mahal avoids contact with Jey, pulling down the rope and sending the Uso to the floor. Jimmy takes out Mahal with a superkick, but turns around and falls victim to Slater's Smash Hit DDT, and 3MB picks up the win.
After the commercial break, we get a Raw Rebound recapping Vickie Guerrero's latest reveal in the AJ Lee scandal. That takes us all the way to the next commercial break. We're informed that the next segment will be a replay/highlights of Randy Orton vs. Alberto Del Rio in a Falls Count Anywhere match from last week's SmackDown.
The Orton/ADR replay takes us to the next commercial break, and we're informed that the second and final match of the episode will be next, featuring The Great Khali vs. JTG.
The Great Khali vs. JTG (match length 1:59)
JTG is already in the ring when we return from the commercial break, and Khali awkwardly meanders his way to the ring. They play up the massive size difference, and JTG struggles to get any offense in. Khali does momentarily go down after JTG attacks the leg, but that would be the furthest JTG gets in the match.
Khali hits his big chop on top of JTG's head, and that's the end. As usual, Khali does an awkward dance in the ring to celebrate his rather meaningless victory.
We see a commercial for Survivor Series before we go to commercial. When we come back, we get a Raw Rebound recapping the drama between CM Punk, John Cena and Ryback. Essentially, another Survivor Series commercial. And that's how we end the show.
Prediction: In less than a year's time, some combination of 3MB will hold tag team gold.

Question: Will Superstars have less filler next week, since the PPV isn't coming up the following Sunday?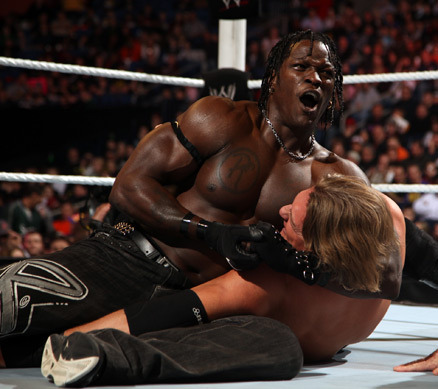 Credit: WrestlingLine.org
As Saturday Morning Slam begins, the faceless voice that welcomes the viewers informs us that the main event of today's show will see Intercontinental Champion Kofi Kingston vs. Zach Ryder. To kick off the show, however, we get to see William Regal and R-Truth in action. These are two matchups with a lot of potential. Josh Matthews and Santino Marella are providing commentary.
William Regal vs. R-Truth (match length 3:08)
Regal and Truth have the ability to put on a really solid match, but you can't have high expectations on a show designed for elementary kids. Technically speaking, the match was good, but it was incredibly short. It ended when Truth reversed a hip-toss into a roll-up pin.
Before the commercial break, we find out we'll get a segment with The Miz when we return before checking the Video Vault for old Survivor Series footage.
The segment with The Miz was supposed to be backstage at a photo shoot, with Miz demonstrating the fact that he's checked several things off of his bucket list, then acting out the things he hasn't achieved. I didn't really understand the point. Maybe the six-year-olds will.
They used The Miz to lead into their Survivor Series-themed Video Vault segment. We get some highlights of Awesome Truth vs. Cena/Rock and then a look at Maivia's debut from Survivor Series 1996. They also review the Montreal Screwjob from Survivor Series 1997. The segment ended by reviewing a bunch of different Survivor Series elimination match-ups.
Before another match, we get a Superstar Spotlight segment featuring Kofi Kingston. It was mostly footage of Kingston hitting moves from the top ropes, while different females talked about how much they like Kofi.
The main event will be featured after another commercial break.
Kofi Kingston vs. Zack Ryder (televised match length 6:49)
The abilities of both competitors, along with the fact that there is just under eight minutes of programming left when the match starts, means there is the potential for a really solid match.
Early in the match, Kingston pulls Ryder's headband over his eyes, a move that feels more like a heel move against a beloved guy like Ryder. After his refusal to shake the hand of The Miz, I have to wonder if Kingston will be turning heel before too long.
The competitors continue to feel each other out and one-up each other's high flying antics as we head to a commercial break.
For the first few minutes or so after the break, Ryder has Kingston in a couple of classic rest holds. Of all matches to have grounded, time-consuming rest holds, why do it in a match with two guys who can work a legitimate wrestling match?
Kingston finally gets the advantage back and sets up for the Trouble In Paradise. After several counters and reversals, Kingston nails a high cross body from the top rope for the win. Post-match, to show no hard feelings, they hug it out, and that's the end of the program.
Prediction: Older WWE fans will start catching the matches from SMS once they realize there are matches on that program that are more legitimate than many Raw or SmackDown matches.

Question: Is SMS a reliable gauge for who is over with the kids, or who WWE is trying to force upon the kids?
You can follow Dustin on Twitter, check out his blog or listen to his podcast.