Miami Dolphins vs. Buffalo Bills: 10 Keys to the Game for Buffalo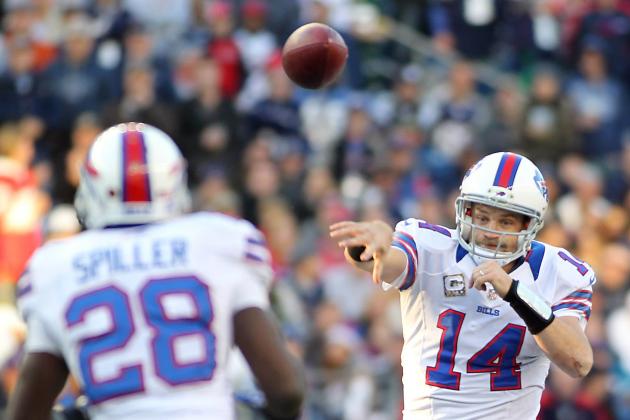 Stew Milne-US PRESSWIRE

The Buffalo Bills (3-6) return home to Ralph Wilson Stadium for a crucial Week 11 prime-time matchup with the division rival Miami Dolphins (4-5).
Perhaps the short week is a good thing for the Bills in this situation. Sitting at 3-6, they don't want to have to think anymore than they need to about how this game will determine the rest of their season.
It's a must-win matchup for Buffalo, who continues to struggle within the AFC East. The team is currently 0-3 in division play in 2012. Dating back to 2008, their record against division opponents now sits at an atrocious 4-23.
Meanwhile, Miami got off to a surprising start this year and will try to even their record at .500 with a win on Thursday Night Football.
For the Bills, coming off a heartbreaking loss to the New England Patriots won't be easy, but it's a game they simply have to win to keep their slim playoff hopes alive.
Let's take a look at the 10 keys to victory for Buffalo.
Begin Slideshow

»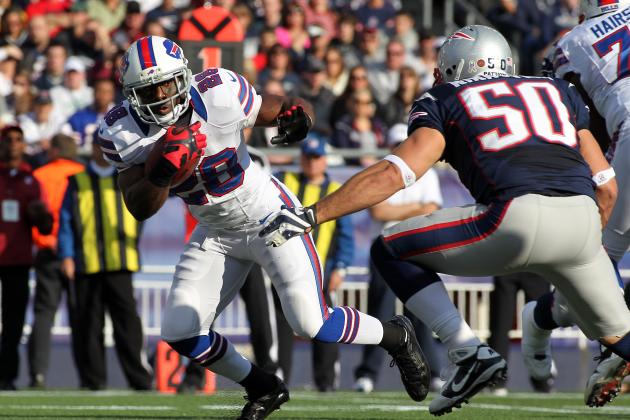 Stew Milne-US PRESSWIRE

It's the No. 1 key to the game for the Bills, and it's a no-brainer.
With Fred Jackson sidelined with a concussion, Spiller now has a clear path to featured duties, something many people felt he deserved even before Jackson's injury. He should see plenty of opportunities against Miami, and there's no doubt he has the ability to capitalize.
Spiller leads the NFL in yards per carry with a 7.3 average. His tremendous playmaking abilities give the Bills a home-run threat every time he touches the ball. It makes perfect sense, then, that he should be touching the ball a lot.
According to Jay Skurski of the Sporting News, head coach Chan Gailey said he plans to get Spiller between 20 and 30 touches against the Dolphins if that's what it takes to get the win. And at this point, Buffalo absolutely has to get this win.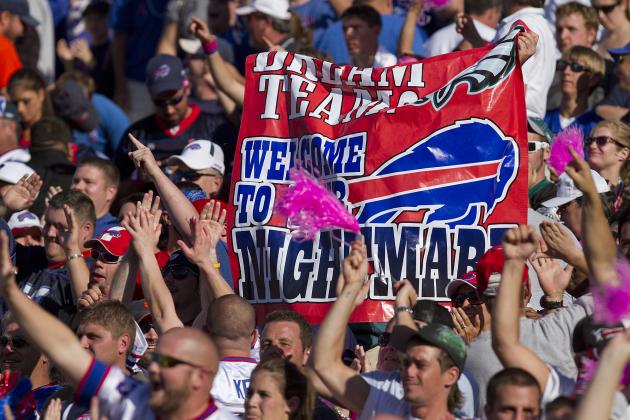 Brody Wheeler/Getty Images

It's a rare prime-time game for the Bills this week, and their fans will certainly be hungry for not only a victory but also a convincing one against a familiar foe. Buffalo has to take advantage of the home crowd and give it something to cheer about from the opening kickoff.
Momentum is a huge factor in this league, and the Bills will need to take hold of that momentum by starting out on the right foot. That means no undisciplined penalties. That means not turning the ball over. That means getting off the field on third downs on defense.
There's no doubt the home crowd will be ready to pump up their favorite team in front of a national audience. The team just has to return the favor by keeping them excited all the way through.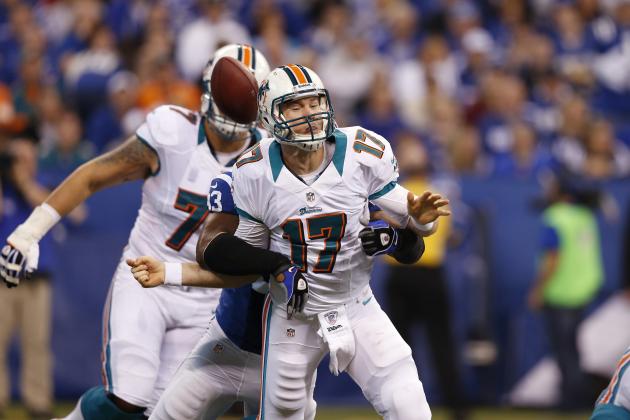 Joe Robbins/Getty Images

Rookie quarterback Ryan Tannehill has been surprisingly effective this season considering the criticism he received in the offseason.
After being drafted as the No. 8 overall pick in this year's draft, he faced a lot of pressure entering the year for a team desperate for a franchise signal-caller. Though his numbers don't compare to those of Andrew Luck, Robert Griffin III or even Russell Wilson, he's fared pretty well in his first season in the league.
Tannehill has completed just under 60 percent of his passes for 1,979 yards and five touchdowns so far, adding another rushing touchdown.
The biggest problem for him, however, has been turnovers. In nine games this year, the rookie has turned the ball over 13 times—not terribly surprising for a rookie, but not helpful to Miami.
Buffalo should pounce early on the rookie to disrupt his rhythm and hopefully force a few bad throws.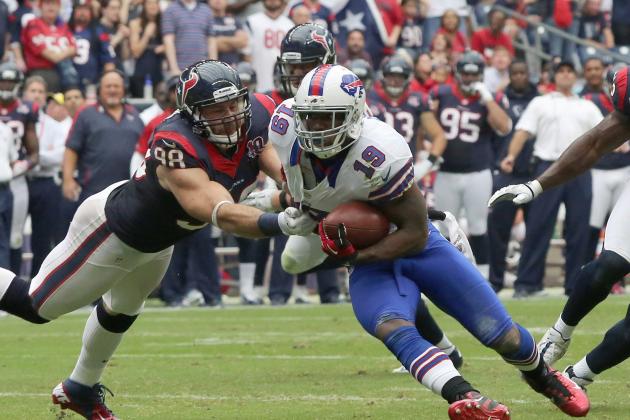 Thomas B. Shea/Getty Images

This might be a surprising statistic to some, but the Bills are actually in the top 10 for third-down conversion percentage on offense. Through nine games, they've converted on 45 of 107 third-down opportunities, giving them a percentage of 42.1.
Moving the chains is always an important part of winning games in the NFL, but it becomes even more important when a team doesn't rely on big, explosive plays with regularity.
The Bills offense is designed to control the clock, drive downfield and wear out defenses. They have seldom struck downfield in the passing game, and it's safe to assume teams don't heavily game-plan for any consistent deep-scoring plays. Rather, opponents work to stop the run and shut down underneath routes and screens.
For this reason, the Bills have to convert on third downs, move the chains and sustain drives. Controlling the time of possession will be a huge factor in this game.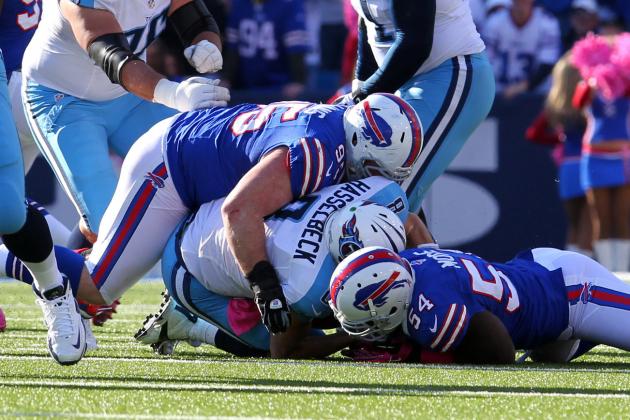 Timothy T. Ludwig-US PRESSWIRE

Speaking of third downs, the Bills are tied for 27th in the league in total defensive third-down conversions (54), and they are dead last in third-down conversion percentage (47.4 percent).
Though it was unexpected to begin the year, the team's defense is clearly a liability. Buffalo is 29th in the league in total yards allowed, 31st in yards allowed per game and have given up the second-most points in the entire NFL (285).
Much like on offense, where they'll try to control the clock and set the tempo, the Bills defense will look to shut those things down against Miami's offense. This team has obviously given up a ton of yardage and points to opponents, so the sooner their defense can get off the field, the better.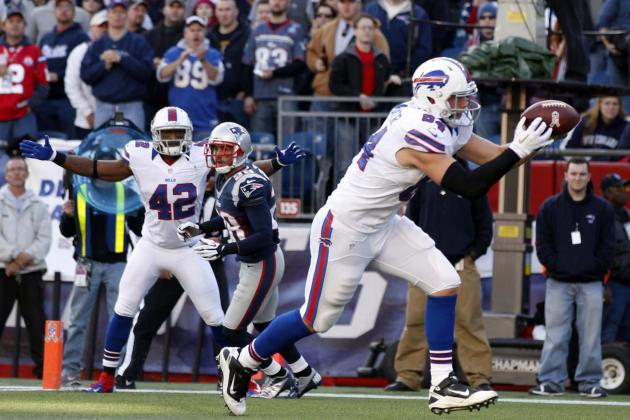 David Butler II-US PRESSWIRE

Coming out of their bye week, the Bills actually played very well defensively against the Houston Texans on the road. But when the game clock struck zero, they were on the wrong side of a 21-9 final score.
The difference in the game?
Buffalo was 0-of-3 on red-zone conversions, while Houston was 2-of-3. That alone is a huge swing in points that ultimately cost the Bills.
Trading touchdowns for field goals is okay for defensively superior squads, but the Bills don't have that luxury right now. They need to make sure they take advantage of every opportunity inside the 20 by cashing in for pay dirt.
Miami's underrated defense will be no cake walk for the Bills, so they must convert their red-zone chances into six points rather than three.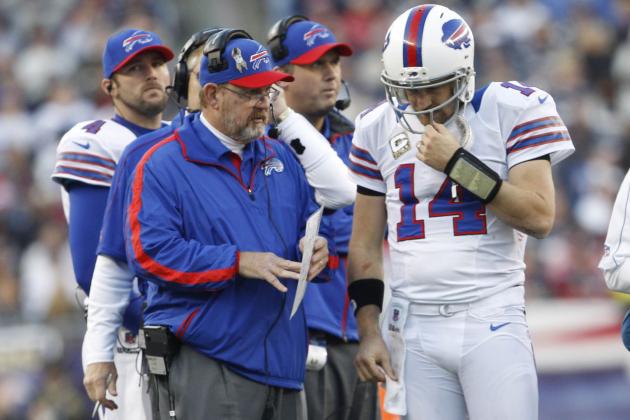 David Butler II-US PRESSWIRE

Bills head coach Chan Gailey has taken a lot of heat for his play-calling this season, and there are definitely valid arguments to be made on this front. However, Gailey also deserves credit for his offensive game plan against the Patriots last week.
Yes, the Bills fell one play short of pulling out a huge win in Week 10, but that final, determining play wasn't Gailey's fault. With time running out, Donald Jones got hurt; Fred Jackson got hurt; the Bills were suddenly out of timeouts, and someone needed to make a play when it mattered most.
T.J. Graham was that person, and he misread the route.
It's an unfortunate situation, but Gailey had his players in a position to succeed, and there was simply a miscue in execution.
Against the Dolphins, Gailey needs to once again stick to business and keep the play-calling tailored to his best players. That means working C.J. Spiller as much as possible, setting up the play action and letting his game-changers make plays in space.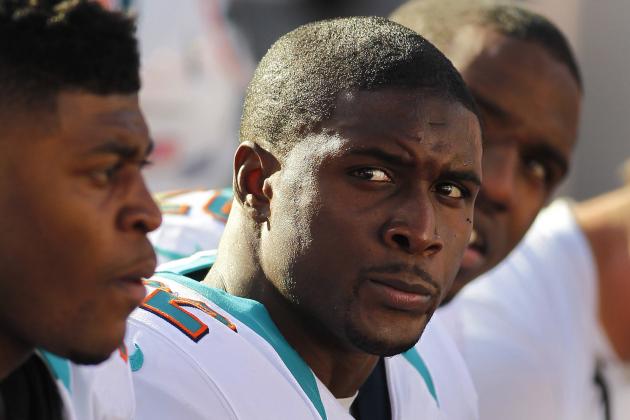 Robert Mayer-US PRESSWIRE

Reggie Bush came out and made headlines on Tuesday for the wrong reason prior to his upcoming matchup in Buffalo, making a tasteless comment about the women in Buffalo. Mike Florio of NBC Sports' Pro Football Talk had the report, and he added that this "potentially boring Thursday night game just got a little more interesting" as a result of Bush's comments.
Bush is one of the only real playmakers Miami has on offense, so the Bills were likely already focused on shutting him down anyway. Now, they'll have a little more reason to make his performance on prime time an embarrassing one.
He's had a decent year despite carrying the ball 20-plus times in a game just once, but his versatility and speed make him a threat every time he touches the ball.
Buffalo's run defense is last in the league in total rushing yards allowed and average rushing yards per game. They have to make stopping Bush the primary focus.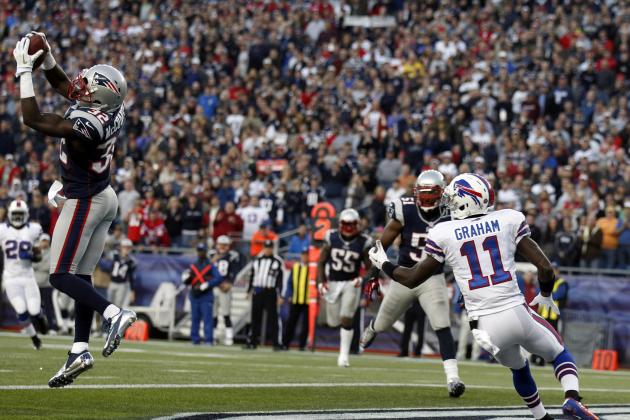 David Butler II-US PRESSWIRE

As awful as this may initially sound, the Bills should try to get T.J. Graham a couple early touches to raise his confidence after the crushing way last week's game ended against the Pats.
Graham publicly accepted blame for the interception in the end zone that brought last week's game to a disappointing close, which shows a lot of maturity for a young rookie player. Now, he has a chance to redeem himself by sparking the offense in front of the home crowd.
And the Bills should give him that chance.
Graham's speed and elusiveness make him a raw threat, so a quick pass in open space would be a nice opportunity for him to make a play and spark the stadium. It would also boost his confidence, and confidence is definitely something the Bills want this youngster to have every week.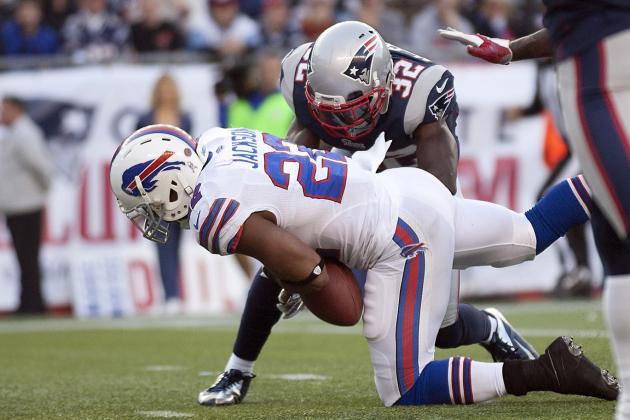 Stew Milne-US PRESSWIRE

Turnovers are always costly, but the timing of turnovers is usually just as significant. When a player fumbles at the goal line, for example, it literally translates to lost points for his team.
Buffalo fumbled at the one-yard line in both contests versus New England this year—once by C.J. Spiller and once by Fred Jackson. Those types of mistakes are inexcusable, and they simply can't happen if the Bills want to beat the Dolphins on Thursday night.
The Bills are minus-10 in turnover ratio, while the Dolphins are minus-six. Both of these teams have struggled with giving up the ball, and whoever wins the battle this week will have a great chance at coming away with a victory.
A veteran like Ryan Fitzpatrick should have the upper hand on a rookie like Ryan Tannehill in the passing game, and skill players need to make a better effort to hang onto the ball at all times.
Follow @JoshCembellin on Twitter for more Buffalo Bills commentary and analysis