Dolphins vs. Bills: Final Report Card, Player Grades for Buffalo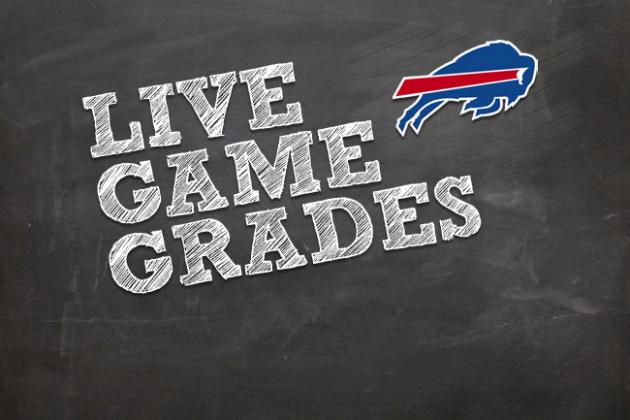 The Buffalo Bills and Miami Dolphins kicked off at 8:30 ET (NFL Network, Thursday Night Football) in a solid matchup between two AFC East rivals with similar records. The Bills won the game 19-14 in what was a hotly contested ballgame until the end.
Buffalo won a htoly-contested ballgame and we've graded each player for their work in the game.
Begin Slideshow

»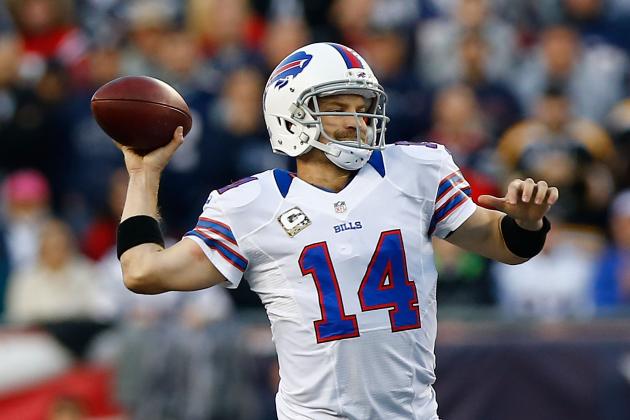 Jared Wickerham/Getty Images

Ryan Fitzpatrick — B-
On the night, Ryan Fitzpatrick completed 17 of 27 passes for 168 yards with no touchdowns nor interceptions. The quarterback was locked into throwing a lot of curl and hook routes to No. 1 target Stevie Johnson, whose work on the outside helped Fitzpatrick earn a passing grade.
Thomas B. Shea/Getty Images

C.J. Spiller — A-
With 25 touches on the night, Spiller broke 100 yards and really had a great night breaking tackles and finding cutbacks. A few plays where the running back overestimated his speed leave some room for improvement, though.
Tashard Choice — C
Choice doesn't have the same feel for this running game that Spiller does and his work consisted of a lot of boring carries up the middle for average yardage.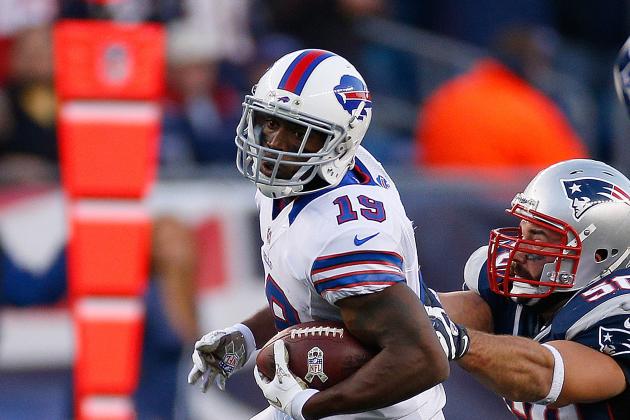 Jim Rogash/Getty Images

Steve Johnson — B+
Doing great work with his curl routes and finding a way to box out opposing defensive backs, Johnson had a very solid night and kept the sticks moving for Buffalo.
Donald Jones — C
Jones was held to just 11 yards on the night, but an eight-yard catch on a wide receiver screen wasn't all that bad. His drop in the end zone hurts his grade.
T.J. Graham — C-
A pass interference call was the highlight of Graham's night, who drew the decisive penalty on a field goal drive. Past that, the receiver didn't contribute much of anything on the night.
Scott Chandler — C+
While we'd usually make a separate slide for tight ends, Chandler's work on the night wasn't all that significant. A few nice run blocks on the edge and a solid fake on a play action pass helps this tight end garner a solid grade.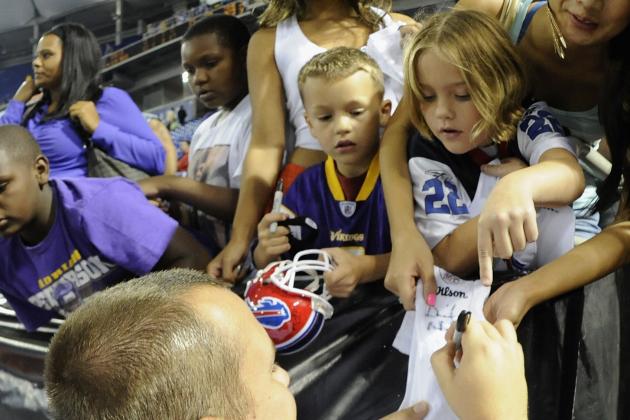 Hannah Foslien/Getty Images

Offensive Line — B-
Very good play by Kraig Urbok propelled the Bills to a victory and C.J. Spiller to a big night. Outside of Urbik's play, Andy Levitre wasn't bad, but the team's two tackles (Chris Hairston, Cordy Glenn) need to do a better job setting the edge in pass protection on a consistent basis.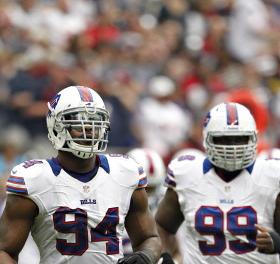 Bob Levey/Getty Images

Mario Williams — B+
A sack and a tackle for a loss highlighted a coming-out party for Williams, who just needs to start making plays on a more consistent basis to be successful and earn a higher grade.
Kyle Williams — A-
Williams generated a great push in the run game and really seemed to be keyed into what the Dolphins were trying to do. The defensive lineman could do a better job in the pass game, but that's just nitpicking.
Marcel Dareus — A
One of the best players of the night, Marcel Dareus was impressive as both a run stuffer and a pass rusher. Dareus shed a lot of blocks on the night, getting into the backfield with ease and earning himself a high grade.
Kyle Moore — B
Though he wasn't slated to be much of anything at the beginning of the season, Kyle Moore has taken his role seriously and made plays all over the field Thursday night. An underrated pass rusher, Moore had a good night considering he rushed against Jake Long.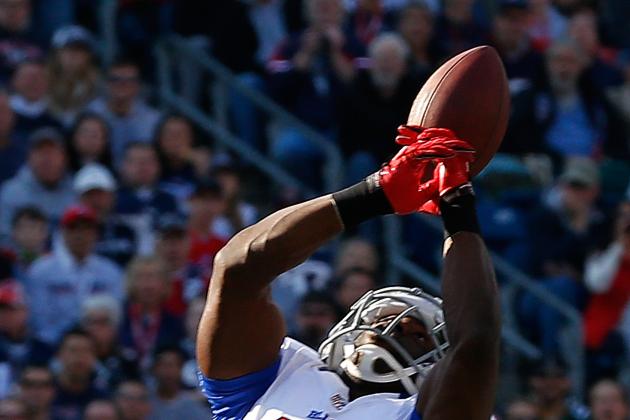 Jim Rogash/Getty Images

Nick Barnett — B-
Though he didn't do a great job in pass defense, Barnett was very instinctive in the run game, following guards to the point of attack and making secure tackles when given the opportunity.
Bryan Scott — B
A late interception made up for an average night on Bryan Scott's part, who was exposed a few times in coverage on Anthony Fasano.
Kelvin Sheppard — B
Similar to Barnett, Sheppard had a good night against the run but the player could be lighter on his feet in zone coverage and has some areas to improve there.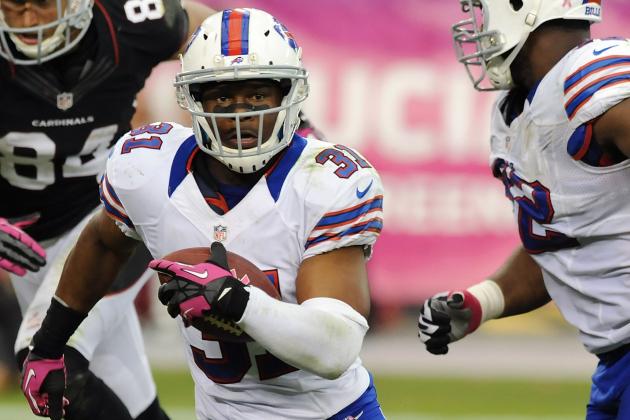 Norm Hall/Getty Images

Jairus Byrd — A
A late interception capped off a very good night in coverage for Byrd, who came up and made hard hits on receivers with the football. His instincts are phenomenal.
Leodis McKelvin — A-
A late penalty hurt McKelvin's overall grade, but his punt return for a touchdown and ability to cover Davone Bess on a deep route really showed that he has the athleticism to last in the NFL.
Stephon Gilmore — C
Though he forced a fumble, Gilmore is not where he needs to be in terms of pass coverage and is very lucky that referees called offensive pass interference on Brian Hartline at the end of the game.
Justin Rogers — C
Rogers was abused more than Gilmore on the night, which is saying something when you consider that he was matched up on Davone Bess. Rogers needs to defend better over the middle and could use some work in that aspect.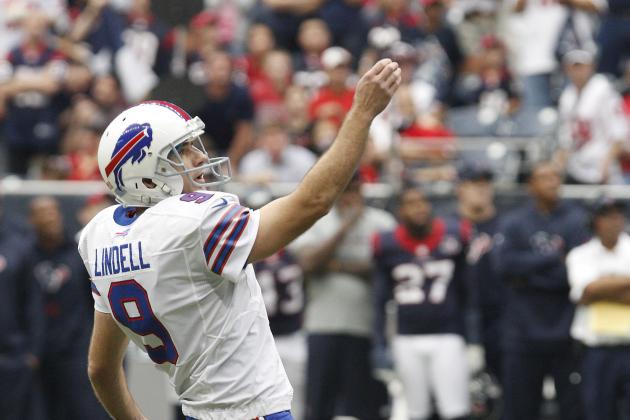 Thomas B. Shea/Getty Images

Rian Lindell — A
The Buffalo kicker missed no field goals in his four attempts and gave the Bills a necessary amount of points to win the game. Good job here.
Shawn Powell — B+
A bad punt here or there was negated by this player's coffin-corner kick inside of the one-yard line.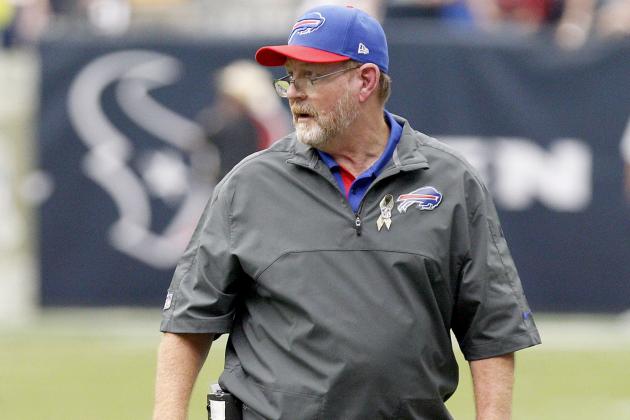 Thomas B. Shea/Getty Images

Chan Gailey — C-
Gailey's horrible play design led to no touchdowns on offense despite multiple red zone opportunities. His third down play calling was atrocious and though the announcers lauded his design in the screen game, it needs work.