Russia vs. United States: Biggest Winners and Losers from Wednesday's 2-2 Draw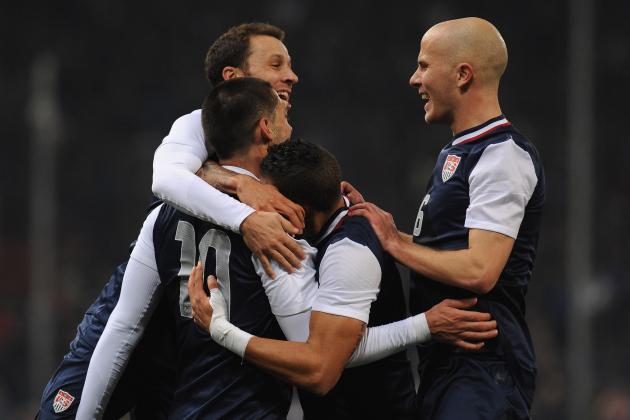 Valerio Pennicino/Getty Images

Wednesday's 2-2 draw between the United States and Russia in men's soccer went according to plan. I mean, who didn't have Mix Diskerud scoring the equalizer in stoppage time?
Okay, perhaps it wasn't the most deserving draw in international football history, but it is a result the United States will gladly take.
Jürgen Klinnsman should be pleased with earning an imaginary point on foreign soil, especially versus a quality side the likes of Russia. But win, lose or draw, the result did not matter.
As my fellow B/R columnist Joe Tansey pointed out in his article on Monday, yesterday's match was more about the development of America's next generation of talent.
With such an invaluable experience now behind them, let's take a look at the biggest winners and losers from yesterday's 2-2 draw.
Begin Slideshow

»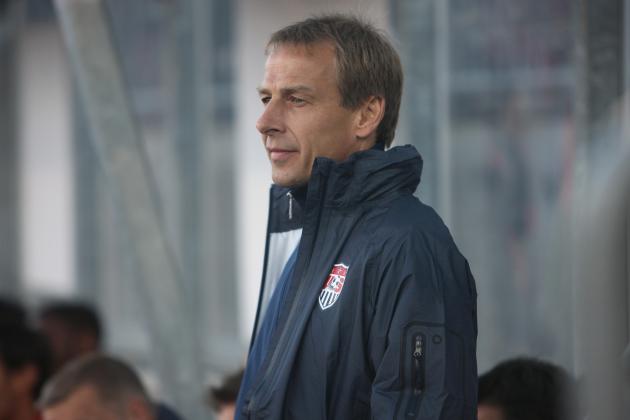 Tom Szczerbowski/Getty Images

Remember when the sky was falling after the USMNT's 2-1 World Cup Qualifying loss to Jamaica?
American soccer fans were on the verge of DEFCON 1 and even Klinnsman's job security was brought into question.
Now, just two months later, with the dust settled and a spot in the hexagonal, Klinnsman has led the United States to yet another positive result on foreign soil.
The United States' 2-2 draw yesterday capped off what should be considered a successful year for the German coach.
The USMNT finished the 2012 calendar year with a 9-2-3 record, its best since 2008. Klinnsman's 2012 resume boasts victories over Panama, Italy and Mexico—including a historic 1-0 victory in Estadio Azteca.
The United States were far from impressive in the semifinal round of the CONCACAF World Cup Qualifiers, but still managed to win the group with 13 points—just two shy of its 2008 effort.
The USMNT has been a work in progress under Klinnsman, but even with a plethora of young talent on the pitch, it continues to earn positive results against some of the world's best talent.
With the World Cup just 573 days away, isn't that what we hired him for?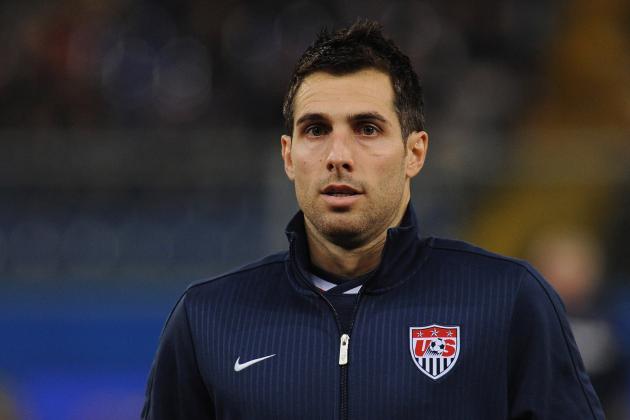 Valerio Pennicino/Getty Images

All things considered, the United States were fortunate to walk out of Kuban Stadium with a 2-2 draw.
It was a good result, but it can't mask the team's deficiencies on defense.
Carlos Bocanegra's age and condition had already come into question before yesterday's match. With the seasoned center back turning 35 before the 2014 World Cup, an heir to the defensive throne is of the utmost importance for the United States.
His substitution in the 18th minute due to an apparent hamstring injury only reinforced that sentiment.
Clarence Goodson did not see much action with the senior team in his professional career, and after his performance in yesterday's match, I am not sure if he ever will again.
Goodson's unnecessary challenge inside the box in the 84th minute drew the penalty that allowed Russia to regain its lead. With Tim Howard in position to possess the ball, Goodson showed his inexperience in the definitive moment of an international friendly.
The only thing more criminal than Goodson's performance was Danny Williams' gift in the ninth minute.
His inexplicable turnover off a free kick left the center-back pairing of Bocanegra and Geoff Cameron vulnerable to the Russian attack. Fedor Smolov would easily capitalize, giving his team an early 1-0 lead.
Fabio Capello's dynamic forwards went on to create chance after chance, especially in the second half.
If not for Howard's heroics in goal, the United States would have returned home from Krasnodar, Russia, with a far worse result.
With the hexagonal just three months away, it is apparent what Klinnsman's top priority should be.
The MLS season is almost over Mr. Klinnsman. Omar Gonzalez and Matt Besler are just a phone call away.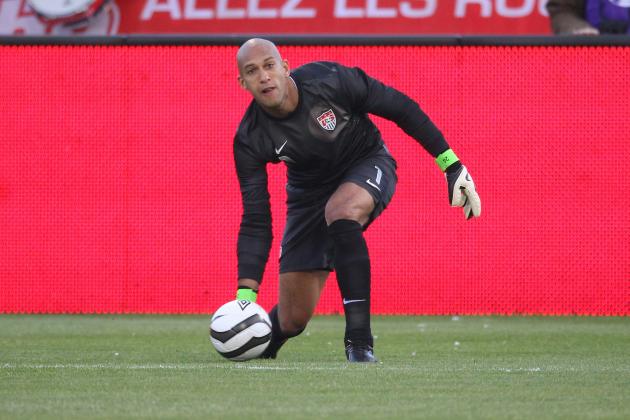 Tom Szczerbowski/Getty Images

Speaking of Tim Howard, the American captain once again showed why he is invaluable on the men's national team.
His sequence of world-class saves in the 66th and 89th minute left the match within striking distance for the United States.
In what could have easily been a 6-2 result, Howard shined brighter than the rest of his Yankee counterparts. His efforts would be rewarded, thanks in large part to the contributions of Michael Bradley.
Bradley's one-timer off an assisted Juan Agudelo volley in the 76th minute rattled off the post and found its way into the back of the net.
Had it not been for Zlatan Ibrahimovic's wonder goal in Sweden's 4-2 victory over England yesterday, Bradley's scintillating strike would have dominated the soccer headlines.
Bradley's contributions did not end there. His perfectly-floated pass into the penalty area led to Diskerud's equalizer in the third minute of stoppage time, giving the United States the result it had worked for.
Although their contributions carried the United States, Bradley and Howard's performance last night was more than just highlights.
Their poised and unflappable leadership served as the combating soul for a youthful bunch.
Bradley's under-appreciated soccer acumen will not be found in any box score, but it is that level of astuteness that has cemented his position as one of the most important players on this roster.
There is no denying he is an integral part of this team and this country's future.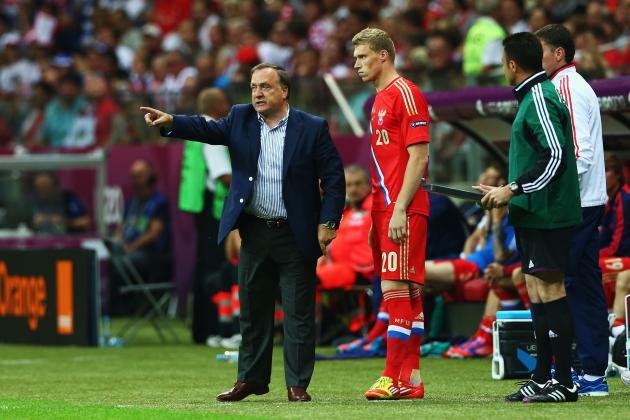 Shaun Botterill/Getty Images

I understand, it is an international friendly.
I am aware that coaches are taking every measure possible to evaluate their young talent and depth, but the excessive substitutions in the second half of these friendlies have grown tiresome.
Here are the substitutions for both teams in the final 30 minutes of the match:
USMNT: Sacha Klijestan 65', Maurice Edu 73', Mikkel Diskerud 87', Terrence Boyd 87'.
Russia: Artem Dzyuba 67', Denis Tcherychev 80'.
It is almost a counterproductive strategy. It is difficult to establish and maintain a consistent rhythm of play when there is a stoppage in play every 10 minutes.
It is even harder to evaluate talent in such an administrative environment.
It's getting to the point where the final 20 minutes of an international friendly is turning into your local AYSO match—a bunch of U-8 coaches ensuring every child plays in order to avoid the proverbial scolding from an overbearing parent. (In this case, the overbearing parent is played by the national media and fans.)
There is no real way to remedy the issue. It is impossible and unrealistic to legislate a coach's tactics, but as a favor to the fans, how about a few more substitutions at half time?
You can save a couple in case of an injury in the waning moments of a match. But in the end, I should not be that familiar with the fourth official.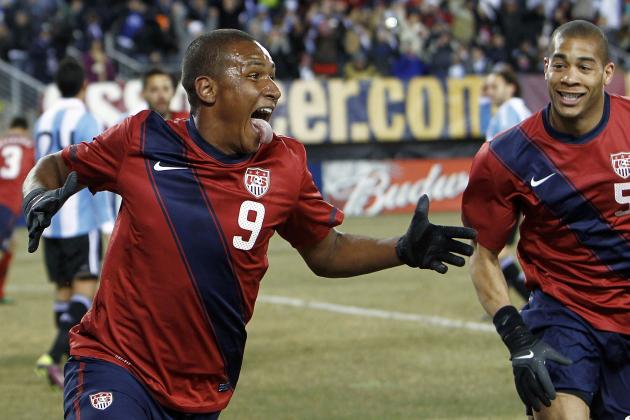 Jeff Zelevansky/Getty Images

As stated earlier in this article, the result of yesterday's match was irrelevant. The most significant objective was providing the next generation of American talent with valuable experience.
The mythical talents of 21-year-old midfielder Josh Gatt were finally on display for the average American soccer fan. (It is impossible to find a Molde match in the States.)
While he didn't leave a considerable impression—which can also be said of Timothy Chandler and Fabian Johnson—Gatt's performance showed promise.
He did just enough in his first international cap and will have the opportunity to play in the 2013 Gold Cup, which will ultimately decide his future with the team. His elite speed and athleticism would bring much-needed width to the United States' attack.
Mix Diskerud's contributions were limited (subbed on in the 87th minute), but essential to the United States' 2-2 draw.
Any time you score the equalizer in a match, you are worthy of some praise, but the sample size was simply not big enough.
Perhaps the brightest young star of yesterday's match was Juan Agudelo.
His 2012 roller-coaster year may have just ended on a high note. After being subbed on in the 63rd minute for Gatt, Agudelo's confident style of play culminated in a 76th minute volley that led to Bradley's world-class strike.
This is not the first time Agudelo has shown promise on the international stage. His goal in the USMNT's 1-1 draw with Argentina back in 2011 left many salivating at the thought of his potential.
If Agudelo can build on yesterday's performance, there is no reason to believe the 19-year-old talent cannot be a significant contributor to the national team.
These young players may not have blown anyone away yesterday, but enough promise was shown for us to be optimistic moving forward.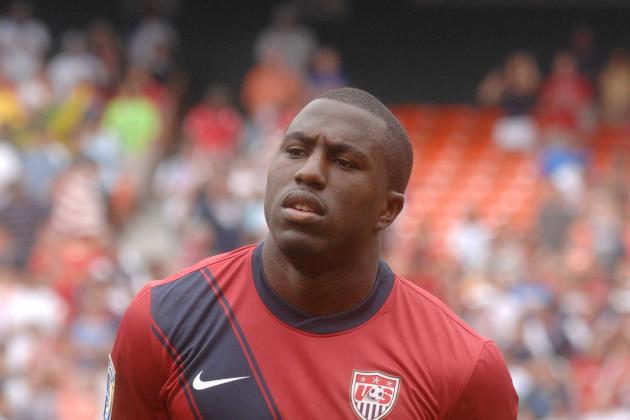 Mitchell Layton/Getty Images

It wasn't the worst performance of Jozy Altidore's international career, but it wasn't exactly the return he had hoped for.
It was foolish to expect Altidore to excel versus a Russian side that has not conceded a single goal in World Cup qualifying.
After being snubbed by the USMNT in October, many wondered if his recent form (nine goals) for Dutch club AZ Alkmaar would translate to international success.
Altidore's performance has received mixed reviews.
In his post-game comments to the media, Klinnsman shared his thoughts on Altidore's performance: "I think you saw Jozy Altidore today was a handful. He gets a big, big compliment for his performance."
But obviously Altidore was not in club form and his performance was wildly inconsistent throughout the entire match.
His inability to control a Fabian Johnson pass inside the box let a goal-scoring opportunity slip away. It was a goal-scoring opportunity that an Alkmaar Altidore surely would have buried in the back of the net.
Regardless, Klinnsman seemed to be more interested in the work ethic and attitude of the 23-year-old striker. His hustle in the 75th minute, in which he ran the length of the pitch to retrieve a lost ball, earned the United States a free kick.
It is a small victory that will not show up on the stat sheet, but it is the little things that will go a long way in reestablishing his position with the national team.
Follow Eduardo on Twitter for more insight on a variety of sports topics. Follow @Mendez_FC