West Virginia Football: 5 Keys to the Game vs. Oklahoma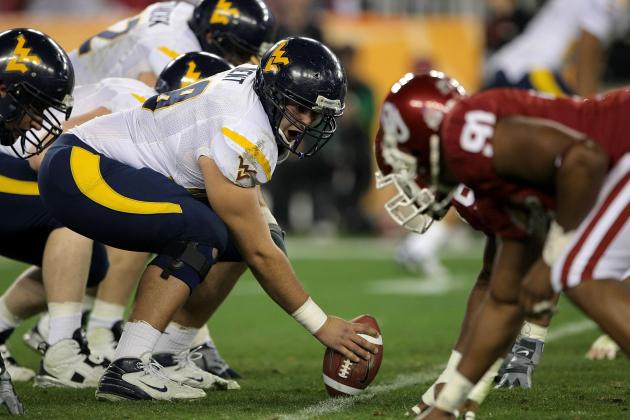 Doug Pensinger/Getty Images

Three months ago, it looked like Oklahoma's trip to Morgantown, West Virginia would play a major role in deciding the Big 12 Conference champion.
Now, that possibility is out the window for both parties involved.
Oklahoma has put together a solid season, sitting at 7-2 and No. 2 in the league standings, but is still all but out of contention for the conference crown, as Kansas State is now just one win away from clinching the title.
West Virginia, on the other hand, cruised to a Top Five ranking, only to derail completely by losing four consecutive games.
Now, at 5-4 overall, the Mountaineers are still searching for bowl eligibility.
A win over the Sooners would salvage the train wreck that has been the 2012 season so far for WVU.
Here is how West Virginia can pull off the upset on Saturday:
Begin Slideshow

»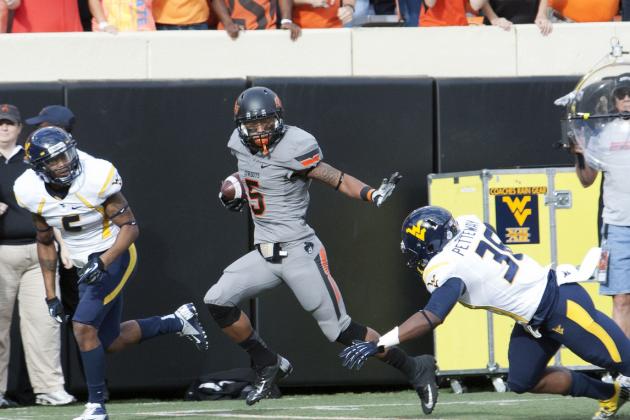 Richard Rowe-US PRESSWIRE

Just about everything that could possibly go wrong, has gone wrong for West Virginia on its four-game slide.
Offensive ineptitude, missed defensive assignments and crippling special teams blunders have all contributed to WVU losses at one point or another.
At the same time, the Mountaineers have had great offensive games, shown promise on defense at times and made game-changing special teams plays.
It just all hasn't happened at once, which is why WVU is 0-4 in the last month.
Oklahoma is a great football team, so the margin for error is minuscule this weekend. Just one fumbled punt, blown coverage or untimely stalled offensive drive could kill 60 minutes of otherwise solid effort.
If the Mountaineers can play mistake-free football for four quarters, they can pull off the upset—but that's easier said than done for this group.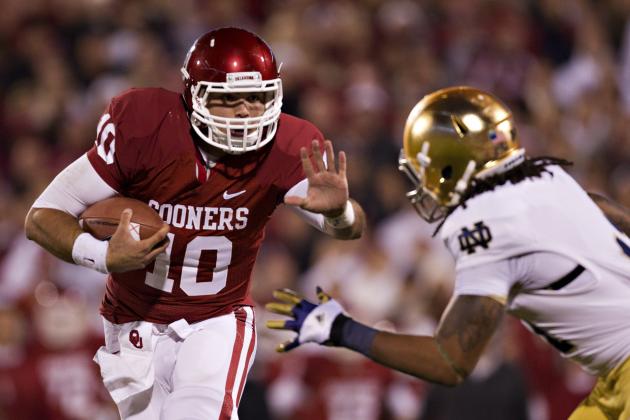 Wesley Hitt/Getty Images

In case you haven't heard, Oklahoma has a not-so-secret weapon.
Blake Bell, the "Belldozer," is a backup quarterback who has his own wildcat package.
At 6'6", 254 pounds, he is a load to bring down and could pose serious problems for the West Virginia defense.
He already has recorded 10 touchdowns this season on 46 attempts on top of 13 from last year.
The sophomore even has a long run of 55 yards on the season, showing he's more than just a goal-line threat.
Collin Klein was a similar running threat at quarterback and he too gouged West Virginia for 41 yards and four touchdowns on the ground.
The scary part?
Bell has nearly 30 pounds on Klein.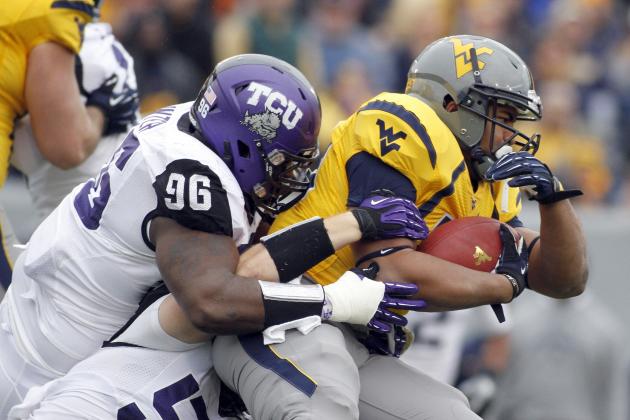 Justin K. Aller/Getty Images

Oklahoma has the No. 8 pass defense in the nation.
Needless to say, West Virginia will need to find some success on the ground.
Regardless of what the Sooners do, WVU is better when it can establish a strong ground game.
In the past two weeks, the Mountaineers averaged just 2.2 yards per rush—an issue head coach Dana Holgorsen acknowledged in his weekly press conference leading up to the matchup with Oklahoma.
"It is a huge issue, and we are going to work hard on it this week," Holgorsen said (via WVUSports.com). "We did a poor job of establishing the line of scrimmage. Look at all our third and shorts. We have no push. We had none. We were garbage on third and short, fourth and short, when we handed the ball off. That is combination of just not controlling the line of scrimmage up front and not having good enough running backs to be able to get the yards that we need."
Shawne Alston still isn't 100 percent and neither is Dustin Garrison.
Regardless, WVU will need a strong effort from both of them, as well as Andrew Buie, to beat OU.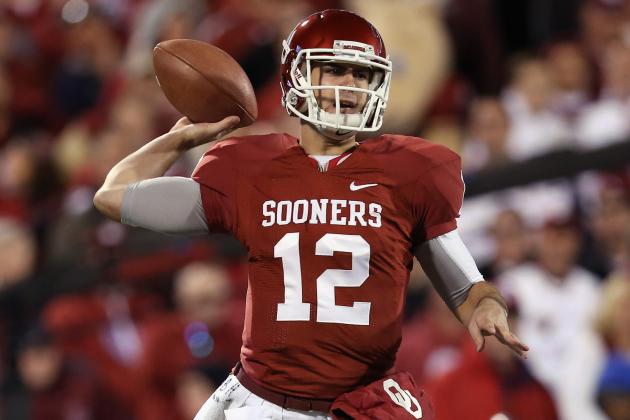 Ronald Martinez/Getty Images

There is no secret that the West Virginia defense is better when it is able to pressure the quarterback.
The WVU secondary has struggled all season long, but much of that has been due to the lack of pressure.
In each of their blowout losses to Texas Tech and Kansas State, the Mountaineers mustered just one sack.
The pressure improved in the two previous weeks—especially against TCU, which was arguably the best defensive performance of the year for WVU.
Landry Jones is one of the elite quarterbacks in college football and has averaged 300 yards per game this season.
If he is given time, he'll have no trouble carving up the West Virginia secondary, so the front seven needs to help prevent that from happening.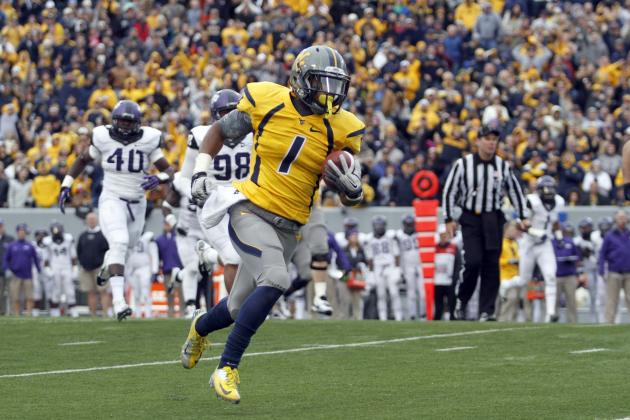 Justin K. Aller/Getty Images

Early in the season, West Virginia was converting more than 60 percent of its third downs, good enough to lead the nation.
Since September, that conversion percentage has tanked. In October, the Mountaineers converted just 40 percent of their third downs.
November has been even worse, as WVU has dropped below 30 percent on third down.
Despite going just 6-for-20 on third down last week, the Mountaineers managed to post nearly 500 yards of total offense.
They have shown that they can easily surpass that figure if they can establish their tempo—something that will be vital if the Mountaineers hope to pull off the upset of OU.