5 Players You Absolutely Do Not Want the Phillies to Sign in Free Agency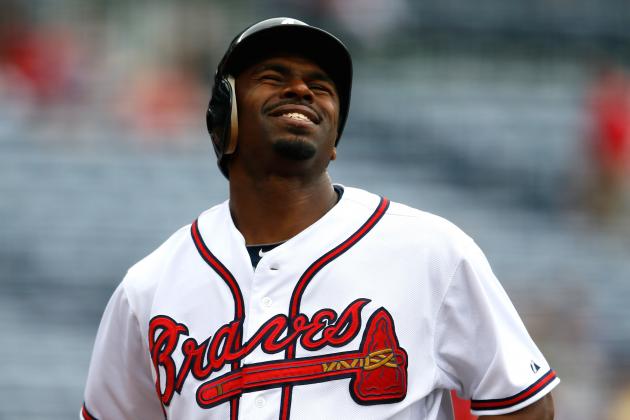 Kevin C. Cox/Getty Images

With the number of openings and the number of options that the Philadelphia Phillies have this offseason, it's not surprising that they have yet to pick up their first new acquisition.
The Phillies are not the only team that could use upgrades to their outfield and at third base, and general manager Ruben Amaro, Jr. has already said that he would rather pay a player through free agency than have to trade for a player—as can be read in an article by Jim Salisbury on CSNPhilly.com.
The Phils will likely have to scan the trade market for upgrades, but signing the right free agent or two could lay the foundation for a successful 2013 season.
At the same time, signing the wrong free agents could lead to another disappointing season for a team with one of the league's highest payrolls.
Here are five players that you absolutely DO NOT want the Phillies to sign in free agency.
Begin Slideshow

»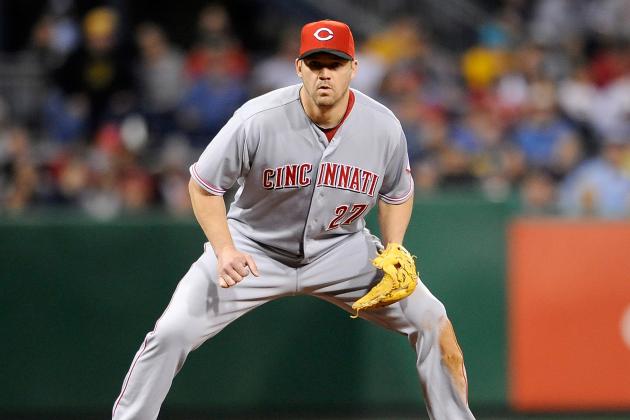 Joe Sargent/Getty Images

Yes, the Phillies could use a third baseman.
No, that player should not be Scott Rolen.
Corey Seidman on CSNPhilly.com recently wrote that this offseason's weak third base market was the only reason Rolen's name is even mentioned as an option for the Phils in the first place.
However, when Wilson Valdez receives more cheers than Rolen does when the Phillies play the Cincinnati Reds at home, the fans have spoken. Literally.
Rolen played in just 92 games this season and batted .245 with eight home runs and 39 RBI. Rolen, a career .281 hitter, batted .286 with 129 home runs from 1997-2001, five of the seven-and-a-half seasons that he spent with the Phils.
Rolen did manage to bat .285 with 20 home runs and 83 RBI for the Reds in 2010, but he will also be 38 years old near the start of next season and has batted just .244 in 157 games combined over the last two seasons.
If the Phillies decide to address third base through free agency, Kevin Youkilis is an option that makes sense. Even if he decides not to retire, Rolen and the Phils are just not a match.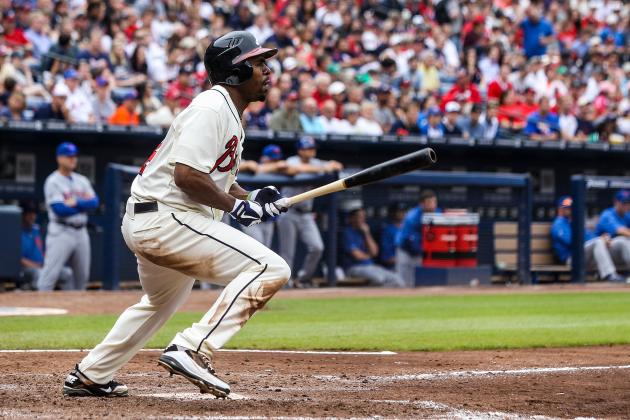 Daniel Shirey/Getty Images

Michael Bourn is a Gold Glove-caliber center fielder who would greatly improve the Phillies' defense in the outfield.
However, there are a few things that go against Bourn from the Phillies' perspective.
For one, as Jim Salisbury on CSNPhilly.com wrote earlier in the offseason, Bourn's next contract could cost nearly $100 million.
That's a lot of money for a player whose career high for home runs in a season is nine, which he achieved this season.
Bourn batted .274 with 57 RBI this season, but would also be another left-handed batter at the top of the Phils' lineup.
Bourn has received just 40 at-bats outside of the leadoff spot during the past three seasons. Current Phils' leadoff hitter, Jimmy Rollins, has not batted from the two-spot over the past three seasons, and his average dips from .256 to .238 when he moves from the leadoff spot to the three-spot during that time.
Bourn's addition would put the Phillies in a situation similar to the one they were in this season, when Juan Pierre and Rollins were in the lineup at the same time.
Buster Olney on ESPN.com (Insider Subscription required) also notes that Amaro usually moves quickly in free agency, while Scott Boras, Bourn's agent, typically waits on the market.
But the biggest knock on Bourn for the Phillies is that he recently rejected a qualifying offer from the Atlanta Braves, meaning that the Phillies would lose their first round pick in next year's draft to the Braves if they sign him.
The Phillies would potentially be paying nearly $100 million for another leadoff hitter, while sending their first round pick to a division rival in the process. That's a lot of marks against Bourn for the Phillies.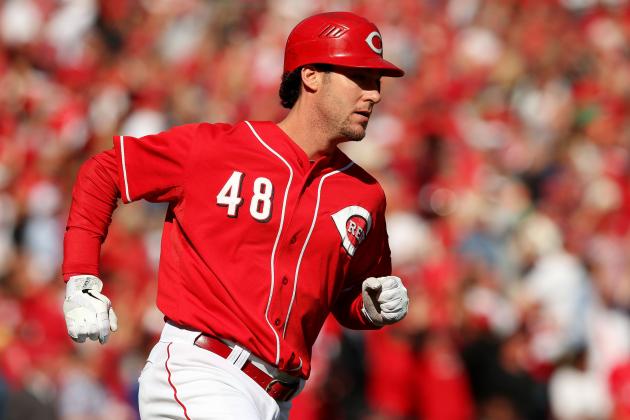 Jonathan Daniel/Getty Images

Ryan Ludwick became a free agent for the second straight offseason after he declined his portion of a $5 million option with the Cincinnati Reds.
Ludwick batted .275 with 26 home runs and 80 RBI for the Reds this season and, as a right-handed hitting corner outfielder, is the type of player that the Phillies will be looking at this offseason.
However, that's only if Ludwick can match his success from this season over the next few seasons.
Ludwick is just one season removed from batting .237 with 13 home runs and two seasons removed from batting .251.
Ludwick also played only left field this season and hasn't played right field consistently since 2010.
The Phillies would likely have to offer Ludwick, who will turn 35 years old next season, a three-year deal in order to sign him. The Phils would then have Ludwick and Darin Ruf, two right-handed batters, for left field next season, with Ludwick turning 37 during the final year of a potential deal.
Ludwick fits a need but is not the best option when it comes to finding the best value for big contracts.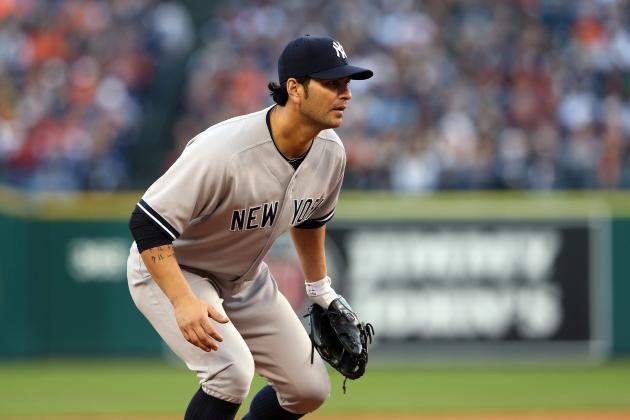 Leon Halip/Getty Images

After playing in just 122 games during the past four years combined, Eric Chavez managed to appear in 133 games for the New York Yankees this season while batting .281.
As a third baseman, Chavez may be a player that the Phillies look at this offseason.
However, he has only made eight career starts at a position other than third base. Combined with Kevin Frandsen, Chavez would give the Phillies two players limited to third base who have not played consistently at the major league level for a few seasons prior to this year.
That could be a risky option compared to pursuing Kevin Youkilis. The Phillies could also stick with Freddy Galvis at third and sign a utility infielder. Or, as Dash Treyhorn recently wrote on NBCPhiladelphia.com, the Phillies could have Chavez and Frandsen split time.
Chavez is another left-handed batter and one that batted just .152 against left-handed pitchers.
Chavez's .281 overall batting average and 16 home runs from this season would make for nice additions to the Phils' roster.
But with multiple needs and a payroll that could reach its limit quickly, signing a player who spent time on the 60-day disabled list in each season from 2007-2011 is not a good move.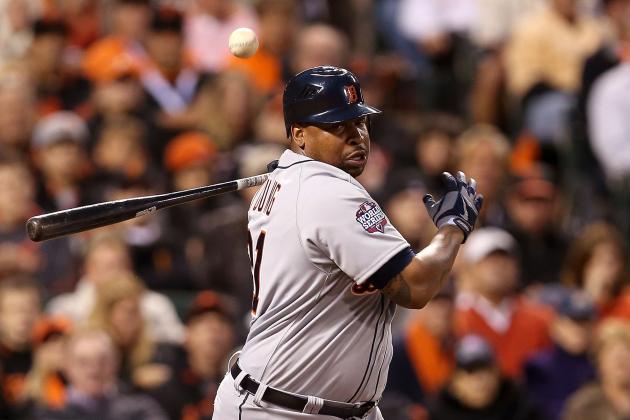 Christian Petersen/Getty Images

The 2012 ALCS MVP, Delmon Young, becomes a free agent after batting .267 during the regular season and .313 in the postseason with the Detroit Tigers.
However, in 151 games this season, Young started just 29 times in left field, with the majority of his playing time coming at DH.
Young, a right-hander, batted .267 with 18 home runs and 74 RBI, including a .308 average against left-handed pitching.
Young's bat could slot him nicely into the fifth spot in the Phils' lineup, but he could also turn out to be someone who would prefer signing with an American League team to continue being a DH.
Young would give the Phillies another situation in which, including Ruf, they have two right-handed hitting left fielders.
The Phillies' current group of outfielders isn't enough to take into next season. If the team breaks the bank on a center fielder, signing a platoon option for a corner outfield spot makes financial sense. However, they must sign someone capable of playing regularly and, hopefully, playing well enough to become an everyday starter.
Young's status in left field is uncertain, and the Phillies need to minimize as much risk as possible this offseason in order to get back into the playoff chase.