2014 FIFA World Cup: How Will Spain's Defense Look in Brazil?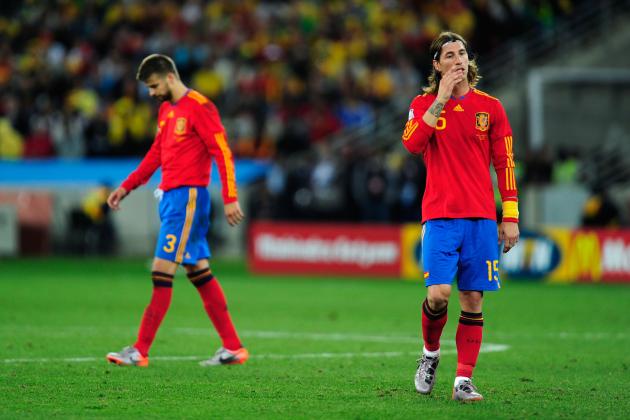 Jamie McDonald/Getty Images

Spain will undoubtedly head into Brazil as one of the favorites to win the World Cup and retain their title.
The midfield will still be the best in football and the attack will be world-class, even if the choice at striker is currently uncertain.
However, there are more questions for Vicente del Bosque to answer about who will start on defense.
The only near-certain starters are in central defense, and even in that department there are some concerns about depth.
Now that Spain have finished 2012 unbeaten after man-handling Panama, let's take a look at how La Roja's back line will look at the 2014 World Cup in Brazil.
Begin Slideshow

»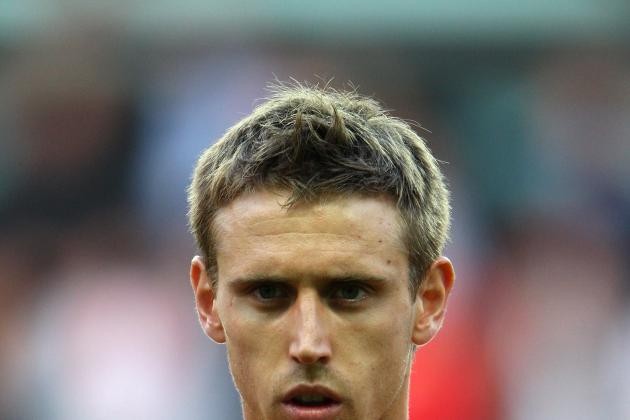 Phil Cole/Getty Images

Right now Jordi Alba is the clear favorite to start at left-back under Vicente del Bosque.
If the starting role was based on form from the last season-and-a-half, however, the Barcelona full-back would be on the bench for his national team.
The best Spanish left-back from last season and, so far, this season is Malaga's Nacho Monreal.
Jordi Alba is one of the best attacking full-backs in the game and has shown the potential to perhaps become the best at the position one day.
But since the start of last season, Monreal has been a more complete and, quite frankly, better player.
The case for Monreal
The Malaga star is the more reliable player defensively. Last season Alba was consistently suspect at the back for Valencia, and not much has improved since returning to Barcelona.
Monreal gets dispossessed less, he is more calm under pressure, he gets caught out of position far less, he is the better tackler, is better in one-on-one situations and is more useful defending set pieces.
Alba is known for his attacking qualities, but even in that aspect he is not much better than Monreal.
The former La Masia product is not a much better passer at all, he loses the ball more, he is no more successful dribbling past opponents and he takes fewer shots per game.
Why Alba will start anyway
Regardless of the fact that Monreal is the better player, chances are that Alba will continue to start for two big reasons.
First, his performance at the Euros this past summer was just incredible. Looking at the entire tournament, he was Spain's best and most consistent defender and played the best football of his career.
Second—and probably most important—he plays for Barcelona. Some Cules may deny this, but simply wearing Blaugrana has a huge influence on Del Bosque's squad selection.
Monreal is the better player, but Alba has the better pedigree and will likely have slightly better numbers because of who he plays for.
Spain will not suffer with Alba
In the end, while Monreal certainly deserves a chance to play and is the better full-back, Alba is not a great step down and has proven capable of playing at a top level for La Roja.
Also, with the way Spain currently struggle to find goals and break down opponents at times, having Alba's pace and aggressiveness going forward adds a lot to the team.
Monreal also adds a lot in attack and usually with far inferior support than what Alba has at Barcelona, but he may not have a chance to prove his quality before 2014.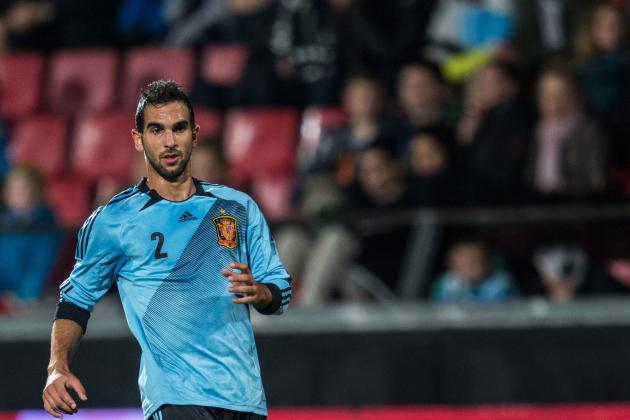 EuroFootball/Getty Images

While the options at left-back are really limited to two people, the choice for the opposite flank is less clear.
The perpetually under-appreciated Alvaro Arbeloa remains Vicente del Bosque's first choice, but the Real Madrid man will be 31 years old at the next World Cup and might not be good enough to start.
Arbeloa has never been world-class—at least not for Madrid—but is consistently reliable and above average.
By 2014, he is unlikely to still be starting for Los Merengues, which could greatly affect his chances of playing in Brazil.
If he does not get the call, there are three players who have a strong chance of being selected for La Roja.
Alternatives to Arbeloa
No disrespect intended for Andoni Iraola, but his injury that kept him out of the Euros this past summer may have been his last great chance at a major tournament.
The three players more likely to battle for Del Bosque's attention are Atletico Madrid's Juanfran, Barcelona's Martin Montoya and Chelsea's Cesar Azpilicueta.
Right now Juanfran is not only the best of the lot, he is also the preferred choice and will likely be in his prime in 2014 as he will only be 29.
The former winger made the mistake that cost Spain three points against France in their last World Cup Qualifier, but he remains one of the best full-backs in the country.
Who is the right-back of the future?
After the next World Cup, it is clear that the Montoya and Azpilicueta will be battling for the starting role. Both play for elite European clubs and should continue to develop.
They have a very strong chance of displacing Juanfran and Arbeloa—even by 2014. In Brazil, both players will be under 26 and should be starting for their clubs.
Montoya currently looks the slightly better player and has shown more potential as well as better fitness.
More importantly, though, he plays for the bigger team and plays in La Liga. He is also the one currently getting called by Del Bosque.
If neither player has made significantly greater strides than the other, Montoya would likely be the favorites based on these factors.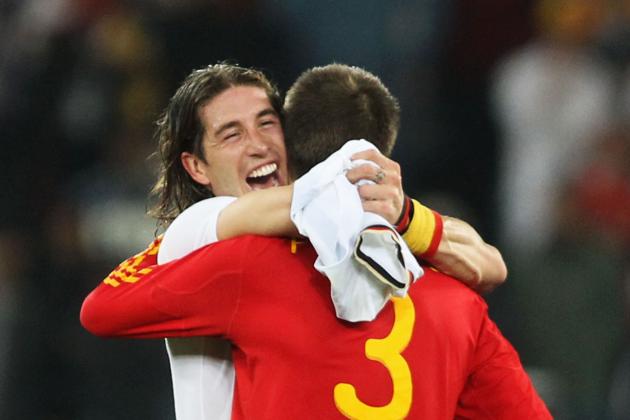 Joern Pollex/Getty Images

As much as fans of the Spanish national team have long wanted to avoid this, Carles Puyol is no longer a deserving starter for La Roja.
The Catalan legend will one day retire as the greatest defender to ever play for Barcelona and Spain, and that moment will likely come before 2014.
While Puyol's leadership and presence will not be easily replaced, there is already a partnership being built that will breed confidence for fans of the Spanish national team.
Puyol's replacement already decided
Just as the case was in the Euros, Gerard Pique and Sergio Ramos are likely to start in central defense during the next World Cup.
The pairing showed some clear growing pains this past summer, but started developing better communication and understanding as the tournament wore on.
Both players are world-class and would start for almost every national team in the world. When fit, these two are the clear starters for La Furia Roja.
Ramos will be one year older in 2014 but will still only be 28, so Spain should have one of the strongest central defenses at the event.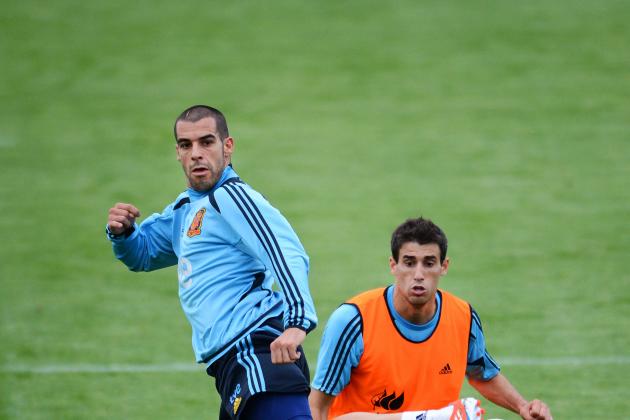 Jasper Juinen/Getty Images

While Del Bosque will have no problem choosing his starters, he will have to work a bit harder to find solid substitutes to take to Brazil.
At the moment, there aren't any other world-class Spanish center-backs aside from Pique and Ramos—and, of course, Carles Puyol, who will almost certainly not play in 2014.
Not only that, but there aren't many players with quality experience at the national level either.
Raul Albiol is 27 years old and has nearly 40 caps, but he has never started in a major tournament and is as inconsistent as anyone else on the squad.
Youth options
While Albiol could still be a manager favorite in 2014, chances are he will have been replaced by younger options by then.
Javi Martinez just moved to one of Europe's greatest clubs—Bayern Munich—which will probably keep him on the squad in the next World Cup. His versatility makes him even more indispensable.
There will likely be at least one other player selected for the World Cup, though.
While there are countless players currently going through the youth ranks for Spain, there are three players currently on the fast track—Inigo Martinez, Alvaro Dominguez and Marc Bartra.
The favorite
Dominguez was viewed as a favorite to make the senior squad two years ago, but an inconsistent campaign last year and a move to a lesser club in a non-Spanish league have really hurt him.
Inigo Martinez is probably the best of the three, but he has been pretty disappointing at the youth levels to this point and has had problems with discipline in the past.
Of these three, Marc Bartra currently looks the most likely to get the call in 2014. He is really the lesser player of all three players, but his potential looks as high as the other two.
Also, as is the case with the full-back positions, being a Barcelona player can only help his chances.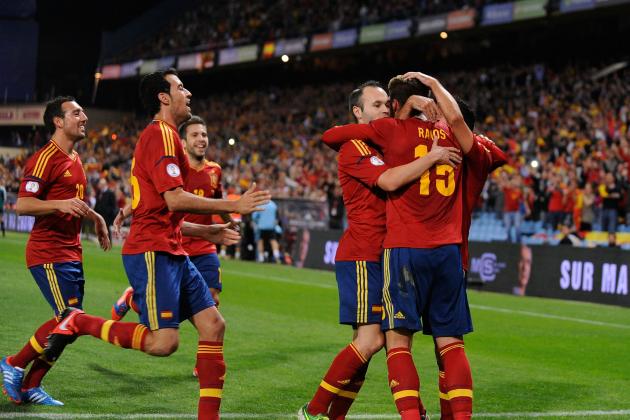 Denis Doyle/Getty Images

While deciding which players to take to Brazil will be hard, once Del Bosque does choose his squad, he will have a lot of tactical options to consider, regardless of who is selected.
At full-back, the two current favorites—Alba and Juanfran—are less defensively sound, but provide the most in attack, which is a big factor for the current team.
In central defense, one or two center-backs may benefit from the Spanish coach's desire to finally implement his alternate defense.
Del Bosque finally gets his chance
Before Carles Puyol was lost to injury, it was widely known that Spain would unveil a three-man defense at some point at the 2012 Euros.
Unfortunately, the loss of their captain prevented this from happening, but he could have more suitable personnel in Brazil.
There is a strong chance that Del Bosque could finally use his three-man set with another true—or at least converted—center-back playing on the left side of Pique in the middle.
Who would the third man be?
Raul Albiol would really be the best fit here since he has some experience as a left-back, but his chances of going to Brazil largely depend on his first-team opportunities at the club level and those aren't great.
The other options are most likely to be Javi Martinez and Marc Bartra. Martinez is the better defender right now, but is still pretty unreliable is far better as an enforcer in midfield.
Bartra is still very rough, but could be starting for Barcelona by then and definitely has shown potential to at least reach Martinez's level in a few years.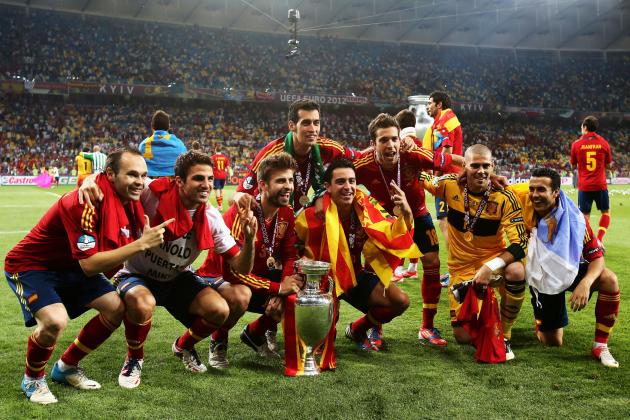 Alex Grimm/Getty Images

Now that you have seen the different choices at each defensive position, as well as some potential tactical options, why not let us know who you think Vicente del Bosque will take to Brazil in 2014?
It will be interesting to see not only which center-backs get called up, but also whether or not Del Bosque uses three at the back.
Who do you think will start for Spain and who do you see being selected for defensive depth as La Furia Roja try to retain their world title?
Thank you for reading. Please feel free to leave your comments below.