Georges St-Pierre vs. Carlos Condit: Preview, Odds and Predictions for UFC 154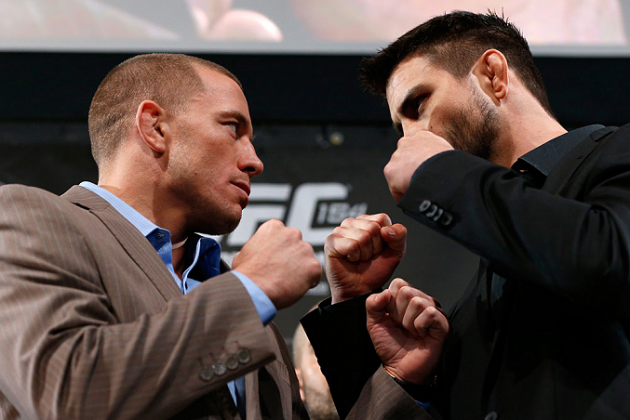 Photo by Josh Hedges/Zuffa LLC/Zuffa LLC via Getty Images
Georges St-Pierre makes his return to the UFC Octagon after a long layoff that saw a dramatic shift in the welterweight landscape.
Carlos Condit, who will stand opposite GSP on Saturday, defeated Nick Diaz to become the Interim Welterweight Champion, Johny Hendricks shocked the world with a blistering first round KO of Jon Fitch and Martin Kampmann found ways to win against the Thiago Alves and Jake Ellenberger to rise in the ranks.
The contenders may be a bit different since the last time GSP set foot in the Octagon, but he still stands atop the division. For now.
The Montreal card will get a good dose of Canadian fighters throughout the night, and will see plenty of the smaller guys who kick off the Facebook prelims.
It should be another stellar UFC production with 13 bouts lined up to please the audience.
Start the slideshow for the previews, odds and predictions for each fight on the UFC 154 card.
Begin Slideshow

»
Ron Chenoy-US PRESSWIRE

Darren Elkins (14-2) and Steven Siler (21-9) open up UFC 154 in a featherweight bout. Both competitors are riding three-fight win streaks into this fight, and Elkins is undefeated at featherweight in the UFC.
The winner of this fight will assert himself in to the rankings discussion as one of the best featherweights right now.
Siler's 3-0 UFC record consists of Josh Clopton, Cole Miller and Joey Gambino. Elkins' list of victims is slightly more impressive with Michihiro Omigawa, Zhang Tiequan and Diego Brandao.
Betting Odds: Darren Elkins (-125) against Siler (-105) at http://www.sportsbook.ag/
Prediction: Siler is a skilled submission artist with 13 stoppages by way of tap, but Elkins is a beast from top position.
Expect Elkins to use his wrestling well and smother Siler for 15 minutes. He will be able to win with minimal ground and pound while avoiding Siler's submission attempts and move to 4-0 at 145 pounds.
Elkins defeats Siler by unanimous decision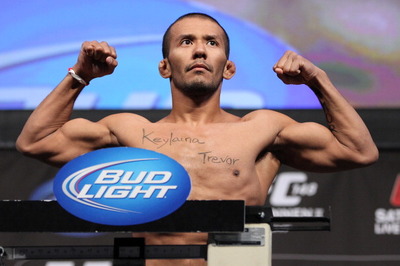 Photo by Josh Hedges/Zuffa LLC/Zuffa LLC via Getty Images
Azamat Gashimov (7-1) will make his UFC debut against a true veteran of the sport in Ivan Menjivar (24-9). It will be a tall task for the newcomer.
The untested Russian will be thrown to the wolves immediately. This will mark his first fight outside of his homeland in his MMA career.
Menjivar returns to the Octagon for the first time since his loss to Mike Easton at UFC 148.
The fight failed to deliver a treasure trove of excitement, and missed opportunities led to a unanimous-decision loss. That is a mistake he will look to rectify in his fifth time in the Octagon.
Betting Odds: Menjivar (-370) against Gashimov (+280) at http://www.sportsbook.ag/
Prediction: Gashimov is an unknown factor to most, and that can be very dangerous. That could make Menjivar play it safe early on while he figures out the UFC rookie.
This is a big fight for Gashimov. His first UFC bout, first time fighting outside of Russia and fighting a spectacular opponent. It will all signal too much for him, but Menjivar will not stop him.
Menjivar defeats Gashimov by unanimous decision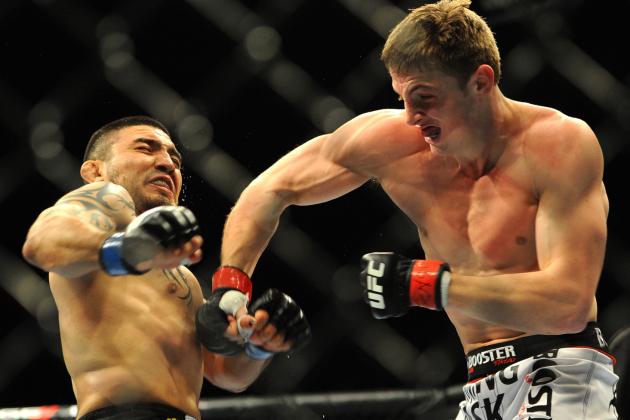 Kelvin Kuo-US PRESSWIRE

John Maguire (18-4) had his seven-fight win streak snapped in September at the hand of John Hathaway, but will try to get back to his winning ways over the young TUF alum Matthew Riddle (6-3, 1 NC).
Riddle could have been on a two-fight win streak, but a positive test at UFC 149 for marijuana had that overturned to a no contest.
Riddle stepped in for an injured Stephen Thompson on short notice, and just days later Maguire replaced Besam Yousef. Two fighters battling on short notice could produce an all-out brawl or showcase two out-of-shape fighters.
Betting Odds: Riddle (-220) against Maguire (+170) at http://www.sportsbook.ag/
Prediction: The fact both men are coming in on short notice will play a major factor in this fight. It very well could come down to who is in better shape.
Maguire offers good value at +170 based on recent performances. He has looked more impressive than Riddle.
I believe that trend continues. Maguire will survive an overaggressive Riddle early on and dominate him in the latter two rounds. With conditioning being a question, I won't call for a stoppage, but a clear 29-28 victory on the cards.
Maguire defeats Riddle by unanimous decision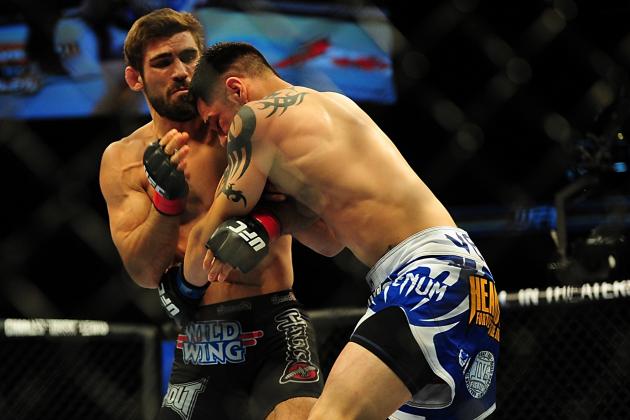 Anne-Marie Sorvin-US PRESSWIRE

Antonio Carvalho (14-5) graces the cage again following his spectacular 1:11 KO over Daniel Pineda at UFC 149. This time he will meet Rodrigo Damm (10-5), who is coming off a submission victory over Anistavio Medeiros at UFC 147.
Each featherweight will try to start a winning streak that they hope puts them on the right path up the rankings.
While the fight may not have an immediate impact on the featherweight scene, this fight could turn out to be one of the most fun of the night.
Betting Odds: Carvalho (-250) against Damm (+190) at http://www.sportsbook.ag/
Prediction: This should be one fine firefight.
Either man could finish the other, but I am not seeing that occurring in this scrap. It will be mostly contested on the feet, where Carvalho will out-point Damm. Should Damm try to get the fight to the ground, he will be stuffed.
Carvalho defeats Damm by unanimous decision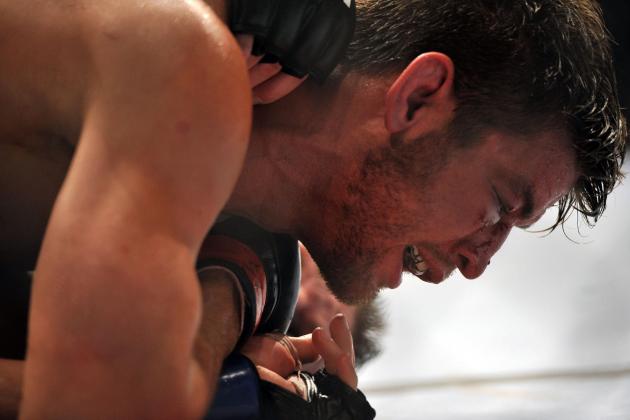 Joe Camporeale-US PRESSWIRE

The FX preliminary bouts will get underway when Sam Stout (18-7-1) meets up with John Makdessi (9-2).
Makdessi began his career with nine straight victories, but has come out on the losing end in his two most recent outings.
Stout got back on the winning track by winning the rubber match against Spencer Fisher in June.
If the UFC wants to excite people in to buying UFC 154, this is a great fight to illicit that response from the viewing audience.
Betting Odds: Stout (-300) against Makdessi (+240) at http://www.sportsbook.ag/
Prediction: This may be considered an early candidate for fight of the night. Do not expect this to hit the mat unless one fighter gets desperate.
Makdessi may get a bit of a home town advantage, but there will be plenty of Canadians supporting Stout as well.
This should be a close fight, but Stout's striking will be a bit crisper on Saturday night and earn him a narrow-decision victory.
Stout defeats Makdessi by unanimous decision
Paul Abell-US PRESSWIRE

Mark Bocek (11-4) has rebounded since his UFC 129 defeat to now-UFC Lightweight Champion Benson Henderson and will meet Rafael dos Anjos (17-6) on the FX preliminary card.
Dos Anjos is on a two-fight winning streak of his own over Anthony Njokuani and Kamal Shalorus. Bocek has defeated Nik Lentz and John Alessio. A third straight victory will put the winner back in position for a significant fight within the division.
Betting Odds: Bocek & Dos Anjos are even at -115 at http://www.sportsbook.ag/
Prediction: Dos Anjos has looked on point in his previous two victories, but come Saturday evening he will likely be under the smothering control of Bocek.
This will be another classic Bocek performance. It will not be pretty, but it will be effective.
Bocek defeats Dos Anjos by unanimous decision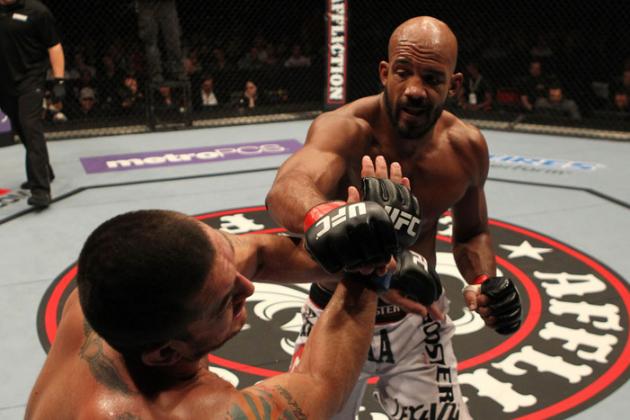 Photo by Josh Hedges/Zuffa LLC/Zuffa LLC via Getty Images
Cyrille Diabate (18-8-1) will welcome Chad Griggs (11-2) to the light heavyweight division at UFC 154.
Diabate will try to put together his first winning streak in the Octagon with a victory over Griggs. He has surprised many in his defeats of Luiz Cane, Steve Cantwell and Tom DeBlass. He will try to put together another strong performance on Saturday.
Griggs' surprising run in the heavyweight division came to a quick end when he debuted in the UFC. Travis Browne quickly took him out. Now he has shed some of the excess baggage and will start anew, but hopefully with the same mutton chops, at 205.
Betting Odds: Griggs (-125) against Diabate (-105) at http://www.sportsbook.ag/
Prediction: Griggs is a slight favorite over Diabate, but if he tests his luck on his feet for an extended period of time it will be a short night. I expect Griggs to try and get this fight to the ground early on.
That will be easier said than done, and Diabate will tee off on Griggs. Once Diabate finds his range on the feet it will be over, and he will have his first winning streak inside the Octagon.
Diabate defeats Griggs by TKO in the first round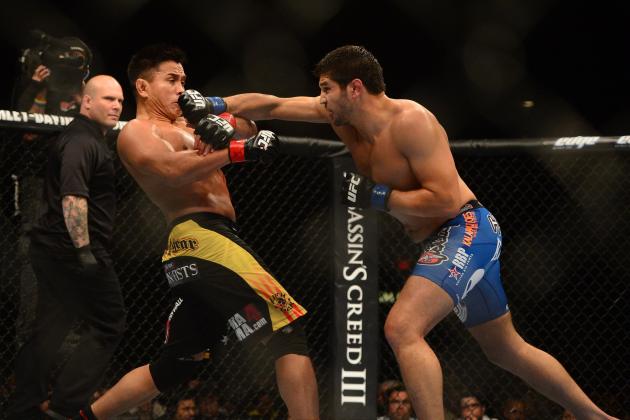 Mark J. Rebilas-US PRESSWIRE

Alessio Sakara (15-9, 1 NC) will try to avoid losing three straight when he takes on Quebec's own Patrick Cote (17-8).
Sakara was last seen unconscious after Brian Stann delivered brutal ground and pound in a KO victory. Previous to that, Sakara took the much-talked-about Chris Weidman to a decision.
Cote returned to the UFC for the first time since 2010, when he met Cung Le at UFC 148. His performance left much to be desired, and dropped the unanimous decision to Le.
This time around you can expect both punchers to look for the knockout and excite the crowd in the FX preliminary main event.
Betting Odds: Cote (-250) against Sakara (+190) at http://www.sportsbook.ag/
Prediction: These two men will stand and trade. It will result in Cote walking away with a knockout victory.
Sakara is a skilled boxer, but the difference between him and Cote is his ability to absorb a clean blow. This fight could look similar to Sakara's fight against Chris Leben at UFC 82. Cote will come forward and finish.
Cote defeats Sakara by KO in the first round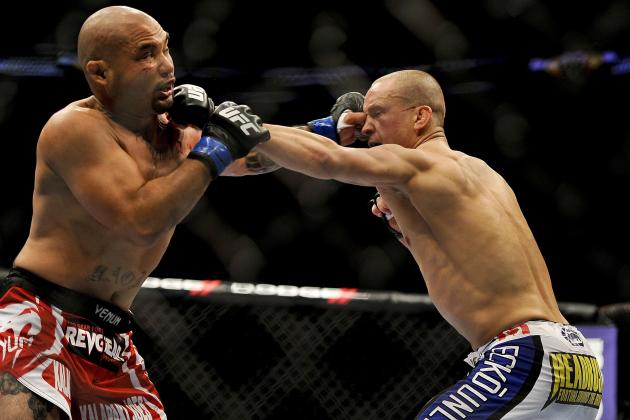 Paul Abell-US PRESSWIRE

Mark Hominick (20-11) has suffered three consecutive losses and fallen way down the featherweight rankings. Stepping in to battle the former title contender is Pablo Garza (11-3).
At the end of the WEC's run and through his first UFC fight Hominick looked excellent. He was a clear title contender and one of the world's best featherweights. The times have changed very quickly. The fight at UFC 154 will only mark his second of the year, and perhaps the time away has helped him regain his form.
Garza started his UFC career off with two wins including a knockout and submission of the night. That quickly moved him up the ranks, and he met up with one of the sport's top prospects in Dustin Poirier. A second-round submission loss was a setback for Garza, and then came a decision loss to Dennis Bermudez.
The opening fight on the PPV telecast will get one fighter back on track in the division.
Betting Odds: Hominick (-340) against Garza (+260) at http://www.sportsbook.ag/
Prediction: Garza is a live dog in this fight and could be good value considering how Hominick has performed recently. However, it is hard to believe he has fallen off that much this quickly.
The time away will give Hominick the time to revamp his game and come back strong. With Garza's length, it will take time to find his distance to be able to work his technical stand-up. Hominick may not get the stoppage, but he should come away with a much-needed win.
Hominick defeats Garza by unanimous decision
Photo by Josh Hedges/Zuffa LLC/Zuffa LLC via Getty Images
Chris Weidman gets all the accolades out of the Serra-Longo Fight Team, but there is another middleweight doing work in the division. Costa Philippou (11-2, 1 NC) is 4-1 in the Octagon with four straight wins. He will meet Canadian Nick Ring (13-1) on Saturday.
Ring started his career with 12 straight wins, but was derailed by Tim Boetsch at UFC 135. Ring responded with an excellent victory over Court McGee in July in Calgary.
These two middleweights are currently in the middle of the pack. With more contenders than ever in the division, they are still a ways away from joining the list of challengers, but a win will keep them moving in the right direction.
Betting Odds: Philippou (-250) against Ring (+190) at http://www.sportsbook.ag/
Prediction: Training with the likes of Weidman and company will help Philippou ward off Ring over the course of the fight. Ring will need to take the fight to the ground, but Philippou will be up to the task.
A decision may be the most likely outcome with someone as durable as Ring, but I believe Philippou will catch Ring with a clean shot that will allow him to follow up for the finish.
Philippou defeats Ring by TKO in the second round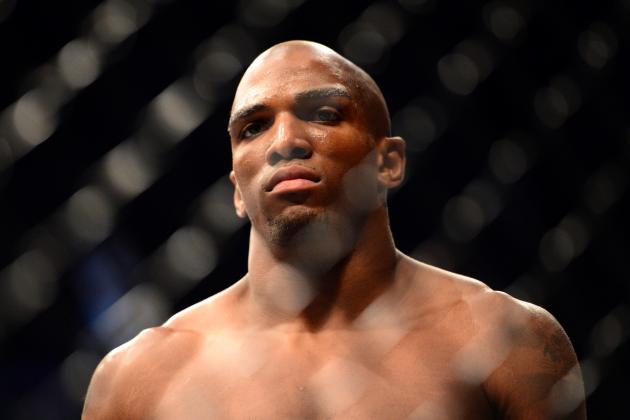 Kyle Terada-US PRESSWIRE

One of the few Tristar Gym fighters on the card is middleweight prospect Francis Carmont (19-7). He will try to extend his eight-fight win streak against Tom Lawlor (8-4, 1 NC) who is coming off a knockout-of-the-night performance against Jason MacDonald.
Facing someone as tough as Tom Lawlor will be good test for Carmont, who has finished each of his last two opponents by submission. That is an area where Lawlor has shown holes in recent fights.
A win for Carmont would make him an exciting addition to the growing list of talent at middleweight, and a win for Lawlor would derail the hype and put the charismatic middleweight back on a winning streak.
Betting Odds: Carmont (-260) against Lawlor (+200) at http://www.sportsbook.ag/
Prediction: This is a tailor-made fight for Carmont. It is an opportunity to showcase his talents and get the UFC fan base excited about his future.
Lawlor is tough, but he isn't as talented as Carmont. That will be the deciding factor in this fight.
Carmont defeats Lawlor via submission in the second round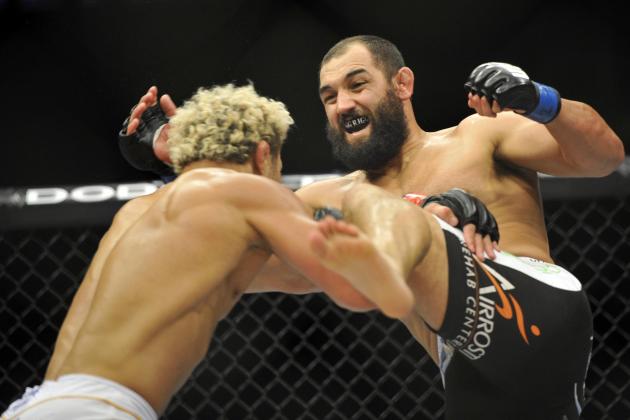 Joe Camporeale-US PRESSWIRE

In what could turn out to be a title elimination fight, Johny Hendricks (13-1) takes on Martin Kampmann (20-5) in an important welterweight clash.
Kampmann has had a remarkable 2012 with comeback wins over both Thiago Alves and Jake Ellenberger. The fights earned him submission of the night and knockout of the night respectively. The two wins extended his win streak to three.
Hendricks has put together four in a row, including two knockout of the night performances. He possesses a ton of power to go along with his top notch wrestling.
Whichever man wins this fight will have a solid case to fight whoever the champion may be after UFC 154.
Betting Odds: Hendricks (-160) against Kampmann (+130) at http://www.sportsbook.ag/
Prediction: If Hendricks is able to use his wrestling to control Kampmann, he will coast to a victory, but with a title shot not being certain, he will want to finish Kampmann emphatically.
That is where Kampmann will have the opportunity to capitalize.
The first round will have each man looking for the finish, but Kampmann is the more technical and accurate striker of the two. If he hits Hendricks a couple of times, it will send the former Oklahoma State Cowboy into wrestling mode.
Hendricks will not want to risk standing for the remainder of the fight and play it safe in the last two frames for the decision.
Hendricks defeats Kampmann by unanimous decision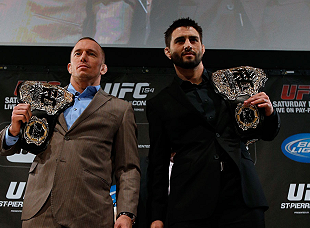 Photo by Josh Hedges/Zuffa LLC/Zuffa LLC via Getty Images
The long awaited return of GSP (22-2) takes place in his hometown of Montreal against Interim Welterweight Champion Carlos Condit (28-5).
The big question is will GSP be the same fighter he was before the knee injury? Judging by his rehabilitation and workouts, he looks to be back in peak physical shape. Yet until he steps inside for a real fight we won't know where he is mentally.
Co-main event participant Martin Kampmann has even gone on record saying he will quit against Condit.
There is no doubt that Condit has been on a tear and is at the top of his game. This will not be an easy fight for the returning GSP.
The two champions will unify the UFC Welterweight Championship, and we will find out who the best 170-pound fighter in the world is.
Betting Odds: St-Pierre (-300) against Condit (+240) at http://www.sportsbook.ag/
Prediction: If GSP has doubts about his knee or is not mentally prepared to return to the cage, then Condit will finish the champion. It is that simple. No one should sleep on The Natural Born Killer.
I think GSP is ready for this. I believe he will return even better than he left. He will finish Condit.
In recent fights, fans have criticized GSP for not finishing fights, but against Condit I think we will be witness to a vicious St-Pierre who will reclaim his top spot in the division in the first few rounds. He will wear down Condit and finish him.
St-Pierre defeats Condit by TKO in the third round