College Football Rankings 2012: 5 Predictions Heading into Week 12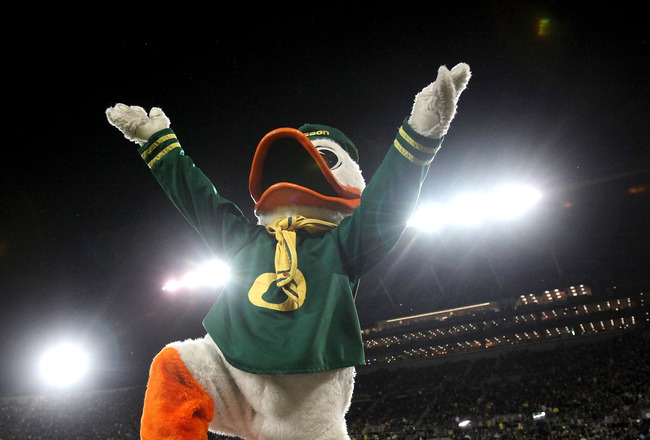 Oregon will finish the week at the top of the standings.
Jonathan Ferrey/Getty Images
Week 12 of the college football season is upon us, and we still have three undefeated teams vying for a national title berth. Maybe this will be the week that two of them distinguish themselves.
Alabama lost last weekend and has to hope for a couple of losses in the next couple of weeks if they want to get back in the discussion.
Let's take a look at who carries on, who gets upset and who makes a statement this weekend.
Kansas State and Notre Dame Remain Undefeated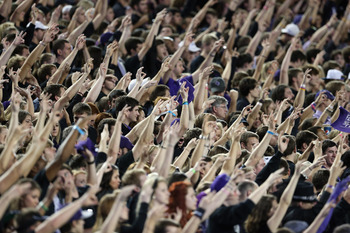 Kansas State remains undefeated despite playing Baylor on the road.
Ronald Martinez/Getty Images
Kansas State will happily dispatch Baylor on the road. Baylor put up quite a fight against the Sooners last week, as they piled up more than 250 yards on the ground, despite having one of the nations best passing attacks.
Kansas State won't fall into the Bear trap this weekend and will remain undefeated.
Notre Dame shouldn't have any problems with a 5-5 Wake Forest team, but they've come close to blowing it on more than one occasion this season already.
Their stifling defense will impose their will upon a Wake Forest team that was shutout 52-0 against Florida State earlier this year.
Notre Dame has to win big and keep Wake Forest from scoring if they want to make a statement going into their final game of the season. Otherwise, they'll just be going through the motions and end up the third or fourth best team in the nation.
Georgia Southern Upsets Georgia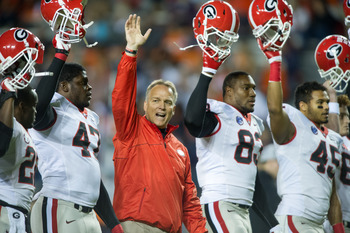 Georgia can wave goodbye to their slim title hopes.
Michael Chang/Getty Images
The Georgia Southern Eagles will fly into Athens and put out any lingering embers of national title hopes for the Georgia Bulldogs.
Bold, I know. Southern's triple-option has been nothing short of prolific this season, as it's averaging in excess of 400-yards per game on the ground.
Needless to say, it's the top rushing offense in the FCS, and currently sits in sixth on the lower division's Top-25.
An FCS team beating the Dawgs in Athens? It's not unfathomable. Southern's offense ran for more than 300 yards against Alabama's vaunted defense in Tuscaloosa last season.
Georgia's defense might be stout against the pass, but it's allowing 175 yards per game on the ground, and it's not seen an offense quite like Southern's all season.
It'll be a close one, but Georgia Southern will pull off its biggest win of the season, and then get the hell out of dodge.
Ohio State Will Spoil Montee Ball's Record-Setting Performance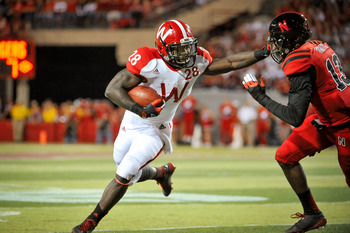 Montee Ball will be the NCAA's rushing touchdown leader after this weekend's game.
Eric Francis/Getty Images
Bragging rights is all Ohio State will get out of this, as Wisconsin will go on to the Big Ten championship game, win or lose.
Still, the Buckeyes will make a statement to the Big Ten and the entire nation that next season they better watch out.
Urban Meyer has his team playing inspired football, despite the sanctions against them. A strong finish this season will go a long way for their confidence next year.
Montee Ball is only two touchdowns away from becoming the NCAA's all-time leader, which is an astonishing feat. He will get those two touchdowns this weekend and be embraced as a conquering hero by fans and teammates alike.
It'll be bittersweet for Ball, as Ohio State will head back to Columbus 11-0.
Cincinnati Derails Rutgers Plans at Home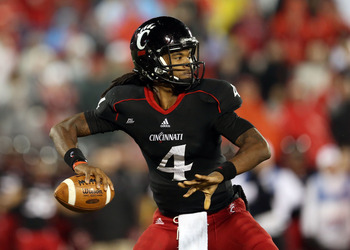 Munchie Legaux will have to be more judicious with the ball, having thrown nine interceptions on the season already.
Andy Lyons/Getty Images
The Cincinnati Bearcats will derail the Rutgers Scarlet Knights Big East plans on Saturday.
In one of the most important matches of the weekend, Cincinnati will stake it's claim to the Big East's spot in a BCS game.
Louisville at Rutgers will be the game to decide it all in a couple of weeks, but Cincinnati can throw it's name into the hat with a win on Saturday.
Cincinnati is only giving away five more points a game than Rutgers, so the defenses in a single game are a wash.
The Bearcats rushing offense is putting up 226-yards per game and will be a huge factor against Rutgers stout defense.
It'll be a close game, but the Bearcats will pull it out down the stretch and shake up the Big East picture.
Oregon Will Top Kansas State on the BCS Rankings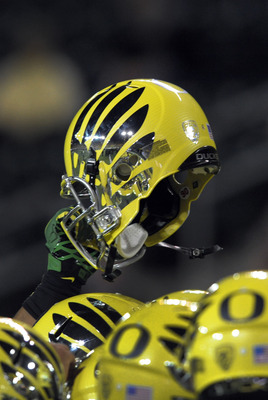 Oregon is paving their way to a second national title appearance in five years.
Steve Dykes/Getty Images
Of the three undefeated teams atop the standings, only Oregon plays a ranked opponent this week.
Stanford is ranked No. 13 in the BCS Top-25, and if the Ducks can put together a convincing performance, they could jump to the top spot in the nation.
It's no use going on about how explosive Oregon's offense is, suffice to say they'll be going against the 12th best defense in the nation this weekend.
That said, Stanford gave up 23 to Oregon State last weekend, and Oregon has scored no less than 42 points a game this season.
Oregon's speed on both sides of the ball will be too much for Stanford to handle, and the Ducks will put up a 50-burger on The Cardinal.
Keep Reading