Iowa vs. Michigan: Postgame Grades from the Wolverines Win vs. Hawkeyes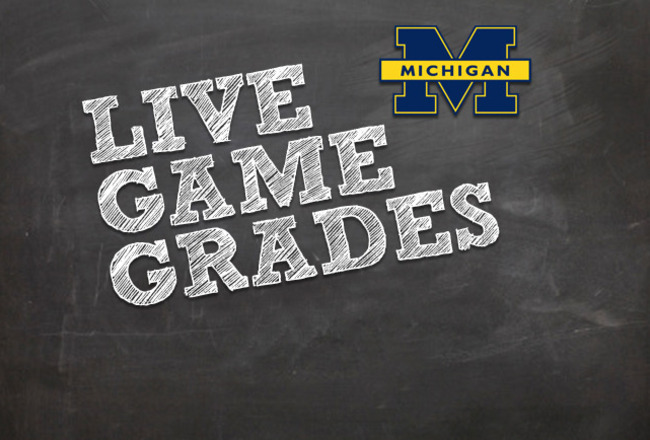 The Michigan Wolverines sent out Denard Robinson and the class of 2012 in style by beating the Iowa Hawkeyes 42-17.
After a shaky start by the defense that left the teams tied 7-7 after one quarter, the Michigan offense took over. It scored on every possession it had through the third quarter.
At this point, it is on to Ohio State and hoping that somewhere along the line the Nebraska Cornhuskers can drop a game, thereby giving the Wolverines a ticket to the Big Ten Championship game.
Quarterbacks—A-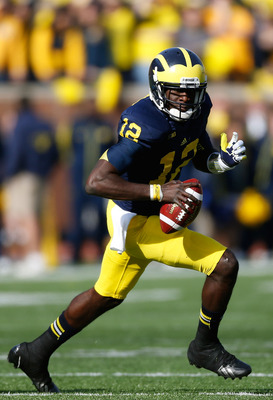 Gregory Shamus/Getty Images
Devin Gardner—A-
Gardner was impressive through the first three quarters. He was solid managing the offense, patient, accurate and physically imposing. The Iowa defensive line—which is hardly the most athletic defensive line in the world—was unable to contain him.
He did lose points for a mediocre fourth quarter, which saw him get baited by the opposing cornerback—a play that ended in an interception.
It will be interesting to see how much he progresses this off-season. Next week's game against Ohio State could feature next season's two best quarterbacks in the country.

Running Backs—B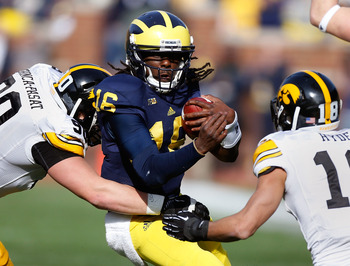 Gregory Shamus/Getty Images
Denard Robinson—A
It's hard to say whether Robinson belongs at quarterback, slot receiver or running back, but as he didn't throw a pass, he was at best a wildcat quarterback.
Either way, if somebody can get an "A" for effort, Robinson, as usual, would get an A+++. As it was, he totaled 98 yards for 7.5 yards-per-carry (YPC) along with two receptions for 24 yards.
Fitzgerald Toussaint—N/A
Toussaint went out during the first series of the game with what appears to be a broken leg. Per The Sporting News,
Fitz Toussaint said to be in good condition at hospital, ESPN reports.

— Sporting News (@sportingnews) November 17, 2012
His injury will make Robinson's health that much more of a priority.

Thomas Rawls—C
Rawls was largely ineffective, finishing the game with 2.8 YPC on eight carries. If Toussaint is unable to go next week, the Wolverines will need Rawls to step up.
Wide Receivers—A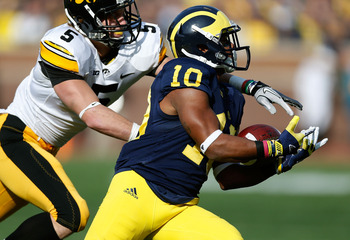 Gregory Shamus/Getty Images
Jeremy Gallon—A+
Gallon made multiple big plays and it showed up on the stat sheet. He finished the day with five catches for 133 yards, including a long of 51 yards.
Roy Roundtree—A
Roundtree was quieter than Gallon, but just as efficient, contributing multiple third-down receptions, and finishing the contest with five catches for 83 yards and one touchdown.
Drew Dileo—B
The UM slot receiver had a quiet day. He only had one reception for five yards, though he also drew a flagrant pass interference call.
Joe Reynolds—B
The junior showed up for three catches, his first three of the year. He will have a chance at earning playing time next year, so it will be interesting to see how Brady Hoke uses him next week and in the bowl game.

Tight Ends—B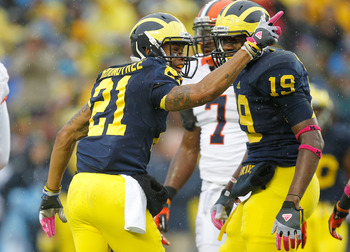 Gregory Shamus/Getty Images
Devin Funchess—B
Funchess had one reception, which went for 29 yards and a touchdown. One would like to give Funchess credit for that catch, but the Iowa coverage had broken down so badly, Funchess' mother could have taken it in for a score.
Otherwise, he was quiet throughout the day. He is a freshman and will have a notable career once Brady Hoke fully implements the pro-style offense that he desires.
Kwiatkowski, Mike—B+
The senior didn't record any statistics, but he did what he was supposed to do. He consistently got to the second level as a blocker.

Offensive Line—B-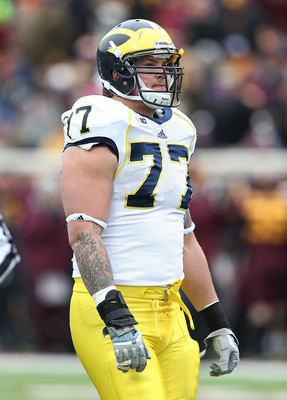 Jesse Johnson-US PRESSWIRE
Overall Offensive Line Game Grade: B-
The offensive line functions as a unit, and as a unit, the line did a passable job, though as with the defense, it's not saying much to have pushed around Iowa's front seven.
The ends—Taylor Lewan and Michael Schofield—opened things up in rushes around the ends. Not surprisingly, Denard Robinson picked up most of his 98 yards in that area.
On the other hand, the interior—Ricky Barnum, Patrick Omameh and Elliott Mealer—didn't move the pile much, and what pressure the Hawkeyes did muster came from the defensive tackles.
Considering the competition, one would have liked for the UM front five to have been able to pound Iowa by the end of the game.
Nonetheless, no sacks given up and 5.1 YPC is a respectable day at the office.
Defensive Line—B-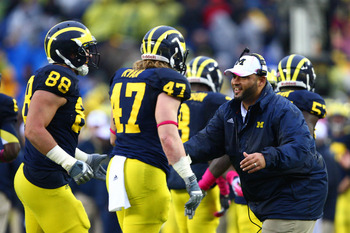 US PRESSWIRE
Craig Roh, Frank Clark and Brennen Beyer—B
The defensive ends had a solid day, but they weren't asked to do much. For the most part, the Michigan pass rush was ineffectual without the help of blitzing. However, the majority of Iowa's running yardage came between the tackles and not off the edge.
Quinton Washington, Jibreel Black, William Campbell—C+
One would have liked for the defensive tackles to have done more against an inexperienced Iowa interior that was destroyed by both Purdue and Indiana.
Most of Iowa's early rushing yards came between the tackles, as Washington and Campbell struggled to keep the linebackers clean.
They settled down later, but by that point the game was out of reach.
Linebackers—B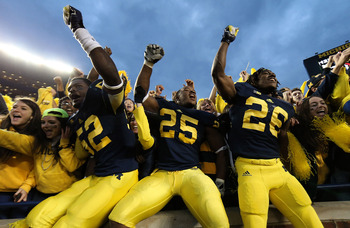 Leon Halip/Getty Images
Kenny Demens, Jake Ryan, Desmond Morgan, James Ross III—B
Demens, as usual, played the best of the bunch.
However, the linebackers allowed the Iowa tight ends to catch 14 passes on the day. They cleaned up after the catch, but early on, it didn't look good.
Also, freshman Ross III got fooled on the play action that led to the Hawkeyes' first-quarter touchdown.
Defensive Backs—B+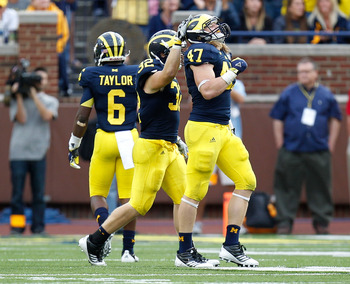 Gregory Shamus/Getty Images
Jordan Kovacs, Cam Gordon, J.T. Floyd, Raymon Taylor, Courtney Avery—B+
The secondary wasn't asked to do much against an Iowa offense that seems to disdain the downfield pass.
In the end, Michigan did allow Hawkeye quarterback James Vandenberg his best (statistical) game of the year, but that is deceptive, as Michigan started plugging in backups by the fourth quarter.
Moreover, the majority of Iowa's completed passes went to the tight ends. The Hawkeye receivers only accounted for two catches on the day.
Special Teams—B-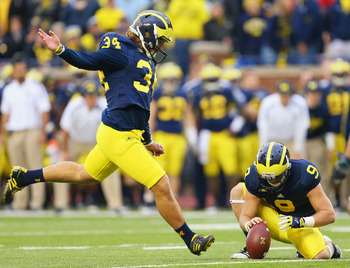 Mike Carter-US PRESSWIRE
Overall Grade—B-
The special teams didn't play a large part in this contest. That is what happens when both the offense and defense are dominant.
That said, a coach never likes to see his onside kick team fail to recover a ball. The game was out of reach by the time this happened, but it is safe to say the onside kick team will get a workout this week.
Coaching—B+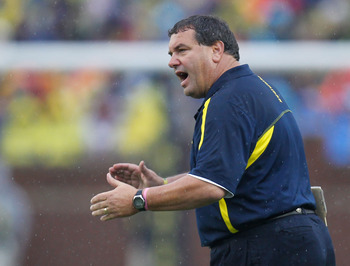 Gregory Shamus/Getty Images
Brady Hoke, offensive coordinator Al Borges and defensive coordinator Greg Mattison—B+
Al Borges called an outstanding game, consistently attacking the Iowa defense and finding creative ways to get both of his best playmakers—Robinson and Gardner—on the field at the same time.
He consistently builds his offense play-by-play and that was no more evident than in the fourth touchdown of the game. With Gardner, Robinson and Vincent Smith lined up in the backfield, he play-actioned to Robinson. With the entire Hawkeye defense going one way, Gardner threw across the field to a wide-open Smith who had three blockers in front of him.
On the other side of the ball, Mattison came out conservatively, which allowed Iowa to stay in the game. After allowing seven easy first-quarter points and watching Iowa work its way down the field in the second, Mattison finally siced the dogs. After that, the Hawkeye offense was largely ineffective.
Finally, Hoke made all the right fourth-down decisions, though it would have been advisable for him to pull Gardner and Robinson in the fourth quarter. An injury to either one of them would have been disastrous.
Keep Reading

Michigan Wolverines Football: Like this team?