Iowa Football: The Blame for the Hawks' Woes Can Only Go in One Direction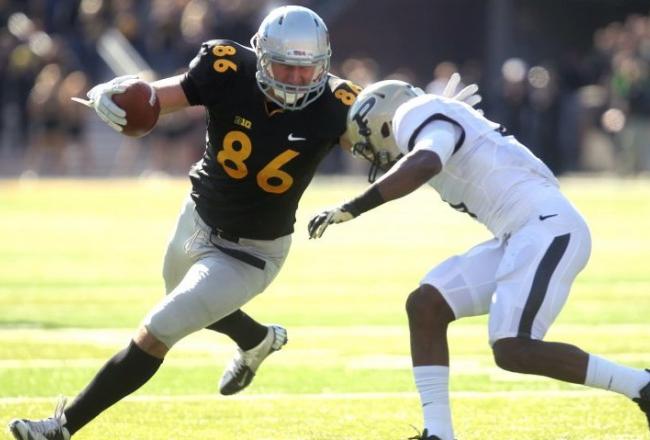 Via Benjamin Roberts of the Iowa City Press Citizen

A popular word these days around Iowa media, message boards, blogs, etc. is apologist, which, according to Merriam-Webster, is "one who speaks or writes in defense of someone or something."
As it concerns the Hawkeyes, there is a lot of blame to go around.
The Hawks' woeful 4-6 record includes a loss to MAC bottom-feeder Central Michigan, as well as no-shows against Penn State, Northwestern, Indiana and Purdue—four teams with a combined record of 21-19, with four of those 21 wins coming against Iowa. Add in a 6-9 offensive no-show against in-state rival Iowa State, as well.
Everybody is looking for somebody to blame and almost everybody is defending somebody.
The problem is the coach, the problem is the (new) coordinators, the problem is the quarterback, the problem is the injuries, the problem is the lack of execution.
Most recently, Bryce Miller of Hawkcentral.com declared that it is a "lack of playmakers, not Ferentz, causing Hawkeye woes."
Iowa's inability to recruit top-notch playmakers, especially at offensive skill positions, has been well-documented, as most recently noted by Hawkeyenation's Jon Miller.
As Miller noted, the ability of the state of Iowa to produce FBS-level players makes it unrealistic to think that the Hawkeyes can compete on the recruiting trails with schools from or close to talent-rich states such as Ohio, Florida, California and Texas.
In effect, it is realistic to argue that Iowa is unable to compete with opposing programs such as Ohio State, Florida or Texas—whether on a yearly or overall basis—due to recruiting limitations.
Thismay or may not be true, but it is a valid argument.
On the other hand, the argument that Iowa doesn't have the playmakers to compete with Central Michigan—which, according to Scout had the 75th-ranked recruiting class in the country in 2012, 76th in 2011, 100th in 2010—is ludicrous.
Moreover, the idea that playmakers are more accessible to programs like Indiana, Northwestern or Purdue is equally absurd.
Furthermore, it is true that Penn State typically has considerably more talent—and access to talent—than Iowa.
Nonetheless, this year PSU returned the fewest starters in the Big Ten before multiple players left the team due to lenient transfer rules (per CBS Sports).
Post transfers, Penn State had two official "returning starters" on offense, with another five on defense.
One would have hardly known that the Nits were talent-poor after the way they walked all over the Hawkeyes en route to a 31-0 lead entering the fourth quarter.
As for Iowa, most fans have no problem accepting the inherent challenges and thus, limitations that the Hawks face.
In fact, a small segment of the fanbase argues that it is that acceptance of Iowa's "limitations" that has held the Hawkeye program back over the years.
That being as it were, at this point, it is impossible to say if the problem lies exclusively with the coordinators, execution or the coach himself.
But the idea that the Iowa Hawkeyes don't have the firepower to do better than 4-6 against their soft schedule is laughable.
This article is
What is the duplicate article?
Why is this article offensive?
Where is this article plagiarized from?
Why is this article poorly edited?

Iowa Hawkeyes Football: Like this team?