Running Game
Mark Ingram began the day running like a man possessed. His first two runs were opened up by nice blocking (which helps) but Ingram found the hole and hit it hard.
On Chris Ivory's 56-yard touchdown run, the offensive line did a fine job taking their defenders out of the action. But the key block should have come from David Thomas on John Abraham.
Thomas actually tried to block him straight up instead of getting to the outside and working Abraham back to the middle of the line. The result was Ivory having to beat an unbalanced, but in position to make a play Abraham just to get the sideline.
From there Ivory ran away and over a number of Falcon defenders.
As much as I hate to say it, Chris Ivory is the man.
On the Saints' second full offensive drive, Ingram began with a five-yard run in between the tackles. It should be noted that the Saints have done a better job in recent weeks of opening holes in the running game just by differing their use of personnel and formation.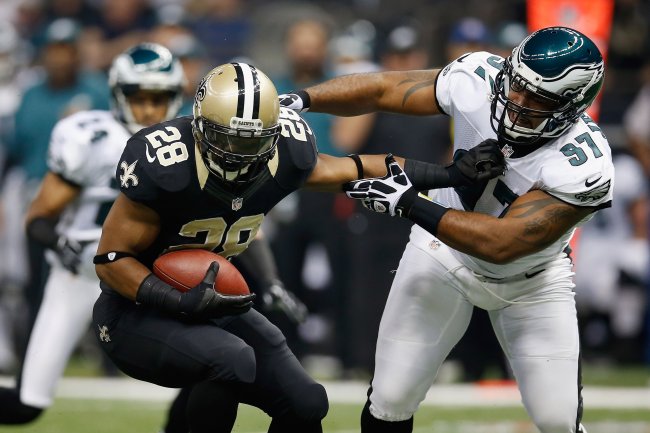 Chris Graythen/Getty Images
Early in the season, it was predictable and defenses knew what was coming and to what hole. No wonder Ingram was averaging 2.0 yards per carry then, and no wonder he's now near 5.0. Personnel and formation variation make a world of difference in the running game.
Though not technically included in rushing statistics, screens to Pierre Thomas are really an add-in to the running game. On that note, on the team's two-minute drill scoring drive to end the first half, the Saints ran a new screen play.
For years the team has had great success with outside screens. On this one, Pierre acted like he would run the normal screen then jetted inside. The result was a six-yard play. Who knows how that will set up the other screens in the future, though.
Second Half
You may appropriately ask, "Why did the running game slow down in the second half?"
The film indicates something more simple than could be expected. It's not as if Atlanta made some great adjustments. They simply played better and allowed fewer holes.
The Saints' two best runs in the second half came on carries from Mark Ingram, which sandwiched a play-action pass to Lance Moore where he made a spectacular diving catch over the middle.
On both runs, Ingram showed great burst and vision to find holes where none really existed. He actually followed those runs up with another six-yard scamper, which required power and perseverance. The series led to a Brees-to-Colston touchdown pass and gave the Saints a 28-17 lead.
Don't give a lot of credence to the fact the Saints struggled to run the ball backed up near their own end zone at the end of the game. Few teams ever are able to do that in that given situation. Sticking with the run at that point in time was the most important thing they did there.
Overall Notes
The Saints actually ran from mostly "run personnel" and "run formations" (two backs and/or two tight ends) but seemed to have widened their line splits to create more space in between the tackles.
Pass Defense
An early trend in this game was that the Falcons would line up Tony Gonzalez and Roddy White in the slot. The Saints, though playing a nickel defense, would not line a defender up on top of those guys.
Instead, the Saints chose to cover them over the top with a safety. The result was a free release and easy pickings on 10 to 12-yard routes.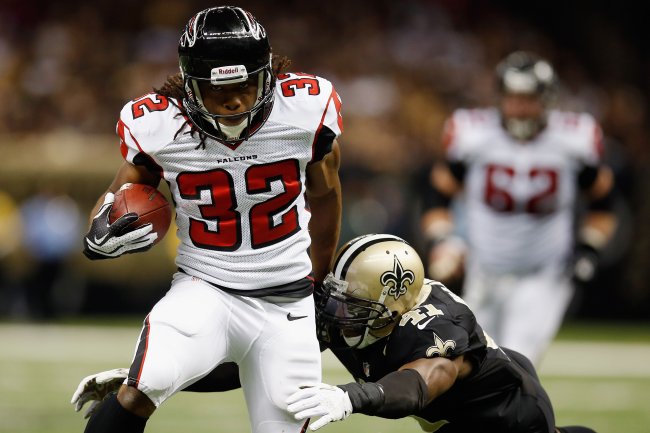 Chris Graythen/Getty Images
On Atlanta's second touchdown drive (which makes this an odd point) I was truly impressed with Roman Harper's man-to-man coverage skills. Many fans will remember his "dropped" interception, but on that play he was perfectly mirroring Roddy White down the field in man-to-man coverage.
The only reason Harper even could have picked that ball off is because he had perfect coverage on one of the league's best wideouts.
A few plays later, Harper manned up Tony Gonzalez on a goal-line fade. I've been trying harp this point for a while now (no pun intended), but No. 41 is quite an able one-on-one defender. In fact, he may be the best the Saints have right now.
I would agree with anyone who says he still has work in zone coverage. Who knew it's Harper the team may want to move to corner, not Malcolm Jenkins?
That said, even the short two-yard touchdown throw from Matt Ryan to Tony Gonzales, Jenkins had tight coverage on the future Hall of Fame tight end. Ryan threaded the needle and Gonzales made a great "hands catch".
It should be noted that on some of the shorter routes that Ryan and the Falcons tried to throw, the defensive line did a wonderful job of pushing the pocket and forcing Ryan into quick reads and inaccurate throws. Though the line did not put up astounding sack numbers, it made Ryan's life more difficult Sunday.
Second Half
Corey White started the second half matched up on Roddy White in the slot and held him down. And the way White went one-on-one on the deep pass and tracked Matt Ryan's liftoff to Mars was quite impressive.
Roman Harper was the cover guy on Gonzalez's second touchdown of the half. It was tight coverage but another instance where Gonzalez and his big body won out.
Overall
When the Saints played man coverage, especially with Roman Harper and Corey White playing guys in the slot, the defensive unit was much more successful than when in zone or matching up on the outside.
Keep these principles in mind when the teams meet again in two weeks in the Georgia Dome.