How Austin Rivers Must Improve to Live Up to New Orleans Hornets' Expectations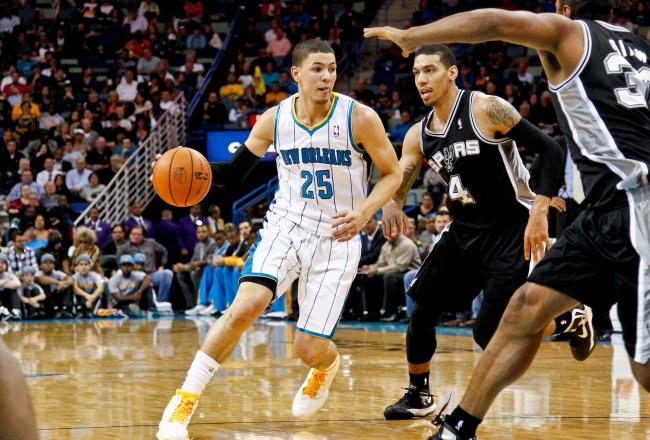 Derick E. Hingle-US PRESSWIRE
The Austin Rivers experiment hasn't lived up to the hype so far in New Orleans. As of November 14, the former Duke gunner is averaging 5.5 points a game on just under 22 percent shooting from the field. That isn't quite the production the Hornets were hoping for when they tabbed Rivers with the No. 10 overall pick.
With shooting guard Eric Gordon out with a knee injury, Rivers has been tasked with filling in for the franchise's best player. The problem is that the rookie has had trouble finding the shooting touch that was so prevalent during his lone season with the Blue Devils. Rivers has been particularly dreadful from behind the arc, where he's yet to hit a three-pointer this regular season after nailing 58-of-159 (36.5 percent) in college.
Simply put, Rivers needs to step it up and fast. The Hornets don't have many established scorers, especially in the backcourt with Gordon on the sidelines. Rivers may have initially been drafted with the idea that he'll be the team's future point guard, but his scoring punch was also supposed to be crucial to this team's development.
There's still time for Rivers to turn things around in his debut season, but there are a number of things he needs to work on for him to avoid the dreaded "bust" label.
The biggest improvement needs to come in Rivers' shooting. It's becoming evident that he can't stroke the deep ball in the NBA with the same consistency as he did in college. Rather than force shots, he should stick to attacking the basket and settling for easier shots until he gets himself into a rhythm.
In this highlight reel from New Orleans' win over Chicago, Rivers does just that. Watch how Rivers creates off the dribble and aggressively drives to the hoop against one of the better defensive teams in the NBA. He doesn't force any shots. Instead, he waits for an opening and uses his quick first step to make a move to the basket. When he does settle for shots, he creates enough space on his jumper so the shots aren't contested.
That wasn't always the case in the Bulls game, though. Rivers shot 4-of-12 and finished with just nine points. Still, there were positives to take away from Rivers' offensive performance, and the Chicago game was Rivers' best one of the season so far.
The benefits of relying on attacking the basket are also obvious in this highlight mix from Rivers' college days. The Hornets have a number of shooters—from Roger Mason to Ryan Anderson, to Greivis Vasquez, to new acquisition Matt Carroll. There aren't many guys on the roster with the toughness and athleticism to be a factor attacking the rim. Small forward Al-Farouq Aminu is pretty much the best option in that regard until Gordon comes back.
That's where Rivers' focus should lie. The Hornets should find ways to get Rivers the ball along the perimeter and then have him aggressively attack the basket. This strategy doesn't just help Rivers improve his shoddy shooting percentages, but it could also force opposing teams into foul trouble by constantly drawing contact.
There's another positive to being more of a slasher than a spot shooter. In this video of Rivers' performance against Ohio State, you will see that Rivers does an excellent job of facilitating when he's able to make the quick pass after drawing the defense away from his teammates.
The Hornets need Rivers to fill the scoring void right now. However, when Gordon comes back, he can take over the scoring duties and Rivers can focus on getting his teammates involved. That role is currently being executed superbly by Greivis Vasquez. The highlight mix from before as well as this Ohio State tape show Rivers can be an adequate passer, which will help him exponentially in his transition to point guard.
Will Austin Rivers Pan Out for the New Orleans Hornets?
It's unclear what the reason is behind Rivers' slow start. Is he putting too much pressure on himself to carry the scoring burden with Gordon out? Is it the ankle injury that plagued him during the Summer League and preseason? Or does Rivers simply not have what it takes to be a viable piece in the Hornets' rebuilding efforts?
It's too early to close the book on Rivers just yet. As it stands, you can't get much worse than how Rivers has played through the first few games of the season. Whatever the team is attempting to do with their other promising rookie, it isn't working. It's time for a change in philosophy.
By committing himself to being more aggressive attacking the basket and not settling for jumpers, Rivers can build more confidence as a scorer as well as force teams into foul trouble. Rivers is also a better passer when he's able to penetrate, so drawing plays where he can take defenders off the dribble works to the advantage of the entire team.
The Hornets have managed to go 3-2 so far with Gordon out and Rivers struggling, but the former Blue Devil needs to seriously improve as the season progresses if he's going to live up to the team's expectations.
This article is
What is the duplicate article?
Why is this article offensive?
Where is this article plagiarized from?
Why is this article poorly edited?

New Orleans Pelicans: Like this team?