3 Reasons the St. Louis Cardinals Should Sign Adam Wainwright Long Term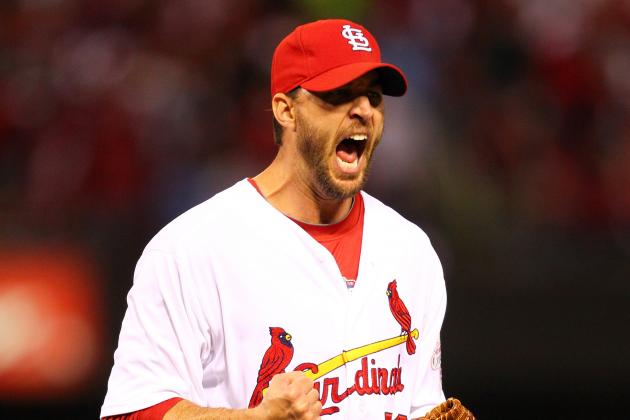 Dilip Vishwanat/Getty Images

The 2012 campaign for Cardinals ace Adam Wainwright had more twists and turns than the famous Lombard Street. One minute he was looking like the ace of 2009-2010 as he showed in August. The next he was struggling to get to the sixth inning and giving up home runs in droves.
Wainwright dominated August with a 5-1 record and a 2.75 ERA and helped the Cardinals get their stretch run toward the postseason started. You never would have known that his April was downright putrid when he went 0-3 in four starts and gave up five home runs in 19.1 innings.
But one thing the Cardinals and their fans know for sure about Wainwright (besides his practical joker side) is that he is ready to get after it in 2013. He's a guy who has a tremendous amount of confidence and knows he is the ace of a pretty solid Cardinals staff.
Wainwright himself sees himself a Redbirds uniform in his future for a long time to come. Since he is under contract for 2013, the Cardinals should lock him up long term before he goes out and wins 20-plus games and his value skyrockets. Here are three reasons why the Cardinals should lock up Wainwright on a long-term deal.
Begin Slideshow

»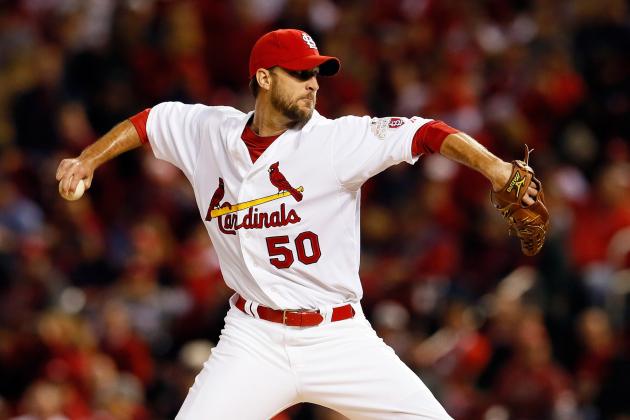 Kevin C. Cox/Getty Images

Wainwright has shed the baby-faced look of 2006 when he came up and became the Cardinals closer during the end of 2006 and into the postseason. He is now a full-on thoroughbred, averaging 221 innings, 53 wins and 209 strikeouts in his last three full seasons.
It's got to be a nice luxury for skipper Mike Matheny to hand Waino the ball and know he isn't going to have to talk with him again until sometime in the sixth or seventh inning.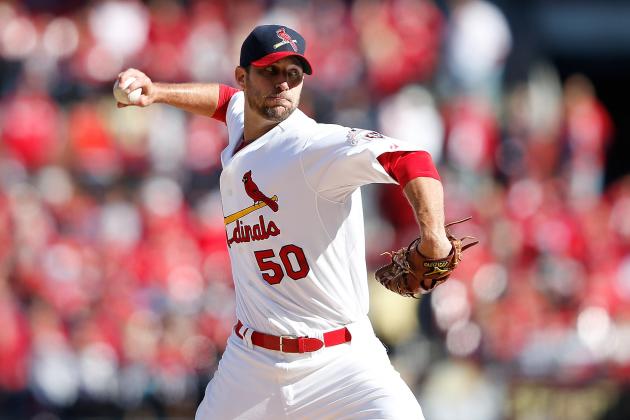 Jamie Squire/Getty Images

Wainwright will enter the 2013 season at 31 years of age. He is still fairly young (especially compared to co-ace Chris Carpenter who will be 38 in late April) and has youth on his side. The Cardinals have never been a group to spend foolishly and would probably offer Wainwright a four-to-five-year extension at the most.
Now he is not as young as a Matt Cain (28 years old), who signed a six-year, $127.5 million contract before the 2012 season, but he is certainly not an over-the-hill Roy Halladay (36), who in my opinion, will hold the Phillies hostage with his $20 million this coming season and a performance-based $20 million option for 2014.
The Cardinals and Wainwright are in a perfect position to sign a four-year, $70 million contract. That would put him at a $17.5 million per season and give him pretty solid money without breaking the bank. Additionally, the Cardinals won't be saddled with a super long contract for a guy who has already had Tommy John surgery.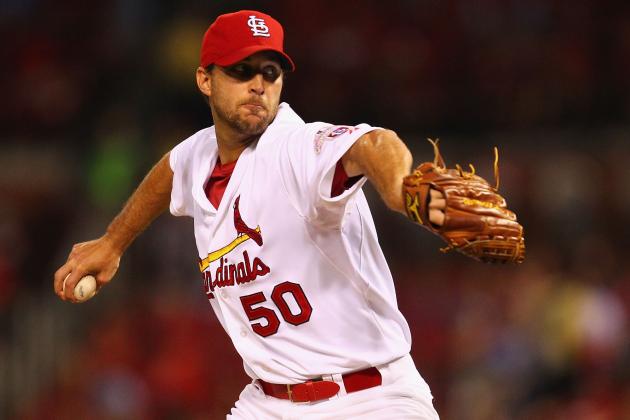 Dilip Vishwanat/Getty Images

Here is the biggest reason of all for the Cardinals to get Waino locked up for a while, he could have a career year in 2013 and his value could go out of sight.
Now that Wainwright has a year behind him after returning from Tommy John surgery, he will be better prepared for what to expect from his body in 2013. Like Kyle Lohse in 2012, it wouldn't be unheard of for Wainwright to put a career year together right before he is due to become a free agent.
Since Lohse was not locked up (and frankly I think the Cardinals got the best anyone will ever get from him), he will walk as a free agent and receive a solid payday from his 2012 performance.
This whole contract extension talk sounds eerily familiar. Reminds me of a guy who used to play first base in St. Louis and left town after the Cardinals couldn't pony up enough cash to pay him in the offseason. It would be an absolute shame if the Cardinals play contract extension roulette with Wainwright as they did with Albert Pujols.
If John Mozeliak and the Cardinals brass were smart (and I think they are), they would get a contract extension in front of Adam Wainright before spring training starts and let all the speculation that will surely come throughout the season go out the window before it even starts.