4 Reasons Josh Johnson Will Be a Monster in the American League
Mike Ehrmann/Getty Images

Josh Johnson missed all but nine starts in 2011 because of a lingering shoulder problem and, as a result, his fastball velocity was down a bit in 2012. Fangraphs.com reported his fastball averaged 92.8 mph in 2012, down from the 94.7 he averaged in his last healthy season in 2010.
It's expected that Johnson's arm will rebound in 2013 after being able to complete a full offseason regimen.
Even with the struggles, Johnson still averaged 7.76 strikeouts per nine innings and held opposing hitters to a .247 batting average while recording a 1.28 WHIP and 3.81 ERA in 31 starts over 191.1 innings.
If his fastball, which according to ESPN's Inside Edge (Insider subscription required) he uses on 69 percent of his first pitches, is able to get that 94-95 mph zip back another year removed from the injury, his transition to the American League will be that much easier.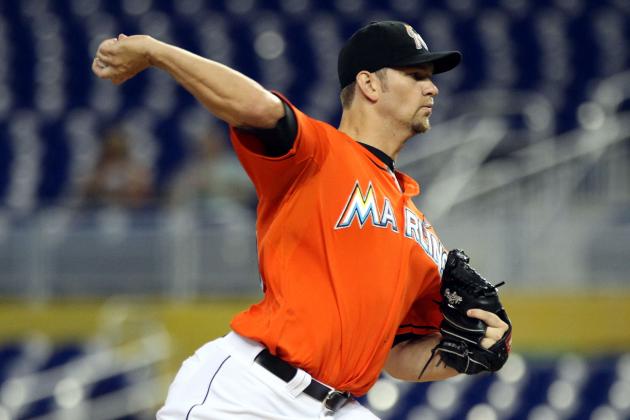 Marc Serota/Getty Images

Josh Johnson has one of the most devastating sliders in baseball, as evidenced on this video clip at Fangraphs.com.
He threw the slider 24.2 percent of the time in 2012, in line with his career mark of 25.2 percent. But in his first year back from shoulder problems, it wasn't as effective as in the past. His PITCHf/x pitch value for the slider in 2012 was 4.1, half of what it was when he was fully healthy in 2010 (8.2).
Much like with the fastball, one can expect Johnson's slider to regain more bite the further removed he is from the 2011 injury.
With the devastating slider, Johnson led the National League in ERA in 2010 at 2.30 and an ERA+ of 180. In 2012, returning from injury, those numbers ballooned to 3.81 and 104. Consider that for a moment: At less than 100 percent and feeling his way back after making just nine starts in 2011, Johnson was still an above-average starter.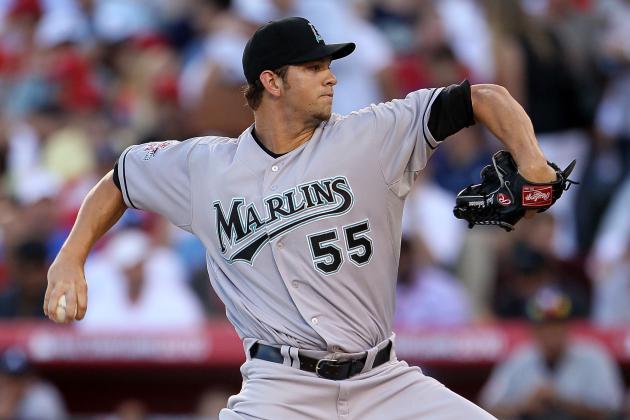 Jeff Gross/Getty Images
Josh Johnson pitches in the 2010 All-Star Game at Anaheim, Calif.
In 2009-10, Johnson was one of the best pitchers in baseball. He was an All-Star each year and in 392.2 innings, posted an ERA of 2.80, a WHIP of 1.133 and a K/9 rate of 8.6 in 61 starts.
He was hurt in 2011 and coming back in 2012. In 40 starts over those two seasons, his ERA was 3.29 with a 1.208 WHUP and 7.9 K/9. He pitched a total of 251.2 innings.
Johnson turns 29 at the end of January, which makes it more likely he will return to the form he displayed in 2009-10.
He's never been particularly susceptible to the home-run ball, but it's fair to point out that he was playing at Dolphins Stadium for half of his games from 2005-11 and at massive Marlins Park in 2012. For his career, he's surrendered 59 homers in 916.2 innings.
Pitching regularly at homer havens such as Oriole Park at Camden Yards, Fenway Park and Yankee Stadium may inflate that figure to a degree, but it's not likely to enter Ervin Santana-Phil Hughes territory.
Johnson has never started at any of those parks. He did make one start at Rogers Center in Toronto in 2009 and allowed two runs and seven hits in a complete-game performance, with three walks and six strikeouts.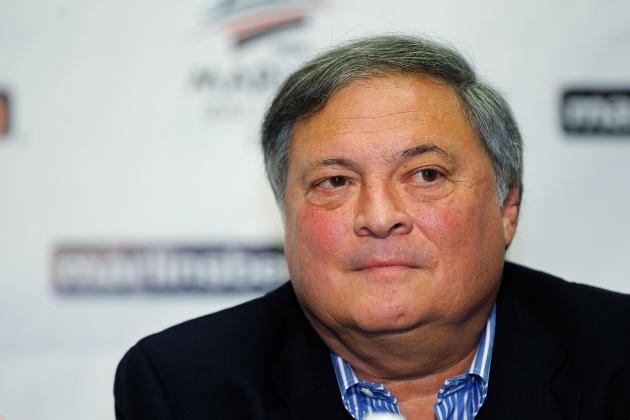 Mike Ehrmann/Getty Images
Marlins' owner Jeffrey Loria's spending spree lasted all of one season.
Make no mistake, Josh Johnson was included in the deal for one reason—the $13.75 million he's owed on the last year of his contract.
The Miami Herald reported in late September that the Marlins were going to look to slash their payroll for 2013. The team had a franchise-record $95 million payroll in 2012, but sources told the Herald that the target figure for 2013 was in the neighborhood of $70 million to $80 million.
Mark Buehrle is scheduled to make $12 million in 2013, Jose Reyes $10 million and John Buck $6.5 million. This one trade should be enough to push Miami well below its target payroll figure.
Multiple sources told the Herald that the Marlins lost money in 2012 thanks in part to its large payroll. But attendance at the new ballpark was also less than anticipated.
Josh Johnson can return to being an ace in 2013 and he can do it in the American League. Hard-throwing pitchers have traditionally transitioned from the NL to the AL more successfully than finesse guys. He's young enough and talented enough that 2012 was a blip on the radar screen much more than it was a trend.