Ranking the Importance of Each of the Oakland A's Free Agents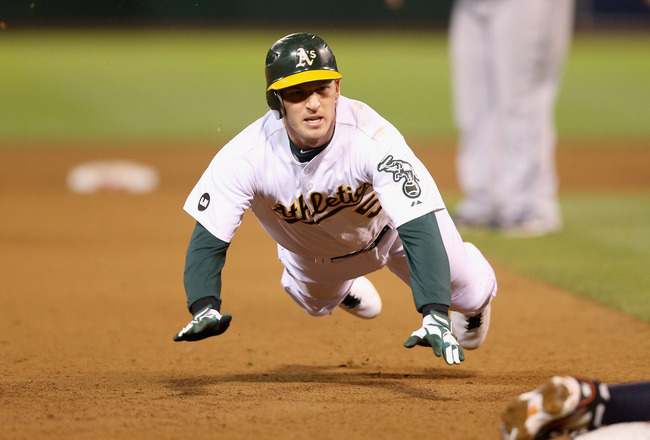 Will Drew return to Oakland?
Ezra Shaw/Getty Images
With the Major League Baseball offseason in full swing, the A's continue to have a noteworthy epilogue to their 2012 season. Tuesday's news of Bob Melvin's deserved choice for Manager of the Year is likely the last vestige of the season that saw Oakland return to prominence in baseball as an elite team.
But now, it is officially time to look towards 2013 season. The first order of business is looking at the pending free agents the A's may lose or keep. It is a short list, but it is a definite list for a team that depended on the sum of all its parts to win a division title for the first time in six years. So let's jump right in and start with number five on the list.
5. Dallas Braden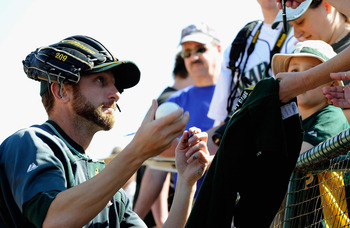 The Northern California native Braden will always be remembered for his perfect game in 2010
Kevork Djansezian/Getty Images
Dallas Braden is the first member of the list. I don't place him on here for anything he did in 2012, as he did not pitch once during the season. But for the A's, Braden was a solid starter whose ERA went down in each of his five seasons with the club.
Of course, most A's fans will always remember Braden for two things: His admonishing of Alex Rodriguez to "get off my mound" on April 22nd, 2010. The reaction was seen many ways, but Braden's name was known outside of the Bay Area and his hometown of Stockton in the Central Valley.
The second was much more noteworthy and definitely more about the game itself. Just 17 days after the blow up with A-Rod, Braden pitched just the 19th perfect game in MLB history against the Tampa Bay Rays.
The record Braden has amassed (26-36 with a 4.14 ERA) is deceiving as much of the worst he endured was in his rookie year of 2007 as he went 1-8 with an ERA over six. Coming off of a pair of surgeries for a torn rotator cuff, Braden likely won't return to the ballclub in 2013. With some of the injury issues and uncertainty with young pitching, a minor league contract could be a nice insurance policy for Oakland if Braden does not get a deal on the open market.
4. Brandon Inge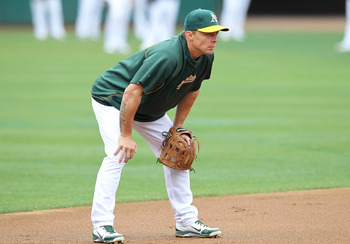 The veteran Inge filled a huge hole for Oakland in 2012
Tony Medina/Getty Images
If there was one player who symbolized the 2012 A's, it was Brandon Inge. Castoff and thought of as washed up by the Detroit Tigers, Inge instead provided power and a plus glove at third base for the A's before injuries sidelined him in August for the year.
Don't be fooled by the numbers (.226, 11 home runs, 52 RBI), Inge's contribution was enormous. After the injury to Scott Sizemore at the start of training camp, Oakland's hole at third base looked like an Earth-sized meteor. Josh Donaldson and Luke Hughes were awful to start the year and defensively, both were overmatched it seemed.
Enter Inge, who arrived in Oakland April 30th and immediately began paying dividends. In his first week, he drove in 13 runs, including 12 in a four-game stretch. Four of those game on a walk off grand slam that would be part of the narrative of the year for the club.
Even more crucial was the steady and often spectacular defense Inge played at third. His performance was so good, he found himself nominated for a Gold Glove even though he only played in 83 total games (74 with the A's).
So why is he just No. four? Simply put, it seems as though the problem was solved in his absence. Josh Donaldson's second half firmly entrenched him as the third baseman going into 2013. Assuming Sizemore is ready to play, he looms as a possible platoon mate for Donaldson at worst. That leaves Inge as likely the odd man out.
If he did return to Oakland, it would likely be in a utility position, which would be of great value for an A's squad that doesn't currently have a shortstop. But I am getting ahead of myself...
3. Jonny Gomes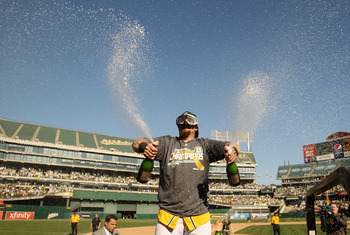 The Pride of Petaluma
Ezra Shaw/Getty Images
The midway point of the list features one of the surprises of 2012 for Oakland, Jonny Gomes. Known for his reputation of hitting left handed pitching, Gomes definitely lived up to his reputation, mashing 11 of his 18 home runs versus lefties. Gomes also hit .299 against just lefties campared to .209 against right handed pitching and definitely made the most of his 99 games played.
Unfortunately, it is hard to retain a specialist at the plate in the mold of Gomes. His platoon with Seth Smith was a perfect balance for a lineup that at times rang hollow and failed to make a lot of contact. It would have been nice to keep "The Pride of Petaluma" for a second season, but it appears as though Gomes may be headed elsewhere.
It appears as though the acquisition of Chris Young from Arizona all but signaled the exit of Gomes. Time will tell how big of a loss that might end up becoming.
2. Brandon McCarthy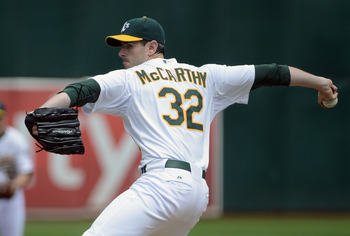 McCarthy's return would add more veteran savvy to Oakland's rotation
Thearon W. Henderson/Getty Images
Brandon McCarthy is the No. 2 free agent for the Oakland A's. The fact we are speaking about McCarthy strictly in baseball terms is remarkable considering the ordeal he went through after that scary line drive that caromed off his head on September 5th against the Los Angeles Angels.
But after multiple surgeries and subsequent recovery, McCarthy is on a timetable to begin 2013 healthy. The question is, will it be with the Oakland A's? Early indications are that the Chicago Cubs are very interested and they certainly won't be the only team other than the A's interested in McCarthy's services.
The reason for that is that McCarthy is an effective pitcher when healthy. With the A's, he has posted ERA's of 3.32 and 3.24 in the last two seasons. And at 29 (turns 30 in July), he is still very much in the prime of his career.
For the A's, re-signing McCarthy is important more to ensure continuity and take some of the burden off of the younger starters (i.e. Jarrod Parker, Tom Milone, A.J. Griffin, and Dan Straily). Injuries and regression are certainly possibilities from young pitchers that threw so many high stress innings as the A's quartet of rookies did.
That means, bring back someone proven and experienced like McCarthy could be very valuable in the short term.
1. Stephen Drew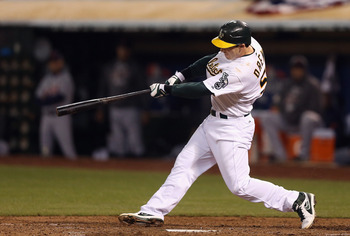 Re-signing Drew is a much bigger deal now than it was a month ago
Ezra Shaw/Getty Images
At No. 1 (with a bullet) is Stephen Drew. Oakland acquired the talented, but not fully recovered, Drew from Arizona on August 20th and were rewarded with a solid bat and a talented defender who helped the final push to the playoffs.
After the A's traded Cliff Pennington to Arizona as part of the Chris Young deal, many armchair GM's (including yours truly) assumed that Oakland had something in place to keep Drew a member of the Green and Gold.
Not only is that not the case, but there doesn't seem to be much in the way of negotiations for a new deal to be struck. And from where I sit as I write this, there is no single more important player for the A's to retain than Drew.
I say that because shortstop is a void and the would be replacements are either inexperienced (Grant Green) or well, that's it. One of the players some speculated would be possibly acquired by Billy Beane was traded (Yunel Escobar). While $10 million was too rich for Drew, a deal somewhere between $5-7 million per year is a good investment for a solid shortstop who can hit at a better clip than any options the A's have had since Miguel Tejada.
Final Analysis
For Beane, this offseason is mostly about keeping what he has in house
Leon Halip/Getty Images
2013 was supposed to be a continuance of a rebuilding project for the Oakland A's. Instead, the house was finished in rapid order and now plans to turn it into a championship castle are underway faster than expected.
For Billy Beane, that means greater attention to who stays and who goes in the East Bay. Many feel the A's were on the cusp of a World Series berth with the team they had. While there have been and will be losses, it is most important to keep the core parts intact. That means retaining as many of the five players mentioned as possible.
Going forward, that also will require progression instead of regression from big contributors like Josh Reddick, Brandon Moss, Josh Donaldson, Jarrod Parker, Ryan Cook and, of course, Yoenis Cespedes. Luckily for A's fans, they are all firmly entrenched with the ball club.
The five that are not will all likely be courted in some form or fashion. For Oakland, the hope is that not all five make their way to other clubs this offseason. A future that was thought to be a dim distant beacon is now as bright as the sun itself.
To keep that light shining, Oakland has to maintain what it already has and build upon it. Because past history has shown that when the light goes out, it tends to stay out for a while.
Keep Reading

Oakland Athletics: Like this team?