Mark Hominick vs. Pablo Garza Head-to-Toe Breakdown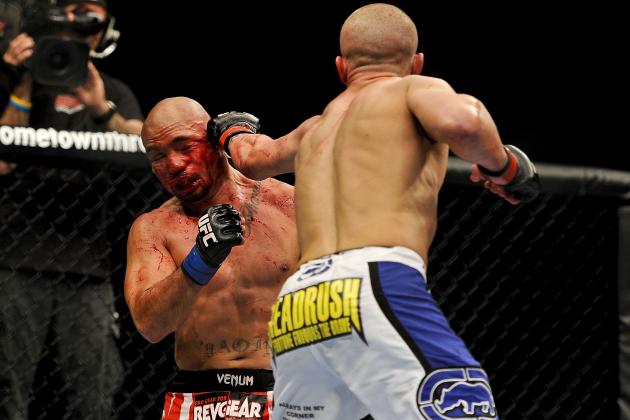 Paul Abell-US PRESSWIRE

UFC 154 features a clash of two featherweights who are in desperate need of a win. Pablo Garza and Mark Hominick have both been on slides in their respective careers as of late.
That is not to say that this fight won't be between two entertaining competitors. Both fighters have a well-rounded arsenal of skills which they have used to win previous fights in devastating fashion.
Let's take a look at how their skills break down.
Begin Slideshow

»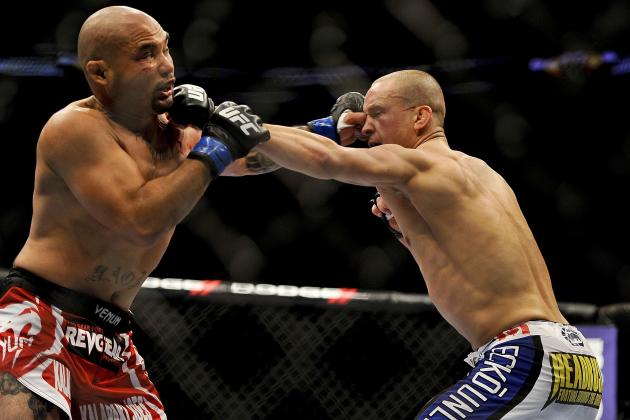 Paul Abell-US PRESSWIRE

Both men have powerful and dangerous striking.
Hominick is a former kickboxer with a perfect record of 21 straight wins. His striking is quick and accurate, and he utilizes excellent head movement to slip shots and land some of his own.
His footwork is also excellent, and this allows him to trade in the pocket with an opponent while being able to avoid a large amount of damage.
Garza primarily uses his Muay Thai for striking, but as good as it is, Hominick's former kickboxing pedigree gives him an advantage.
Edge: Hominick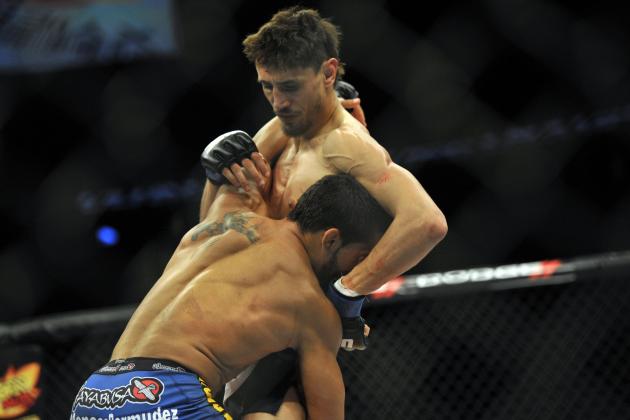 Joe Camporeale-US PRESSWIRE

Mark Hominick is primarily a striking-based fighter. Garza is more adept on the ground than he is when standing and striking.
Both fighters have spent time on their backs in their respective UFC careers. Garza is the more dangerous of the two grappling-wise because of how active he stays.
Garza always looks for some kind of submission as well as opportunities to transition and gain a better position.
While Hominick is good off his back as well, Garza is the more dangerous of the two.
Edge: Garza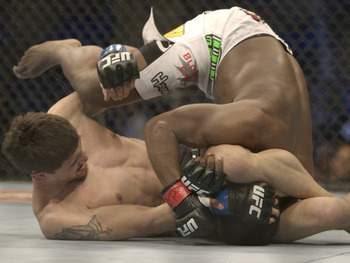 Both these fighters have very potent submission games.
Hominick owns eight wins via submission, while Garza has stopped seven fighters through chokes and joint locks.
Garza is currently a purple belt in Brazilian jiu-jitsu and has shown a willingness to attempt submissions where others don't even see them. This was evident in his win over Yves Jabouin via a flying triangle choke.
While Hominick is no slouch on the ground, Garza gets the edge on this one.
Edge: Garza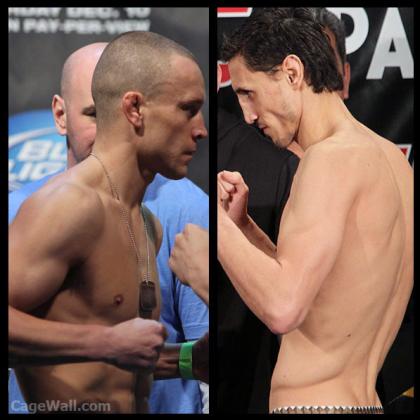 Photo Credit: cagewall.com
Both of these fighters are in desperate need of a win—and fast.
Since knocking out George Roop in his UFC debut, Hominick has lost his last three fights. Granted, one of those fights was against featherweight boss Jose Aldo, which would be tough for anyone.
Hominick has also had to prepare for his fights after the sudden and tragic death of coach and friend Shawn Tompkins.
That would do a number on anyone.
Hominick needs to recapture the form he found early on in the UFC and get a decisive win.
Garza has also been on a slide. After starting his UFC career to the tune of 2-0, he has been submitted by Dustin Poirier and was then rag-dolled by Dennis Bermudez.
He needs to go back to his roots and use his excellent submission game to end the fight with a choke or joint lock.
The loser of this fight could possibly be out of the UFC. Both have their backs to the wall, and both of them know it.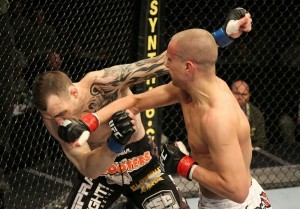 Photo Credit: fiveouncesofpain.com
These fighters each know that a loss in this fight could lead to them being cut from the UFC.
It will all come down to who wants this fight more.
I believe Hominick feels like he got robbed in his last fight and he won't be letting that happen again.
He will use his superior striking to batter Garza, and once he sees an opening, he will drop him with a punch and end the fight via technical knockout.
Hominick will fight with a clear conscience and get back into the win column in front of his fellow Canadian fans.
Prediction: Hominick wins via TKO in the third round