North Carolina Basketball: 5 Keys to the Game vs. Long Beach State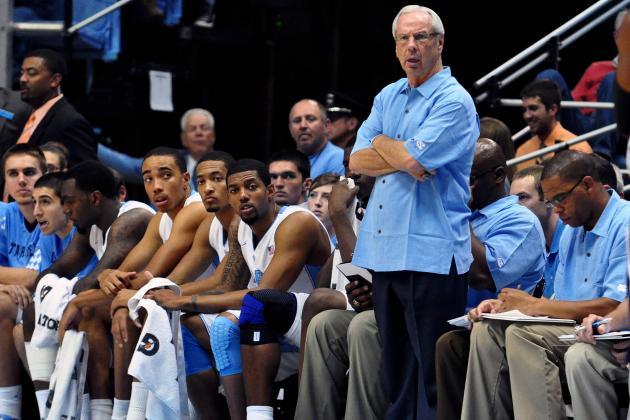 Rob Kinnan-US PRESSWIRE
Coach looks ready for Maui. Is the team?
If there is anyone that can relate to North Carolina's Roy Williams this season, it's Long Beach State's head coach Dan Monson.
Both teams look significantly different than the UNC and LBSU squads we saw in the nail-biter last December.
The Tar Heels lost stars Kendall Marshall, Harrison Barnes, John Henson and Tyler Zeller to the NBA. The 49ers will be without graduated seniors Casper Ware, Larry Anderson, T.J. Robinson and Eugene Phelps.
If any name should sound familiar there, it's Casper Ware who scored 29 points in their last meeting.
Though none of them are playing in the NBA right now, the loss of those players is every bit as significant to LBSU. Like Coach Williams, Monson is having to frequently rotate players until he finds gold.
But there are a few nuggets that have already been found, and keeping them under wraps will not be an easy task for these young Tar Heels.
I've put together five keys to the game for Carolina to avoid an upset in the final leg of "Maui on the Mainland" this Friday.
Begin Slideshow

»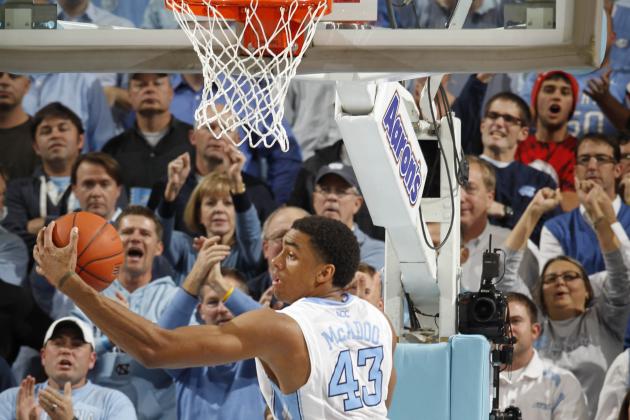 Bob Donnan-US PRESSWIRE

It's been so-far-so-good on the rebounding front for the Tar Heels.
But the 49ers tested them last year, and I expect more of the same. As good as UNC was last season on the boards, they managed an even split at 33 rebounds apiece.
Through two games, Carolina is sitting on a hefty average of 52 rebounds per game.
James Michael McAdoo has been a major cog in producing that silly number. He is averaging 12.5 rebounds per game with the help of his newly-found physicality and well-known athleticism.
While the other players' numbers aren't nearly as gaudy, everyone seems to be cleaning up the glass in these early games. Reggie Bullock and Joel James are the next on the list, snagging six per contest.
Considering James is playing just over half the minutes of McAdoo, I'd say that's pretty good. Brice Johnson has been impressive, too, with 4.5 rebounds over 12 minutes per game.
Long Beach State managed 48 rebounds against North Alabama, and six players finished with over five rebounds.
Boxing out Dan Jennings, Kris Gulley and James Ennis will have to be a major area of focus for the Tar Heels.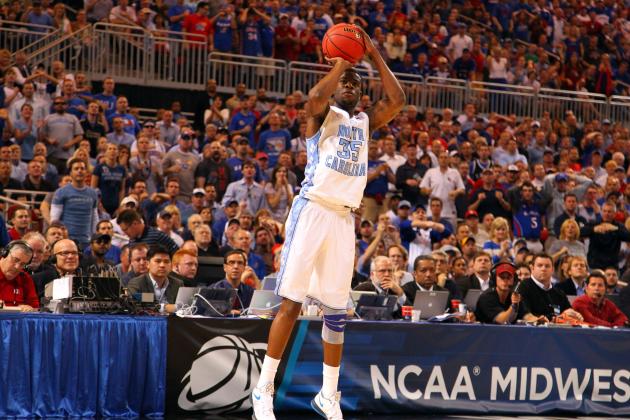 Dilip Vishwanat/Getty Images

Not only will North Carolina have to nail down treys the way they did against FAU, but they will also have to defend it much better than they have thus far.
Though they have yet to prove it, I see Long Beach State as a good shooting team. If they leave these guards open, as Carolina has a habit of doing, there is always a possibility of them getting streaky
Mike Caffey is the leading sharpshooter, burying 37.5 percent of his three-point attempts last year. But James Ennis, Kris Gulley, Deng Deng and Peter Pappageorge are all capable of burning the Tar Heels with the three ball.
I still feel the best way for this team to defend the arc is to play straight up man. They've already allowed 51 three-point attempts in the first two games.
We'll see how Roy plays it on Friday.
Hopefully the shooting trend will continue for Carolina, and perhaps they will have a couple guys get hot. Reggie Bullock was strokin' it on Sunday, going 3-of-4 beyond the arc. He's 4-of-7 on the season.
P.J. Hairston has been a no-show thus far—hitting only one of his seven attempts from three. Leslie McDonald is also just 1-of-3. Keep in mind, these are the guys that were talking smack this offseason about who is the best shooter on the squad.
So far, neither one is walking the walk.
Marcus Paige has also been disappointing, going 0-for-6 from bonus land. He looked more comfortable running the show against FAU, so don't be surprised if the freshman southpaw ignites.
Will that be on Friday? The Tar Heels could certainly use his contribution.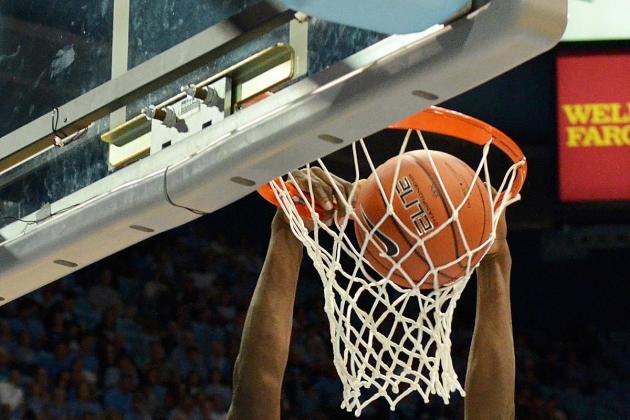 Rob Kinnan-US PRESSWIRE

Will Roy go with Joel James or Desmond Hubert down low?
That could have a significant impact on this game. Even though Hubert gained 30 pounds over the offseason, he still hasn't been able to physically control the paint.
Whoever is taking the main duties at center will likely be paired up with Dan Jennings. Not only do I consider him a rising star, he also has the body to bang down low with just about anyone.
Jennings stands at 6'9" and 255 pounds, which is pretty close to Joel James' stature. James has just an inch and five pounds on the junior transfer.
I think it would be a wise decision to counter Jennings' physicality with the big body of James. I just don't think anyone else will cut it.
At the same time, he will have to be cautious with his fouls. It would be a blow to the Tar Heels' chances to lose the freshman early.
The inside group of James, McAdoo, Johnson and Hubert will also have Kyle Richardson and Nick Shepard to be concerned with—not to mention keeping Ennis out of the paint.
On the offensive end, James, McAdoo and Johnson have been exciting to watch. With James shooting a combined 13-of-15, including the Shaw exhibition, I think it's time he gets more looks down low.
McAdoo will have to continue his selective shooting from the FAU game and Johnson just needs to maintain that intensity that has helped spark the team early in the season.
The inside game was one of the biggest worries coming into the season, but it looks like it's still alive and kicking even without Henson and Zeller.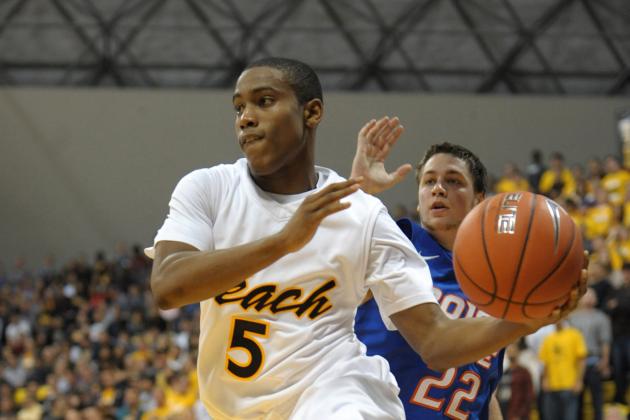 Kirby Lee-US PRESSWIRE

Long Beach State's sophomore point guard Mike Caffey is a star in the making. However, he is off to a shaky start in his first year as the starting floor general. That's always a tough duty early on and sometimes decisions aren't made as fast as they should be.
Marcus Paige can relate.
Both point guards have a bright future with their respective teams, but both can be easily shaken at this stage in their careers with a little pesky defense. Paige and Caffey have the tools to light up the scoreboard, though it seems their inexperience running point at the collegiate level has put a damper on their confidence.
The Tar Heels need to capitalize on that—making Caffey as uncomfortable as humanly possible.
That might mean putting Dexter Strickland on him every once in a while. Paige has proven himself a good defender, but if things get out of hand, it's good to know that Roy can throw Dex in there to shut him down.
Coach Williams may want to consider the occasional trap, too. Though the consequences of him escaping the trap could be significant, the benefit of proper execution is the shattered confidence of Caffey.
That could go a long way if they do it early.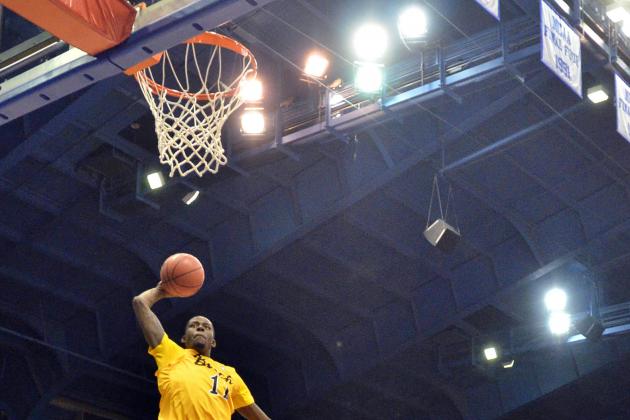 Denny Medley-US PRESSWIRE

James Ennis is long, athletic and extremely explosive, as seen by this dunk against North Alabama.
The senior has every tool you could want out of a small forward and may be the first 49er to make it to the NBA in over a decade.
Ennis is a very good shooter, but what impresses me the most is his ability to get to the rim. With his long legs it only takes him two or three steps from the top of the key to reach his launch pad.
Though his dribble is a little high, his handles are impressive nonetheless.
He's also a solid rebounder, passer and defender. This will certainly be Reggie Bullock's toughest defensive assignment thus far.
Ennis is the only issue I have with my theory of playing straight up man. Bullock is a great defender but it's no easy task keeping this guy out of the paint.
I'm sure we'll also see McAdoo try to slide in there and pick up a charge. Doing things like that could get Ennis in foul trouble and keep him out of the colored area. This is one of the last guys Coach Monson wants to end up on the pine.
If the Tar Heels can't find a way to contain James Ennis, he could be that irritating thorn in their side a la Casper Ware.