Oregon Football: 5 Reasons the Ducks Roll over Stanford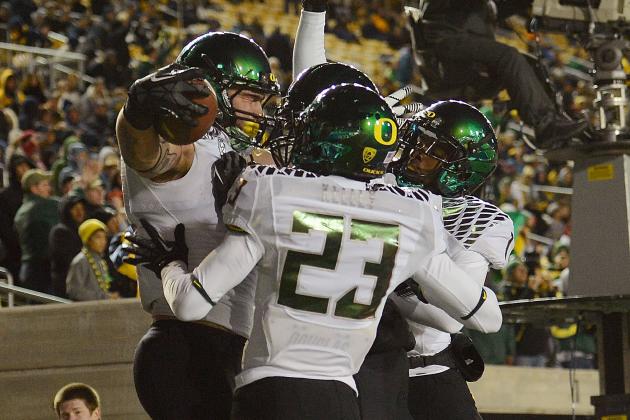 Thearon W. Henderson/Getty Images

It hasn't even been played yet, and the Oregon Ducks have this game in the bag.
That isn't hubris speaking, it's just truth.
These are two different teams playing for completely different stakes. And like every other team that meets Oregon, Stanford is going to be challenged to keep pace.
Here are five reasons why the Ducks will keep things rolling in Week 12 versus the Cardinal.
Begin Slideshow

»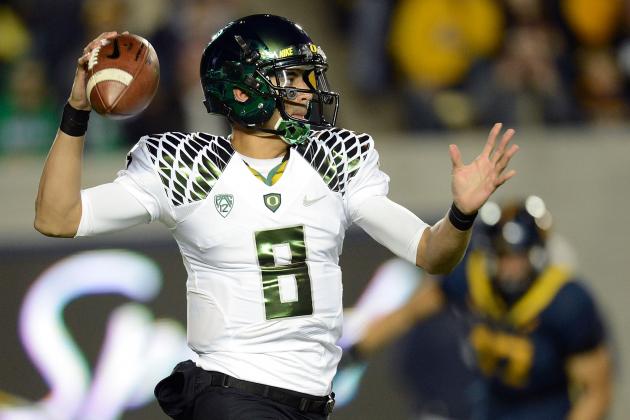 Thearon W. Henderson/Getty Images

Stanford has an elite rush defense, ranking first in the FBS with just 58.8 yards allowed per game. Even with Oregon's 325.1 rushing yards per game, they can't expect to blow through the Cardinal line.
It'll be up to Marcus Mariota to come through for the Ducks.
Last week against Cal, the Golden Bears brought the ideal defensive scheme against the Ducks. They brought their corners in for ground support, saying "Hey Oregon, beat us through the air."
Mariota responded with a 27-of-34 performance for 377 yards and 6 touchdowns.
Stanford's secondary is not amazing. Even after outpacing the Oregon State Beavers 14-0 in the first quarter of last Saturday's matchup, Stanford let OSU score 23 points between the second and third quarters—the majority of their yards coming through the air.
The Cardinal allow 261.9 passing yards per game.
In conclusion: Even if Stanford can slow the run, Mariota will expose their defense through the air.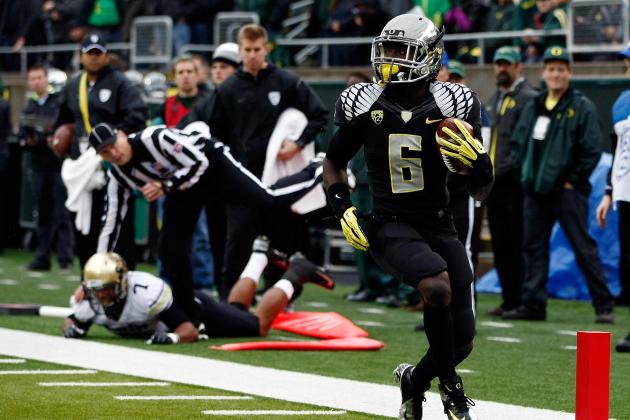 Jonathan Ferrey/Getty Images

If Mariota is going to be Batman in this one, then De'Anthony Thomas is sure to be Robin.
Thomas, nicknamed Black Mamba, is an all-purpose machine for the Ducks. He leads the team in receiving yards (378) and has 521 yards rushing.
Not to mention he averages over 18 yards per return on both kickoffs and punts.
Thomas has 12 touchdowns (seven rushing, four receiving and one punt return) and 1,301 all-purpose yards.
Did I mention that he might be used on defense?
It's being reported that Oregon is considering giving Thomas time at cornerback for the rest of the season. He had the option to play the position at USC before picking Oregon.
It's an ideal spot for him to play with his speed and soft hands. And it would help aid a battered Ducks secondary.
No matter where he plays, Thomas is going to be a big difference-maker in this one.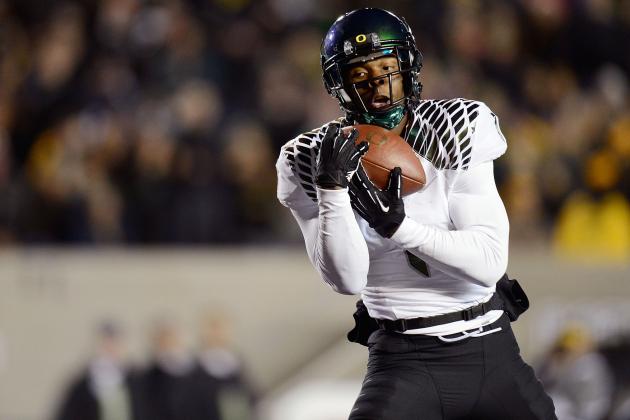 Thearon W. Henderson/Getty Images

While De'Anthony Thomas will have an impact all over the field, Josh Huff could be the guy with the biggest impact on offense.
With Huff, the Ducks have two featured wideouts, meaning teams can't just double up on Thomas.
The junior's proved how vital he is over the team's last two games. He had 125 yards against USC and 109 against Cal.
Last week, after the Bears had crawled back into the game at 24-17, Huff caught touchdown passes on back-to-back Oregon possessions, putting the game out of reach at 38-17.
Strings of injuries and blowouts have limited Huff's impact. But he's come through when it's counted, averaging over 20 yards per catch over the Ducks' last two games with five touchdowns.
If Mariota is Batman and Thomas is Robin, then I guess Huff is Superman.
He's not always hanging around Gotham, but he's there in a big way when you need him.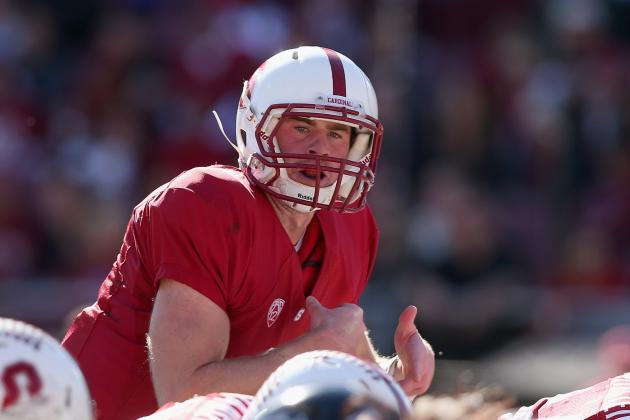 Ezra Shaw/Getty Images

If Stanford wants to keep pace with Oregon's blazing offense, they'll need redshirt freshman quarterback Kevin Hogan to be at his best.
That's going to be tough.
Hogan is making just the third start of his career, but he's coming off two wins.
He looked incredibly poised against Oregon State, completing 22-of-29 passes for 254 yards and three touchdowns.
But he also had two interceptions in that game. He had one in his first start against Colorado. That's not good win you're facing a defense that leads the Pac-12 in interceptions (19 total, four for TDs).
Also, there's the Autzen factor. Hogan's first start was in Colorado, and his second was in front of the home crowd. Now he travels to one of the loudest stadium's in all of college football.
All I can say, is good luck.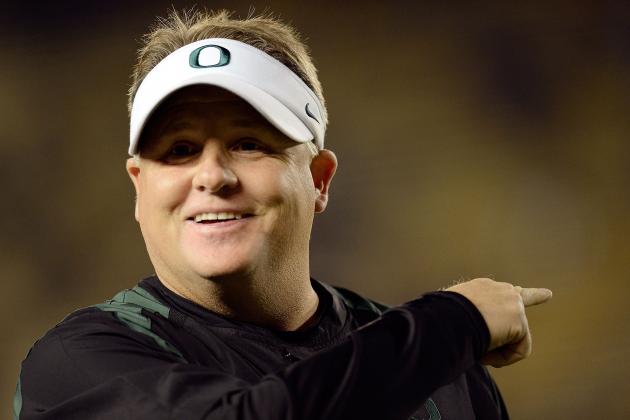 Thearon W. Henderson/Getty Images

Stanford's only beat Oregon once since Chip Kelly took over in 2009.
That was in 2009 at Stanford, Kelly's first season as head coach.
That game almost cost the Ducks their Rose Bowl bid, and Kelly has made a point of beating the Cardinal ever since. Over the last two seasons Oregon has outscored Stanford 105-61 in two blowout wins.
The last time Stanford won a game in Autzen? You'd have to go all the way back to 2001 for that.
I think it's safe to say Oregon has history on its side. But just for good measure, it's worth noting Oregon hasn't lost a home game since Nov. 19 of last year.