Ole Miss vs. LSU: Complete Game Preview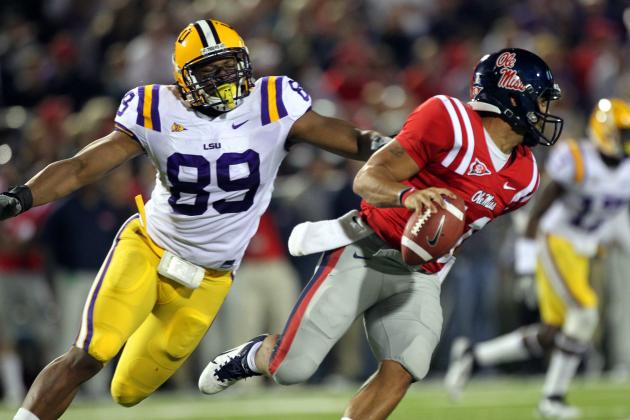 Joe Murphy/Getty Images

It's a good thing that the nation's No.1 prospect, Robert Nkemdiche, isn't playing for Ole Miss this season, right?
Ole Miss, which is believed to be the favorite to land Nkemdiche's services next season, has struggled this year with a 2-4 mark in SEC play.
LSU will host Ole Miss on Saturday afternoon in what should be a one-sided football game, but as we know, anything can happen in the SEC.
The Tigers will put their No. 7 ranking on the line as they try to earn another win and inch closer to a BCS berth. But does Ole Miss have what it takes to pull off the upset?
Let's find out.
Begin Slideshow

»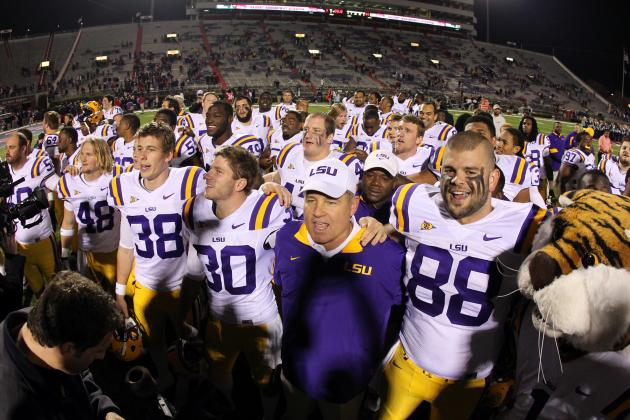 Joe Murphy/Getty Images

Who: LSU vs. Ole Miss
When: Saturday, Nov.17, at 3:30 p.m. (EDT)
Where: Tiger Stadium, Baton Rouge, La.
TV: CBS
Radio: 98.1 FM, WDGL (LSU)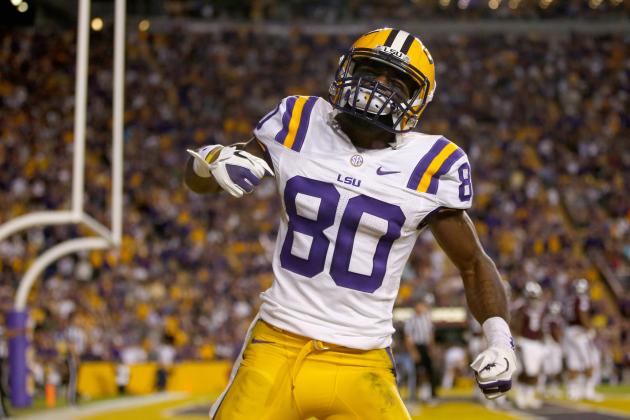 Chris Graythen/Getty Images

Offense
QB: 8 Zach Mettenberger
17 Steven Rivers
RB: 33 Jeremy Hill
42 Michael Ford
11 Spencer Ware
27 Kenny Hilliard
FB: 44 J.C. Copeland
43 Connor Neighbors
X: 86 Kadron Boone
82 James Wright
Z: 3 Odell Beckham Jr.
10 Russell Shepard
Y: 80 Jarvis Landry
LT: 68 Alex Hurst
RT: 72 Vadal Alexander
LG: 70 La'el Collins
RG: 74 Trai Turner
C: 64 P.J. Lonergan
Defense
LE: 49 Barkevious Mingo
LT: 77 Josh Downs
RT: 18 Bennie Logan
90 Anthony Johnson
RE: 99 Sam Montgomery
LB: 52 Luke Muncie
LB: 46 Kevin Minter
LB: 57 Lamin Barrow
CB: 32 Jalen Collins or 28 Jalen Mills
CB: 24 Tharold Simon
FS: 1 Eric Reid
SS: 6 Craig Loston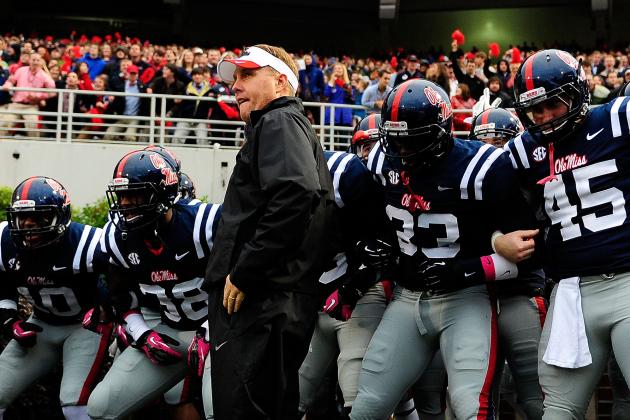 Stacy Revere/Getty Images

Offense
Quarterback: Bo Wallace, Barry Brunetti
Running Back: Randall Mackey, Jeff Scott
Wide Receiver: Donte Moncrief, Terrell Grant
Wide Receiver: Vince Sanders, Ja-Mes Logan
Wide Receiver: Ja-Mes Logan, Philander Moore
Left Tackle: Emmanuel McCray, Derrick Wilson
Left Guard: Aaron Morris, Justin Bell
Center: Evan Swindall, Ben Still
Right Guard: A.J. Hawkins, Jared Duke
Right Tackle: Pierce Burton, Patrick Junen
Tight End: Ferbia Allen, Jamal Mosley
Defense
Defensive End: C.J. Johnson, Jason Jones
Defensive Tackle: Bryon Bennett, Carlton Martin
Nose Tackle: Issac Gross, Gilbert Pena
Defensive End: Cameron Whigham, E.J. Epperson
Mike: Mike Marry, Joel Kight
Stinger: Denzel Nkemdiche, Aaron Garbutt
Huskie: Dehendret Collins, Mike Hilton
FCB: Senquez Golson, Anthony Standifer
Rover: Trae Elston, Frank Crawford
Free Safety: Cody Prewitt, Chief Brown
BCB: Charles Sawyer, Wesley Pendleton
Special Teams
Punter: Jim Broadway, Tyler Campbell
Place-Kicker: Bryson Rose, Nathan Noble
Punt Returner: Philander Moore, Jeff Scott
Kick Returner: Jaylen Walton/Randall Mackey, Senquez Golson/Jeff Scott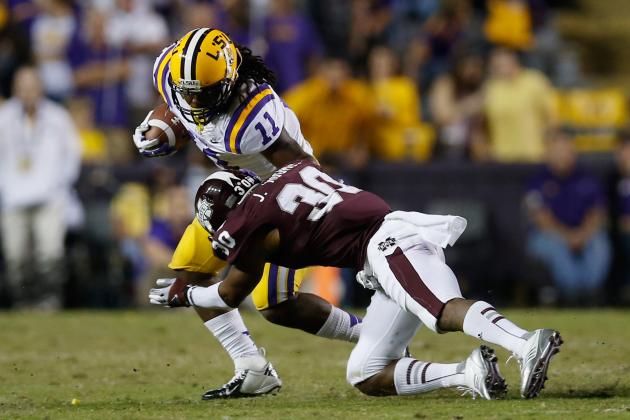 Chris Graythen/Getty Images

Zach Mettenberger had his second back-to-back outstanding game as LSU took care of business in a 37-17 victory over Mississippi State. Mettenberger threw for 273 yards and two touchdowns in the win.
The Tigers' defense was outstanding, highlighted by a 100-yard interception return for a touchdown by safety Craig Loston. That put the Tigers up by 20 points with less than two minutes to go and essentially sealed the game.
LSU's defense didn't allow Misssippi State to score in the final 27:52. LSU's defensive ends Sam Montgomery and Barkevious Mingo were each dominant in the second half.
With the win, LSU improved to 4-2 in the SEC, 8-2 overall.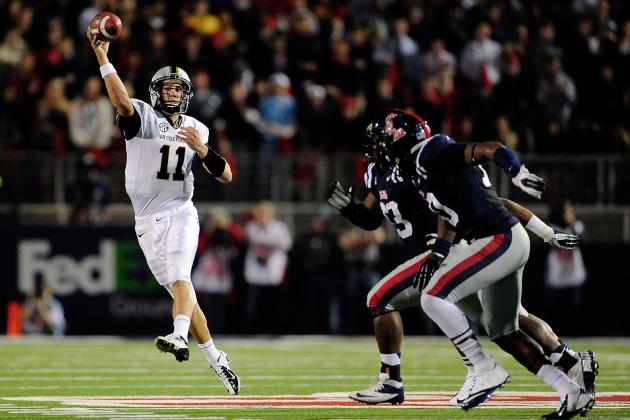 Stacy Revere/Getty Images

Ole Miss quarterback Bo Wallace had the game of a lifetime, but it wasn't quite enough as Ole Miss dropped a heartbreaker to Vanderbilt by the score of 27-26.
Wallace completed 31 of 49 passes for 403 yards and a touchdown in the loss.
The issue was the defense, which couldn't stop quarterback Jordan Rodgers and the Vanderbilt offense on the final drive. Chris Boyd hauled in a 26-yard touchdown pass with less than a minute remaining to seal the victory for the Commodores.
Ole Miss dropped to 2-4 in the SEC, 5-5 overall.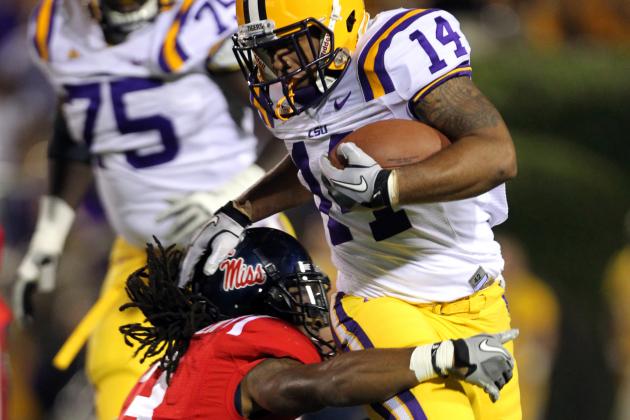 Joe Murphy/Getty Images

This is a big game for both teams, but for completely different reasons.
At this point in the season, with two regular-season games remaining, LSU's goal is to make it to a BCS bowl game. The Tigers need to win to keep those hopes alive.
For Ole Miss, the goal is to make a bowl game, and the Rebels need one more win to be bowl-eligable.
A win against LSU this week or Mississippi State next weekend would do the trick.
Both teams need a win, but if you're a betting man, it's hard not to go with LSU in this matchup.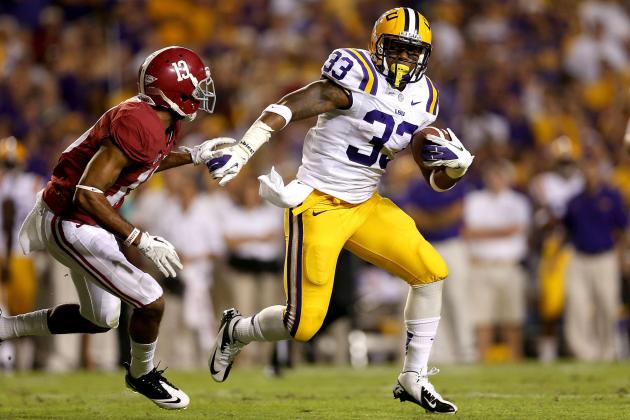 Matthew Stockman/Getty Images

Jeremy Hill has established himself as the top back in the LSU backfield, but the freshman tailback had a down game last week and will be looking to bounce back Saturday against Ole Miss.
After rushing for 100-plus yards in each of his last three games, Hill managed just 48 yards on 15 carries against Mississippi State. Because of that, the Tigers struggled in the running game, rushing for less than 120 yards for just the second time this season.
If the Tigers are going to take down Ole Miss at home this weekend, they are going to need better production out of that talented backfield.
That starts with Hill.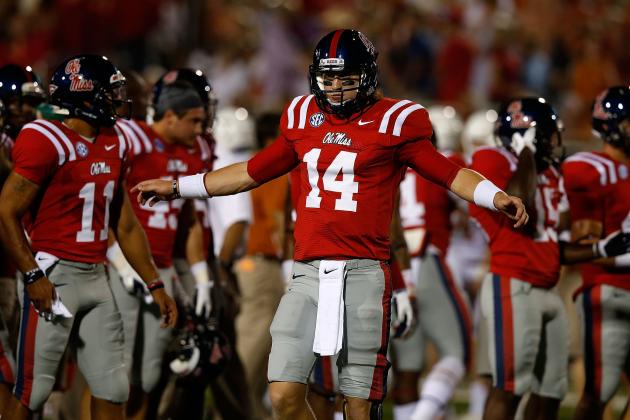 Scott Halleran/Getty Images

Ole Miss sophomore quarterback Bo Wallace is the engine that makes this Rebels' offense go.
Wallace has enjoyed a solid season, already passing for more than 2,200 yards and 12 touchdowns.
When Wallace plays well, this team competes.
Ole Miss is just 5-5, but 3-2 when Wallace throws for more than 225 yards, including wins against Auburn and Arkansas.
If he plays well, this game should come down to the fourth quarter.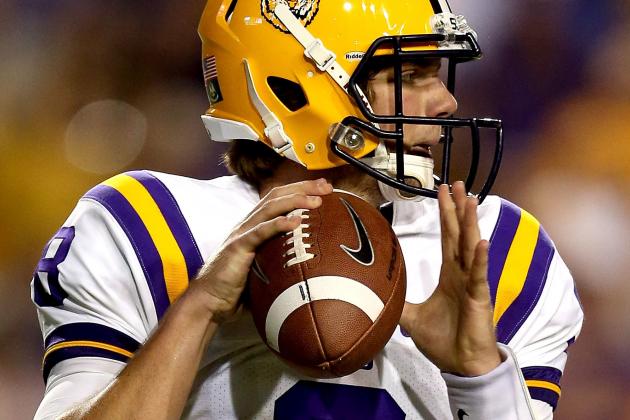 Matthew Stockman/Getty Images

The LSU Tigers will win this football game if they do two things.
First, they need to find balance on offense. When LSU establishes the run and mixes in the pass, this team wins football games. It really is that simple.
Jeremy Hill has established himself as the top back and Zach Mettenberger has played great football over the past two weeks. If LSU can get those two guys clicking at the same time, this could be an explosive LSU offense.
Second, LSU needs to contain Ole Miss quarterback Bo Wallace. The Rebels are going to pass, make no mistake about it.
But LSU needs to get pressure on Wallace and let defensive ends,Barkevious Mingo and Sam Montgomery get after the quarterback.
If LSU can mix it up on offense and contain Wallace on defense, you have to like the Tigers' chances in this one.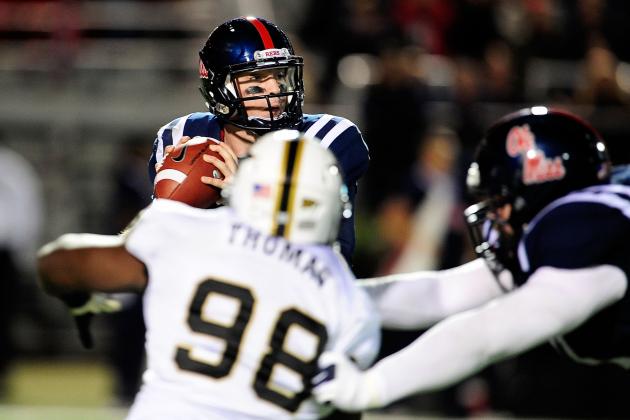 Stacy Revere/Getty Images

Ole Miss will win if it plays a near-flawless game on both sides of the football.
Beating LSU in Baton Rouge is never an easy task, especially for a team that is fighting for a bowl berth with two games remaining in the regular season.
In order to win, Bo Wallace is going to have to have a huge passing day and the Rebels are going to have to find some success in the running game.
On defense, Ole Miss will have to shut down LSU's rushing attack and find a way to stop Zach Mettenberger's recent hot streak.
That's not an easy task for a team that hasn't won in Baton Rouge since the Jevan Snead era.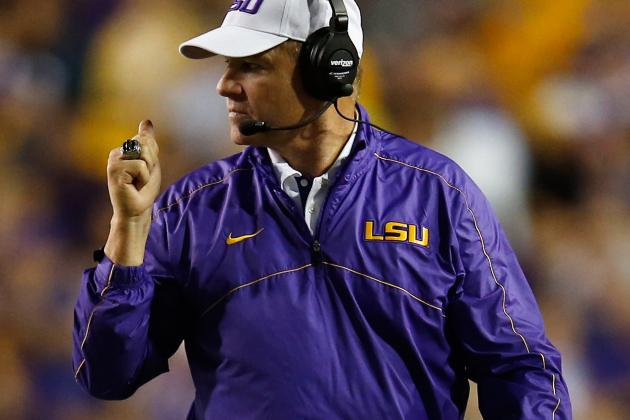 Chris Graythen/Getty Images

LSU needs this game in order to stay alive in the BCS hunt. With that much on the line and playing in front of a home crowd, it would be awfully hard to bet against the Tigers in this one.
Zach Mettenberger has been on fire lately. Another good passing day from him should assure this team a victory.
Bo Wallace and Ole Miss will be playing for a bowl berth, and this would be the type of upset that this team has been looking for all season. But LSU is too solid on defense to let it happen.
In fact, I wouldn't be surprised if Les Miles and the Tigers win in a blowout.
Make it: LSU 38, Ole Miss 7.