Tennessee Football: 9 Steps to Get the Volunteers Back to National Prominence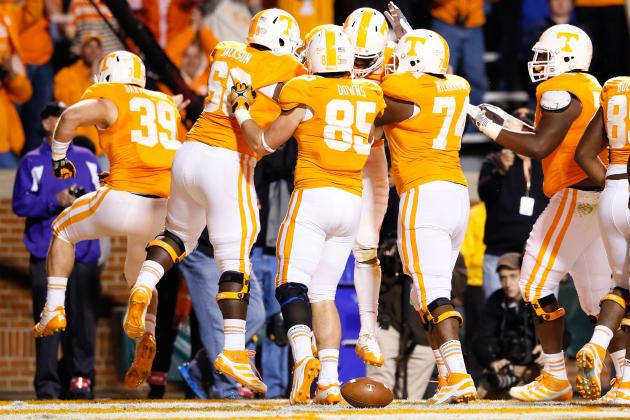 Kevin C. Cox/Getty Images

The Tennessee Volunteers will miss out on an eight-win season for the fifth straight year. This is the same program that had 16 consecutive seasons of eight or more wins during their reign of national prominence in the 1990s and early 2000s. So what's it going to take to reach that stage again?
Just five years ago, the Vols lost a closely contested battle with LSU in the 2007 SEC Championship Game. It's amazing how fast things can change in college football. Luckily for Tennessee, it's a double-edged sword.
While it may seem like ages since anyone outside of the Volunteer State cared about the Big Orange, it just takes a few good decisions strung together and a little bit of luck to reach national prominence again.
Here are the nine steps that will get the Vols there.
Begin Slideshow

»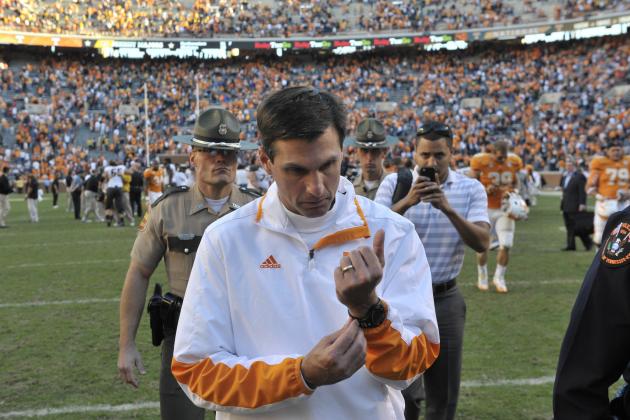 Jim Brown-US PRESSWIRE

During his nearly three years as the head coach of the Volunteers, Derek Dooley has done everything but win. Unfortunately, that's the most important part of the job.
In the three weeks after he was hired in January of 2010, Dooley was able to keep the majority of Lane Kiffin's recruiting class and even added several more players to it. Except for the seniors, the current roster was entirely brought in my Dooley, which is impressive, at least on the offensive side of the ball.
The integrity of the program was in question with numerous off-field issues during the end of Phillip Fulmer's tenure and during Kiffin's one year. While such issues haven't been eliminated, ask Janzen Jackson, Da'Rick Rogers and Cam Clear what happens if you continue to distract from the Dooley's program.
Dooley is classy guy, great with the media and with fans. But the wins have always been lacking. You know the win-loss stats by now, and they're unacceptable. At the end of the day, the bulk of the credit and in this case, the blame, falls on the head coach.
In order for Tennessee to make a return to national relevance, the Volunteers must move on. It appears that day is in the near future.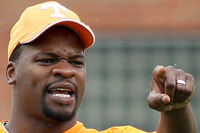 http://tennessee.scout.com/2/1220922.html
Turning good players into great players has been lacking at Tennessee, and the ability of Jay Graham and Sam Pittman to show what can be done in just one year has made that obvious.
Rajion Neal, a player who has waffled between running back and wide receiver his entire college career, has transformed into a very reliable SEC running back. His partner Marlin Lane is averaging over five yards per carry after just 3.7 last year.
The only difference between this year's running backs and last year's running backs is the absence of Tauren Poole and the presence of Coach Graham.
Of course, a powerful offensive line helps. After a solid 2010, the offensive line took a step back last season, leaving many in doubt as to whether this talented group of linemen could live up to expectations. Enter Coach Pittman, who has taught sound run-blocking skills to an already great pass-blocking unit.
Tennessee has ranked dead last in the SEC in rushing the last two years, but is now eighth out of 14. There's still a long way to go, but it's clear that the introduction of Graham and Pittman has clicked. The Volunteers needs more coaches like these.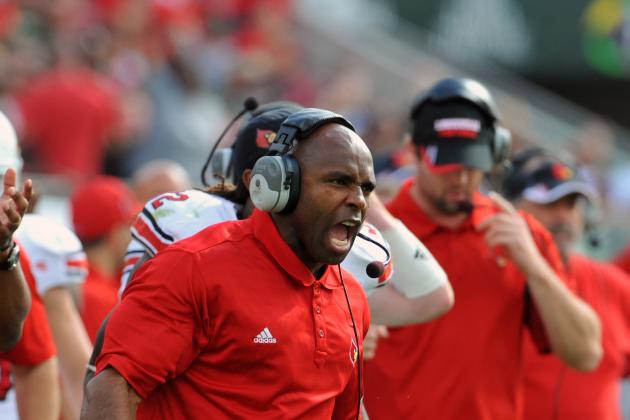 Al Messerschmidt/Getty Images

Easier said than done, right? Still, if the Tennessee Volunteers have any hopes of returning to the national stage, hiring a great coach is a requirement.
Of course, definitions of "great" differ, so let me be clear: The Vols need to get a coach who has recruited, been a head coach and won. If he has a particular affinity for college football (i.e., not a former NFL coach that hasn't coached the college game since 1991), that's a bonus.
Great coaches show you what they can do quickly. It doesn't take five years for them to make their mark, even in the worst of situations. At Vanderbilt, James Franklin is about take a program that was 4-20 in the two years before his arrival to its second consecutive bowl appearance.
Vandy had been to four in their history before him.
In his first year at Texas A&M, Kevin Sumlin has turned a .500 football team that lost its star quarterback to the NFL, Ryan Tannehill, into a bona fide contender in the country's toughest conference. He's 8-2 this season, including a road victory against undefeated top-ranked Alabama.
Hugh Freeze at Ole Miss, Brady Hoke at Michigan, Brian Kelly at Notre Dame—great coaches show you that they're great early on. Tennessee needs to find its great coach.
And I don't want to hear about money. While Tennessee is operating slightly in the red right now, $3 to $4 million for a great head coach is mere percentage points of the over $100 million annual revenue the athletic department reels in.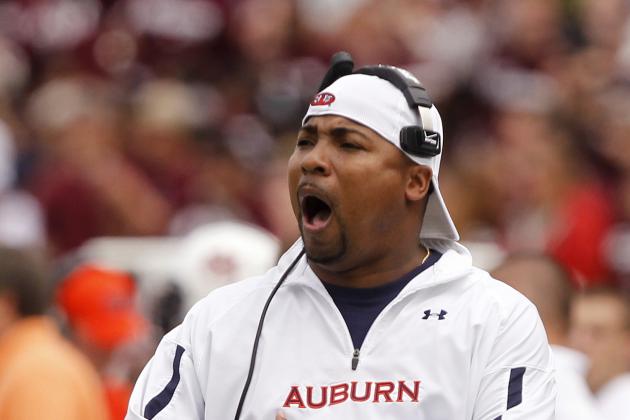 Butch Dill/Getty Images

Call it a homecoming of sorts, but if Tennessee does indeed blow up the coaching staff for the third time in five years, bringing some of the Vols' most respected products back to Knoxville is a great way to rebuild.
Trooper Taylor was a rising star in the college football world when he left Tennessee for an offensive coordinator job at Oklahoma State and is now at Auburn. In hindsight, it might've been better to have Taylor call the Volunteers' offense instead of Dave Clawson.
Taylor's enthusiasm is unparalleled, something the 2011 Vols could've used at Kentucky. Since Gene Chizik is likely to get dumped from Auburn, Taylor might be using this as a time for a potential move. If so, Tennessee needs to make a play to bring his passion back to Knoxville.
Tee Martin is now where Taylor was eight years ago. With stops in New Mexico, Kentucky and now USC, Martin is building his resume as a legitimate college coach, capable of directing quarterbacks and wide receivers.
Where he's placed with the Volunteers is secondary. The guys is a legend and good coach. This is about bringing home legends that can coach to help refocus Tennessee and reach national prominence again.
Imagine a defensive head coach in Charlie Strong, quarterbacks coached by Tee Martin, running backs by Jay Graham, wide receivers/offensive coordinator by Trooper Taylor and offensive line by Sam Pittman? Yeah, that's a good start.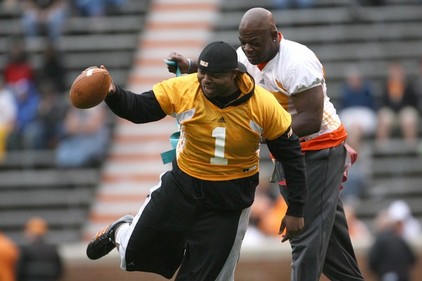 govolsxtra.com
One of the few good things about the 2012 season has been the emergence of several concerned Tennessee Volunteers football alumni.
We tend to forget that although our love as fans is seemingly endless, those who sported the orange, ran through the T and sacrificed their bodies in the name of the Big Orange might outdo our passion.
The alumni are hurting and are voicing their concern:
Well guys...I Got Nothin, go Aggies
— Erik Ainge (@ErikAinge3) November 10, 2012


Yup I'm prolly thinking what you are thinking.
— Jacques McClendon (@jmcc65) November 10, 2012


Well guys...I Got Nothin, go Aggies
— Erik Ainge (@ErikAinge3) November 10, 2012
Al Wilson and Leonard Little were on the sideline at the Missouri game. It was evident that they came because they were interested, not because of a special ceremony, because it took a camera to happen upon them by chance before they were announced over the speaker system.
That's the kind of dedication you want out of your alumni, and it's what you need in the short-term.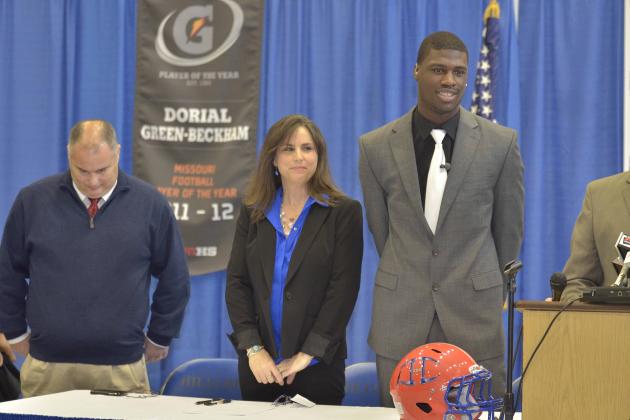 Denny Medley-US PRESSWIRE

News flash: It ain't about the X's and O's but the Jimmys and the Joes. That old adage is even more appropriate within the SEC where most schools sign tons of terrific prospects. But Tennessee is a great recruiter, right?
According to Rivals, the Volunteers have had the following recruiting class rankings since 2002: second, 18th, 13th, fourth, 23rd, third, 35th, 10th, ninth, 13th, 17th and currently 21st for the 2013 class. That's an average finish of 14th.
If you remove 2002, 2005 and 2007, whose top-four finishes look more like the exception than the rule, that average drops to 18th. Have fans been hoodwinked? Is Tennessee actually a perennially elite recruiter?
Obviously finishing atop Rivals' recruiting rankings doesn't guarantee success, but what it does do is communicate the vitality of the program. No, Texas hasn't won a National Championship since 2005, but their appearance at the top of the recruiting rankings each year shows that the program is still viewed strongly by high school prospects and coaches.
(And yes, it helps when you have a massive amount of talent in your backyard. But guess what? Knoxville isn't being relocated to California, Texas or Florida anytime soon.)
Thus, recruiting is both a current and a leading indicator of success. To sign a slew of great players shows that your program is on the right track (current) and will likely experience future success when these players have some experience (leading).
The Vols need to make 2002, 2005 and 2007 the standard, not the outlier. There's a reason South Carolina has taken Tennessee's spot on the SEC East Triumvirate—players.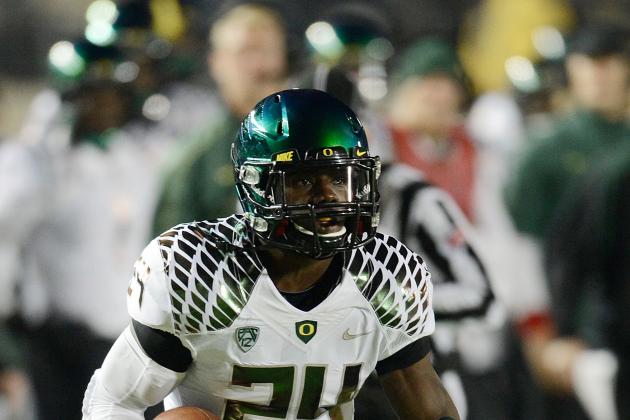 Thearon W. Henderson/Getty Images

This just makes good business sense. What value does a virtually inevitable butt-whooping at Oregon do for your program? There's nothing wrong with scheduling tough out-of-conference opponents, but Tennessee is clearly not in a position to put up a serious fight against the nation's top offense.
Besides, this game was scheduled before the SEC expansion, which added a solid Missouri program to the docket every year.
With annual bouts against Alabama, Florida, Georgia and South Carolina, there's not much to gain by playing an elite out-of-conference opponent even when you're ranked No. 1, much less in a rebuilding phase.
Inserting an NC State-like game would give the Volunteers a chance to start next season 3-0 before entering Gainesville to take on Florida.
This game usually falls as the third game of the season, but next year will be unique. Take advantage of it! Get an extra win under your belt before trying to end the eight-year losing streak.
Which is more important when rebuilding a national power: playing the best and losing (perhaps badly) or building a resume of wins?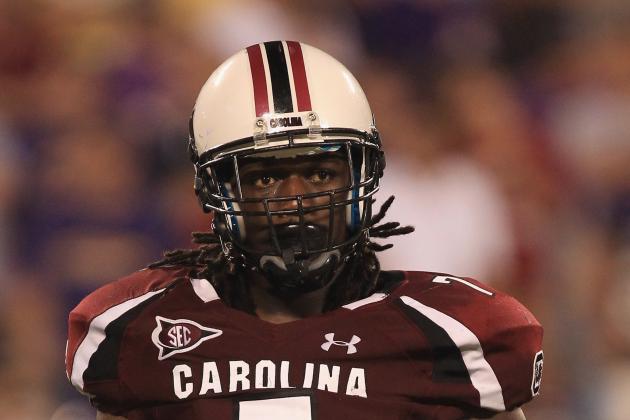 Streeter Lecka/Getty Images

Tennessee hasn't beaten Georgia or South Carolina since 2009. This trend simply can't continue when the Volunteers aim to re-assume their seat at the table of college football relevance.
As big underdogs, the Vols lost by a combined 10 points to Georgia and South Carolina this year and had chances to win both games on the last drive. In 2011, the games ended in 20-12 and 14-3 losses. The distance between Tennessee and these two programs isn't insurmountable.
With two open dates on the 2013 schedule, Tennessee gets a bye week in between these games, which should prove highly valuable come October.
If the Vols take my suggestion to buy out the Oregon game, they'll likely enter Georgia at 4-1 (counting a loss at Florida). The motivation heading into the bye week will be sky-high.
Entering South Carolina amped up at 5-1 or looking to cure a bad taste at 4-2 should yield the same result—good, hard play.
With better defensive coaching and improved player development, there's no reason the 2013 Volunteers can't grab a home win against one of these SEC East foes. Doing so could propel Tennessee to a nine-win season.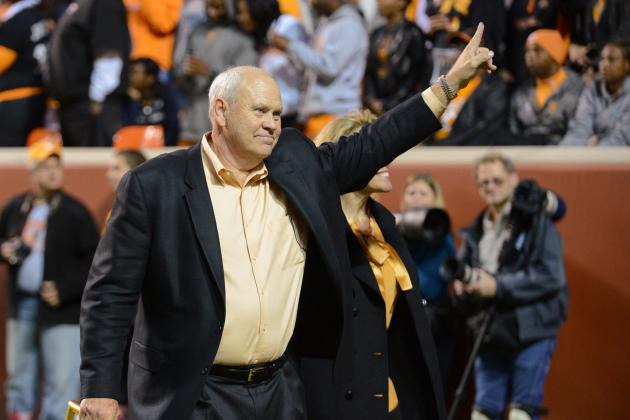 Randy Sartin-US PRESSWIRE

Winning cures all ills. It helps with recruiting. It helps with TV appearances. It helps with morale. It helps with program revenue. It helps with attracting the best coaches.
It's the most obvious yet most elusive requirement in sports. Derek Dooley might turn out to be a quality coach somewhere one day (though I doubt in the SEC), but a dearth of wins will end even the most decorated of coaches.
The most important element in returning to national prominence is winning. I believe the most important element in winning is having the right head coach in place. It makes all the difference in the world.
Whether it's tomorrow or next year when the Volunteers make their move at head coach, it must be done with careful study, complete preparation and total confidence.
Two wrong hires can send you to the cellar for a decade. One right hire can turn everything around.