WWE Power Rankings: Breaking Down WWE's Top 25 Superstars for Week of Nov. 11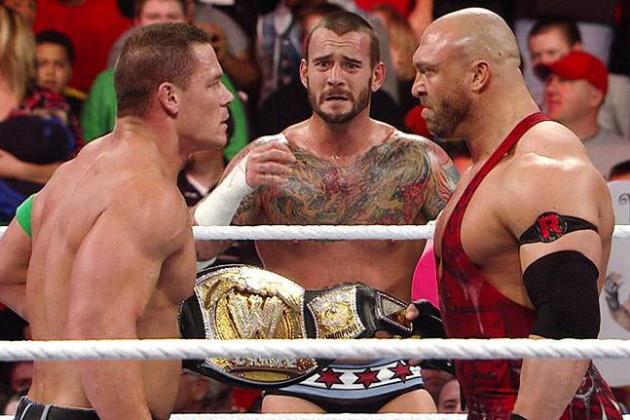 Photo courtesy of WWE.com
With Survivor Series now less than a week away, WWE has dedicated all of its time as of late building up the superstars who will be featured prominently on the card. Although the pay-per-view doesn't appear to be overly deep, there are three main-event-caliber matches in place and plenty of opportunities to set things up for TLC and Royal Rumble.
Most of the focus will be on WWE champion CM Punk, Ryback and John Cena, who will be competing in a Triple Threat match. Not surprisingly, those three superstars occupy the top three spots in this week's power rankings, but in what order?
Also, with a traditional five-on-five elimination match on tap for Survivor Series, WWE has been charged with the task of keeping 10 different superstars relevant. It has come at the expense of some of the lower-card guys, but every wrestler in this particular match should enter the pay-per-view with some measure of momentum.
Here are the top 25 superstars in WWE for the week beginning on Nov. 11. Remember that these power rankings are based solely on entertainment value and how well a wrestler is executing their role, so kayfabe factors such as wins and losses don't play a part.
Begin Slideshow

»
Last Week's Ranking: 25
He hasn't yet wrestled a WWE match, but Fandango remains at No. 25 this week. Vignettes for the new character debuted last week and continued on Raw.
There was plenty of speculation that Johnny Curtis would be playing the role of Fandango and that was confirmed on Monday as he was shown dancing with a woman in the most recent clip.
I'm not sure if a dancing gimmick can possibly elevate Curtis past the midcard, but I'm interested to see what he does with it. He wasn't even being used before, so only good things figure to come from the transition to Fandango.
It also isn't clear if Fandango is face or heel, however, I suspect we'll know a lot more in the coming weeks.
Last Week's Ranking: NR
The fact that Tensai is barely used is very disconcerting to me. While his gimmick didn't get over as effectively as WWE brass had hoped, it's criminal how poorly he has been utilized.
Tensai was a victim of smarky fans who thought it was hilarious to chant "Albert" during his matches. It could have been circumvented by having Tensai cut a promo, but the writers failed to make that happen.
Instead of being a potential top heel or an upper midcard heel at the very least, Tensai is seen about once or twice a month in a losing effort. He faced R-Truth on Monday and was beaten fairly handily, but his in-ring skills for a man his size is evident. I just wish WWE would at least give him a chance by putting him in a feud of some kind.
Last Week's Ranking: NR
Although many people would probably disagree, I consider Primo and Epico to be the best pure tag team in WWE.
They may not have the same flash as Rey Mysterio and Sin Cara or the star power of Kane and Daniel Bryan, but Primo and Epico are a true team. I enjoyed their run as tag team champions, but their reign occurred when there simply wasn't any competition. There is plenty now, though, and that has knocked them way down the ladder.
Primo and Epico teamed with The Prime Time Players in a losing effort against Mysterio, Sin Cara, Justin Gabriel and Tyson Kidd on Monday, but they acquitted themselves very well. Primo and Epico should be closer to contention than they are, and perhaps a face turn is in order as Rosa Mendes has been flirting with Alberto Del Rio as of late.
Last Week's Ranking: NR
William Regal hasn't competed regularly in a couple years, but it's always great to see him in action.
Seeing as the WWE was in Regal's native England last week, it wasn't a big surprise to see him wrestle across the pond. Regal teamed with Sheamus against Big Show and Wade Barrett after Show attacked him in a pub. Regal came out on the losing end, but he sufficiently put Big Show over as a threat.
Regal got another shot at Big Show on Monday, but he was once again succumbed to the KO Punch. Regal is likely to go back to his administrative duties, but he is one of the most underrated WWE superstars of all time, so I believe he deserves some recognition.
Last Week's Ranking: 21
Justin Gabriel was unable to capture the United States Championship against Antonio Cesaro at Hell in a Cell, but he continues to impress each and every time he steps in the ring.
Gabriel's lack of charisma is likely to prevent him from becoming anything more than a midcarder. However, he has enough wrestling talent that he should be an important part of the roster moving forward.
Gabriel scored the pinfall victory in an eight-man tag match on Monday thanks to his patented 450 Splash. He teamed with Rey Mysterio, Sin Cara and Tyson Kidd in the match, and it makes me wonder if he might reprise his partnership with Kidd.
They quietly went their separate ways so Gabriel could pursue the U.S. title, but I'd like to see them utilized regularly as a team moving forward.
Last Week's Ranking: NR
It isn't often that Tyson Kidd is seen on WWE programming, but performances like the one he put on Monday make me wonder why that is. Kidd is unquestionably one of the best in-ring workers in WWE, and while his mic skills are lacking in much the same way as Justin Gabriel, there is no reason why he shouldn't be a major player in the midcard.
Kidd's performance in the eight-man tag match on Monday was great and he was a big reason why that match stole the show. I realize it isn't easy to get the most out of every guy on the roster, but Kidd is one superstar who should be appearing regularly rather than every few weeks.
Last Week's Ranking: 19
Although 3MB is compromised at the moment due to the unfortunate passing of Drew McIntyre's mother, I have no doubt that they'll be back to their regular antics as soon as he returns to action.
It seemed like 3MB was starting to gain some legitimate heat last week, and I'm interested to see what the creative team can do with them.
Their "Behind the Music" promo was pretty entertaining, particularly the performance of Jinder Mahal. It's obvious that WWE is trying to get something out of Heath Slater by forming this stable, but only time will tell how much it helps him.
Ultimately, 3MB is probably a midcard comedy act at best. However, that isn't necessarily a bad thing when you consider none of the superstars involved were being used much before.
Last Week's Ranking: 16
Brad Maddox made his WWE in-ring debut on Monday, and while he was easily disposed of by Ryback, I was fairly impressed with him.
Maddox wasn't afforded the opportunity to get any offense in, but he has a good look and I can see him sticking around. Maddox was unable to capture the $1 million contract that was at stake, however, there are obviously bigger plans in the works.
Maddox spoke with Paul Heyman prior to his match, and despite the fact that nothing came out of it immediately, it's going to play a role of some kind down the line. With CM Punk facing Ryback and John Cena in a Triple Threat match on Sunday at Survivor Series, perhaps Maddox will once again help the WWE champion retain his title.
Last Week's Ranking: 18
For the first time since the dissolution of his team with Kofi Kingston, R-Truth is involved in a meaningful storyline as he is chasing Antonio Cesaro's United States Championship.
WWE obviously made a conscious decision to break up Truth and Kofi due to the lack of face depth in the midcard, and it was a good move since both of them are now very much in the title picture.
Truth's feud with Cesaro doesn't have a lot of heat behind it, so I doubt that he'll defeat the Swiss star at Survivor Series. If nothing else, Truth is a solid, veteran face who should pose a stiff challenge to a guy who is still trying to get over as a face. Truth's Lil' Jimmy gimmick appears to have been toned down as well, so hopefully he's evolving into a less cartoonish character.
Last Week's Ranking: 17
With Team Hell No currently feuding against Team Rhodes Scholars, The Prime Time Players are in a state of flux.
They have established themselves as a legitimate tag team in the WWE, but they've been playing second fiddle for the past couple months. Darren Young and Titus O'Neil have mostly feuded with the team of Rey Mysterio and Sin Cara, and that seems likely to continue moving forward.
The mere fact that the WWE has enough teams to carry on two feuds at once is mind-boggling when you consider how bad the tag team division was over the past couple years, so The Prime Time Players are still in a pretty advantageous position. They're a fairly young team and whenever the temporary teams atop the division break up, they'll be there to pick up the pieces.
Last Week's Ranking: 15
Alberto Del Rio is a classic case of a wrestler who is in a holding pattern right now.
His feud with Randy Orton is technically still going on, but he has lost several matches to him and isn't likely to come out on top. He'll be involved in the traditional five-on-five elimination match at Survivor Series, and once that comes to an end, he'll have to move on to something else.
Brighter days appear to be on the horizon for Del Rio, though. He and Rosa Mendes have been flirting back and forth as of late, and that figures to lead to a partnership of some kind.
That will inevitably lead to the firing of Ricardo Rodriguez, at which point Ricardo can adopt the persona of El Local. Del Rio and El Local would then engage in a feud with it eventually being revealed that El Local is actually Ricardo.
Based on the fact that Ricardo is more over than Del Rio, it should be a positive for The Mexican Aristocrat.
Last Week's Ranking: 13
As much as I enjoy Antonio Cesaro, it is quite clear that he is having difficulty getting over as a heel with the casual audience.
It isn't all his fault, though, because he hasn't been put in a meaningful feud since winning the United States Championship in SummerSlam. That appears to be coming to an end, however, as he has had some run-ins with R-Truth over the past several weeks and will defend his title against him at Survivor Series.
Although the feud hasn't been a masterpiece by any means, at least Cesaro is going up against a face who the fans care about. Cesaro can have a great match with pretty much anyone, and I expect that to be the case on Sunday with Cesaro coming out on top.
In order to truly establish Cesaro, he needs to go up against a pro-American face. There isn't an obvious one on the roster right now, but perhaps Jack Swagger can return with a revamped gimmick.
Last Week's Ranking: 14
Randy Orton is truly in no man's land right now and there doesn't appear to be a clear path out of it.
Orton hasn't been in the main-event scene in over a year as he has bounced around from midcard feud to midcard feud with a 60-day wellness policy violation suspension mixed in as well. Orton will compete in the five-on-five elimination match at Survivor Series. However much like Alberto Del Rio, his prospects aren't great after that.
The only thing that could freshen up Orton right now is a heel turn. Orton is undoubtedly popular, but his character has been stale for a very long time.
Most fans would agree that his psychotic heel character was far more entertaining, and it would give him more options than he has now. Turning heel would allow him to feud with a guy like Sheamus, or perhaps even Ryback or John Cena, and that's a lot more appealing than Orton vs. Del Rio yet again.
Last Week's Ranking: 12
Pairing Rey Mysterio with Sin Cara was one of the best decisions WWE has made in a long time and it continues to pay dividends.
Not only have they added much-needed depth to the tag team division, but they have helped each other out. Mysterio has some direction after accomplishing essentially everything possible in the WWE, while Sin Cara has settled in nicely since coming under the tutelage of Mysterio.
Mysterio and Sin Cara haven't yet received a Tag Team Championship shot, but it's only a matter of time. Team Hell No and Team Rhodes Scholars can't stay together forever, but Mysterio and Sin Cara are likely in it for the long haul.
Until their time comes to reach the pinnacle of the tag division, Mysterio and Sin Cara will continue to put on great matches and help the once-endangered tag division return to prominence.
Last Week's Ranking: 11
Kofi Kingston is once again in possession of gold as he has been so often over the course of his WWE career.
He beat The Miz for the Intercontinental Championship last month and has since reestablished himself as one of the company's top midcard faces. At the same time, though, Kofi has showed a more aggressive side as of late, specifically when he refused to shake The Miz's hand on SmackDown and hit him with a dropkick instead.
It's far from a certainty, but I wouldn't be surprised if a double turn takes place at Survivor Series. Miz was added to Mick Foley's team in the Survivor Series elimination match, so he and Kofi may have some disagreements.
A face turn seems like a near certainty for Miz, and the best way to cement it would be to have Kofi turn heel simultaneously. Kingston has never been heel in WWE, so his evolution is long overdue.
Last Week's Ranking: 10
Team Rhodes Scholars may technically be a "thrown-together" tag team, but they have been very impressive since joining forces.
Cody Rhodes and Damien Sandow are both potential singles stars, however, neither was in line for a big push as individuals. Having them team up gives them both something worthwhile to do and it strengthens the tag team division as well. In fact, Rhodes and Sandow will have a chance to take the next step on Main Event.
Rhodes Scholars will challenge Team Rhodes Scholars for the Tag Team Championships, and it seems very possible that they could become the new titleholders. There has already been one title change on Main Event and the dysfunction between Kane and Daniel Bryan could finally backfire.
Even if Team Rhodes Scholars comes up short, though, an eventual run with the Tag Team Championships seems like a near certainty.
Last Week's Ranking: 9
Say what you will about Big Show being boring, but he has executed his role to perfection as of late.
When Big Show defeated Sheamus for the World Heavyweight Championship at Hell in a Cell I was a bit disappointed at first, but that loss has already proven to be a good thing for Sheamus. The Great White was made to look invincible, but Big Show has been built as an unstoppable force in his own right, just as he should have been for the majority of his career.
Big Show is clearly at his best in the monster heel role and that is what he has played for the past few months. It's fairly obvious that he isn't a long-term answer as world champion, but I have no issue with him transitioning the belt to somebody else.
Sheamus needed to face a bit of adversity for once, and Big Show has provided him with plenty.
Last Week's Ranking: 8
Despite the fact that WWE still can't seem to find something for Wade Barrett to do, I continue to be entertained by him every week.
The reception for Barrett in his native England last week was great and it would seem to suggest that he is destined for stardom. The WWE missed its opportunity to immediately toss him into the main-event scene when he returned from injury, but I do have hope for him now that Paul Heyman owes him a favor.
Barrett agreed to join Team Punk last week with the caveat that Heyman owes him, and Heyman accepted. Punk was removed from the match, so that favor may be pushed to the back burner, but it's still present.
Barrett has it all, including size, wrestling ability and mic skills, but putting him with Heyman may be the thing that launches him to the top. There isn't an obvious avenue for him to the world title picture right now, but it's bound to happen at some point.
Last Week's Ranking: 6
Sheamus' exposure has noticeably decreased since he lost the World Heavyweight Championship to Big Show, but that hasn't necessarily been a bad thing.
I'm a fan of Sheamus, but he was shoved down the fans' throats a bit too much since WrestleMania. The loss to Big Show humanized him and removed him from the spotlight to some degree, so he has been much more palatable recently. He is still a huge part of SmackDown, but at least he has been scaled back.
With that said, Sheamus continues to perform impressively in the ring. While his mic work may be a bit corny at times, his in-ring work has been superb fort the past several months.
He doesn't seem to get enough credit for his wrestling ability, but Sheamus may be one of the best in the company pound-for-pound. If Sheamus loses to Big Show at Survivor Series he'll be out of the main-event scene for the first time in a long time, but I'll come to appreciate him even more.
Last Week's Ranking: 7
Dolph Ziggler continues to be a man without a feud, but he makes the most of what he is given.
Ziggler's main focus has been trying to expose the alleged affair between John Cena and A.J. Lee along with Vickie Guerrero, but he'll truly get a chance to shine on Sunday. Ziggler will captain his team against Mick Foley's team in a traditional, five-on-five elimination match at Survivor Series. If things are booked correctly, then Ziggler figures to get the rub he so desperately needs.
Since winning Money in the Bank, Ziggler has lost pay-per-view matches to Chris Jericho and Randy Orton, and he was even left off the Hell in a Cell card.
A future world champion should be picking up victories in order to make himself look credible before the cash-in happens, but Ziggler hasn't been booked that way. Despite that, Ziggler always performs in the ring and has improved on the mic as well. Hopefully he is properly rewarded at Survivor Series.
Last Week's Ranking: 5
Team Hell No was the hottest thing in wrestling just a couple months ago, and while that is no longer the case, Kane and Daniel Bryan continue to put on a great show.
The novelty of Kane and Bryan teaming up was great initially, as were the skits they took part in. Those have been few and far between in recent weeks. However, the constant bickering and arguments between them have ensured that they continue to be crowd pleasers.
Super teams with two fan favorites paired together have always been popular, and Team Hell No is no exception. The dynamic between them is great because they seem to hate each other on the surface, but when Kane had to tag with The Miz on Monday, Bryan was noticeably jealous.
Both Kane and Bryan will return to the singles ranks at some point and they'll both excel. For the time being, however, they are the guys who will continue to boost the tag-team division.
Last Week's Ranking: 4
When The Miz removed himself from CM Punk's Survivor Series team last week, it presented a great opportunity for him to turn face and it appears as though that may actually be happening.
Miz has been much more fan friendly as of late, and he even offered to shake Kofi Kingston's hand on SmackDown. Kofi refused due to Miz's shady past, but that didn't deter The Awesome One. He lobbied to be added as a member of Team Foley and he will compete on The Hardcore Legend's team at Survivor Series.
There is always the possibility that Miz will screw over Foley and remain heel, but the time is right for Miz to turn face officially. He is a fantastic heel with great mic skills, but he has gone as far as he possibly can.
The lack of top face depth is obvious, and there is plenty of room for Miz. He would be a great candidate to defeat Big Show for the World Heavyweight Championship and I'd love to see it happen. Miz has the charisma necessary to make the switch and there is little doubt that he can do it seamlessly.
Last Week's Ranking: 2
John Cena took on CM Punk in the main event on Monday, and as is always the case, the two of them put on a fantastic match together. Cena ultimately came out on top thanks to Ryback chasing Punk back into the ring, but the post-match interaction was the most interesting part of the night.
After defeating Punk, Cena went to pick up the WWE Championship, but Ryback did the same. The show went off the air with them playing a game of tug-o-war and Punk looking on helplessly.
It's great to see Cena back in the fold because even though I'm not a fan, matches and angles feel bigger and more important when he's involved. Aside from the WWE Championship storyline, Cena is also involved in an alleged affair with A.J. Lee.
Both he and A.J. have denied involvement, but A.J. seems to be pushing toward making something happen between them. I have little doubt that she is working with Dolph Ziggler and Vickie Guerrero, and I'm intrigued to see what that means for Cena.
Last Week's Ranking: 3
He may not have great mic skills and he certainly isn't the best in-ring worker around, but Ryback continues to whip the fans into a frenzy.
All he has to do is glare or break out his signature "Feed me more" catchphrase and he has the WWE Universe eating out of the palm of his hand. I don't necessarily understand it, but I have to give credit where credit is due. Ryback appears to be lacking in several vital elements, but he has found a way to get past his shortcomings.
Ryback had a confrontation with John Cena to close Raw, and it could be argued that Ryback received a more favorable reaction than the face of the company. Ryback will face Cena and CM Punk for the WWE Championship at Survivor Series and while I highly doubt that he'll win, I'm starting to think that he's a future world champion.
I didn't think that he had what it took, but if the fans continue to make him into a star, the WWE will have no choice but to give him the belt eventually.
Last Week's Ranking: 1
Ryback may be getting the biggest face reactions at the moment, but WWE champion CM Punk took a huge step in his evolution into a top heel.
Despite Punk's dastardly actions over the past few months, he has continued to receive some crowd support based on the fact that he was a top face heading into the 1,000th episode of Raw. Punk successfully turned the majority of the audience against him on Monday, however, as he mocked Jerry "The King" Lawler upon his return to commentary after suffering a heart attack nine weeks ago.
Punk brought up the fact that Lawler nearly died, called him a zombie and said it was Lawler's own fault for stepping into the ring with the best wrestler in the world. A lot of fans are upset that Punk and the WWE exploited Lawler's near-fatal incident, but that means it worked.
The goal was to make Punk look like the worst human being possible and that mission was accomplished. Punk shined on the mic and in the ring on Monday, and he maintains the top spot because of that.
Follow @MikeChiari on Twitter and listen to him on Ring Rust Radio.