Power Ranking the 10 Most Entertaining Golf Tournaments of 2012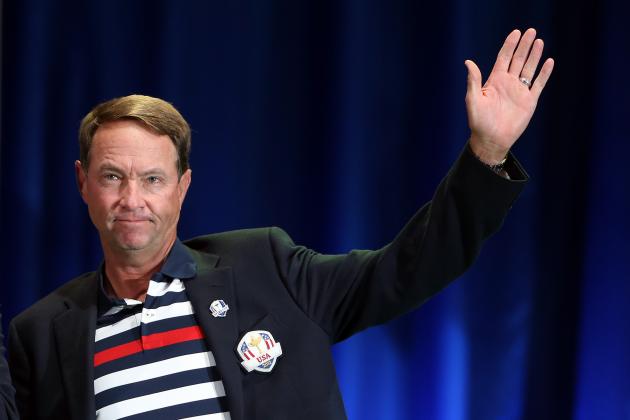 Ross Kinnaird/Getty Images
U.S. Ryder Cup captain Davis Love III's team came up short.
For golf fans, there is excitement every week. Different players, different tournaments, different shots, but there's excitement everywhere.
But there are relative degrees of excitement, and it was fun to sit back and reflect on what the 2012 PGA Tour had to offer.
Well, there was plenty, highlighted by a very special Ryder Cup at Medinah Country Club in Chicago.
Here's my take on the 10 most entertaining tournaments of the year from top to bottom.
Begin Slideshow

»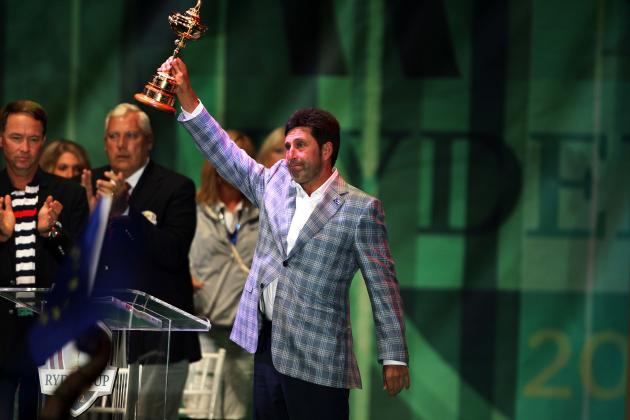 Brian Spurlock-US PRESSWIRE
Captain Jose Maria Olazabal proudly holds the Ryder Cup.
For a couple reasons right off the top, the Ryder Cup was the most entertaining event.
It's played every other year, which leaves plenty of time for the winning team to gloat and the losing team to work up a good anger for next time.
The star-studded rosters of both teams virtually assure great golf and the match play format is the icing on the entertainment cake.
Amazing Sunday stuff this year, watching the U.S. team blow a four-point lead.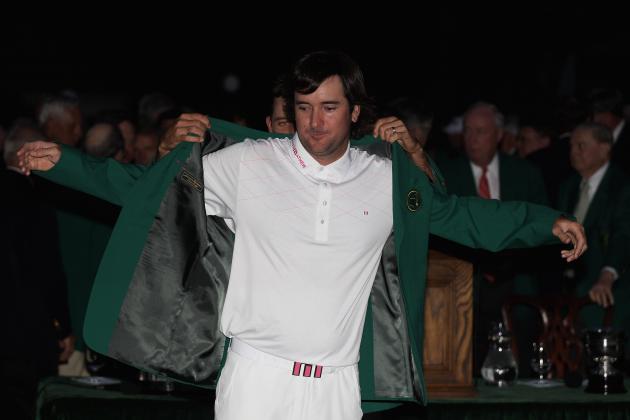 Scott Halleran/Getty Images
Bubba Watson tries on his Masters green jacket.
There have been few more entertaining and unpredictable finishes to a tournament than what took place at Augusta National Golf Club on Easter Sunday.
Louis Oosthuizen got things going with a rare double eagle on the second hole that started a mad scramble for the top spot on the leaderboard.
Bubba Watson made his way up the board with four straight birdies on the back nine to shoot 68 and force a playoff with Oosthuizen. But Bubba saved his best for last, thrashing a wedge from the trees on the right side of the 10th fairway that curved 40 yards, got onto the green and left Watson 10 feet for birdie.
When Oosthuizen couldn't make par, Watson two-putted to win his first major, as unlikely as any ever won.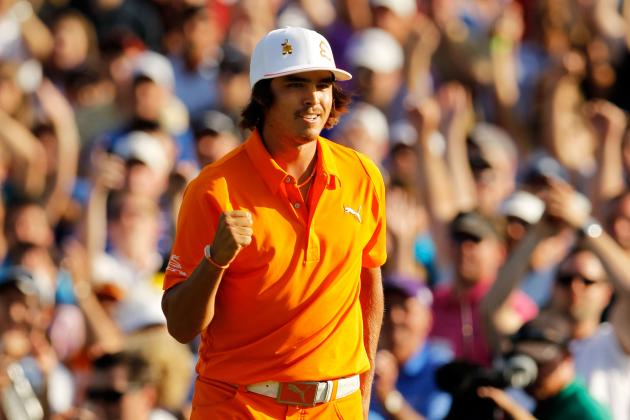 Getty Images/Getty Images
Rickie Fowler is all smiles after getting his first victory.
It's always exciting to see promise fulfilled as Rickie Fowler did at the Wells Fargo Championship at Quail Hollow Club.
The powerful youngster has been hyped as a superstar in the making, but had to do it the hard way.
In a three-way playoff that featured U.S. Open champion Rory McIlroy, the 23-year-old Fowler gambled with a 51-degree wedge that had to be perfect on an 18th hole that had yielded only four birdies all day.
He stuffed it to four feet on the first extra hole, beating McIlroy and D.A. Points for his first PGA Tour win.
Sam Greenwood/Getty Images
Tiger Woods got that winning feeling again at the Arnold Palmer Invitational.
Tiger Woods winning the Arnold Palmer Invitational is not necessarily news.
Heck, he's won the thing seven times now.
But watching him grind out his first win in 923 days, the longest victory drought of his career, was something to behold.
He shot a final-round 70, the lowest of anyone in the final 16 pairings of the day.
While the conclusions being jumped to that Tiger was back proved a bit over the top, it was fun watching him work his way around Bay Hill and close the door.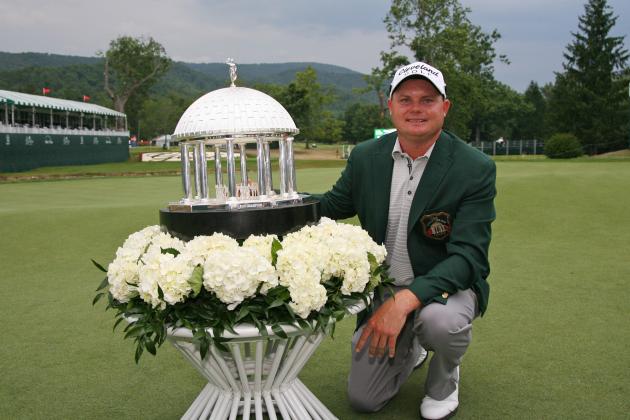 Hunter Martin/Getty Images
Ted Potter Jr. poses with Greenbrier Classic after first career victory.
OK, so it wasn't a star-studded leaderboard, but this year's final round of the Greenbrier Classic proved you don't have to have elite players to have a great event.
Ted Potter, Jr. and Troy Kelly hung around the leaderboard enough to be in the hunt Sunday afternoon.
They both wobbled a bit through the afternoon, but Potter ended up shooting a 64 to force a playoff with Kelly.
It looked as though they'd be joined by U.S. Open champion Webb Simpson, who had gone 59 holes without a bogey before making four in five holes to shoot 40 on the back nine.
The playoff took three holes and was won when Potter dropped his tee shot on the par 3 18th hole to within four feet and then made the birdie putt.
Tiger Woods has hit more than a handful of great shots, like the pair of chip-ins he's made on the 14th hole at Muirfield Village Golf Club during the Memorial Tournament.
This year, the spectacular shot came at the 16th on Sunday. Over the green back right, Woods' ball was in deep rough.
He hit a delicate 60-degree wedge that put the ball on the green exactly where it needed to be and it rolled into the cup.
That was enough to get him a two-shot win over Rory Sabbitini and Andres Romero. It was the fifth Memorial title for Woods.
It just doesn't get much better than watching when Tiger makes a Sunday charge.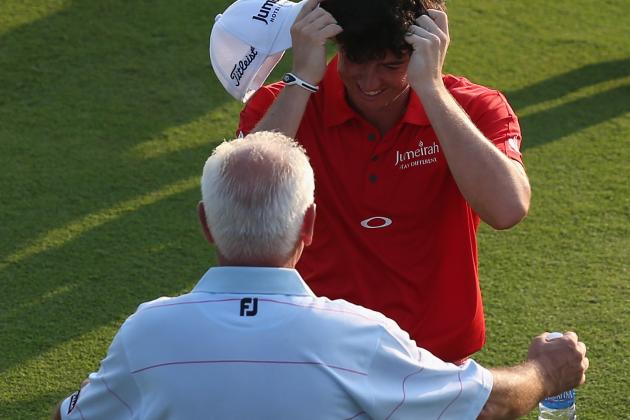 Ross Kinnaird/Getty Images
Rory McIlroy about to get a hug from his father.
There was no doubt the Ocean Course at Kiawah Island was going to share top billing with the eventual champion of the PGA and it certainly did.
But Rory McIlroy took the next step in his development as the best player in the world by pulling away from the field in the final round by shooting a great round of 65.
Just the beginning of a great end of the season run for McIlroy.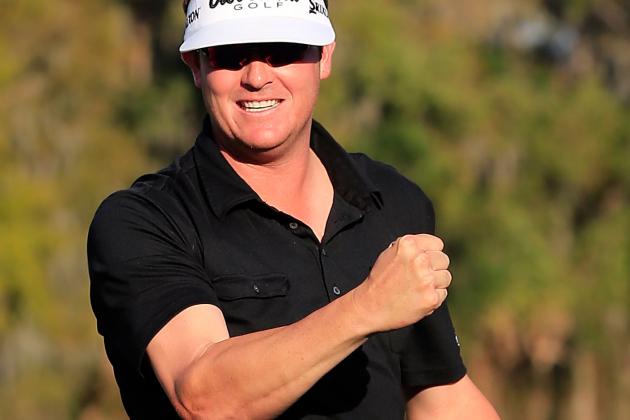 Sam Greenwood/Getty Images
Charlie Beljan celebrates his first PGA Tour victory.
There is excitement and there are thrills produced by great shots and great players each week on the PGA Tour.
But what happened at the Children's Miracle Network Hospitals Classic goes above and beyond the game.
Charlie Beljan, one of those virtual unknowns who pops up on leaderboards, was battling serious health issues: shortness of breath, increased heart rate and lack of feeling in his arms.
But he put on one of the most courageous performances ever in winning his first PGA Tour event. Now that was entertainment.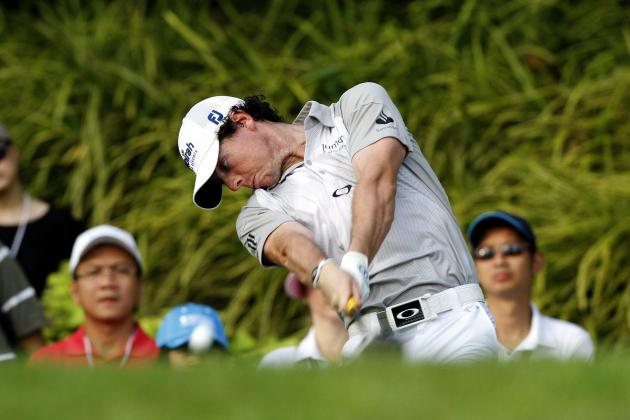 Stanley Chou/Getty Images
Rory McIlroy shows the effort he makes with every swing.
It doesn't get much more entertaining than watching the continued maturation of a player who has the potential to be the best in the game for a long time.
Rory McIlroy was three strokes behind Louis Oosthuizen, and three strokes ahead of Tiger Woods, when the day began.
He made short work of that deficit, erasing it in five holes. He went on to win by a shot over Oosthuizen and gained momentum toward a spectacular individual finish to the season.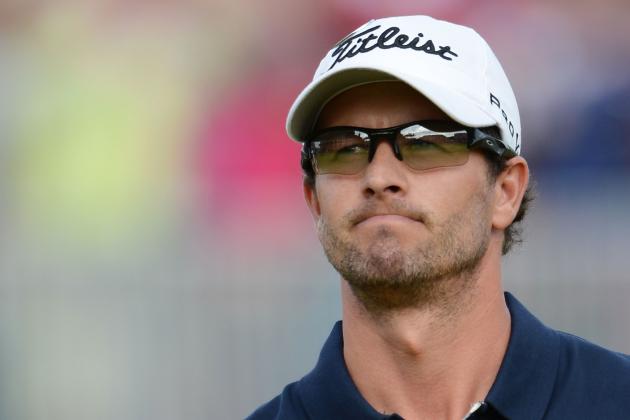 Stuart Franklin/Getty Images
Adam Scott let the big one slip away in the Open Championship.
Adam Scott's big moment was at hand, thanks in part to a triple bogey on the sixth hole by Tiger Woods.
Scott had control of this one, finally ready to break that 0-for-majors streak.
He was up by four shots with four holes to go, but managed to bogey each one, allowing Ernie Els, who was six shots out of the lead when the final round began, to steal the win.
It made for entertaining television, although it was heart-wrenching for Scott and his fans.