MotoGP 2012: End of Season Grades for All Factory Riders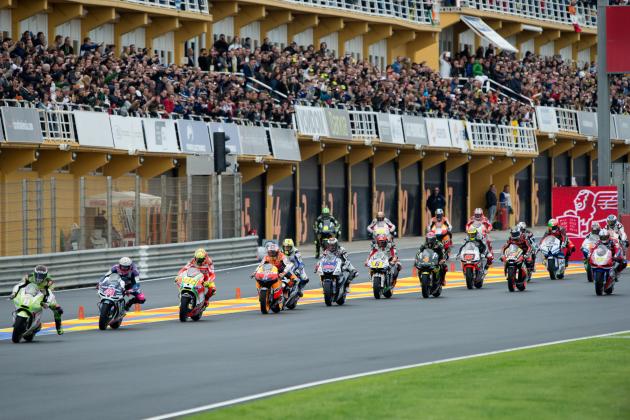 Mirco Lazzari gp/Getty Images

The 2012 MotoGP season gave us many things that were forgettable, some that were worthy of celebration and some that were just awful.
We saw the end of the career of an incredible rider.
We saw a living legend fail—again—to tame a notoriously temperamental beast.
We saw a factory rider cursed with bad luck the likes of which I would not have believed could exist.
And we saw two riders come into their own in thrilling fashion.
Before looking ahead to next season, I want to take a look back at 2012 and give each of the factory riders a grade for their performance.
Begin Slideshow

»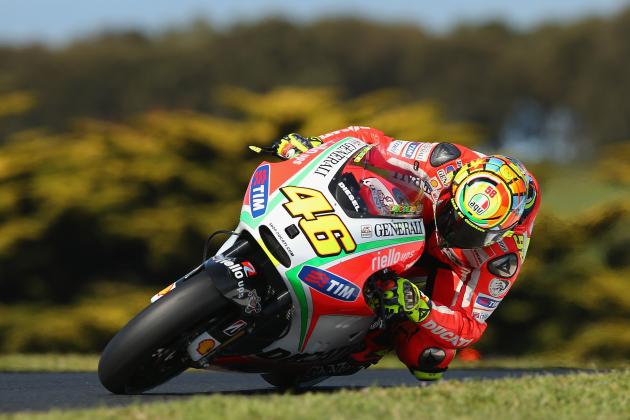 Quinn Rooney/Getty Images

Grade: F

Valentino Rossi failed—for the second year in a row—to win a race on the Desmosedici. For that, he gets an F.
The entire Ducati experiment was a complete and utter failure.
We may never fully know how much of the blame lies with Ducati and how much lies with Rossi, but that Rossi was never able to even approach the success that Casey Stoner had on the Desmo means that he shoulders a great deal of it.
At the same time, you can tell how comfortable Valentino Rossi is on any given bike by how far he leans his body away from it. The above picture illustrates just how uncomfortable he was on the Ducati.
The problem Rossi had in his first test with Ducati was the same problem he had in his last race for them two years later: lack of front-end feel.
Despite all of the accumulated knowledge and wisdom of Rossi, his long-time crew chief Jerry Burgess and Ducati Corse General and Technical Director Filippo Prezioso, and all of the changes they made to the bike—including a switch from the carbon fiber frame which used the engine as a stress bearer to the more conventional aluminum tube frame—the Desmosedici still refused to let the rider feel the track through the front wheel.
To see only two podium finishes in 18 races for a nine-time world champion in his second season with a manufacturer was shocking.
For 2013 he heads back to Yamaha with his tail between his legs hoping to prove that it was the Desmosedici, not his own declining skills, that was responsible for his lackluster performances the last two years.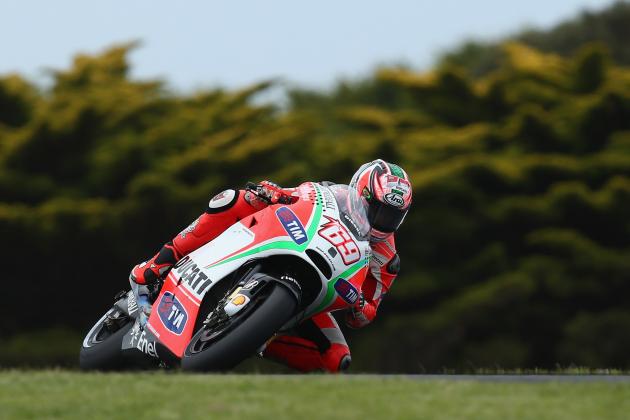 Robert Cianflone/Getty Images

Grade: D
The Kentucky Kid has had even more trouble with the Desmosedici over the last two years than his teammate.
I hesitated to give Hayden a D because he was on a Ducati, but for a former world champion to never finish better than fourth—and only achieving that once—and to finish in sixth place or below in every race but one is disappointing even when you consider that he was riding the Desmosedici.
Hayden just looked unhappy all year and I can't blame him. I think if he would have had another offer, any other offer, to stay in MotoGP on a non-CRT bike in 2013 he would have taken it, but as it is a return to Ducati was his only choice if he wanted to keep racing against the best in the world.
In the interest of seeing a more competitive field, hopefully Hayden and his new teammate Andrea Dovizioso can do what Rossi could not and figure out a way to fix the accursed Desmo.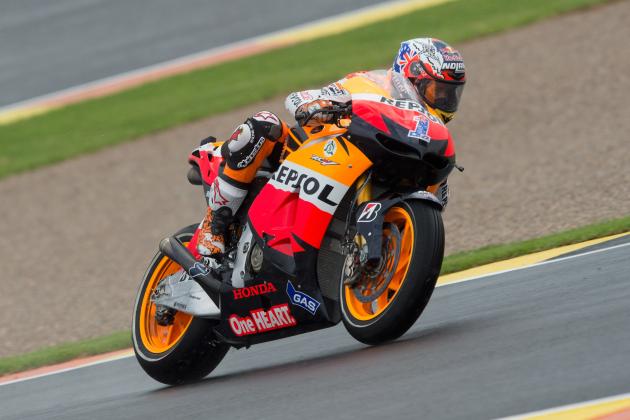 Mirco Lazzari gp/Getty Images

Grade: A
Casey Stoner -- the reigning world champion at the time -- announced in Le Mans, France that he would be retiring at the end of the 2012 MotoGP world championship, at the age of 27.
It was a shocking disclosure that took everyone by surprise. But I guess that is always the case when a world-class athlete decides to retire at the peak of his abilities.
MotoGP's constant rule changes and the evident push to get the whole field on CRT machinery (highly tuned production engines in prototype chassis' instead of 100% prototype machines) were cited by Stoner as contributing factors in his decision to call it quits.
With MotoGP—thanks in large part to Yamaha and Honda agreeing to sell their prototype engines to satellite teams—having evidently changed its tune, perhaps Stoner will make a return in 2014 or thereabouts if he gets tired of fishing (his pastime of choice).
If it weren't for the unlucky crash on the final turn at the Sachsenring and then the horrific high-side at Indianapolis—which cost him his participation in the following three races—Casey Stoner would have been challenging for a repeat turn as world champion.
In the seven rounds prior to the Sachsenring race, Stoner had three first-place finishes, one second-place finish, three third-place finishes and a fourth-place finish, and he was battling teammate Dani Pedrosa for the lead in that fateful final corner before his front tire betrayed him.
After that crash he would only register two more victories the rest of the season: a thrilling win at Laguna Seca in California and a dominant ride in his farewell performance at Phillip Island—his home track—in Australia.
When healthy, Casey Stoner rode like the champion that he was.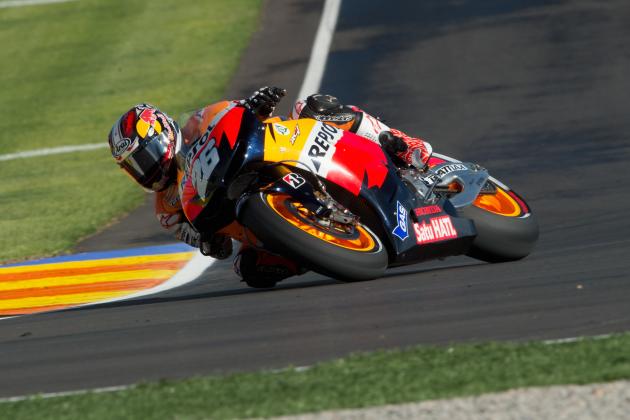 Mirco Lazzari gp/Getty Images

Grade: A+
2012 was a coming-out party for Dani Pedrosa.
His first five years in the premier class of MotoGP could be viewed as a story of immense potential but disappointing results.
It seemed, after waiting so long, that the diminutive Spaniard would never show the kind of competitive fire that separates the great from the good. Pedrosa was always being pushed around and then allowing his abusers to get away with it as they sped off into the distance after an overly aggressive overtaking maneuver.
Not in 2012.
There was no better example of Pedrosa's new-found tenacity than the Brno round in the Czech Republic. Pedrosa and Jorge Lorenzo spent the entire 22-lap race no more than four tenths of a second apart. On the 22nd and final lap, the lead changed hands four times with Pedrosa finally emerging the victor after a brave but totally clean pass of Lorenzo with only two corners to go.
Including Brno and the round before it at Indianapolis, Dani Pedrosa won six out of the last eight races.
This was the Dani Pedrosa we had all been hoping to see. If we see a lot more of him in the coming years there is no telling how many races he might win.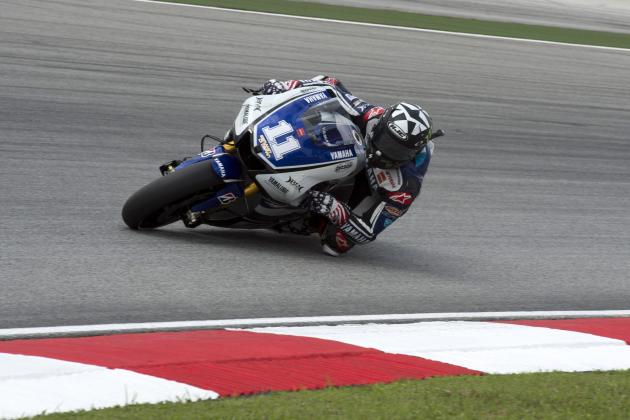 Mirco Lazzari gp/Getty Images

Grade: F
Ben Spies had some bad Ju-Ju this year.
In a disastrous second season with the factory Yamaha team, Spies was beset by uncanny bad luck and poor choices, from crashes and technical problems to food poisoning in Mugello, Italy.
After Spies utterly dominated World Superbike in 2009, and then after his successful initial season in MotoGP with the Yamaha Tech 3 satellite team a year later, many thought he was the next great rising star and would soon challenge the four "aliens"—Dani Pedrosa, Casey Stoner, Jorge Lorenzo and Valentino Rossi—for MotoGP supremacy.
Sadly, I think, for all involved—at least all of us wishing to see a more competitive and entertaining spectacle in MotoGP—that was not to be.
Some guys just can't ride a prototype bike with the same kind of expertise as a production machine. I know Spies' fellow American Colin Edwards has preached for years that it is absolutely imperative that young riders get into prototype racing as quickly as they can because of how different, and more difficult, it is.
Whether Spies has the ability to master a prototype or not I can't say. He has had some success in MotoGP, but after the 2012 season an equally strong argument could be made to support both points of view.
Spies heads to Pramac Ducati—a satellite team—for 2013. At this point, the last thing a struggling rider wants to do is get on a Ducati. The Desmosedici is much more likely to strip away any shred of confidence he has left than to help him find his groove again.
If Valentino Rossi couldn't fix the Desmo it's not likely that Spies will. But, if he is successful, no one will remember his 2012 season.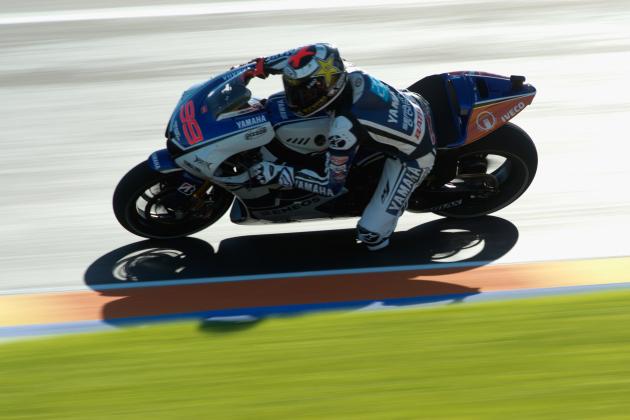 Mirco Lazzari gp/Getty Images

Grade: B+
Amazingly consistent is how I would categorize Jorge Lorenzo's 2012 campaign, which is logical because that is exactly the same way most people categorize his riding style.
Lorenzo is known for being able to churn out lap after lap of top-tier times seemingly without effort.
Aside from the Assen race in which he was taken out by Alvaro Bautista, and the last race of the season when the championship was already decided, Lorenzo finished in either first or second place in every race in 2012.
However, he will not be as loved—at least by me—of a champion as he would be if he would have raced to win the last five races as opposed to being content to manage his points lead over Pedrosa. That said, he is the champ and he had a great year.
Perhaps long after he retires he will look back at his legacy and wonder why he does not get the same kind of love and admiration as some of the other champions.
Maybe then he will realize that racing, even at the ultimate level, is more about giving everything you have at every single race, leaving every bit of all that you are—heart, soul, mind and body—out on the track, than being called a champion.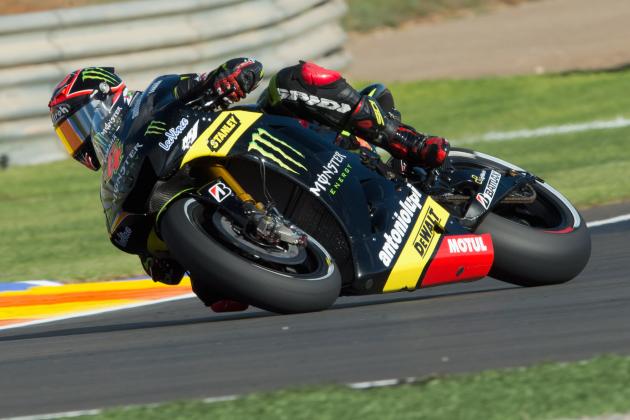 Mirco Lazzari gp/Getty Images

Grade: A
I know I said I was only grading the factory riders, but one cannot talk about the 2012 MotoGP season without talking about the Tech 3 team.
Andrea Dovizioso, in particular, reaffirmed why he should be considered one of the top riders in the class a year after getting booted out of the Repsol Honda garage.
Dovizioso finished the season having stood on the podium six times, three of them coming in succession. For a guy riding a satellite machine, that is hugely impressive.
Yet, despite his success and his unquestionably high skill level, he remains relatively unloved. I think this is due to his riding style being less than exciting and his tendency to disappear after being passed. Also, Dovizioso finished every race this year—a commendable achievement—but it illustrates a certain lack of sexiness, of dangerousness.
Still, the guy is a demon on the brakes and that aspect of his riding alone justifies keeping a close eye on him as he makes his way around a track.
His outstanding 2012 season has earned him Valentino Rossi's factory Ducati for 2013 as Rossi heads back to Yamaha.
Because Dovizioso's strongest skill is his braking and the Ducati is notorious for lack of front-end feel, it will be doubly interesting to watch him try and tame the Desmo.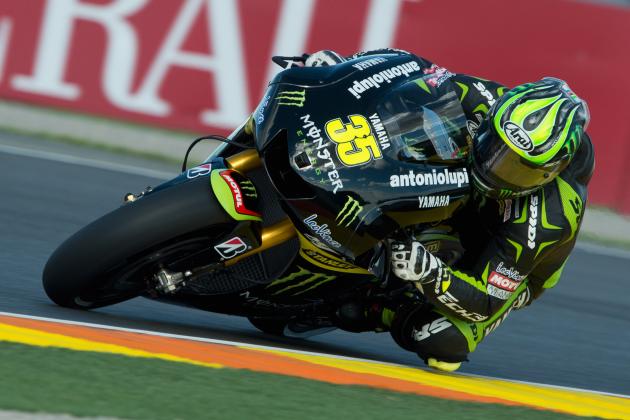 Mirco Lazzari gp/Getty Images

Grade: A
I love this guy.
With as stuffy and obsessive about corporate political correctness as the MotoGP paddock can be, Cal Crutchlow and his willingness to tell the truth and crack a smile in almost any situation is a breath of fresh air.
He's a damn good rider, too.
In 2012, only his second year in MotoGP, he became the first British rider in a decade to finish on the podium of a premier-class race. Then he did it again a few rounds later.
He and teammate Dovizioso battled all year long with the more experienced Dovizioso getting the better of him more often than not but never making him look outclassed in any way.
In fact, Crutchlow and Dovizioso finished within two places of each other in 10 out of the 13 races in which Crutchlow did not crash out.
Along the way, the two of them provided some of the most entertaining racing of the 2012 season. Were it nor for them, some largely boring races would have been completely uneventful.
The three-way battle between the Tech 3 boys and Valentino Rossi in rain-soaked Le Mans was outstanding racing, one of the highlights of the season.
Crutchlow will return to the Tech 3 team in 2013 and, I have little doubt, will once again be one of the most exciting riders to watch on race day.